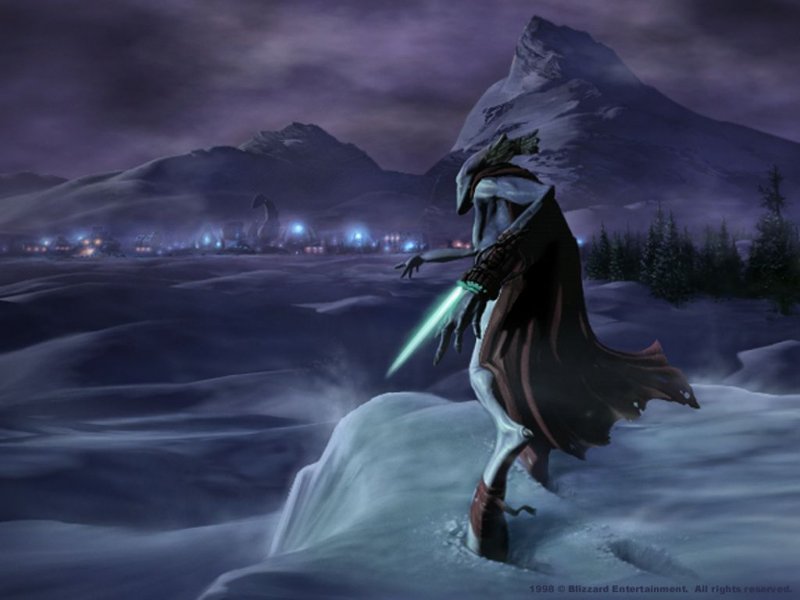 "Understood. I'll look into this matter myself."



I think BW is one of the greatest creative achievements of man, in the company of Shakespeare and Stravinsky and Kubrick. The combination of gameplay and story, music and art, man and machine. The openness of the community. The work people did to make it their own, the hours and games played, the maps and mods made, the skill and dedication of those who reached the top. Sincerely. In the genre, there is no comparison.

This beautiful and brilliant mission, one that brings you back to Zeratul after the Protoss campaign is already behind you. The ambiance. Creatively free as a stand-alone, and ahead of its time in terms of finding away to gather units besides "rescuing," albeit an easy mission, but that applies to the whole game. And a mystery, the longing for the explanation of which would invariably be more satisfying than any possible conclusion.

Or would it necessarily be more satisfying? Why do I remember this but not SC2? Was it just because I was young? Just because I have a soft spot for snow? The only good parts of WoW were the snowy ones as far as I remember. If you remember looking at SC1.5 for WC3, or the C&C SC mods and wondering what might come, was the SC2 story it?

There is no pretense in BW, it was an accidental masterpiece. Of course creativity and experience and effort all made it good. But there must be some luck in a resulting gem like that. Every cutscene in the sequel just tries too hard. There is no moderation. Everything has to be pretentious, and epic. Have you watched the original cutscenes? They were succinct and moody, except the token "epic" cutscenes like Tassadar's sacrifice, which looks half ridiculous. They often didn't involve known characters. They set the mood and explained gaps in the story, teased our understanding of lore and what's going on in the universe, but weren't the primary storytelling device.

This is because the storytellers also were limited. Money, animation, technology, disk storage, everything was restricted. This is why we have a gritty 2d game, with gritty cutscenes, that you can connect with, with knockout music, stunning art (hydralisk standing on a pile of skulls). From the minute the music opens, you feel connected to the world, whether it's real or not. You feel it. I don't feel anything if I open SC2. But it's a cop-out to say it's a 2d or 3d thing. FPS games are 3d and everyone has connected with one. And people have made great sequels before.

What I like about the original is it's not afraid to dramatically alter the dramatis personae. The characters do change. They die. Sometimes twice. But it's intergalactic war... Of course characters die. That at least Diablo took a risk with. Hello, welcome to Diablo x. Your job is to kill the xth iteration of Diablo. Oh, here's Deckard Cain, you like his voice, right? He'll identify things you find. Nope, dead. Come on, SC2, what happened? Remember when Raynor swore to kill Kerrigan? Because of that business with Fenix? What is this melodramatic Romeo and Juliet in space bullshit? She's human, she's zerg, she's human, she's zerg, oh there's still good in her, who cares? She was just some sporty lass Raynor wanted to bed in the first Terran campaign. It's not some soulmate thing. Why do we need to keep going back to this? Are you afraid people wouldn't play without Raynor? People wouldn't watch without Kirk? Or Spock? Or Picard? Just make something good! Oh hey remember Fenix, you liked him right? He's alive again, again. We can't think of any new good things, sorry.

I like the snow. It's quiet and peaceful. What's the distance a snowflake travels laterally back and forth before it touches the ground? Do they tumble for a mile before touching the ground right under where they fell from? Do they drift together like a flock of birds? Drift separately like all the people?