As should have become apparent from my previous blogs, I mainly play TvZ these days. I personally believe it's the best matchup in all of BW and can only be matched by PvZ. While there's still a long way to go, I feel like I've improved quite a bit and as such, I figure that some of these tips/tricks could be helpful for any players that have started the game recently. If you are a veteran of the game, you likely have read about all of this before.

So, without further ado, Bigfan's tips and tricks to becoming a gosu TvZer. Keep in mind that the first couple are general ideas and the ones after are more specific to the matchups:

#1: Don't give up ever
Now, they might seem like a silly tip, but macro cycles for terran, especially bio are pretty short. While the early to mid game, where you don't have as much stuff going on, are ok overall, late game macro for terran can be incredibly taxing and at times, frustrating. You may find yourself going from a good position to a terrible one if you miss several cycles due to being forced to do other tasks (think attacking, defending, expanding etc...). Once you play that game where you manage to keep things under control, you'll realize that it's all worth it. Nothing feels better than going toe to toe with a Zerg late game and winning!


Even iloveoov, a macro monster banked during a game with JJu. Just look at that 4 digit count for minerals and he was only on 2 bases too!

#2: Keep Improving
This somewhat ties in to the first point. Improvements will happen overtime and the more you play. It can be frustrating if you feel like you aren't moving faster than anticipated, but you also should realize that even though it feels like no improvements have been made, that's not true. Take a look at supply count, timings, length of your games, upgrades and a host of other things. Even your APM may have increased because you are doing more stuff. It's only by comparing similar games that you will notice the differences.

#3: Change Builds/Strategies
This one is a bit controversial to some folks in the community. If your main goal is to become a pro or a top level foreigner, then the ideal situation is to iron out your builds and only move on when you have them down pat. However, the fun of BW is mixing things up. Going for 1 rax FE one game to proxy 2 rax the next, then 2 port wraith or 3 rax off 1 base into expansion or even just trying to incorporate nukes into the game.

Depending on your experience and how much you've played, some strategies are rougher than others. Trying to play SK Terran with little experience and low APM is a nightmare because you will not be able to stay on top of everything, and it's likely that going for a mech transition or 1-1-1 is a better option. However, my own thought is to play as you desire because that is precisely how you improve. If SK Terran is the strategy that you like, play SK Terran even if it kills your wrists. Don't ever settle to play the game the way you dislike otherwise you might as well not play.

Other thing about this is part of learning the game is trying different strategies and see what you can and can't get away with. Sure, a proxy 2 rax won't teach you how to macro in the late game, but it'll teach you how to reach when a scrappy situation ensues. Being a player that is able to cheese or play the macro game is a great thing and it's something that you should strive for. Don't limit yourself by thinking that only a macro game win is a legit win.

#4: Awareness
I touched on this heavily in a previous blog post, but the idea is to constantly be aware of your situation in the game and how to move forward. Minimap tabs for example or scanning a den and realizing that lurkers are likely coming so you should get a second bunker or move out onto the map etc...

#5: Control Groups
Control groups are a vital part of the game and they also change from player to player, with top players having unique groups. In the early game to early late game, my advice is to use control groups as much as possible. I personally always liked this setup:
Early game:
1 - Scouting SCV
2 - SCV to protect scouting SCV (if needed)
5 - cc
6 - rax

If I'm playing the 1 rax FE build, I'll change things up once the cc is built and I've transferred workers because there's more going on then:
1-4 -> marines on 1, medics on 2 and slowly push medics back with more units
5,6,7 -> cc
8,9,0 -> scan

The cc hotkeying is to help with making workers and with S being the button for SCVs, it makes it easy to go 5s6s7s then cycle through each base to put them to mine. Once the late game hits and you have tanks and vessels, I prefer to change 5 to vessels and have the tanks at 4 while leaving 1-3 for mnm. I'm sure some pros probably have vessels at 1, but they also move at a pretty good speed too and are easier to snipe if they move far ahead. The other side is that at 5, there is a chance that your mnm runs into lurkers before the vessels gets there (depends on a lot of things) so it's a tradeoff.

Once you hit a certain supply, hotkeying units becomes extremely difficult because you don't have enough control groups in general. While I believe that using control groups is still the best option then, let's face it, if you are playing SK Terran, trying to use 7-8 control groups and keeping up with everything is next to impossible unless you increase your APM to monstrous levels.

At that point, I would say hotkey the expensive units like tanks and vessels so that you can siege or irradiate as soon as you need to while box and a-move all other units then focus on inbattle micro like target firing, pulling back units, medic blocks and such using buttons such as control to select specific units etc... If you are playing mech, you won't have as much issues with control groups, but we all know real men play bio or at least biomech!

#6: Function Keys
This is an interesting topic. My own feelings are that camera keys should be used for production structures. You have 3 function keys, F2, F3 and F4:
F2 - Production structures
F3 - Rally Location
F4 - New Rally Location



Of course, you can probably have F3 being another production structure camera and use F4 as the rally location only. This may help when you have many production structures in your base and you can't fit them all on one screen. Some pros will also use these for their command centers and this can help if you are running workers away. IMO, do what you feel is best for you. I personally prefer a production structure function key because I can easily tap it, make units then go back to my army or whatever I was doing.

#7: Use units to their maximum
What's this about? Exactly as the title states. Terran units have an infinite ceiling and if you are someone who microes well, you can get a lot of benefits and win engagements that you have no business of winning. I've lost count of how many battles I've won because I hit at the right timing and timed my unit retreat or blocks well. However, these units can always be used just as well for defense, especially when coupled with how the AI works (medic blocks or a tank block with d-matrix on a ramp for instance):



What this also means is that you need to think outside the box. BW is a unique game because there are some really cool things that can be done even if it was likely not the intention of the creators. Here's an example:



Irradiating a tank to kill the surrounding zerglings and defend against an attack when you have no infantry left.

#8: Make it a multitasking battle
This is a personal preference of mine, but I always enjoyed tvz because you can make it a multitasking battle as well. Terran bio might be fragile, but if given attention, they are the most fun to micro in the whole game. Dropping your opponent's third while attacking their front as you take an expansion of your own.

That's a lot going on, it's chaotic, but I love it. It becomes a battle to see who can become victorious on several fronts, each of which are important in the course of the game. I take out his drones at his third because he got distracted by my frontal, good lead. He holds off both pushes and I've lost a bit of my army, could've been worse, not the greatest. He beats both and somehow prevents my expansion, he's good!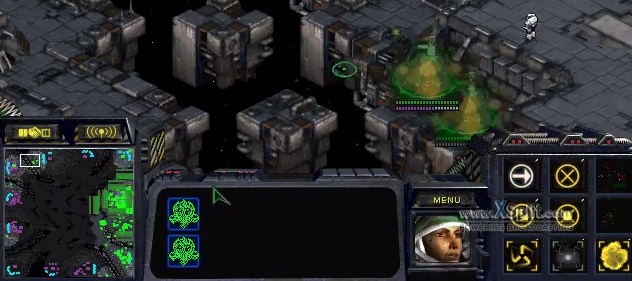 Another thing that can help is erasing drones too. There are times where you feel like you are in a disadvantageous position and you've gone and make a gazillion vessels.

#9: Expanding
This is extremely extremely important. I honestly can't emphasize just how important this is. For myself, it took me a while to take a third base when I first started playing 1v1. I knew terran bio was fragile, I knew I needed to macro as well, and I knew that if I don't pay attention, I can also lose all my units at my third. It's something that comes with time, but my focus here isn't even on taking a third. It's thinking about taking a fourth, fifth or even sixth! Don't be scared or worried that you can't hold it, that your workers can die. The idea here is to get yourself to do it!

BW is a game of economics as well. If I take an extra base and don't get it scouted, it'll pay for itself in dividends. If I double expanded and kept 1 alive, I have an economical lead. If I kill his drones, I have a lead (depends, but generally speaking). You have to feel comfortable taking expansions and that will only happen once you step outside your comfort zone. One of the times I ever went beyond a third and took fourth and fifth, even a sixth was on Circuit Breaker. I just pushed myself as much as I could and took bases, utilizing low amounts of defense to hold them.


An example I linked up shows just how taking a hidden base can help you in a game. Taking expansions as you push while keeping an eye out for expansions that your opponent may have grabbed is important in this game. It's one of the things that iloveoov was famous for. He'll take an expansion even when he was being pressured. For defense, I've personally found a bunker with a tank or two and planned army movement as the best defense because you can easily reinforce, and your opponent will have to try to kill the bunker+tanks giving you enough time to pull your workers back and lift your CC.

Seeing as you grabbed an expansion and it's getting saturated, keep a close watch on your resources because one thing you should be doing is adding more production structures. I personally still struggle with this to some degree in the late game because there's so much going on and I play biomech or SK Terran which is already a huge drain on my APM. Add on to that, that base management is important and the main is usually filled and it becomes a nightmare to find a nice place for another 5 rax or facs etc...

#10: Planning Ahead
This refers to two things:
a) It refers to having a gameplan. If you go into the game and think of an indepth gameplan, such as I'm going for 1 rax FE into SK terran. I do want to delay my vessels to get dropships then grab a third as I pressure his base, then you are much more likely to be successful compared to thinking that you'll just do 1 rax FE.

b) It relates to being aware and planning attacks during the game. One thing to keep an eye on in the late game is defilers. I personally like to have an idea of my opponent's movement so scanning ahead, or moving my own army around always gives me an idea of what he's up to. If you get a defiler near your exp and don't manage to irradiate it, it'll make it rough to defend the attack.

You should always scan ahead and keep an eye out for attacks on your army as well and if you planning to drop, always good to plan it far in advance using scans or just general intel. Remember, a terran army while can be strong, can be vulnerable out in the open if the opponent manages to get a nice surround off.

I think this is enough for now. If anyone has any questions, feel free to ask them. I'll do my best to answer them.