Game score should always be used as a tiebreaker before head-to-head. Already I can feel the angry posts being written. Let me explain why I think what I think.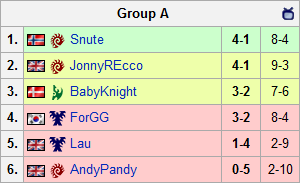 In this group, ForGG and Babyknight were tied in match score at 3-2. Because of that tie, a tiebreaker had to be used.

There were two pieces of information that the tournament organizers could have drawn on to make their decision on who to advance. The first piece of information was that Babyknight defeated ForGG 2-1. This implied that BabyKnight should have advanced over ForGG. The second piece of information was that ForGG's record against common opponents of ForGG/BabyKnight was 7-2, compared to the 5-5 record of Babyknight. The final game score of the group, derived mostly from the record of ForGG and BabyKnight against common opponents, implied that ForGG should have advanced.

So there are two conflicting pieces of information here. Depending on which piece of information is deemed more important, one of these two players should advance.

I think that the game score is a more important indicator of who the better player is than H2H because it draws on a larger sample size. Variance exists in SC2. The best player does not always win the game (or the series). As with all phenomena with variance involved, it's always better to increase your sample size to see what is really happening.

Tournaments choose the H2H tiebreaker as the one that takes priority because it "feels right." It feels like justice is served when a tie between two players is decided by the games played between those two players. But if Player A has beaten Player B, it's very difficult for Player B to overcome that loss and do better than Player A in game score. ForGG had to obtain at least a +3 advantage in game score over BabyKnight against common opponents to overtake him. If ForGG had lost 0-2, he would have had to obtain a +5 advantage! (In this way, you can see that the H2H tiebreaker is actually included in the game score tiebreaker.) If a player who has lost the H2H match has overcome that loss in subsequent play, he deserves to advance.

ForGG should have advanced over Babyknight, and players with better game scores should advance even if they have lost the H2H match which whom they are tied.