World Team League - 2023 Winter Season
by: Nakajin
Are you sitting at home in a puddle of your own sweat? Do you open your newspapers to heatwave warnings and wildfires? Is your annual beach volleyball season midway through? Well, that can only mean one thing! That's right: it's time for the
Winter
season of the World Team League.
Weeks after the
triumph of ONSYDE Gaming
in the Summer Season, the cycle began anew with teams braving the qualifiers for the chance to compete in the next season of WTL (while I sadly couldn't do an official TL.net preview for the qualifier stage, you can check
Tassad's Power Ranking
to see what teams and players were in the qualifiers).
While there were many worthy contenders, the six teams that advanced through the qualifiers were ultimately in line with expectations: The Afreeca Freecs, the newly created Matcherino SC2 team, the mysterious Mystery Gaming, the overachieving LittleFairy, the buffed-up Team Rotti, and the surprisingly real Twisted Minds.
With such a strong lineup of teams emerging from the qualifiers, our two relegated Code S teams in Invictus Gaming and Berserker eSports will have a tough task ahead of them if they want to keep their spots.
Three Code S spots are up in the air for our 8 teams to battle over. Let's see who has the best chance to get them!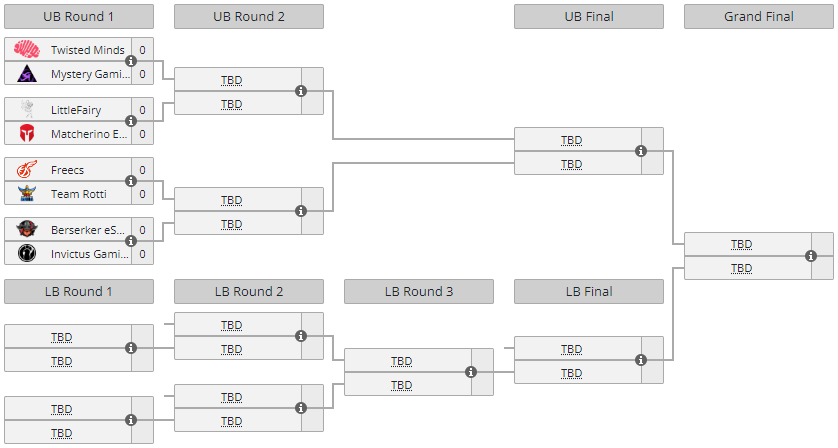 World Team League - Code A Preview/Power Rank
WTL Code A will be played during September 11-17, starting at 12:00 GMT (+00:00) each day.
Tier 3: The Returnees
In a strange turn of events, I see our two relegated Code S as the two least likely to get back into the competition. Although, perhaps it's not quite a surprise when you recall the
last season of Code A
awarded a whopping six spots, and iG and Berserker finished 5th-6th place (more slots were available last season due to a handful of teams disbanding/forfeiting).
#8: Invictus Gaming
–Roster: Macsed, BreakingGG, XY
iG has done a whole lot of losing in the last 9 months, and will probably continue to do so in Code A. The good news for iG is that they were drawn in the easier bottom side of the bracket, even getting a match against Berserker eSports right off the bat. The bad news is that this season of Code A is the toughest iG have ever had to go through.
If there's a way for these veterans to get back into Code S yet again, it will almost certainly have to be through a miracle run in the winners' bracket. But, even this path will be tough, with Team Rotti and the Freecs being heavily favored against them. Perhaps the seasoned WTL trio can surprise once again, but all the results in 2023 point to the end of iG's perennial presence in WTL.
#7: Berserker eSports
–Roster: BattleB, DIMAGA, Mixu, PAPI, SoulSpirit, Spatz, Teebul, Ferral, Foxer, Ranger
As they showed in last season's Code S, Berserker have just slightly more potential than iG. As in, they finished exactly one place above iG with a 1-10 record, with that one win coming against iG. If Berserker can repeat that result, they would have a puncher's chance of upsetting their next opponent (Freecs or Team Rotti). However, anything past that seems like a reach, considering they still lack a strong ace to anchor their team. They would need to have some miraculous draw with mirror matches aplenty to truly have a shot of returning to Code S.
Tier 2: The Little Fairies That Could?
Top-heavy teams have a rather poor history in the WTL qualifiers and Code A, but it's better to have that assured ace instead of no one at all. For those next two teams, qualification hangs on just how clutch their aces can be.
#6: Little Fairy
–Coffee, ForJumy, Akyuu, Eiger, FightingFrog, Dyys
After multiple seasons as the bright spot on iG, Coffee has finally moved on to a new team in Little Fairy. Immediately assuming the mantle of ace, he came through in the qualifiers with some great performances, even beating Classic in the ace match duel that won the Fairies qualification to Code A. That's the kind of performance he'll need to replicate in Code A if this underdog run is to continue.
China's #2 player (some may argue it's FireFly, but Coffee was the actual runner-up in the last EPT regional) can be a force to be reckoned with, especially in TvP. That's good news ahead of the opening match against Matcherino, but it's hard to see him scoring the consecutive upsets needed to power his team through Code A.
ForJumy is an intriguing number two. At the start of 2023, the German Protoss seemed like he was moving up in the SC2 scene, snatching upsets against players like MaxPax, Lambo, and GuMiho in an assortment of online events. However, he's regressed in the last few months, recording an
"honest"
but somewhat disappointing 47% win rate since April. If he can get favorable draws, he can pull his weight, but he probably won't give Coffee much margin for error.
.
FightingFrog would have been my old choice as the team's third option, but the warlike webfoot has not played a match since June and didn't play in the qualifier. It's unclear if he'll be available if called. Eiger has been even less active, which is probably why Little Fairy turned to Akyuu/Takanashi as their third option in the qualifier. I'll confess to knowing next to nothing about the Chinese Zerg, but his
Aligulac page
doesn't fill me with confidence. At the end of the day, the team will go as far as Coffee can carry them.
#5: Twisted Minds
–Roster: Classic, YoungYakov, Nicoract, Aristori
As it turns out, Saudi-based Twisted Minds didn't just sign Classic for a one-off at Gamers8, and have expanded the roster to compete in WTL as well. The trio of Aristori, YoungYakov, and Nicoract are a decent support squad for Classic, but the Chintoss will probably need to put in a handful of 3-0 performances if he's to lead the squad to WTL Code S.
Their initial match against Mystery Gaming will be extremely hard, which puts a huge dent in their chances right off the bat. Also, Classic is undoubtedly excellent, but he's not the kind of player who consistently destroys weaker opponents. For example, his ace match loss to Coffee in the qualifiers was perhaps a preview of how Twisted Minds' run could end. If YoungYakov can bring his A-game and help Classic, they have a chance, but there's no room for mistakes.
Although Twisted Minds lost to the Fairies in the qualifiers, I think on average they are probably quite a bit better as Nicoract and Aristori are much more experienced than Akyuu or FightingFrog. Also, YoungYakov has a 7-3 head-to-head against ForJumy in 2023, and Classic really should beat Coffee in a rematch. But even if Twisted Minds are ahead of the Fairies, it's still going to be a long shot for them to crack the top three in this bracket.
Tier 1: The Favorites:
The last two Code A Seasons had huge elephants in the room, with ONSYDE and BASILISK going through the formality of completing the qualification process. This time we won't have such teams, so we have a very competitive top tier of four teams battling for three Code S spots. None of them are safe from an upset against the bottom four teams, but they for sure have the advantage.
#4:Team Rotti
–Roster: SpeCial, uThermal, HiGhDrA, Cuku, Fjant
Despite Rotterdam joining BASILISK a year ago, Team Rotti is still going strong. This current iteration of the team may be the strongest yet, thanks to the surprise signing of SpeCial. The ex-PSISTORM Terran gives Team Rotti the A-tier player they've always needed, and he already showed his value in the qualifiers by winning two ace matches.
uThermal is another sexy pickup. You may think he's more used to pulling off Mothership Rushes against Diamond players than going up against players of his own level, but he's actually remained surprisingly competitive after his switch to being primarily a streamer/YouTuber. Availability might be the biggest issue with uThermal, as he only played in two matches during the qualifier.
Cuku, HighDra, and Fjant—the team Rotti veterans—will probably rotate for the third spot. None of them did particularly well in the qualifier, even against relatively weak opposition. Whoever has to play against the Afreeca will certainly face an uphill battle, but perhaps they could steal a tie given the confusing status of the Freecs roster.
#3: Afreeca Freecs
–Roster: aLive, Armani, KeeN, soO, Stats, TY
Oh, how I wish it was 2017 all over again. Boasting around $3m in combined career prize money earned, this Freecs roster could have contended for a WTL Code S Championship if everyone was in their prime.
Sadly, I don't think WTL will be much more than a hobby for most of the players here. TY seems by far the most invested in the game at the moment, achieving a top eight finish in the previous GSL. However, he went totally dark after that, so it's hard to say how focused he is on StarCraft 2 (
at least, his non-participation in the ASL qualifiers suggests he hasn't been splitting time with Brood War
he did compete in the ASL qualifier in July). If he can play at his Code S level, he should be the strongest player in the Freecs' initial half of the bracket.
Stats has taken some big wins since his comeback from military service, beating the likes of Dark, Astrea, Scarlett, and Classic in various competitions. However, he's lost a lot more games than he's won, and he took a pretty long competitive break during the summer months. Similarly Armani, KeeN, and soO all went inactive after failing to qualify for the previous season of GSL Code S (KeeN might only be on the roster as a technicality as he didn't play in the qualifier. Also, I'm realizing that I'm not quite sure if aLive has even come back from the military. Does anyone here remember seeing the 'invisible Terran' lately?).
None of this bodes well for AfreecaTV, but they'll
probably
be fine at this stage of the game. If TY can do a reasonable job as ace, and the other players can at least tie 1-1 against the likes of HighDra, Cuku, and MacSed, then they can put themselves in the mix for a WTL Code S spot. Even playing more casually, these Afreeca players have a high enough base skill level to get there.
Still, given how little information we have on the current form of the roster, Afreeca is the team that's subject to the most variance. Perhaps this really was a purely 'for fun' effort, and they'll bow out against a more focused squad. Or, maybe everyone has been practicing hard after their summer vacation, and they'll stomp through the qualifiers with ease.
#2: Matcherino Esports
–Roster: Astrea, Nightmare, Future, Demi, arrogfire
Matcherino are a new entrant to the scene, expanding their esports roster to include StarCraft II. They're sure to have fan support behind them since they've signed a pair of well-established WTL players in Astrea and NightMare. The two Protoss buddies will be taking on a greater burden than ever before, forming the core one-two punch for Matcherino. If past performance is indicative of how things will go, Matcherino's Protoss duo could carry them quite far—especially against Zerg and Protoss heavy teams.
Future was the third option in Matcherino's qualifier games, and will probably remain so in the regular season. The 16-year-old Arrogfire is still more of an intriguing prospect than realized talent, and Matcherino would probably like to have at least one non-Protoss player in the line-up. In fact, Future might even be a realistic option as ace, especially against a squad like Team Rotti who's likely to send a Terran out.
Matcherino blasted through an easy qualifier bracket with a 2-0 record, but have a trickier Code A path with a probable match against Mystery Gaming in their future. Still, I think they have what it takes to earn a main event spot, whether it's through the upper or lower bracket.
#1: Mystery Gaming
–Roster: Ragnarok, Bunny, Strange, Lemon, Nanami, Joliwaloves
Last season, Mystery Gaming was the most controversial team in Code A. The team somehow flopped out of Code A despite having DRG and Classic on the roster, which was followed by a
confusing Chinese community kerfuffle
involving Mystery Gaming, ABYDOS, and Team NV (read the thread if you want to catch up on some incomprehensible drama).
Mystery Gaming are back with another strong roster, and hopefully this time they're in a much more stable situation. GSL regulars Ragnarok and Bunny are arguably the two best players who missed out on last Season's WTL Code S, and it looks like they're going to keep their hiatus brief.
MYG had one of the tougher qualifier runs as they faced CSO, the Platinum Vultures, and Team Rotti, but they showed no weaknesses as they marched through the bracket. In fact, the takeaway was that they might be even stronger than previously expected, with Strange coming through as a strong third option. He put up a 4-2 record against reasonably strong competition (by qualifier standards), which is very welcome considering the third player slot seemed iffy for MYG ahead of the qualifiers.
Despite a relatively hard starting draw against Twisted Minds, the combo of Bunny and Ragnarok should get them the win barring a truly heroic performance from Classic. They are similarly favored against Matcherino, if slightly more vulnerable against the tricky Astrea/NightMare duo. Even if MYG were to fall to the lower bracket, it feels like they'd comfortably take third place. Put it all together, and I think they're worthy of being #1 in this preview ranking, though not quite strong enough to be in a tier on their own.
---
Credits and acknowledgements

Writers: Nakajin
Editor: Wax
Stats: Aligulac.com & Liquipedia
Images: SCBoy