World Team League - 2023 Summer Season
by: Nakajin
Finally, the last week of regular season play is upon us!
It's not the super-close finish of last season—where FOUR teams contended for the #1 spot—but there are still high stakes conflicts that have yet to be resolved at the top and middle of the table.
ONSYDE vs BASILISK will face off in a proper championship match where the regular season winner will be decided. Holding the #1 seed is a huge advantage in the WTL's gauntlet-style playoffs, and both sides will be going all out to finish on top of the table.
In the middle of the pack, we have the trio of Shopify Rebellion, Starving Camels(瘦死骆驼), and Platinum Heroes contending for two playoff spots. With Shopify facing Platinum Heroes in the final week, odds are that the Rebellion will take a clean victory and crush the Heroes' postseason aspirations. However, crazier upsets have occurred before in the WTL, and the Heroes will be looking to pull off a miracle.
Week 10 Recap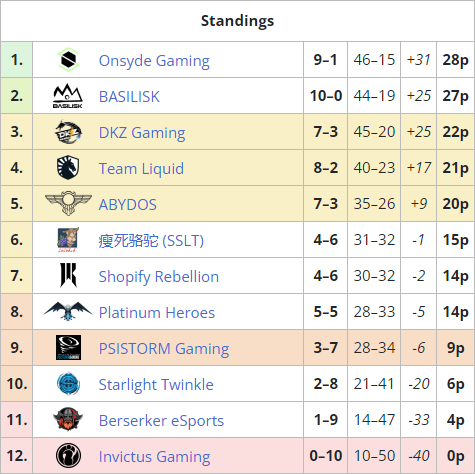 Top 7 teams qualify for the playoffs.
Bottom 2 teams must requalify.
Points are awarded as follows:

3 points for a victory in a series that does not require an ace match

2 points for a victory in a series that requires an ace-match

1 point for a loss in a series that requires an ace-match

0 points for a loss in a series that does not require an ace match
Team Liquid 2 - 4 BASILISK
Watch VOD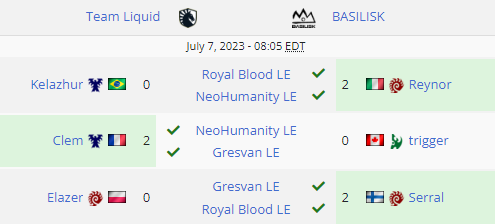 Kelazhur tried to give TL a quick lead against Reynor with a proxy 2-rax marine rush that went unseen until an overlord of Reynor caught a glimpse of the second SCV on its way to his natural. Reynor dealt with the bunker rush with a timely drone pull and pretty much controlled the rest of the game with roaches up until the GG moment.
The Brazilian Terran went the complete other way in game 2, going for a reaper expand into a quick 3rd CC to set up a battle mech game on NeoHumanity. Not much went well for the Terran, as Reynor broke the rocks in the middle of the map to create a shortened path to the enemy natural. Kelazhur just couldn't cover enough ground against the waves of roach-ravager-queen coming his way, and conceded the 2-0 lead to BASILISK.
Clem and Trigger continued where their teammates had left off by returning to NeoHumanity. The TL ace pulled off the rare single widow mine drop opening, but Trigger found the medivac out on the map with his stalkers and boxed it out. He probably thought he had stopped the aggression, but that was when the second widow mine drop showed up, which he only realized after losing a dozen probes. Trigger still managed to create a somewhat reasonable Gateway-Colossus army while dealing with a persistent Medivac that kept re-dropping mines. However, Trigger couldn't stay on top of his multitasking forever, and ended up losing another 12 probes to a drop. That left him to play purely on defense, hoping his Disruptor tech might let him conjure up a miracle. However, it was a doomed effort against a player of Clem's caliber, and Trigger eventually had to GG out. The second game featured another terrible early game for Trigger, who lost 20 workers to the opening proxy-starport 4 hellion drop. After that, it was just a formality for Clem to close the game out.
Tied at 2-2, Elazer needed to find his first map win against Serral in 3 years to keep the series winnable for Liquid. He tried to do so by countering the Finn's mutalisks with corruptors in game one, but Serral actually made minimal air units and bet on a bigger ground army. That left Elazer's useless corruptors to look on from above as Serral's rolled through on the ground. Things seemed much more promising for Elazer in game two, as he won a ling-bane skirmish and took down Serral's third base. He geared up for a 3 base roach bust afterward, but seeing a relatively well-prepared Serral he decided to bail and instead tried a half-hearted macro game. Unfortunately, he couldn't keep up with Serral in the tunneling claws dance, leading to the series ending GG. It was a bit of a shame for Elazer—Lambo, who was commentating with RotterdaM, said he wished Elazer had gone for the all-in.
瘦死骆驼 (Starving Camels) 3 - 4 PSISTORM Gaming
Watch VOD (Chinese)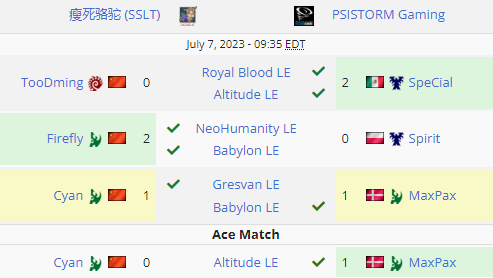 The Starving Camels were fighting uphill after getting a bad match-up draw against PSISTORM Gaming, but they were still desperate to get even a single point as that would help them secure a playoff berth.
It has been a long and hard season for SpeCial, but things went rather well for him against TooDming. Everything in his builds worked as intended, and he got off to an insurmountable lead in both games. A liberator and marine drop closed game one, while a proxy BC did the trick in game two.
Having already beaten Firefly once this season on his previous team (in the week 2 ace match of SSLT vs SLT), Spirit only needed to win a map in the rematch to set up a MaxPax alley-oop. However, this time Firefly came through in the clutch for his team. Firefly started game one with 3 gate blink pressure, which didn't achieve much on its first attack. However, the second wave hit while Spirit had one of his tanks awkwardly transiting in the middle of the map, creating space for Firefly to blink into the main and deal enough damage to achieve a small lead while transitioning into a mass-gate immortal army. Firefly seized the moment when Spirit took his third, diving into the Terran natural while using force fields to keep the defenders pinned in the third. Spirit was going for some simultaneous mine drops that devastated Firefly's economy, but ultimately he couldn't deal with Firefly's daring frontal attack and had to GG out.
The first game seemed to have shaken Spirit, and he played ultra-defensive in game two upon seeing a similar blink-robo start. Having successfully tricked the Terran, Firefly simply probed up on 3 bases, went for charge and storm, and waited for Spirit to move out of his two bases set-up to take a third. When he did, Firefly jumped on the base and the army. The move gave the underhanded ungulate his fifth 2-0 of the season.
PSISTORM fans were probably still confident that MaxPax would close it out against Cyan, but the PvP savant made a rare misread. Cyan went for a 2-gate stalker pressure opening which MaxPax was persuaded would be followed by an all-in, slapping down 4 batteries to defend his low ground expansion and building 2 void rays as an extra precaution. This overdefensive posture allowed Cyan to calmly transition into a mid-game macro game. He was not particularly ahead, but not behind—already a fairly big accomplishment against the Dane. What ensued was an intense stalker-zealot-DT war with too many twists and turns to note, with Cyan eventually outplaying the best PvP player in the world. While I'm not versed enough in SC2 to understand where Cyan found the edge, his decision to continue on his upgrade path and create a 5-upgrade lead for himself probably played a big role in the end.
MaxPax found his killer instinct in the second game. Rallying two stalkers and a void ray across the map, he took advantage of Cyan sending one Stalker off to proxy-scout to just win the game outright with a frontal attack.
Expecting MaxPax as ace, the Camels sent out Cyan over Firefly as their own anchor. It was a good choice, as Cyan's 4 gate blink pressure surprised MaxPax and threatened to end the game. However, MaxPax was able to bait Cyan into a stasis, delay the attack, and play out an even macro game from there.
It was once again a good 20+ minute fight between primarily gateway armies—with some cameos from disruptors—but this time MaxPax was able to find the winning advantages and seal the 4-3 victory for PSISTORM.
Despite losing the match, SSLT achieved their goal by stealing a single point and giving themselves fantastic odds of reaching the playoffs (more on this in the Week 11 previews).
Invictus Gaming 1 - 5 Shopify Rebellion
Watch VOD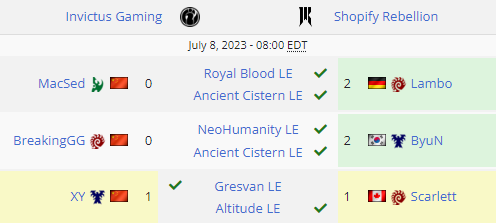 iG continued their march toward a 0-11 finish while worsening their all-time map differential to -225.
It was a largely uneventful first match of the day, with MacSed keeping his PvZ against Lambo reasonably close but never really threatening to win. BreakingGG did surprisingly better against ByuN, and it seemed for a while like the 0-16 Zerg would take his first map of the season in a 30 minutes macro duel. But in the end, the Terran was able to secure an all-important 6th base on NeoHumanity and won with the cost efficiency of his Ghosts. Game two gave us way less excitement, as a simple 5-rax marine-tank push was enough to confirm the clan war victory for Shopify.
Despite the match being decided, XY put in some resistance in the final match by winning a 30-minute BC-mech game against Scarlett. XY tried for a 2/2 push in game two, but Scarlett managed to clean it up and give Shopify a 5-1 victory (amusingly enough, SR not getting 6-0 could make the difference in a very unlikely tiebreaker with SSLT).
Platinum Heroes 6 - 0 Starlight Twinkle
Watch VOD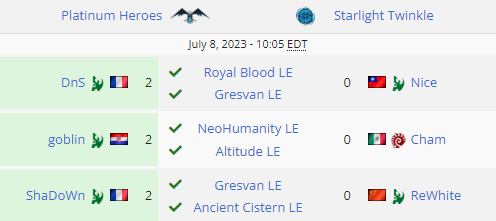 I had circled Platinum Heroes vs Starlight Twinkle as my low-key closest match of the week, but it turned out to be anything but. DnS and Nice played an extremely tense first map, where DnS's backdoor DT's kept him in a game where he was losing the ground war between chargelot-stalker armies. The dust settled with both players having suffered quite a lot of damage, and the game continued with a good fifteen more minutes of scrappy fighting. Nice eventually mined out the three bases he had, and DnS was able to close things out after winning the last couple of fights. That concluded the series in terms of thrilling games, with DnS busting Nice with a one base stalker rush to get the 2-0.
Game one of Cham vs Goblin started with a clutch defense against Ravager-Bane all-in, but the game still devolved into the Skytoss vs BL-Lurker slog that NeoHumanity is infamous for. After Goblin grinded out a win, the two moved on to a quicker finish in game two. Goblin's first few oracles and adepts gave him a big lead that he managed to carry into the late mid-game.
For good measure, ShaDown also got two clean mid-game victories against ReWhite, giving PH their first 6-0 of the season.
ONSYDE Gaming 5 - 1 ABYDOS
Watch VOD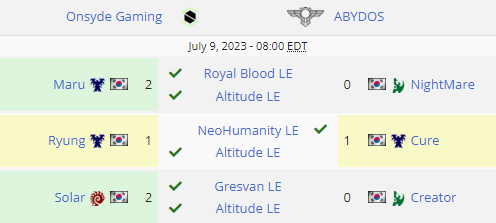 ABYDOS looked to be a tough test for ONSYDE on paper, but the Maru-led squad took a convincing victory to retain the #1 spot heading into the final week.
Maru seized the initiative against NightMare in the opening match. He used some cute burrow-unburrow micro to trick NightMare and snag a dozen probe kills early, which effectively ended the game then and there. Game two was better, with good scouting by Nightmare identifying 1-1-1 tank pressure coming his way. He dealt with it promptly, allowing himself to take a quick third and fourth. He probably had the tools to stop the follow-up SCV-pull attack, but he allowed his key warp prism to get matrixed as he tried to find an angle where he could land without getting EMP'd. That let Maru take up an ideal siege position below the Protoss ramp, and NightMare only dislodged him after taking heavy casualties. Maru did not give him any time to stabilize and won the game on his second go.
With the opening match going as expected, it fell on Cure's shoulders to try and give Ryung his first 0-2 loss in the WTL since he faced Dark in December of 2022. Playing on NeoHumanity first, Ryung pulled out the gold-league classic mass-Thor composition against the bio play of Cure. Ryung coupled his Thors with ravens to find a great fight that nearly broke Cure, but after the liberator count grew large enough, we were reminded of the limitations of mass Thors as Ryung was liberated from his will to play the game. Ryung went back to a more standard bio-play in game two, getting three quick command centers off a single raven while Cure went for a triple raven build which did enough economical damage to put them in a relatively even position. Ryung tried to finish the match quickly with a doom drop, but it was deflected by the ABYDOS ace, who then used the tempo advantage to cross the map and siege in position near the third of his opponent. The game result got decided on a questionable call by Cure. Scanning Ryung's tank line, Cure saw marines out of position and chose to unsiege everything and charge up teh ramp. Sadly, for him, Ryung's marines were just outside of his vision range, and were able to reposition in front of his tanks, butchering the army of Cure for a game-winning defensive hold. Ryung improved to a 8-2 TvT record in WTL, and remained one of only 6 players to have avoided any 0-2 loss this season.
In our final scheduled match, Creator was looking to become the third straight Protoss to 2-0 Solar in WTL to force the ace. He got on to a roaring start in game 1, killing a huge amount of drones with his adept-oracle opening with seemingly plenty of opportunity to snowball. Luckily for Solar, Creator chose a more passive, economical follow-up which allowed Solar to rush his tech and deploy his lurkers before Creator's mass carrier transition was ready. Without air support, Creator was unable to hold on to his third. While he was saved by a timely mothership, the economic damage was already done. Solar kept the pressure on with hydra-lurker-viper, suffocating Creator's eco until he was forced into a futile, last-ditch attack.
The early stages of game two were once again looking great for Creator, bullying Solar with his phoenixes and even "forcing" Solar to go spire and corruptor just to deal with them. But while the corruptors couldn't catch the phoenixes, they did find and destroy the templar archives researching storm. Without storm, Creator couldn't quite stop the roach-ravager-bane attacks of his opponent and Solar took the 2-0.
Berserker eSports 0 - 6 Dragon KaiZi Gaming
Watch VOD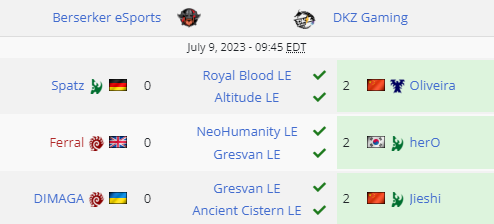 A fairly uneventful first match between Spatz and Oliveira started us off. On Royal Blood, a dedicated two-base push managed to break the army of the Protoss mid-map and punished the forward third base he had taken, while in game two a raven and a widow mine drop at 6 minutes massacred 21 probes and kind of ended the match. Although Spatz did find an open natural to engulf, he just didn't have enough troops to stand up to Oliveira at that point of the game.
The main event of the week, if not of the year, saw Berserker owner/leader Ferral taking on herO. He brought the cunning of Rogue, the persistence of Serral, and the webcam presence of an even more buff Dark to the match. Despite facing such a daunting opponent, herO was able to snag game one on NeoHumanity. It seemed like Ferral's build, a ling-drone rush through the backdoor minerals, did not account for herO doing the ballsy ''sending a couple adept across the map" build. The economic damage did not stop the push from happening, but it deprived Ferral of the few dozens of lings he needed to actually win. In game two, Ferral went back to his rich historical knowledge of the game to resuscitate the 3 hatches before pool ling-flood attack. Ferral's first 60 lings almost manage to deny warp gate, but a clutch battery overcharge denied the snipe on the cybernetics core. Ferral, recognizing warp-in is a broken mechanic, decided to bow out of the game in protest of this imbalance.
In his last ZvP of the year, DIMAGA found a surprisingly solid Jieshi in front of him. The Chinese Protoss seemed very comfortable in the match-up, deflecting DIMAGA's predictable aggression with a defensive archon-colossus in game one. Then, he took game two with an early glaive adept strike.
Several players notched solid 2-0 victories for themselves this week, but Firefly's was the most consequential. By taking a 2-0 victory against PSISTORM's Spirit, he helped force an ace match that earned 瘦死骆驼/Starving Camels an extremely valuable point.
The Camels now stand at 15 total points, one above the 14 points of Shopify Rebellion and Platinum Heroes. While there's one more week of games left to be played, right now, it's looking very likely that this single point will be what locks in a playoff spot for the Camels.
Weekly MVP's:
Week 10: SSLT.Firefly

Week 9: BASILISK.Trigger & ONSYDE.Ryung

Week 8: DKZ.herO

Week 7: SR.Lambo

Week 6: DKZ.herO

Week 5: Liquid`Clem

Week 4. PH.DnS

Week 3: Everyone on SSLT/瘦死骆驼/Starving Camels

Week 2: ABYDOS.Cure

Week 1: BASILISK.Serral
Preview: Regular Season Week 11
Friday, Jul 14 12:00pm GMT (GMT+00:00) Matches
At Stake: Relegation for Berserker eSports and Starlight Twinkle
As it stands, there's still a way for Berserker to avoid finishing in the bottom two and being relegated back to Code A. All they need is for iG to beat SLT 6-0, and then themselves win 6-0 versus PSISTORM. Is this likely? No. But is there a chance!? Well, no, not really.
Ok, there isn't really that much at stake on this first day, but it should still be a fun day of StarCraft and a chance to say goodbye to those teams that won't make the playoff cut.
Invictus Gaming vs Starlight Twinkle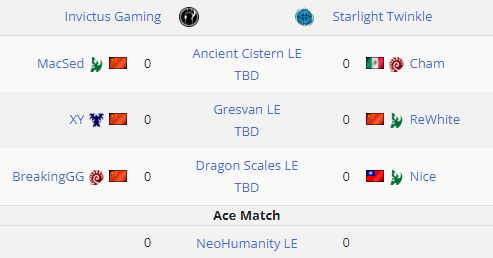 If there ever was a match for iG to get a point, this would be it (okay, it was probably against Berserker in week 8, but whatever).
Despite some relatively promising PvP performances all year long, MacSed has not really been able to make an impression in other matchups. So while there could have been some upset potential in his match against Cham, I think at this point we can safely put the 2-0 in favor of the Mexican Zerg.
The good news for iG is that they got the ultra-rare, favorable XY draw. While he and ReWhite stand at 1-1 in their head-to-head record, the eye test and difference in experience points to XY still being quite a bit better. A 2-0 win here seems probable, which would be a first for XY since beating Wanted back in May 2021.
Finally, BreakingGG also has a decent shot to break with recent history and take his first map against Nice. The two share quite an extensive history (7-7 in series) but have not played in a while, mostly due to BreakingGG not playing much outside the WTL in the last two or so years. Nice would seem the big favorite having a vastly better score this season than the Zerg (vastly more than 0 isn't that hard), but I'll actually put one map for BGG here. I'd like for iG to avoid another zero point season, but I also want to see BreakingGG rewarded for his performances. Despite an 0-18 record, he has not played all that bad—at least not bad enough to deserve a winless season. Cham or Nice should take home the ace match if it does in fact goes there
Prediction:
Invictus Gaming 3 -
4 Starlight Twinkle
Berserker eSports vs PSISTORM Gaming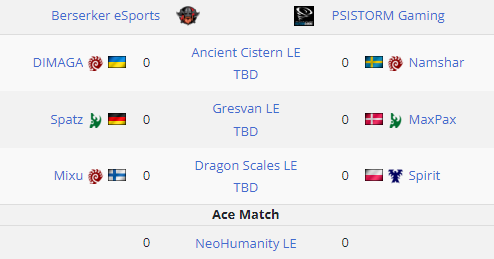 Namshar makes his second appearance of the season after taking a surprising map of Elazer earlier on. The Canada-residing Swede has not played a lot of official StarCraft matches in these past few months, but he got surprisingly good results in his few outings. I think he has the edge against DIMAGA, although it could really go either way.
Spatz and Mixu have much less hope to upset their adversaries than their older teammate. MaxPax has been the sole bright spot for PSISTORM this season, and he has yet to drop any maps he "shouldn't" (at least by our reckoning). Meanwhile, Mixu rocks a 4% winrate against Spirit in 13 previous series and probably would have preferred to play anyone else at this point.
Prediction:
Berserker eSports 0 -
6 PSISTORM Gaming
Saturday, Jul 15 12:00pm GMT (GMT+00:00) Matches
At Stake: The last two teams in the playoffs; 4th and 5th place regular season finishers
Team Liquid and ABYDOS finally meet in what seems destined to be a preview of a future 3rd round playoff match. The winner of this match will probably end up in 4th place while the loser will likely get the 5th place spot. Getting fifth
probably
means an additional match against Shopify in the playoffs, and that's something both sides would like to avoid.
Speaking of Shopify, the long, three-way race between the Rebellion, the Heroes, and the Camels may finally come to an end this Saturday. Whoever wins between the Heroes and the Rebels will be in the playoffs for sure, though the loser may not necessarily be out.
If the losing team suffers a standard, non-ace loss, their season would be over. But if they managed to take it to an ace match and then lost, they'd have to wait on the result of Starving Camels vs DKZ to see who clinches the final playoff spot (more on this below).
Team Liquid vs ABYDOS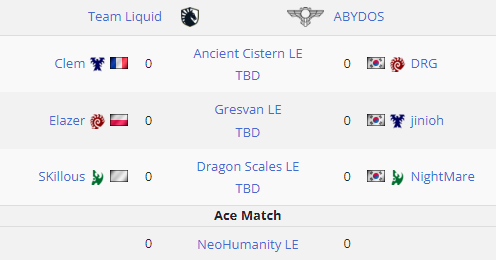 Benching both Creator and Cure, ABYDOS did not seem to worry too much about their last WTL match, but with that said the match-ups lined up surprisingly well for the Koreans. Clem may be a stronger player than DRG by most standards, but DRG is a ZvT specialist who can beat elite-tier Terrans on occasion. With the losers' map pick, I think DRG can take a map off of the Frenchman.
Elazer will have a much easier time against the debuting Jinioh. The Korean Terran is a regular of the early round of online cups and shouldn't be able to threaten Elazer unless he has some crazy builds in his back pocket.
To close it out, SKillous and Nightmare will embark onto the tumultuous waters of the Protoss mirror. They both have a 50% win rate in PvP this season, have an 18-16 head-to-head record, and Aligualc gives about a 0.03% advantage. In short, everything points toward a 1-1 split that would leave Team Liquid victorious.
Prediction: Team Liquid 4
- 2 ABYDOS
Platinum Heroes vs Shopify Rebellion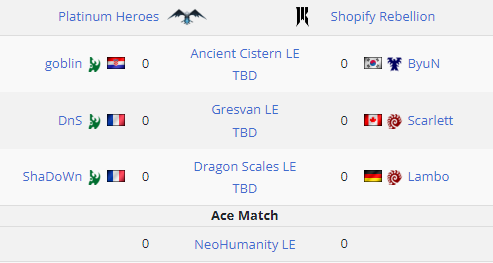 The Shopify Rebellion enter as the on-paper favorite in this crucial match. ByuN just made it to the GSL round of 8 and should have done plenty of TvP preparation in anticipation of his group, while Goblin has had limited success against Korean terran in the past. DnS against Scarlett is the bright spot for PH, with the Canadian Zerg's form seeming to be all over the place (reaching the top 4 of the last WardiTV championship and bombing out of the GSL qualifiers). Opposite of her, DnS has been much more stable (for better and for worse) and has been doing a great job as the ace for his team this season. I expect him to come prepared and play a hard-fought series. 2-0 should be the goal for Shopify, but with Scarlett, any result seems possible.
There's a good chance the Heroes' fate will hinge on ShaDoWn getting any kind of result against Lambo. There's bound to be some mind-gaming going on, depending on whether Lambo wants to play safe against a weaker opponent or go for the deadly timings he's become famous for.
If Shadown takes a map from Lambo, there will still be the ByuN enigma to solve in the ace match. Unfortunately, no one is really equipped for that challenge, so it feels like this is going to be a 4-3 victory for the Rebellion at worst.
.
That's my boring, level-headed analysis of the match. Yet, I can't shake a feeling that things will go sour for SR. For months now, there should have been some sense of urgency where they realized a playoff spot is NOT a given. Yet, week after week, they haven't put any distance between themselves and the Camel-Heroes. While the underdogs kept finding points, SR squandered opportunity after opportunity against TL, DKZ, ABYDOS, and Basilisk. It's hard to talk about momentum in a league that's had so many breaks for major tournaments, but if there's any, it's definitely on the Heroes' side.
So I'll go out on a limb. I think the WTL has one last surprise in store for us.
Prediction: Platinum Heroes 4
- 3 Shopify Rebellion
Sunday, Jul 16 12:00pm GMT (GMT+00:00) Matches
At Stake: Regular season championship; MAYBE the final playoff team
Overall, the odds point to the Starving Camels going through to the playoffs, but it's not 100% locked in just yet.
Let's lay out the scenarios. If the Camels get any points from their match against DKZ, they're in the playoffs. If Shopify vs PH ends in a non-ace victory for either side, they're in the playoffs.
The situation where it gets complicated is if Shopify vs PH goes to an ace match AND the Camels suffer a non-ace loss against DKZ. In that case, that would leave the Camels and the loser of PH/SR tied at 15 points. Then, map-score differential would decide who claims the last playoff spot. If the Camels end up tied with Platinum Heroes, then they'd only need to win one map against DKZ to win the tie-breaker. In the unlikely scenario where the Camels were tied with Shopify, then they'd need to win two maps against DKZ.
Meanwhile, for the last match of the year, we finally get the duel of our two top teams. ONSYDE and BASILISK have both had stellar seasons, combining for a +56 map differential. Funny enough, 2nd place BASILISK actually has the better match record of 10-0 (compared to ONSYDE's 9-1), but trails in points after being forced to a number of ace matches.
Since ONSYDE lead by one point and have a comfortable +6 map differential advantage on BASILISK, they don't actually need to beat BASILISK to win the regular season championship—an ace match loss would do the trick.
瘦死骆驼 (Starving Camels) vs Dragon KaiZi Gaming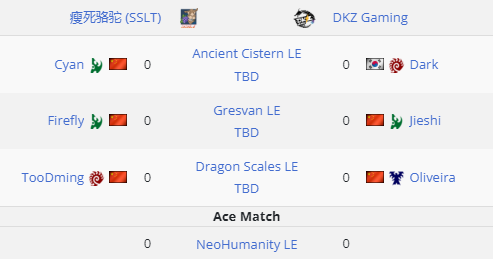 SSLT must be thanking the gods DKZ decided to send Jieshi in replacement of herO, which makes them much more likely to avoid any kind of armageddon scenario. Cyan could get them halfway there if he can surprise Dark with some clever game plan—remember, Dark has dropped maps to Harstem and Creator this season. It's obviously not likely to happen again, but SSLT got here by being the team that made unlikely events a reality.
Where most of the Camels' hope lies is in their ace, the supreme Firefly, who for one does not even need to pull an upset going up against Jieshi. Both players are actually quite even in their head-to-head record, but Firefly has had far better WTL performances. I expect a 2-0 victory for the Camels here.
Oliveira will have to make sure he delivers if DKZ are to finish third in the league. That, he might do quite comfortably. TooDming has been impressive this season, but he's been at a disadvantage against Oliveira far before the artist-formerly-known-as-TIME became a world champion.
Prediction:
瘦死骆驼 (Starving Camels) 2 -
4 Dragon KaiZi Gaming
ONSYDE Gaming vs BASILISK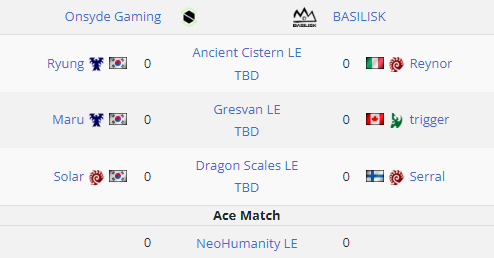 For the longest time, KaiZi versus Dragon Phoenix Gaming was the traditional last match of the season. But with the two historical giants of the Chinese scene merging into one team, a new last match had to be found. Here, SCBOY has struck gold by putting ONSYDE vs BASILISK as the final match. They've been the best two teams throughout the regular season, and now they'll face off in a championship match of sorts.
However, like every tournament organizer before them, they did not get the Maru-Serral match they were hoping for… …at least not in the initial draw.
Reynor versus Ryung will test if the Italian Zerg is currently the 50/50 man or the clutch player who rises to the occasion in big matches. Ryung has not suffered a 0-2 loss in his last 10 WTL matches, while Reynor has dropped at least a map in 14 of his last 22 appearances. This season alone, Ryung's 13-5 record is only two wins behind Reynor's 15-6, and because he got benched for Crank against BattleB. Going by these numbers, you have to think another 1-1 is the most likely result. On the other hand, TvZ is definitely Ryung's weak match-up, and this should be a 2-0 if Reynor can shake off whatever WTL jinx he has.
In the middle match, Trigger should suffer the happiest beating of his career against Maru. The sacrificial lamb can play some good PvT, as he showed against ByuN a couple of weeks ago, but Maru has been close to perfect this year. Maru can expect to get the 2-0 in two relatively simple games, and BASILISK can be happy with that tactical concession.
As the biggest entrant into the league since its creation, it's fitting that Serral will have the honor of playing the last match of the regular season. The reality of ZvZ is that no one in the universe is a surefire 2-0 against anyone else, and definitely not when it's Serral vs Solar. Still, if there's anyone you can
trust
to win ZvZ, it's probably Serral. That may seem like a bit of a weird statement. After all, ZvZ is often pointed to as Serral's only real weakness, and Solar is no slouch in the mirror (as his near reverse-sweep of Reynor in Krefeld made evident). Nonetheless, Serral ZvZ only seems shaky in comparison to his other match-ups, and I still think he's playing the match-up better than anyone else.
It will be interesting to see what happens if things go to the ace. It would be a match of no consequence since ONSYDE would have clutched first place, so anything would be possible—even a glorious RotterdaM vs Crank match if the rules allow it. I'm not confident Maru would have any interest in playing one more SC2 match than he needs to, especially not in a glorified showmatch against Serral. So, I suspect we may be denied the GOAT match once again and see Solar enter as the ace. In any case, I would give a small edge to Serral over them both.
BASILISK topped my pre-season power ranking over ONSYDE, but it looks like the regular season crown will go to ONSYDE in the end.
Prediction:
ONSYDE Gaming 3 -
4 BASILISK
---
Credits and acknowledgements

Writer: Nakajin
Editor: Wax
Stats: Aligulac.com & Liquipedia
Images: SCBoy