World Team League - 2023 Summer Season
by: Wax
With Nakajin off for the week—presumably scouring the world for the best young SC2 talent—I'll be taking over for the WTL preview/recap.
Week 6 saw Starving Camels' miracle run end against Team Liquid, with the Desiccated Dromedaries earning zero points for the first time this season. Conversely, it was another encouraging win for a revitalized Team Liquid, who are now
overperforming
for the time in WTL history. Meanwhile, ONSYDE Gaming retained their spot on top of the table, despite sending out Crank to eat a 0-2 loss against Berserker eSports.
The success of Team Liquid and SSLT is contrasted by the troubles of PSISTORM and Shopify, who may not be guaranteed a playoff spot as we assumed at the start of the season. Thus, this upcoming Week 7 clash between PSISTORM and Shopify feels like a mid-season must-win match, as it could have huge playoff ramifications later. Otherwise, Week 7 features a mostly one-sided slate of games, with clear favorites in the other five bouts.
Week 6 Recap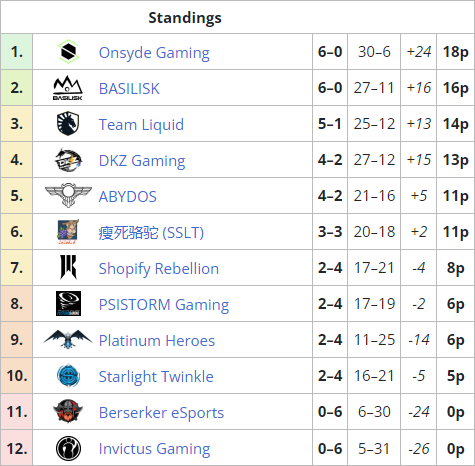 Top 7 teams qualify for the playoffs.
Bottom 2 teams must requalify.
Points are awarded as follows:

3 points for a victory in a series that does not require an ace match

2 points for a victory in a series that requires an ace-match

1 point for a loss in a series that requires an ace-match

0 points for a loss in a series that does not require an ace match
Team Liquid 5 - 1 瘦死骆驼 (Starving Camels)
Watch VOD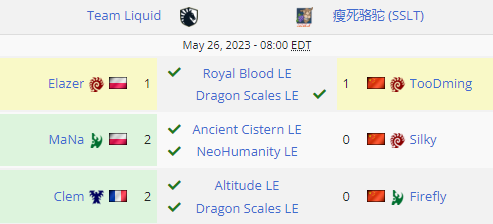 TL versus the Starving Camels got started with Elazer and TooDming fighting their way to a 1-1 draw in an offense-oriented match, where the combined game time was barely over fourteen minutes.
MaNa then swung the series in Liquid's favor, as he took a 2-0 over Silky thanks to solid defense. Game one saw Silky go for a bizarre Tunneling Claws Roaches all-in
without
speed, which was crushed by Immortals, Disruptors, and whatever units MaNa had on hand. Silky tried a different all-in on NeoHumanity, taking a fast gold base and teching up for a fast Zergling elevator. However, MaNa caught whiff of the drop, and halted it easily to take a fast second win.
Clem then got the fourth and series-deciding win on Altitude, using his strong, standard bio play to overrun Firefly. The Liquid ace then got a final win for the road, holding off Firefly's Blink-Stalker harassment before pounding him with infantry again.
Platinum Heroes 1 - 5 BASILISK
Watch VOD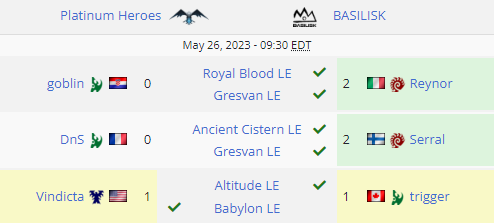 Reynor took more steps toward earning a better WTL player score, getting his second 2-0 in a row against Goblin. The plucky Protoss tried to play Reynor in a fairly straight-up bout in game one, but couldn't overcome his world champion Zerg in the end. Goblin had a chance to steal the tie in game two after he thwarted a Queen-drop + Roach timing, but Reynor's overwhelming macro and constant backdoors were ultimately too much for Goblin to handle.
Serral followed up with a 2-0 of DnS to secure the full three points for BASILISK. The French Protoss did a respectable job of holding his own against Serral in fairly orthodox macro games, but the end result was never really in doubt.
With the result already decided, Vindicta and Trigger split the final series 1-1.
Invictus Gaming 2 - 4 ABYDOS
Watch VOD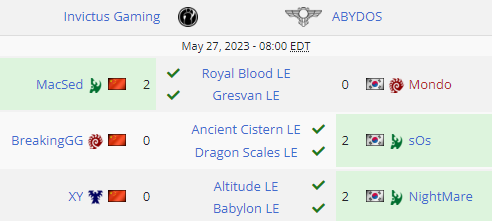 Mondo led the charge for ABYDOS, but he was unable to get his first map win of the season in a 0-2 loss to MacSed. The veteran Protoss shrugged off his opponent's aggressive efforts, and eventually overpowered him with a mass Gateway unit style in both games.
sOs was next up for ABYDOS, and the retired(?) legend got things back in order for his team with a 2-0 over BreakingGG. Glaive Adepts were the key to victory for sOs, as he used 4-Gate Adepts to win game one, and then dealt enough damage with 3-Gate Adept harass to easily win game two.
Finally, NightMare clutched out a 2-0 against XY to score the full three points for his team. Game one saw XY's attempt at a 2-base all-in sputter out before it even got started, featuring a humorous micro mistake where he trapped his accompanying SCV's behind a supply depot wall. XY's attempt at another 2-base timing went slightly better in game two, but ultimately he was thwarted by the might of Disruptors hiding in line-of-sight blockers.
Starlight Twinkle 2 - 4 PSISTORM Gaming
Watch VOD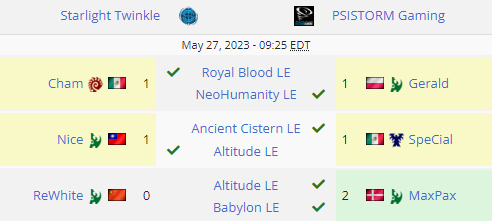 Cham and Gerald kicked things off with a 1-1 draw. Game one went Cham's way, with his mid-game Roach-Ravager barrage being enough to topple Gerald before a critical mass of defensive Disruptors could be gathered. Moving to a bigger battlefield of NeoHumanity let Gerald survive into the late-game, but victory didn't come easy. With Cham fighting until his last breath, Gerald only took his win after 27 minutes of brutal fighting.
Nice and SpeCial also split their series 1-1, with Mine drops being the key in both games. Successful drops from SpeCial gave him a major early advantage in game one, which he used to push to victory in the mid-game. On the other hand, Nice nullified SpeCial's drops with good Phoenix use in game two, allowing him to build a strong Phoenix-Colossus-Zealot composition and tie the match.
A tied score was all PvP virtuoso MaxPax needed to take the three points home for his team as he dispatched ReWhite in a one-sided 2-0. The series followed a familiar MaxPax PvP pattern, with the mysterious Dane going for predictable fast expansions, and then thwarting whatever all-ins his opponent happened to throw at him that day.
ONSYDE Gaming 4 - 2 Berserker eSports
Watch VOD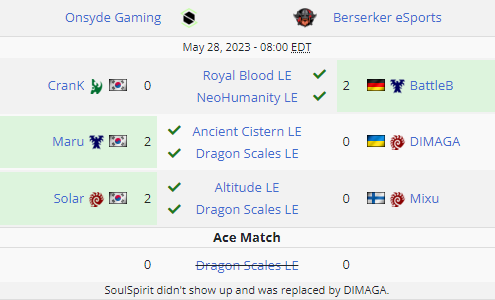 ONSYDE decided to use their match against (then) last place Berserker to give Crank a chance to play, but this ended up being an ill-fated excursion for the caster/streamer as he gave up a 0-2 to BattleB. Crank's Phoenixes openers were harshly punished by BattleB's 3-Barracks timings in both games, which effectively ended the bouts early on. However, game two did get dragged out for an unnecessarily long time, allowing BattleB to finish Crank off in style with BattleBCruisers.
Solar proceeded to tie things up with a fairly quick 2-0 against Mixu, leaving Maru to finish the job against DIMAGA. Interestingly enough, DIMAGA actually made the 6SL winner sweat a little in game one, nearly breaking him with waves of mass Hydra-Ling-Bane in the mid-game. However, DIMAGA missed his chance to put Maru down for good and eventually gave up a 'comeback' loss. Maru allowed no such complications in game two, starting off with 2-Barracks Reaper pressure and finishing the job with a strong mid-game push.
Shopify Rebellion 3 - 4 Dragon KaiZi Gaming
Watch VOD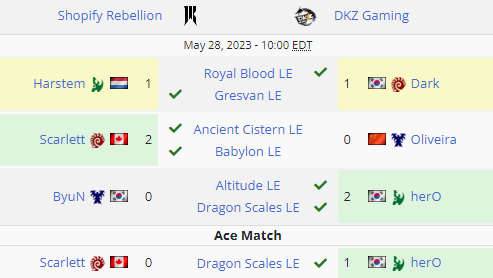 Harstem got Shopify off to a fantastic start, stealing a 1-1 off of Dark. Game one went poorly for the Captain, as his attempt to go fast Carriers was harshly punished by the notoriously aggressive Dark. However, Dark's aggressive tendencies worked against him in game two, as Harstem scouted and held off multiple Nydus attempts. This gave Harstem the breathing room to get into Carriers, which he then used to control the game. Dark used his exceptional skill with spellcasters to make it quite annoying for Harstem to close the match out, but ultimately Harstem won through attrition in about 21 minutes.
The situation got even better for Shopify in the next match, with Scarlett taking a 2-0 over world champion Oliveira. Scarlett's Hydra-Ling-Bane was on point in game one, and she overpowered the Terran forces in a straight-up test of strength. Game two saw Scarlett get ahead with good early Zergling usage, which she leveraged into overwhelming Roach-Ravager attacks in game two.
It looked like Shopify had set the table for ByuN to finish DKZ off, but instead, it was just the prelude for an appropriately 'heroic' performance from herO. The DKZ Protoss started with a fast gold base on Altitude, while ByuN went for a proxy-1/1/1 cheese at the OTHER gold base. This resulted in a hectic basetrade, with herO able to knock out ByuN's main base and sole Command Center with Stalkers, while ByuN's Marine-Tank force took out the Protoss gold base. For a brief period, ByuN's force looked strong enough to be able to push all the way to the Protoss main and force herO to surrender. However, herO was able to delay for just long enough to reinforce his army and take the game.
ByuN and herO then engaged in a bout that was almost as tense, but in a very different way. The two players fought it out in a bloody macro brawl on Dragon Scales, with supplies remaining similar throughout the game. Ultimately, herO managed to deny ByuN the key bases needed to stay in the fight, and forced the GG in about 17 minutes of play.
With herO riding a wave of momentum, DKZ sent him back out as the ace. In an intriguing twist, Shopify actually went with Scarlett as their ace. Scarlett typed out "Hihi my team today all gone" in the pre-game lobby chat—we can only guess as to how serious that was. At least in terms of gameplay, it felt like Scarlett was left hung out to dry by her teammates, as herO took a very one-sided victory with his signature Oracle-Stalker style.
herO won the Week 6 MVP award completely uncontested, being the only player to put up a record of 3-0. Not only that, but he did it against tough competition as well, taking down ByuN 2-0 before trouncing Scarlett in the ace match.
It was disappointing for Protoss fans to see herO suffer early elimination in the Code S RO8 last month, but the great form he's showing in other tournaments suggests he's gearing up for some great bounceback performances in the summer tournament trio of Code S Season 2, DreamHack: Summer, and Gamers8.
Weekly MVP's:
Week 6: DKZ.herO

Week 5: Liquid`Clem

Week 4. PH.DnS

Week 3: Everyone on SSLT/瘦死骆驼/Starving Camels

Week 2: ABYDOS.Cure

Week 1: BASILISK.Serral
Preview: Regular Season Week 7
Friday, Jun 02 12:00pm GMT (GMT+00:00) Matches
Invictus Gaming vs BASILISK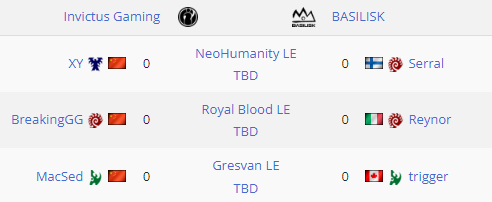 Personally, I wanted to RotterdaM to try his luck in this match and try to one-up ONSYDE's Crank by actually winning a map as a player/caster/captain. However, BASILISK have decided to respect iG and field their normal, full-strength roster.
That might actually have been for the better, as this is a slightly thornier match for BASILISK than appears at first glance. Reynor's 50/50 instinct in the WTL means that you absolutely cannot pencil him in for a 2-0 in a ZvZ, while Trigger is liable to give up a tie to savvy veteran MacSed as well. Fortunately for BASILISK, Serral is the ultimate security blanket, and his almost inevitable 2-0 against XY should be enough to secure his team three points.
Prediction:
Invictus Gaming 1 -
5 BASILISK
Platinum Heroes vs ABYDOS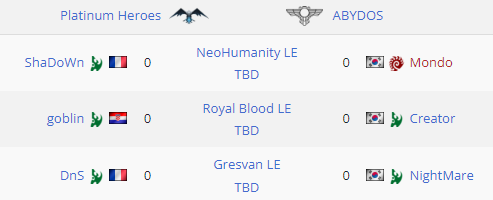 Mondo is in for ABYDOS for the third straight week, leaving Cure and DRG on the bench. While ABYDOS survived a 0-2 from him last week, I'm not so certain about their chances against the Heroes.
A double PvP in the latter two matches is a pretty ideal scenario for the Heroes, with both Goblin and DnS more than capable of forcing 1-1 draws out of their foes. If ShaDoWn can make sure Mondo remains winless in their initial match, that'll be all Platinum Heroes need to take a victory.
Prediction: Platinum Heroes 4
- 2 ABYDOS
Saturday, Jun 03 12:00pm GMT (GMT+00:00) Matches
Team Liquid vs Berserker eSports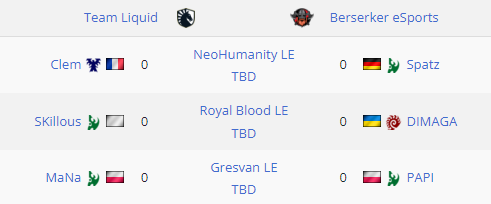 Crank's charity performance is the only reason Berserker eSports aren't tied for last place in the league. While DIMAGA's surprisingly tough resistance against Maru last week forced me to raise an eyebrow, I just can't see the Berserkers making this match interesting, much less winning it.
Prediction:Team Liquid 5
- 1 Berserker eSports
ONSYDE Gaming vs 瘦死骆驼 (Starving Camels)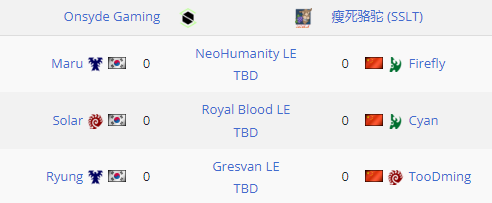 Is the miracle run over for the Starving Camels after a magical five weeks? Facing Team Liquid last week, they sure did look like the relegation-zone squad many fans projected them to be at the start of the season.
Alas, if the Blessed Bactrians are looking to find that magic spark again, they'll probably have to wait another week. ONSYDE are back to fielding a full-strength line-up, and none of these three match-ups look at all hopeful for the Camels.
Prediction: ONSYDE Gaming 6
- 0 瘦死骆驼 (Starving Camels)
Sunday, Jun 04 12:00pm GMT (GMT+00:00) Matches
Starlight Twinkle vs Dragon KaiZi Gaming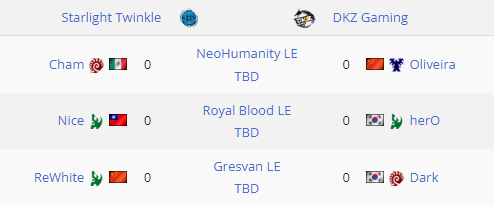 Similar to many of the matches this week, it feels like the favorites are locked into a win with nary a chance of anything going awry.
If I HAD to pick a match that might trouble DKZ, it would be Cham vs Oliveira. Our world champion's form has dipped slightly since IEM Katowice, and his 0-2 loss to Scarlett last week was rather discouraging. Oliveira is still playing very well overall when you look at all competitions, but perhaps there's the chance of a 1-1 tie here.
Prediction:
Starlight Twinkle 1 -
5 Dragon KaiZi Gaming
Shopify Rebellion vs PSISTORM Gaming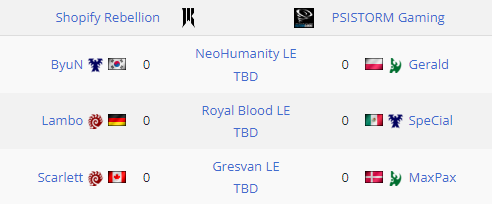 Both Shopify and PSISTORM have drawn favorable matches for their ace players, with ByuN and MaxPax in great position to take 2-0's. However, Shopify has a much better chance to steal a 1-1 due to Scarlett's skill with cheeses, whereas Gerald has struggled to upset stronger players in the WTL.
Still, both those matches are likely to end 2-0 in favor of the aces, which would leave Lambo vs SpeCial as a potential swing match. On paper, I'd say Lambo only has a slight advantage against Juanito. However, Lambo is exceptionally good at punishing players who play predictably greedy builds, and I feel like SpeCial won't be able to resist the urge to force mech in at least one game.
If this does go down to an ace match, I think MaxPax would be slightly favored over ByuN (especially given that the map is Altitude). However, I think Shopify will be able to close out the series before that's necessary.
Prediction: Shopify Rebellion 4
- 2 PSISTORM Gaming
---
Credits and acknowledgements

Writer: Wax
Stats: Aligulac.com & Liquipedia
Images: SCBoy