World Team League - 2023 Summer Season
by: Nakajin
Week 5 of the WTL saw the Starving Camels score yet another huge upset, this time taking down ABYDOS to jump into the top half of the table. Also, Team Liquid earned their first ever win over Shopify Rebellion, while PSISTORM started their journey back toward relevance with a victory and
major acquisition
. As the teams prepare to enter the second half of the season, there should be much jockeying for seeding between the teams in the middle of the table.
Looking ahead to Week 6, highlights include Team Liquid testing how 'real' the Starving Camels truly are, Shopify taking on DKZ in what could be a very tight match, and Crank coming out of 'retirement' to play a match for ONSYDE Gaming.
Week 5 Recap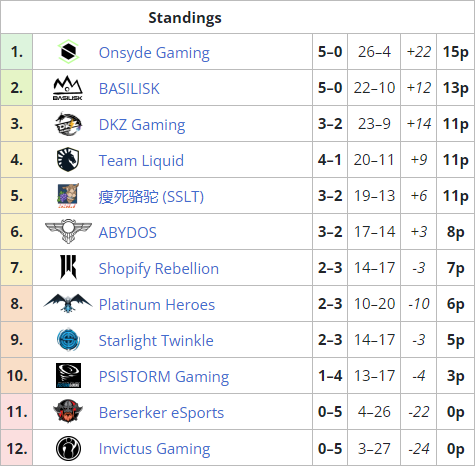 Top 7 teams qualify for the playoffs.
Bottom 2 teams must requalify.
Points are awarded as follows:

3 points for a victory in a series that does not require an ace match

2 points for a victory in a series that requires an ace-match

1 point for a loss in a series that requires an ace-match

0 points for a loss in a series that does not require an ace match
ONSYDE Gaming 4 - 2 Starlight Twinkle
Watch VOD [/b]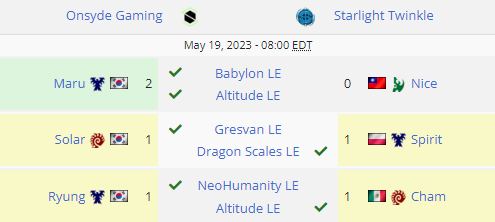 Just days after winning his sixth Code S championship, Maru showed up for a routine victory against Nice. There didn't seem to be any kind of championship hangover, and Maru even busted out a battle-mech build to win game two in stylish fashion. As a side note, Maru went for mass Cyclone-Widow mine rather than prioritizing Hellions, so if anyone is looking for ladder builds, here's your chance to just-play-like-Maru.
Spirit started his bout against Solar disastrously, leaving his door wide open for a Ling scout. Solar gathered enough information to figure out a proxy-Starport Hellion drop was going on, and he responded with a swift and merciless Zergling counter to take the game. Perhaps wanting to hide strategies ahead of EPT Europe, or perhaps just wanting to make an homage to Maru, Spirit went for a proxy 4-Rax to try and keep his team alive. Solar defended the proxy rax as well as he ever has, which is to say he got bopped by it. Spirit continued his run without a 0-2 defeat in WTL, while Solar lost his first map of the year, leaving just Maru and Serral undefeated in maps.
Solar's tie meant for the first time, ONSYDE had to rely on Ryung to close out their series. The suspense didn't last long, as Cham seemed to have no answer for Ryung's Banshee into battle-mech opening in game one and got bullied all game long. Cham clearly didn't love the experience and instead went for a 25-Drone Ling-flood in game two. While it couldn't break the Terran, it dealt more than enough damage to force Ryung to play battle-mech from behind, a notoriously difficult task. Ryung hung in there for a while, but the SLT Zerg eventually closed things out to recover some consolation points for his team.
With their 'hardest' win of the season, ONSYDE confirmed they'd stay at #1 for yet another week. As for SLT, losing to ONSYDE was an expected result—most of their regrets are from previous weeks where they had chances to get points off much more beatable foes.
Invictus Gaming 0 - 6 PSISTORM Gaming
Watch VOD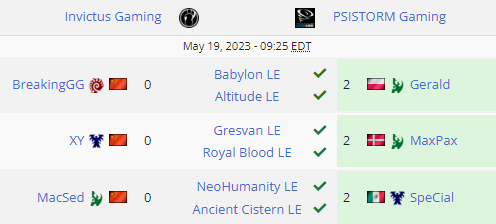 PSISTORM were in a must-win match against Invictus Gaming, and fortunately for them, the pressure did not get to their heads.
MaxPax manhandled XY in game one with an aggressive Stalker opening, tanking multiple Widow Mine shots on his way to bust the Terran main. Game two was a bit more competitive, but the compounding damage of MaxPax's Blink Stalkers slowed down XY's Tank push enough for him to get out an overpowering force of Chargelots and Colossus.
SpeCial continued the rout against MacSed. He easily deflected proxy-Stargate aggression in game one, and then countered with an assortment of units to make sure PSISTORM would get at least a point. Then, a proxy Reaper strategy in game two was enough to make sure the team would get all three points. Special first two Reapers managed to kill an Adept and 11 Probes before going down, putting MacSed into an impossible position.
While the match was already done, every map was precious for PSISTORM after a weak start, and Gerald left nothing on the table with a 2-0 of his own. BreakingGG sold his skin at a hefty price, though. In game one, it looked for a while as if his multiple headbutts with Lurker-Roach-Viper would break the Protoss defense, but when Gerald was able to survive until Stargate units and close things out in the late-game.
Game two was even harder for the PSISTORM Protoss, who actually lost his entire late-game army this time around. However, he pulled off a minor miracle with a mass Stalker switch which picked off BreakingGG's Brood Lords. Gerald only had a handful of Stalkers and a couple of buildings left in the end, but that was enough to clinch the 6-0 victory. Despite being played in 'garbage time,' it was probably the best match of the week.
PSISTORM got their first three points and started on their long and arduous journey to making the playoffs. Now that they've plucked Spirit directly away from Starlight Twinkle, it seems that they're all-in on that goal.
瘦死骆驼 (Starving Camels) 4 - 2 ABYDOS
Watch VOD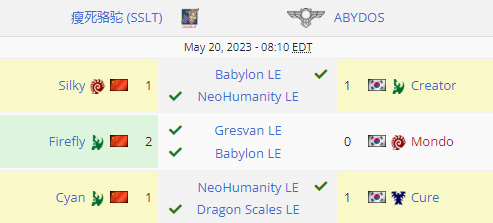 At this point, I don't even know if I should call this result an upset. The Starving Camels once again punched far above their weight class to KO a stronger team on paper, aided by their opponent's forgiving roster choices.
The match started as it should have, with Creator playing a patient and methodical game against Silky's Ling-Bane-Hydra aggression before countering with a Colossus army to take the first game. Silky chose NeoHumanity as his second map, and he had a plan in mind. Sending four Drones across the map to mine the backdoor gold wall at Creator's natural, he opened up a pathway for his Zergling all-in. Creator got punished for not spending enough time on the NA ladder, and Silky somehow took the 1-1.
That set up FireFly to really put ABYDOS against the ropes, as he went up versus the outmatched Mondo (with ABYDOS benching players like NightMare, DRG, and sOs in his favor). FireFly gave his opponent a dromedary drubbing—defending a Roach-Ravager composition in game one and killing the Zerg with a Glaive opening in game two.
ABYDOS had been burned for sending out Mondo, but still had a chance to get two points on the day with Code S finalist Cure at the helm. The first game against Cyan went as one would imagine, as Cure used high-tempo, multi-prong aggression to force the Protoss on the backfoot. Cyan tried a mass Colossus composition in order to defend his bases, which worked for a time until a bad recall on top of the Terran army saw all of them fall like giraffes in an ice-skating rink.
Like his teammates, Cyan turned to cheese in his second game, going proxy Stargrate Oracle into Blink Stalkers to do massive early damage. Cure held off the second wave of Stalkers, and seemed to have enough in the tank for a strong two-base push. However, Cyan's Warp Prism backdoors and other delaying tactics were very successful, taking all the force out of Cure's desperate attack. As he crushed the last of Cure Marines, Cyan let out a deep sigh of relief.
The Camels improved to 3-2, jumped past ABYDOS, and proudly took the 5th place spot in the league table.
Platinum Heroes 0 - 6 Dragon KaiZi Gaming
Watch VOD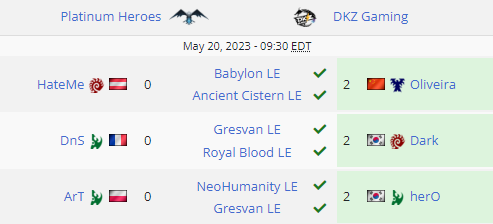 The WTL always creates interesting and novel matchups, and this week it gave HateMe a shot at beating the reigning World Championship. Oliveira gave him a shot in two straight-up games, letting HateMe show us his best. The Austrian Protoss held his own for a while, but he just couldn't keep pace with the blazingly fast Terran. It was an honorable showing for HateMe and the Heroes, but the result on paper was still 2-0 for DKZ.
Dark had none of his teammate's gentlemanly restraint, going for a Queen-Nydus attack versus DnS on Gresvan (although arguably, he would do this against anyone). He couldn't break DnS right away, but eventually busting the third was enough for the build to be worth it for Dark. DnS had a shot at winning with a mid-game attack as Dark transitioned into Hive and Lurkers, but a 360 surround with Ling-Ravager-Hydra and 20 Queens closed that window and allowed Dark to control the rest of the game. DnS then got to a great start in his second game against Dark, killing about 20 Drones with his Adept-Oracle opening. However, he couldn't find the killing blow while Dark rushed to Lurkers. A mass-Lurker Nydus attack helped Dark orchestrate a comeback, and he tore apart the Protoss defenses while handling the counterattacks with ease.
With the match already over, neither Art nor herO seemed interested in playing for longer than necessary. A one-base Stalker rush, then two Adepts sneaking into Art main was all herO needed to give DKZ their second straight 6-0.
Berserker eSports 0 - 6 BASILISK
Watch VOD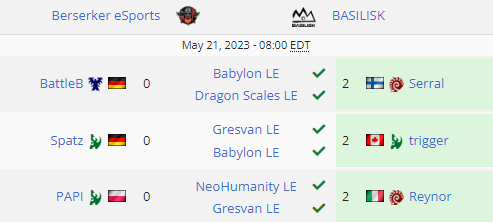 Serral and Reynor's games against BattleB and PAPI played pretty much as one would imagine (well, a Reynor game without the WTL-curse). Spatz-trigger was more interesting, as game one saw Spatz almost surprise the Canadian with a DT opening. But perhaps sensing something, Trigger put down a last-minute safety Robo to avoid game-ending damage. Spatz tried to continue the aggression in the mid-game, delaying his third in favor of a Stalker-Immortal push, but couldn't out-micro his opponent in the end. Game two once again saw Spatz be the aggressor, and Trigger once again passed the test on defense. Then, Trigger hit Spatz with a backpacking Adept attack, and finished him with a surprise transition into DT's. It was a nice showing for BASILISK's third man, who improved to 4-6 on the season.
Team Liquid 4 - 3 Shopify Rebellion
Watch VOD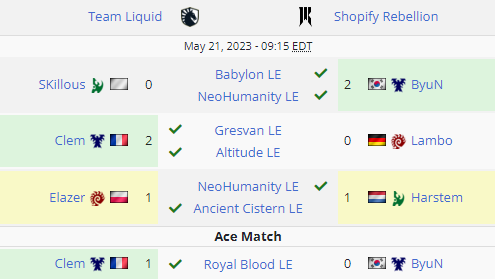 Team Liquid was hoping to score their first-ever win against their WTL nemesis, while the Rebellion was looking to bolster their mid-table standing with a few more points.
SKillous arrived with a plan against ByuN and managed to win the mind-games in game one, opening with a proxy-Gate against a no-scout low-ground CC. But while he won the dice roll, his execution was a bit lackluster and ByuN managed to survive with minimal SCV damage taken. SKillous's follow-up in two-base mass Chargelots was a nice idea, but good scouting and even better defensive sim-city from ByuN allowed him to crush it with ease. We saw the proxy-gate vs no-scout expand again in game two, but this time Byun paired it with a concussive shell Marauders, blind countering Skillous' attempt. Capitalizing on his strong opening, ByuN locked in the 2-0 with a counterattack.
With his team up 2-0, Lambo tried to get one over on Clem by trying to go for Mutas off of 70 Drones and minimal Ling-Bane. Sadly, for Lambo, Clem distracted defensive Queens with a Banshee, opening up an opportunity for his Hellions to kill plenty of Drones and alerting him to the Mutalisk threat. Clem recognized the situation and rushed across the map with just a handful of bio-mine, forcing a GG from the exposed Lambo. The German Zerg chose Altitude as his second map, probably hoping the battleground size would save him from those kinds of quick pushes. It did, but it didn't save him from the suffocating pressure Clem put him under. With not enough Creep to move his Hydras around on defense, a succession of left and right hooks sent Lambo to the mat for the ten count.
With an opportunity to play hero for his team, Harstem gambled on a Carrier opening in his first game against Elazer. It went unseen, but Elazer either sensed something was going on or lucked into a Spire. The early skirmishes were looking good for Elazer, until an overzealous attack into a hardened Protoss base cost him a chunk of his army. Running out of time against a rapidly growing Skytoss army, Elazer tried to tech up to Vipers. However, the Captain simply didn't give Elazer the time to assemble a late game army, and took the first game. Glaive Adepts were the follow-up choice of Harstem on Ancient Cistern. Elazer couldn't get a full scout but figured out the puzzle nonetheless. After stopping the initial wave, he opted to stay on a very low Drone count (not helped by losing about 10 of them), going for a few Roaches supported by a very high number of Zerglings. Those Lings were enough to cancel the Protoss third multiple times, forcing Harstem to try an all-in with Disruptors. He was greeted by about a thousand Lings, forcing him to surrender the tie.
For the fourth time in WTL history, ByuN was sent out as Shopify's ace against Team Liquid. Clem was the logical choice to go after him, despite the fact that he had already lost two ace matches against ByuN in the past. Both players rolled the dice, but fate favored TL on the day. Clem predicted that ByuN would go for proxy-Reapers, and met it with a 2-Rax reaper opening of his own. Nevertheless, when Clem's first Reaper got caught out, it seemed like Shopify would prevail yet again. However, Clem kept his cool, showing good defensive micro to kill ByuN's first two Reapers and stop the cheese in its tracks. ByuN proxied even more buildings for a desperation 1/1/1 push, but Clem remained appropriately cautious and secured the ace match victory.
TL finally broke their WTL curse against Shopify, and actually seem to be in a comfortable position to make the playoffs (unlike other seasons where they've had to sweat it out until the end). Meanwhile, Shopify is in the old TL spot, where they're almost certainly going to make the playoffs, but the path there will be more nerve-wracking than it needs to be.
Clem was the easy choice for MVP this time around, being the only player with a 3-0 record on the week. Not only that, but he took his victories against tough opponents, going 2-0 against Lambo and winning the ace match against ByuN.
It seems like this season could be different for perennial WTL underachievers TL, and Clem finally being able to lead his team to victory against Shopify is perhaps the best indication of this change. After seeing TvT be a weakness for him in many key matches—WTL and in individual competition— it was nice to see Clem recognize his opponent's tendencies and adapt to them. If Clem can keep delivering like this for the rest of the season, TL could earn their best WTL finish yet.
Weekly MVP's:
Week 5: Liquid`Clem

Week 4. PH.DnS

Week 3: Everyone on SSLT/瘦死骆驼/Starving Camels

Week 2: ABYDOS.Cure

Week 1: BASILISK.Serral
Transfer: SLT.Spirit to PSISTORM
PSISTORM owner KJ announced last week that he would be looking to add some players to turn their season around. Fans speculated about some unsigned free agents, but PSISTORM actually went inside the WTL for their first acquisition in SLT.Spirit.
The Polish Terran has been on a roll in 2023, fighting his way through the RO36 at IEM Katowice and beating Reynor on his way to a RO4 finish in EPT Europe. This great form has translated to WTL results as well, where he currently has a 8-3 record.
The move was somewhat puzzling, as Spirit was Starlight Twinkle's own big signing just a few months ago. Regardless of whether this move was purely financial, or if there are other reasons behind the scenes, this essentially marks the end of the playoff aspirations for SLT. The new goal for Cham, Nice, and the rest of the crew will be finishing outside the relegation zone.
Spirit won't be available this weekend, and if we are to assume the past rules of the WTL still apply, he will need to pass a 3-week waiting period before being allowed to suit up for a new team. Still, when Spirit finally becomes available for PSISTORM, he will boost their playoffs odds considerably.
Preview: Regular Season Week 6
Friday, May 26 12:00pm GMT (GMT+00:00) Matches
Team Liquid vs 瘦死骆驼 (Starving Camels)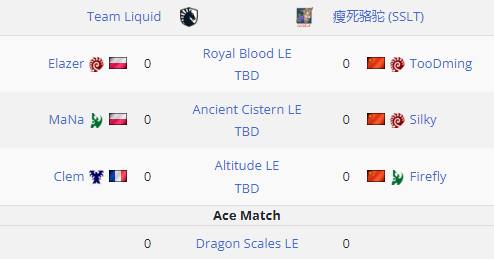 I'm in a conundrum with the Camels. On one hand, I can't deny what has unfolded before my eyes in the last 4 weeks as they have stood their ground against some of the giants of Starcraft 2. On the other hand, I'm convinced the second I stop doubting them, SSLT will snap back to reality and become the bottom 4 team they were meant to be. I'll then continue to spit out the same nonsense I have been for a month: "There's some upsets potential here, but TL has multiple paths to a 3 points victory"
Prediction: Team Liquid 4
- 2 Starving Camels
Platinum Heroes vs BASILISK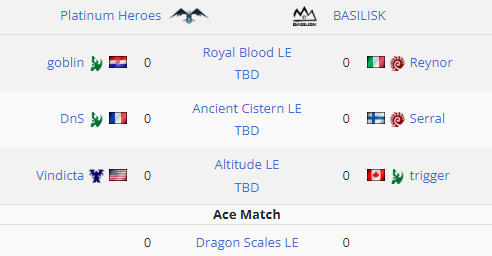 PH has run through their entire roster already, and are back to sending out usual faces with a Goblin-DnS-Vindicta line-up. It's a talented team with some upset potential, but stealing points from BASILISK remains a difficult task.
RotterdaM is showing no mercy to his 'son' Goblin, with Reynor facing him in the first match. Goblin has had a good season up to now, but as a fellow member of the Rotti-verse, Reynor should be more ready for his infamous shenanigans. Similarly, Serral probably has not gone 11-0 just to start losing maps to DnS in his best matchup.
Initially I thought Trigger might have a tricky match against fellow North American youngling Vindicta, but then I realized Trigger was on a 15-1 streak against the Platinum Heroes Terran.
PH will probably sneak in a map win somewhere in the series, but it should be smooth sailing for BASILISK.
Prediction:
Platinum Heroes 1 -
5 BASILISK
Saturday, May 27 12:00pm GMT (GMT+00:00) Matches
Invictus Gaming vs ABYDOS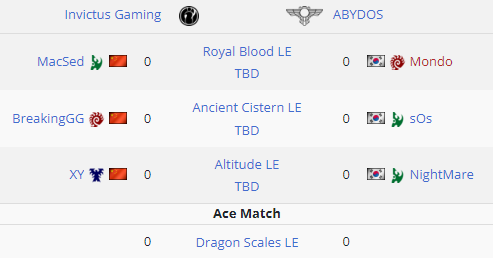 Oh, Abydos…
When I did the power ranking for this season of WTL, I cautiously put ABYDOS at 6th place despite their strong roster on paper. This week is an example of the lack of commitment I feared, as they're choosing to bench Cure, Creator, and DRG. Instead, they're sending out a rather vulnerable line-up to face last-place Invictus Gaming.
Well, at least it should make for an unusually compelling iG match.
As the best player on his team, MacSed should be looking to take a 2-0 against Mondo, which would get IG off to a nice early start. However, it would be unwise to just write off Mondo, as he looked alright in his loss to Firefly last week.
The mighty have definitely fallen, as I'm doubting what 3-time world champion sOs could get done against 2018 GPL runner-up BreakingGG. sOs has actually fared surprisingly well in 2023, beating INnoVation in a showmatch while tying trigger 1-1 in his earlier WTL appearance. His current form is anyone's guess, but it's nice to know he hasn't forgotten everything. BreakingGG has hardly been more active than sOs, with only a single non-WTL match played in 2023. This lack of useful information shrouds this match in mystery, but in any case, I'm always happy to see some sOs games. I'll put a 1-1 up as the prediction, without knowing any better.
NightMare finds himself in the unfamiliar position of the undisputed ace of his team for the day, needing to put his teammates on his back and get a 2-0 against XY. Looking at Aligulac, he has taken a couple of impressive Terran scalps lately, including ByuN and Gumiho, so while he's far from a proven commodity, he's nonetheless favored against XY.
An ace match seems like a strong possibility, which would give iG their first point of the tournament. Unless a rule change has happened, ABYDOS will not be able to send a bench player as their ace, so it would probably be NightMare lining up once more. On the iG side, MacSed seems like the logical choice, but maybe BreakingGG has a cheese up his sleeves. In any case, I side with NightMare and ABYDOS to get at least two points.
Prediction:
Invictus Gaming 3 -
4 ABYDOS
Starlight Twinkle vs PSISTORM Gaming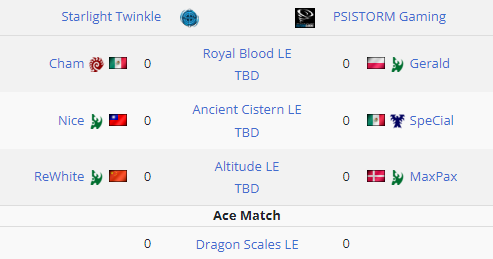 SLT may have just been gutted of their best player mid-season, but they have an opportunity to take PSISTORM down with them. The matchups have lined up as well as they could have for SLT. ReWhite, who is effectively Spirit's replacement, will be the sacrifice against MaxPax.
Cham has a tough but winnable match against Gerald—It won't be a walk in the park, especially considering that he holds a rather worrying 37% series win rate against him, but it's a best-case scenario nonetheless, and taking a map here is very doable.
Things are also looking somewhat promising for Nice. His PvT has looked middling in the Asian EPT, beating Oriana and XY, while losing to Oliveira and Coffee. But Special has been looking mortal in the matchup too, losing to Astrea and trigger in the EPT, and dropping a 0-2 against DnS in WTL two weeks ago. Special should be considered the favorite, but there's little margin for error.
An on-point PSISTORM could hope for a clean 6-0, but their early-season shakiness makes me predict a 4-2.
Prediction:
Starlight Twinkle 2 -
4 PSISTORM Gaming
Saturday, May 27 12:00pm GMT (GMT+00:00) Matches
ONSYDE Gaming vs Berserker eSports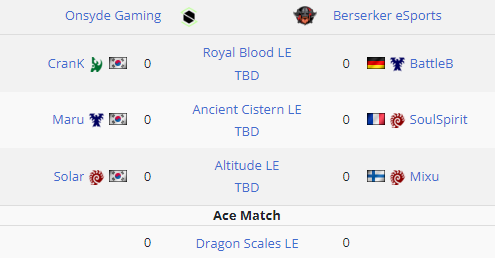 Gather around ladies and gentlemen for we are about to witness a special moment. It's been eight long years since Crank last played an 'official' tournament match in StarCraft II, at least as far as Aligulac and Liquipedia are concerned.
A caster and tireless advocate of Korean Starcraft 2 ever since, there will be plenty of eyes (and potential jokes) for his grand return on Sunday. Lined up across from him in his professional LotV debut is German terran BattleB, who was just twelve years old when the Axiom captain ostensibly retired from active play. The Berserker player has yet to win a map in WTL despite some good overall results outside of the team league, and he'll be looking to avoid what would be a somewhat embarrassing loss.
Whatever happens with their mighty captain, ONSYDE should be more than fine on the back end (which is probably why they sent Crank out, to be honest). Maru and Solar should be looking at clean 2-0's unless Mixu has some god-like dice rolls.
If ONSYDE gets a 3-point win against Berserker, they will have achieved the best start in WTL history, amassing 18 points in their first 6 weeks. Sure, the schedule has helped them, but it would still be a fantastic display of consistency.
Prediction: ONSYDE Gaming 4
- Berserker eSports
Shopify Rebellion vs Dragon KaiZi Gaming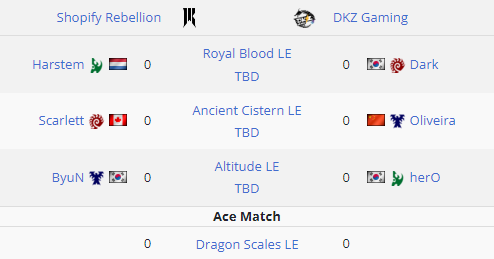 Following back-to-back-to-back losses, we meet Shopify at a rare moment of peril. Their grasp on the 7th spot is fairly strong, but getting some points against DKZ would go a long way to reassure their fans' nerves (even with a loss, it could be a very TL-esque season where they briefly dip outside the playoff zone but aren't in any real danger given the schedule ahead).
It's not looking all that bad for them. Harstem drew the short end of the stick against Dark, but it frees up both ByuN and Scarlett to play in reasonable match-ups. I believe they can combine to grind out 3 maps out of Oliveira and herO, forcing the ace-match. If things play out as I envision, then we'd get Dark vs ByuN in an ace-match.
That's a very close match-up, with ByuN winning their recent clash in the GSL. However, Dark is playing just slightly better ZvT on the year, and I favor him in this prediction.
Prediction:
Shopify Rebellion 3 -
4 DKZ Gaming
---
Credits and acknowledgements

Writer: Nakajin
Editor: Wax
Stats: Aligulac.com & Liquipedia
Images: SCBoy