World Team League - 2022 Winter Season
by: Wax
It might be the Winter Season of WTL, but things got off to a scorching start in week one with three ace matches. If I could engage in some wild speculation off just a single week's results, this could turn out to be one of the most hotly contested regular seasons yet.
Week 1 Results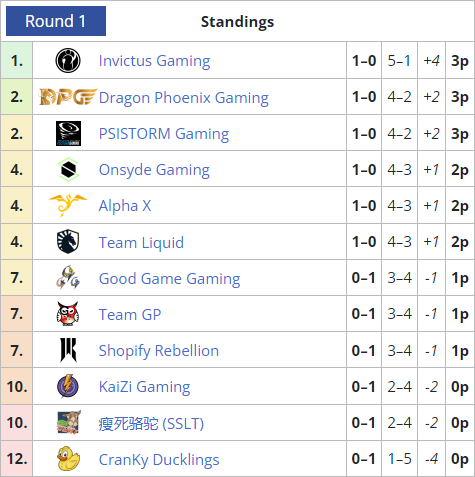 Top 7 teams qualify for the playoffs, bottom 2 teams must requalify.
Points are awarded as follows:

3 points for a victory in a series that does not require an ace match

2 points for a victory in a series that requires an ace-match

1 point for a loss in a series that requires an ace-match

0 points for a loss in a series that does not require an ace match
ONSYDE Gaming 4 - 3 Shopify Rebellion
Watch VOD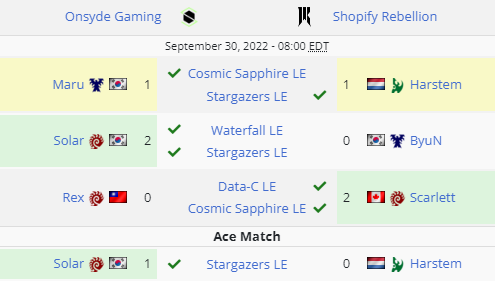 OSG.Maru's
return to the WTL wasn't all that glorious, as he gave up a 1-1 tie to
SR.Harstem
in his first match. While Maru won the first map of Cosmic Sapphire by holding off a 2-base Blink all-in, Harstem took a point for himself on Stargazers after defending against a Mine-drop all-in off one base from Maru.
ONSYDE Gaming then took the lead thanks to new signee
OSG.Solar's
2-0 win over
SR.ByuN
. The pair started off with an exciting macro game on Waterfall, where Solar's Hydra-Ling-Bane defeated ByuN's Marine-Tank after around 12 minutes of fighting. Moving on to Stargazers, the two players engaged in an even bloodier bout that lasted around 21 minutes. Once again, Solar overpowered ByuN with Hydra-Ling-Bane, as he was able to prevent ByuN from establishing a proper half-map split.
SR.Scarlett
then took a 2-0 over
OSG.Rex
to tie the score at 3-3 and force an ace match. Game one on Data-C saw Rex skip Lair and go for a Roach-Bane attack off three bases, but ultimately lose after failing to bust through Scarlett's defenses. Scarlett turned the tables on Rex in game two with her own fast Roach attack, forcing the GG out of the Taiwanese Zerg again.
Interestingly enough, ONSYDE Gaming opted to go with
OSG.Solar
as their ace player, while the Rebellion also threw a slight curveball by sending out
SR.Harstem
. The showdown on Stargazers featured a relatively passive build-up phase, with both players establishing their expansions and infrastructures.
Things started to heat up once Harstem began assembling his Carrier deathball, as Solar launched several attacks with Corruptor-Roach-Baneling. While he failed to keep the Protoss army from coming together, he did succeed at severely delaying Harstem from taking a fifth base. This let Solar build up a significant resource advantage, which in turn enabled him to trade at a loss against the Protoss army with Corruptors and Ultralisks. Despite taking better trades, Harstem couldn't win the war of attrition and had to surrender.
Good Game Gaming 3 - 4 Team Liquid
Watch VOD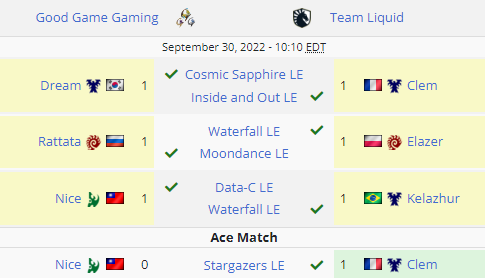 GGG.Dream
got his team off to an encouraging start, defeating enemy ace
Liquid`Clem
on Cosmic Sapphire with a deadly two-base Tank-Raven push. Clem seemed like he was on his way to an 0-2 after failing to achieve much with his 2-Barracks Reaper opener on Data-C, but he overcame his economic disadvantage with a wonderfully executed Marine-Tank push in the mid-game that ended the game directly.
The next pairing of
GGG.Rattata
and
Liquid`Elazer
also produced a 1-1 split score. Game one on Waterfall featured all sorts of ZvZ chaos, including a 12-pool start, mid-game Mutalisks, and mass Tunneling claws Roaches. Ultimately, however, the game arrived at one huge Roach-Ravager fight to decide it all, with Elazer coming out on top. Rattata then tied the series on Moondance after holding off Elazer's Roach-Nydus attacks.
The 1-1 draws continued in the next series as well, with
GGG.Nice
and
Liquid`Kelazhur
also proving to be evenly matched on the day. Game one on Data-C was quite the bloodbath at the start, with the two players engaging in a lot of early-game skirmishing. Nice was able to get better trades thanks to his Phoenixes, which helped him establish a much faster third base and better economy. This was too much of a disadvantage for Kelazhur to overcome, and he had to GG out to a powerful mid-game Protoss army. The intense early-game combat continued in game two, with Nice going for a 2-base all-in with Gateway units and Immortals. It seemed for a moment that Nice had the upper hand, but eventually Stim and Medivacs kicked in for Kelazhur and allowed him to take the game.
The ace choices ended up being
Liquid`Clem
for TL while GGG sent out
GGG.Nice
. This was a rematch from the 2021 Winter Season, when Clem closed things out in a victory for Liquid. As it turned out, history would repeat itself as Clem triumphed once more.
Nice opened with Oracle play on Stargazers, but quickly shifted into a two-base Blink Stalker all-in. Despite being caught slightly off guard, Clem demonstrated superior micro to hold off the all-in and take the series victory for Liquid.
Invictus Gaming 5 - 1 CranKy Ducklings
Watch VOD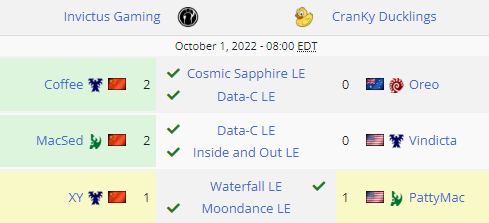 Invictus Gaming got off to a winning start after requalifying for the WTL after a one-season gap, but it came at the expense of newcomers CranKy Ducklings who were given a harsh initiation.
Coffee and Oreos proved to be a tasty combo for iG, as
iG.Coffee
started with a 2-0 over
CranKy.Oreo
. Indeed, the Chinese Terran even made it a point to celebrate each win by munching on some Oreo cookies after each win. Coffee took game one in quick fashion with a two-base Marine-Tank push, and then took game two by reading and holding off a Roach all-in from Oreo.
iG.MacSed
then continued the rout with a 2-0 of his own against
CranKy.Vindicta
. MacSed took game one by absolutely crushing a two-prong drop/frontal attack from Vindicta on Data-C, and then riding that advantage to a victory. Vindicta gave a better account of himself on Inside and Out, but was overpowered by MacSed's Stalker-Colossus-Disruptor army in the end.
With the victory already in hand,
iG.XY
was able to get by with a 1-1 tie against
CranKy.PattyMac
to wrap things up.
Dragon Phoenix Gaming 4 - 2 瘦死骆驼 (SSLT)
Watch VOD (Chinese)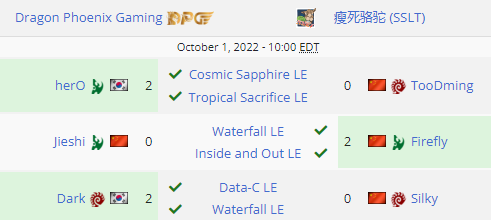 Despite giving up a few maps due to not fielding a full-strength squad, DPG still started their title defense on a winning note with a victory over SSLT.
DPG.herO
kicked things off with a 2-0 over
SSLT.TooDming.
On Cosmic Sapphire, herO pulled out a 6-Gate Glaive-Adept strategy but wasn't able to kill TooDming outright. However, he still dealt enough damage to gain an advantage, and forced a GG out of TooDming after holding off a desperation Ling-Ravager attack. TooDming looked to go for a Queen-Ravager-Ling all-in on Waterfall, but it never really got off the ground as he suffered painful harassment at the hands of Oracles and Adepts. This took all the steam out of TooDming's all-in, and he GG'd out after the doomed attempt.
SSLT.Firefly
then got his team's only wins of the night with 2-0 against
DPG.Jieshi.
In game one on Waterfall, Firefly discovered and thwarted Jieshi's hidden Dark Shrine to take a considerable army advantage. Firefly pressured Jieshi hard with Blink Stalkers, and was able to keep chipping away until he forced a surrender. Game two saw Jieshi try to fast expand on Inside and Out, but the game rapidly spiraled into a loss after he defended poorly against Firefly's 2-Stalker harassment.
There would be no mistakes from
DPG.Dark
as he secured the 4-2 win for his team with a 2-0 victory over
SSLT.Silky.
The last runner from SSLT pulled out a very peculiar fast Muta into Lurker (without Hive upgrades) strategy on Inside and Out, looking to hit a Roach-Lurker timing of sorts. However, Lurkers without the Hive upgrades are quite hard to use effectively, and Dark ran over Silky by simply playing a conventional Roach-Ravager style with vastly superior upgrades. Silky then tried a 12-Pool on Waterfall, but found himself countered by Dark's prescient decision to 16-Pool. A last ditch Speedling all-in from Silky went nowhere, locking in the win for DPG.
KaiZi Gaming 2 - 4 PSISTORM Gaming
Watch VOD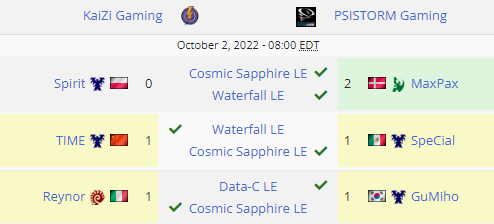 PSISTORM.MaxPax
showed why he was one of last season's best players by starting the new season with a 2-0 against
KZ.Spirit
. Game one on Cosmic Sapphire saw the two players prepare for a macro game initially, but MaxPax found a lot of damage with just 3-Gate Blink-Stalkers. The Danish Protoss didn't let that lead slip, and he crushed Spirit later with a bigger army. Game two followed a similar pattern with MaxPax picking away at Spirit with Stalkers, but this time the Polish Terran managed to stabilize into a decent position. However, MaxPax's storm-timing proved was just too powerful for Spirit to handle, and the Protoss army busted through the front door to collect the second GG.
KZ.TIME
was able to claw back one point for his team against
PSISTORM.SpeCial
, taking out his opponent on Waterfall with a strong pre-stim Tank push. However, SpeCial put his team on match point on the next map of Cosmic Sapphire. He won the early game Cyclone skirmishes handily, setting himself up to win easily with his preferred composition of mech.
PSISTORM.GuMiho
came through in the clutch and clinched victory for his team in their very next match against
KZ.Reynor
. Rare positioning mistakes from Reynor allowed GuMiho to roast a massive number of Drones with Hellions on Data-C, effectively ending the game by the 6 minute mark (he finished things with a bio-tank push). With the victory in hand, GuMiho went for a 2-Barracks proxy to try and run up the score on Cosmic Sapphire, but Reynor defended well to at least narrow the margin of defeat.
Team GP 3 - 4 Alpha X
Watch VOD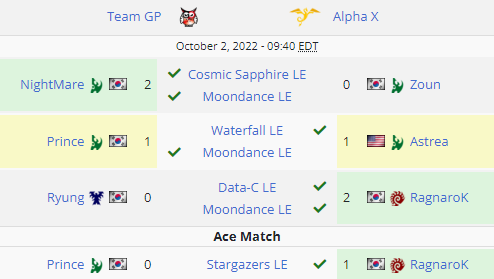 GP.NightMare
got off to a successful start playing for his new squad of Team GP, taking down
αX.Zoun
2-0 in his first WTL match. Game one on Cosmic Sapphire saw NightMare play around Blink Stalkers while Zoun was more tech-focused early on with both Phoenixes and Immortals. NightMare got in some great attacks before Zoun's tech units could hit critical mass, and eventually run his opponent over with Zealot-Stalker. The next game on Moondance was a Disruptor destruction derby, with the two players flinging dozens of purification novas at each other throughout the midgame. When the dust settled, NightMare prevailed by the smallest of margins.
Another PvP between
GP.Prince
and
αX.Astrea
followed, though this time neither player was able to declare themselves the victor. Astrea took the first map of Waterfall, holding off Prince's 1-base all-in with aplomb. However, Prince struck back on Moondance, hurting Astrea with Blink Stalkers early on before finishing him with a mass Chargelot timing off of three bases.
With his team on the verge of defeat, it fell on
αX.RagnaroK
to salvage the situation. Fortunately, his opponent was
GP.Ryung
—someone he had already beaten handily in Code S—and he was able to repeat the 2-0 result from GSL. Game one one Data-C saw Ryung try for a Marauder-Hellbat timing, but RagnaroK held it off with good scouting and timely Roaches. Still, Ryung managed to drag things out into a 22-minute macro game, where he even seemed to have the advantage at times. However, he never fully established the full turtle posture of his friend Maru, and was ultimately overrun by waves of Zerg units. RagnaroK then took game two in dominating fashion, taking out Ryung's bio with Hydra-Ling-Bane.
With Ryung struggling against RagnaroK's ZvT, Team GP decided to give
GP.Prince
a chance in the ace match. As for Alpha X, they stuck with the predictable yet reliable
αX.RagnaroK
as their ace.
Prince decided not to go for any tricks, instead playing a fairly safe macro style on Stargazers. However, he didn't account for Mutalisks, and suffered a painful backdoor attack when his Immortal-Archon force moved out. Not only that, but RagnaroK crushed that ground army as well, leaving Prince woefully behind. It didn't take long for RagnaroK to flatten Prince with a head on attack and seal the victory for Alpha X.
Solar was the clear MVP of week 1, leading his team to victory over Shopify Rebellion with a 2-0 against ByuN and 1-0 against Harstem. Whatever struggles he might have in GSL Code S, it seems like he's back to being a top-tier player in online competitions like WTL and the ESL Open Cups.
Weekly MVP's:
Week 2: 2/3rd Preview
Unfortunately, this recap/preview article is arriving late, so the first week two matches of
GGG vs KaiZi
and
TL vs Alpha X
have already been played. We won't spoil the results here.
Tuesday, Oct 11 12:00pm GMT (GMT+00:00) Matches
Shopify Rebellion vs Team GP

Scarlett
< Waterfall >

NightMare

ByuN
< Tropical Sacrifice >

Prince

Lambo
< Stargazers >

Cham
Ace Match:
< Moondance >
Unfortunately, with Ryung sitting on the bench in week two, Team GP's chances of winning go down drastically.
While NightMare had a solid showing against Zoun last week, it has to be noted that PvP is a weak match-up for Zoun. One good series doesn't make up for a history of lackluster WTL performances for NightMare (albeit over a small sample), so I have to give Scarlett a big advantage against him.
Similarly, Prince may have gotten a decent result in week one, but the more lasting memory is his 5-18 record last season. Against Shopify's ostensible ace in ByuN, he'll be lucky to take a map.
Lambo vs. Cham is the match with the most variables. Not only is ZvZ a volatile match-up, but it's Cham's best match-up as well (according to Aligulac). Also, Cham is presently in the best form of his career, having recently toppled SpeCial to win DHM: Latin America. Do I dare say that Cham actually has a slight edge against Lambo? I'm not willing to go there yet, but in any case, the most likely result seems like a 1-1.
Prediction: Shopify Rebellion 5
- 1 Team GP
Invictus Gaming vs Dragon Phoenix Gaming

MacSed
< Waterfall >

Jieshi

Coffee
< Tropical Sacrifice >

Dark

XY
< Stargazers >

Cure
Ace Match:
< Moondance >
Invictus Gaming had a feel-good moment in week one, winning their 'welcome back' match against CranKy Ducklings. However, the difficulty level ramps up severely in week two.
DPG's deployment of Jieshi gives iG the tiniest glimmer of hope, although it would still take a minor miracle for them to salvage a point here. MacSed could very well take a 2-0 against Jieshi, but even then a 4-2 DPG victory would be the most likely result.
Dark's recent slump could provide iG with another out, but going by his performance against Silky in week one, he seems to be more locked in for these WTL matches than ESL Open Cups.
Prediction: Dragon Phoenix Gaming 5
- 1 Invictus Gaming
Wednesday, Oct 12 12:00pm GMT (GMT+00:00) Matches
瘦死骆驼 (SSLT) vs PSISTORM Gaming

Firefly
< Waterfall >

GuMiho

TooDming
< Tropical Sacrifice >

Gerald

Silky
< Stargazers >

SpeCial
Ace Match:
< Moondance >
SSLT might have had a chance of forcing a MaxPax-less PSISTORM Gaming to an ace match last season, but this current PSISTORM roster is stronger than ever. GuMiho is playing at his highest level after returning from the military, and Gerald is also back in great form after a brief summer slump.
It's slightly concerning that SpeCial lost several TvZ's to Cham in the process of finishing second place in DHM: Latin America, and Silky might be able to take a map here. But even then, the overall strength of PSISTORM should be too much for SSLT to handle.
Prediction: PSISTORM Gaming 5
- 1 SSLT
ONYSYDE Gaming vs CranKy Ducklings

Maru
< Waterfall >

Dolan

Solar
< Tropical Sacrifice >

PattyMac

Rex
< Stargazers >

Vindicta
Ace Match:
< Moondance >
ONSYDE Gaming did not get off to an auspicious start, with Maru going 1-1 and Rex proving to be a liability as feared (will Neeb be called upon during his university's Thanksgiving and winter breaks?). However, it should be a huge relief to OSG that Solar is playing like the ace-tier WTL player of old.
Whatever OSG's ceiling may be, they shouldn't have trouble taking care of business against CranKy Ducklings. The newcomers are the indirect replacement for Platinum Heroes, and looked to be at around the same level in week one. The real question for me here is: since Coffee gobbled some Oreos after beating Oreo, will Solar prepare a Big Mac ceremony against PattyMac?
Prediction: ONSYDE Gaming 5
- 1 CranKy Ducklings
---
Credits and acknowledgements

Writer: Wax
Stats: Aligulac.com & Liquipedia
Images: SCBoy