World Team League - 2022 Summer Season
by: Wax
The WTL regular season concluded back in mid-July, but an exciting final week that featured
FIVE
ace matches deserved a belated review. When the dust settled, Dragon Phoenix Gaming was able to live up to their pre-season hype as championship favorites, defeating KaiZi Gaming in the SCBOY derby match to clinch the #1 seed.
With the regular season in the books, it's also time for TL.net to hand out its unofficial regular season awards. These are separate from the official WTL awards (which actually give money to the players), which haven't been fully announced as of yet. TL.net and WTL's selections have differed in the past, and I'm interested to see how the picks will line up this time around.
Finally, keep an eye out for our playoff preview article which will be coming later this week.
Week 11 Results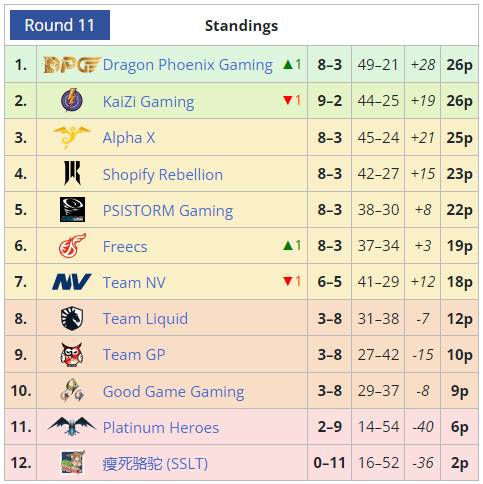 Top 7 teams qualify for the playoffs.
Points are awarded as follows:

3 points for a victory in a series that does not require an ace match

2 points for a victory in a series that requires an ace-match

1 point for a loss in a series that requires an ace-match

0 points for a loss in a series that does not require an ace match
Platinum Heroes 4 - 3 SSLT (瘦死骆驼)
Watch VOD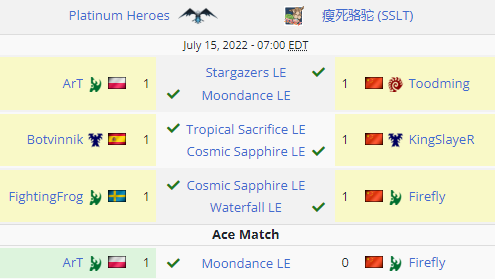 The 'last-place match' between Platinum Heroes and SSLT was one of the longer bouts of the season, with the two teams battling it out for around two hours of combined game-time.
The very beginning of the series was very cheesy, as
SSLT.Toodming
executed what I think was the best all-in of the entire season against
PH.ArT
. Playing on Stargazers, Toodming started with a proxy-Hatchery for what seemed like offensive Spine-Crawlers. However, it wasn't that simple—his Drones started by mining out the backdoor mineral wall of his opponent's base, using the proxy-Hatchery to greatly reduce their travel time. Only AFTER the Drones had opened up a second path into the Protoss main did they start morphing offensive Spine Crawlers. The two-pronged attack of frontal Spine Crawlers and backdoor Zerglings was too much for ArT to handle, and he GG'd out against the creative strategy. Toodming then tried a Queen-Ling-Ravager all-in in game two, but ArT stopped this more conventional all-in fairly easily.
The next two series of
PH.Botvinnik
vs
SSLT.Kingslayer
and
PH.FightingFrog
vs
SSLT.Firefly
took a turn toward more standard macro play, but the games were still pretty exciting as the pairs of players were quite evenly matched. Both series ended in 1-1 ties, leading to a final ace match between
PH.ArT
and
SSLT.Firefly
.
This ultimate showdown to avoid last place ended up being a barnburner, with the two aces battling it out on Moondance for over 27 minutes. The mid-game was especially chaotic, with the Disruptor-based armies on both sides leading to wild supply swings. In the end, ArT was able to carve out enough of a lead to mix in Carriers, and this air superiority gave him the advantage needed to prevail.
Team GP 3 - 4 Shopify Rebellion
Watch VOD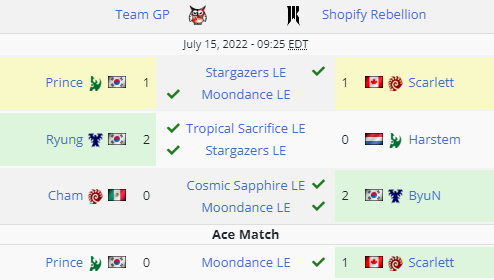 Despite having no playoff or relegation stakes to play for, Team GP still gave the Rebellion a stiff challenge in their final match.
The series began with
GP.Prince
trying to Glaive-Adept down
SR.Scarlett
on Stargazers, but he was forced to GG out after he failed to deal much damage. A more mid-game oriented approach worked far better for him in game two, as his huge army of Immortal-Archon was able to overpower Scarlett's Roaches and Banelings.
GP.Ryung
then put his team on match point with a 2-0 victory against
SR.Harstem
. He battered the Dutch Protoss from start to finish on Tropical Sacrifice, forcing Harstem to surrender at the 11 minute mark before he could really stabilize with splash damage units. Harstem withstood the pressure better on Stargazers and actually did assemble a strong Disruptor-based army, but Ryung was a step ahead with mass Liberators and took the 2-0 win.
SR.ByuN
came to the rescue for the Rebellion, as he tied the series up with a 2-0 against
GP.Cham
. He microed his way to a quick victory in game one, deploying a 2-Barracks proxy on
Cosmic Sapphire (
'what if I cheesed on the biggest map?'
turned out to be the mind-game of the week). Then, some unorthodox use of Hellion drops set ByuN up for another victory on Moondance.
The deciding ace match ended up being a rematch between
GP.Prince
and
SR.Scarlett
, and they returned to Moondance for another song. The early game seemed to go wonderfully for Prince as he cut into Scarlett's Drone count with Oracle-Adept harassment, but he wasn't ready for a surprise round of Swarm Hosts in the mid-game. Prince couldn't deal with the initial few waves of Locusts efficiently, which sent him spiraling down into defeat.
PSISTORM Gaming 4 - 3 Alpha X
Watch VOD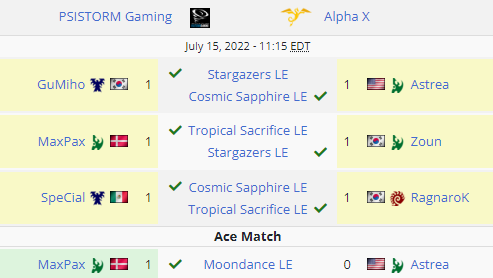 PSISTORM's 4-3 victory over Alpha X may not have altered the final standings, but it did frame PSISTORM as a dangerous darkhorse headed into the playoffs.
The series began with
PSISTORM.GuMiho
taking down
αX.Astrea
on Stargazers, overrunning the American Protoss with mass infantry in the mid-game. However, Astrea tied things up on Cosmic Sapphire by taking a very risky fast expansion at the gold mineral base. Astrea barely weathered GuMiho's early pressure, and then used his strong economy to overrun the Terran with Zealots.
The next match on the docket was
αX.Zoun
versus the mysterious Dane
PSISTORM.MaxPax
. In game one, Zoun became the 2394839th player who failed to bust MaxPax's signature Stargate expansion with a 1-base all-in. You had to wonder why Zoun even bothered, as he looked much better when he went for macro play in game two. There, he beat MaxPax decisively in the mid-game Disruptors wars, tying the series up at two maps a piece.
The following series saw
PSISTORM.SpeCial
become the second player of the week to try and proxy-Barracks on Cosmic Sapphire, but this was rather easily countered by RagnaroK's pool-first opener. However, RagnaroK's decision to go for a Roach-Ravager counter-attack proved to be rather unwise, as he didn't do enough damage to get ahead. Instead, SpeCial was actually the one left with an economic advantage, and he used it to roll over RagnaroK with bio in the mid-game. Things went a lot better for RagnaroK on Tropical Sacrifice, as he was able to play a macro game under more normal circumstances and overwhelm SpeCial with Muta-Ling-Bane.
For the ace match,
PSISTORM.MaxPax
was the obvious pick for the 5th place squad, whereas Alpha X decided to go with
αX.Astrea
from their many strong options. While MaxPax went for his usual fast expansion, Astrea decided to go for a one-base all-in with a Robo and Gateway units. Though Astrea was able to apply heavy pressure, MaxPax made a key adjustment by getting a fast Robo for Immortals. Astrea simply couldn't crack through the enemy defenses in the end, and hesurrendered the final GG.
Kwangdong Freecs 4 - 3 Team Liquid
Watch VOD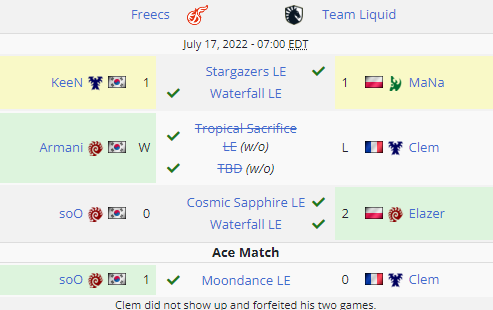 The series started off with a proper late-game brawl between
KDF.KeeN
and
Liquid`MaNa,
and both sides were able to assemble their ultimate late-game armies on Stargazers. This meant mostly Carriers and Disruptors for MaNa, while KeeN went for a mixture of Vikings, Ghosts, and Marauders. The Disruptors were the big difference makers in the end, wiping out the Terran support units and letting Carriers win the day. KeeN was able to get his revenge on the much smaller map of Waterfall, however, with his aggressive mid-game infantry attacks toppling MaNa before he could amass a similarly powerful army.
In a rather unfortunate turn of events, Liquid then had to forfeit their next two maps as
Liquid`Clem
failed to show up to his series against
KDF.Armani
.
Liquid`Elazer
almost managed to rescue his team, forcing an ace match with a 2-0 win against
KDF.soO
. Game one on Cosmic Sapphire continued the week's trend of someone cheesing on the massive map, as Elazer took a quick win with a Ling-Bane all-in. Elazer then showed he'll go all-in on small maps as well, winning with another Ling-Bane attack on Waterfall.
Liquid was able to find
Liquid`Clem
in time for the ace match, leading some to wonder if he had simply overslept past noon. Alas, the alleged
couche-tard
wasn't able to redeem himself against
KDF.soO
. The Freecs ace started with a great defensive hold against Clem's early Marine-Hellbat push, and followed that with fantastic Muta-Ling-Bane play in the mid-game. While Clem was resilient on defense, soO eventually overpowered him with endless waves of Zerg units.
Good Game Gaming 5 - 1 Team NV
Watch VOD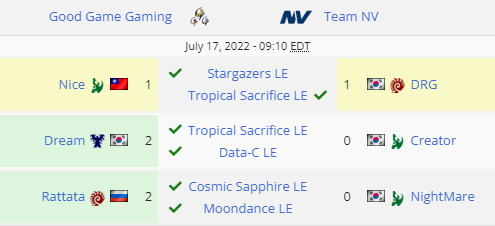 Although Good Game Gaming toiled through a disappointing season that saw them flirt with relegation, they ended things on a positive note with a convincing 5-1 win against Team NV.
GGG.Nice
got the ball rolling against
NV.DRG
on Stargazers, pulling off a greedy fast-Carrier build without being punished. This allowed him to fast-forward directly into the late-game, a phase where DRG has been famously weak. Indeed, DRG wasn't able to wield a late-game army effectively against the Protoss deathball and had to GG out. Nice tried to get tricky again with 2-Stargate Phoenixes in game two, looking to transition into Carriers after that. This time, however, DRG was able to kill Nice off with Queen-Ling-Bane before the Protoss army could get out of control.
Next up was
GGG.Dream
, who delivered a crucial 2-0 win against
NV.Creator
. Game one saw a proxy-Hellion drop go up against fast DT's, and the faster timing of the Terran attack allowed Dream to win rather easily after killing around 20 Probes. Dream then showed he could win in more conventional fashion as well, winning game two with a standard drop + frontal attack combo on Data-C.
GGG.Rattata
was on clean-up duty, and he closed things out neatly on Cosmic Sapphire against
NV.Nightmare.
The NV Protoss simply fell apart against Rattata's relentless Zergling runbys, and ended up being in no position to challenge the overwhelming Swarm in the mid-game. Rattata then got one final victory for the road, busting NightMare with a Ling-Bane all-in to force a 5-minute GG.
Dragon Phoenix Gaming 4 - 3 KaiZi Gaming
Watch VOD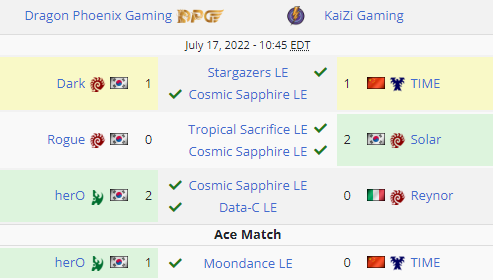 The regular season grand finale of DPG vs KZ delivered the drama and entertainment fans had been hoping for, going all seven maps and concluding with a twist ending.
DPG.Dark
and
KZ.TIME
got things started on Stargazers, with TIME attempting a 2-Starport Battlecruiser rush to catch Dark off guard. Dark was quite well prepared with plenty of Queens and Spores, forcing TIME to play from behind. However, TIME was able to drag the game out into a split map scenario, and he managed to take control of the crucial gold base in the center of the map. Even Dark's vaunted late-game control couldn't overcome this resource disadvantage, and he GG'd out after 30 minutes of bloody fighting. Game two on Cosmic Sapphire saw TIME challenge Dark to a late-game duel again, this time with a mech composition. However, Dark was much more aggressive in the mid-game this time around, refusing to let TIME get into a proper defensive stance. Waves of Ultras, Hydras, Lings, and Infestors slowly chipped away at TIME's defenses until he had no choice but to surrender.
KaiZi jumped ahead in the second series, with
KZ.Solar
taking a 2-0 against
DPG.Rogue
. Solar took game one in a fairly conventional Roach-Ravager war, overcoming a one-upgrade disadvantage by fighting in a superior defensive position. Solar then took a second win on Cosmic Sapphire, getting one over on Rogue with a surprise Roach-Baneling timing attack.
DPG.herO
proved to be worthy of his ID against
KZ.Reynor
, as he saved his team with a convincing 2-0 in the battle between aces. herO diverged from his standard 'herO-style' in game one, instead going for DT drop harass into a more old-fashioned macro game. A fierce mid-game contest between a robo-based Protoss army and Roach-Ravager ensued, with Reynor looking to hold his opponent back until he could get to Hive tech. While Reynor did manage to get both Lurkers and Vipers out, he couldn't get their count high enough to solidify his defense. Disruptors rallying forward two at a time gave herO just enough firepower to punch through the Zerg line and give him his first victory. Game two on Data-C saw herO go for his standard Oracle-Blink opening, but he went for one of his cheesier follow-ups by cutting Probes and going for a massive Blink-Stalker all-in (with a 'fake' third). herO was able to strike just before Reynor was ready, and he used his famous Blink micro to force another GG.
In an unexpected twist, KaiZi Gaming decided not to give Reynor another chance as their ace, instead sending out
KZ.TIME
to try and topple the red hot
DPG.herO
. Fitting for two players who prefer offense over defense, the game on Moondance turned into a hectic low-econ brawl in the mud. TIME seemed to take a lead after a semi-basetrade where his Marines managed to kill a big chunk of herO's SCV's, but herO got out of that pickle by being even more aggressive. Ultimately, no high tech units were needed for herO, as Blink Stalkers and Chargelots were enough to win him the game in the end.
Weekly MVP Award: DPG.herO
The final weekly MVP winner of the regular season may have been the most deserving one from all eleven weeks. Strength of opponent has been a huge factor in these weekly awards, and up until week eleven, there was no stronger opponent than
KZ.Reynor
. Not only did
DPG.herO
take a clean 2-0 over the Italian ace—an MVP-worthy performance in most other weeks—but he threw in a huge ace-match win over
KZ.TIME
on top of that.
Weekly MVP's:
Week 11: DPG.herO

Week 10: NV.DongRaeGu

Week 9: SR.Harstem

Week 8: KZ.Reynor

Week 7: KDF.Trap

Week 6: NV.Bunny

Week 5: DPG.Rogue

Week 4: KDF.Armani

Week 3: GP.Ryung

Week 2: KZ.TIME

Week 1: SR.Harstem
TL.net Regular Season Awards
Best Regular Season Terran: SR.ByuN
My selection for best Terran of the regular season came down to a very close decision between
SR.ByuN
,
GP.Ryung
, and
NV.Bunny
Their records were extremely similar, with ByuN inking a
15W-6L map record (71.43% win-rate)
, Ryung going
17W-7L (70.83%)
, and Bunny going
14W-6L (70%)
. In terms of ace matches, ByuN went 1-0 (win vs herO), Ryung was 1-1 (win vs Clem, loss vs Trap), and Bunny was 1-1 as well (win vs Rogue, loss vs Astrea).
Among the three, ByuN had the distinction of completing an entire season without a single series loss, going 4 wins - 0 losses - 6 draws in series. On the other hand, Ryung went 7W-2L-2D in series while Bunny put up a 5W-1L-3D record.
Going by my subjective analysis of strength of schedule, Ryung is the player I have to drop from award contention first. He benefited from facing
slightly
easier opponents than the other two Terrans, racking up 2-0 victories against rank and file players but struggling against the elite of the WTL (at least compared to the other two). He also played four maps in 'garbage time' when the overall team result was already decided (he went 2-2 in those maps), which I value a bit less despite their effect on map differential.
In contrast, ByuN's tougher schedule led him to lack any clean 2-0 wins, but he also forced a lot of 1-1 ties out of strong opponents (including ace-tier players). Bunny's record was a mixture of Ryung and ByuN's, picking up some 2-0's against weaker foes and tying against some stronger foes. Where he set himself apart from ByuN was that he actually won 2-0 against an ace-class player, defeating Dark as he led Team NV to a huge victory over DPG. However, on the flipside, Bunny also lost 0-2 to MaxPax, where ByuN didn't suffer a single series loss.
When I added it all together, I decided that Bunny's peaks weren't enough to cover for his valleys, and ByuN had proven himself to be just a smidge better through his consistency. It helped ByuN that he was a bit better around the margins, like having +1 map differential over Bunny, and also having a better ace-match record by a single win. These are things that I might not have considered in other scenarios, but this race was close enough that it factored into my decision.
Best Regular Season Zerg: KZ.Reynor
Unlike the Terran award, this selection was rather easy.
KZ.Reynor
was the landslide favorite to win the overall MVP until the final week of play (more on this below), going on an absolute killing spree reminiscent of Maru in the
Winter 2021 season
. Maru went 17W-3L in maps back then, and Reynor was on track to match that record up until Week 10 when he was 16W-2L in maps. Even though Reynor ended his season on a sour note by losing 0-2 to herO, he still concluded with an absurd
16W-4L map record for an 80% win-rate
.
Amusingly enough,
SR.Scarlett
actually came pretty close to Reynor in terms of raw map score, going
16W-6L (72.73%)
. Their strength of schedule was also fairly similar, getting a mixed bag of weak and strong opponents alike. The big difference is that Reynor only gave up a 0-2 loss to herO—a fellow top two player in the league—whereas Scarlett went 0-2 against both Zoun and soO. That esconces her firmly in second place, but without a serious case to challenge Reynor.
Best Regular Season Protoss: DPG.herO
The race for best regular season Protoss was closer than you might have thought at first glance, with
PSISTORM.MaxPax
having a sneaky good case to win over
DPG.herO
. The raw numbers favored the DPG ace, who put up a fantastic
17W-6L map record (74% win-rate)
, going 6W-0L-4D in those matches. On the other hand, MaxPax trailed with a
14W-6W map record (70%)
while going 4W-1L-4D in series.
However, some little details favored MaxPax. While herO went 1-2 in ace matches (win vs TIME, losses vs ByuN and MaxPax), MaxPax was 2-0 (wins vs herO and Astrea). Also, three of herO's map wins came during 'garbage time' after the result was already decided, while everyone single one of MaxPax's games had the potential to swing the overall series. Even though it's important to run up the score to increase map differential, I still have to give herO a small discount on those wins.
When looking at results against 'strong' players, MaxPax earned ties against TIME, ByuN, herO, and Zoun, won 2-0 against Bunny, and triumphed in ace matches against Astrea and herO. As for herO, he went 2-0 against Reynor and Zoun, tied 1-1 against ByuN, MaxPax, and Creator, and went 1-2 in the ace matches as mentioned above. As I see it, that's almost dead even.
In the end, I had to raise herO's hand because of a single series: his 2-0 win against Reynor. In my opinion, that was a more 'valuable' win than anything MaxPax had on his record, and was enough to break the tie. But honestly, if you picked MaxPax as best Protoss because of his +3 ace match differential compared to herO, I wouldn't argue too much.
Regular Season MVP: DPG.herO
Reynor looked like he was running away with the regular season MVP award headed into Week 11, but his 0-2 loss to herO in the final week was enough to flip my decision.
To reiterate the raw numbers, Reynor was
16W-4L in maps (80% win-rate)
whereas herO was
17W-6L (74% win-rate)
. The 'garbage time' stats are similar here, with Reynor winning two maps after team victory was cinched compared to three for herO.
As with the specific faction awards, strength of schedule factored heavily into my final choice. Again, this is a largely subjective measure, going by my gut feeling on how meaningful it is to beat certain players (statheads feel free to download the Aligulac.com database and come up with a more objective standard).
While I described Reynor's list of opponents as a "mixed bag" in the Zerg section, I think it was a soft schedule compared to what the Terran and Protoss award candidates had to contend with. Prior to facing herO, Reynor's toughest opponents were probably Zoun, Creator, Ryung, Scarlett, and DRG. While he took care of business against Zoun, Creator, and Ryung, he gave up 1-1 draws to the Zerg duo.
On the other hand, herO had to play more 'strong' players than Reynor throughout the season. He went 2-0 against Reynor and Zoun, tied 1-1 against ByuN, MaxPax, and Creator, and went 1-2 in ace matches (win against TIME, losses vs ByuN and MaxPax). While the ace matches losses certainly sting, overall I think herO had a significantly better performance against high-tier players.
To some extent, raw wins matter regardless of the strength of the opponent, and it's unfair to fault Reynor for randomly drawing a relatively easy line-up of opponents. However, the way I interpret most 'valuable' player, there's considerable extra value in getting your team a neutral or positive result against a powerful opponent. Thus, my pick for most valuable player of the 2022 summer regular season, could only be DPG.herO.
---
Credits and acknowledgements

Writer: Wax
Stats: Aligulac.com & Liquipedia
Images: SCBoy