World Team League - 2022 Summer Season
by: Wax
Week 4 matches went mostly as expected, with the upper half teams separating themselves even further from the bottom half of the table. However, there was one notable exception: The Kwangdong Freecs rallied from their 0-3 start, taking an upset win against KaiZi Gaming in what might be a turning point in their season. Reynor was conspicuously left out of the line-up for KZ, and that might have made the difference in the match.
Looking ahead, the schedule for Week 5 has been adjusted, with games starting on
May 30th
and thus partially avoiding some overlap with DreamHack Masters. There are a number of big ticket matches on the week: TL squares off against Shopify in what might be their last chance to have any hope at the playoffs, DPG and Alpha X will clash in a battle between 4-0 teams, and Team NV will face their toughest test of the season so far in KaiZi Gaming.
Week 4 Results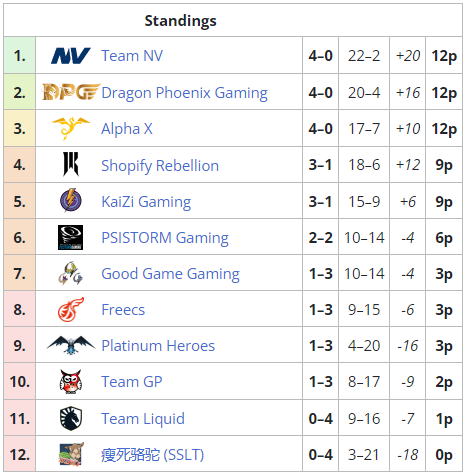 Top 7 teams qualify for the playoffs.
Points are awarded as follows:

3 points for a victory in a series that does not require an ace match

2 points for a victory in a series that requires an ace-match

1 point for a loss in a series that requires an ace-match

0 points for a loss in a series that does not require an ace match
Shopify Rebellion 5 - 1 Good Game Gaming
Watch VOD
SR.ByuN
drew first blood against
GGG.Nice
on Hardwire, defending against the Taiwanese Protoss' Chargelot-Colossus timing and counter-attacking to force the GG. ByuN went on to increase the lead on Nice's map pick of Pride of Altaris, peppering the Protoss with drops before finishing him off on the ground.
Shopify didn't have to wait long to confirm their victory as
SR.Scarlett
brought it home with a 2-0 of her own against
GGG.Cyan.
The reigning DHM China champion was able to drag things out to the 24-minute mark in game one on Glittering Ashes, but Scarlett was basically in control for the entire time and never in danger of losing. Scarlett was able to end game two much more quickly, swatting aside Cyan's Glaive-Adept harassment before overrunning him with Mutalisks and Roaches.
Despite his team's loss, GGG ace
GGG.Dream
continued his streak of at least getting a map win in every series with a 1-1 against
SR.Harstem.
A cheeky proxy-Hellion drop got Dream a quick win on Curious Minds, but Harstem got his thunder back on Glittering Ashes by overpowering his opponent with the mighty Carrier-Disruptor combination.
Alpha X 4 - 2 Team GP
Watch VOD - Part 2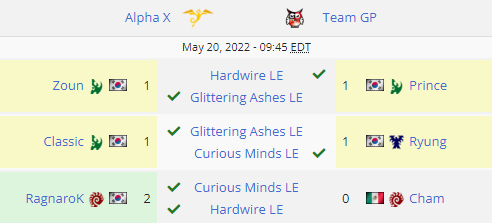 Team GP had a great opportunity to steal an upset after drawing three favorable matches against Alpha X, but the golden dragons prevailed in the end thanks to a clutch close-out series from RagnaroK.
Things started off with
GP.Prince
finally getting his first map win of the season against
αX.Zoun.
Game one on Hardwire saw Prince managed to force an extended one-base vs one-base situation, where he used great micro to accrue a big advantage. He turned that advantage into a much bigger Stalker army, and battered down Zoun's front door to extract the GG. Game two on Glittering Ashes also seemed to be going Prince's way for a while, as he skirmished his way to a solid mid-game supply lead. Unfortunately for Prince, some awful army positioning during the deciding fight—with his Zealots caught uselessly behind his Stalkers for most of it—ended up costing him the game.
The second series went 1-1 as well, with
αX.Classic
tying
GP.Ryung
. The first game on Glittering Ashes felt like a throwback to Wings of Liberty, with both players building up passively before deciding the game in a single deathball fight. Classic ended up being the winner here, with his Carrier-Colossus-Disruptor army able to brute force its way through Ryung's infantry. Game two on Curious Minds had a similar build-up phase, only this time Classic went for Tempests as his main capital ship. Ryung changed his approach, going for constant backdoor attacks and hit-and-run tactics to wear his opponent out. Perhaps as an indirect result, Classic let the air-ground balance of his army get too skewed toward the sky, giving Ryung an opportunity to take a decisive fight. Without enough splash damage to take care of the Marines on the ground, Classic had to surrender the tying point.
Team GP had perhaps their best chance of the season to take the full three points as ZvZ specialist
GP.Cham
took on
αX.RagnaroK,
but the recent 5th place Code S finisher closed things out for his team in the end. RagnaroK took the first game with a cheeky pool-first build, sneaking a Drone into his opponent's main and making a hidden Spine Crawler. Combined with his fast Zergligns, this was enough to take down the Hatchery in Cham's main. RagnaroK had taken an expansion during the early strike, which gave him the economic lead to win without much trouble shortly after.
RagnaroK kept things weird on Hardwire with another pool-first build (although with more Drones this time), getting a little early damage done before transitioning into fast Spire off two bases. A Ravager-Bane-Ling all-in from Cham threatened to kill RagnaroK off before Mutalisks came out, but Spine Crawlers completed just in time to keep the Alpha X Zerg alive. From there, it was a pretty simple clean-up job for RagnaroK who used his Mutalisks to consolidate his lead and slowly finish Cham off.
Dragon Phoenix Gaming 6 - 0 SSLT (瘦死骆驼)
Watch VOD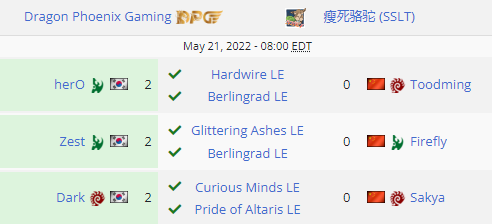 SSLT's season of woe continued as they suffered another 0-6 loss at the hands of defending champions DPG.
SSLT.Toodming
tried a duo of cheeses against
DPG.herO
but it was to no avail. His speedling all-in in game one was too predictable and easily stopped by herO, while the offensive Hatchery + Zergling rush in game two was also stopped thanks to quick thinking and good micro from the Protoss.
DPG.Zest
made it 3-0 in almost no time at all, with early Adept + Oracle harassment crippling Firefly's economy and forcing a very fast GG. Zest went on to secure the full three points in game two, dancing circles around Firefly with Blink Stalkers before applying the
coup de grace.
DPG made sure to leave no map points on the board as
DPG.Dark
completed the 6-0 sweep against
SSLT.Sakya.
The outmatched SSLT player actually tried to play Dark relatively straight-up—and actually played pretty well against his illustrious opponent—but couldn't overcome his opponent's superior
everything
in the end.
Team Liquid 2 - 4 PSISTORM Gaming
Watch VOD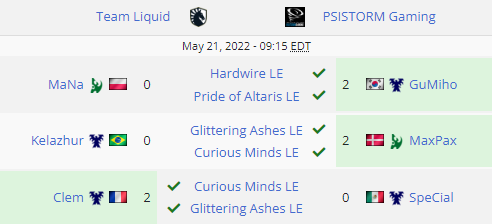 After suffering their fourth consecutive loss to PSISTORM, the playoff window is looking all but closed for Team Liquid who still have to wait until week 6 for new signee Elazer to become eligible to play.
PSISTORM.GuMiho
started things off with a one-sided win against
Liquid`MaNa
, with his Cloaked Banshee opener hitting the jackpot and inflicting effectively game-ending damage to start. MaNa responded by picking Pride of Altaris as the second map and taking a fast gold expansion, but soon found himself embroiled in a hectic base trade against GuMiho's two base Marine-Tank push. This exchange ended up soft-resetting the game, but GuMiho had the advantage due to destroying the Protoss gold base. GuMiho kept up the pressure with continued bio attacks, and he eventually cracked the Protoss defenses and forced MaNa to surrender.
Liquid`Kelazhur
tried to get tricky in the early game against
PSISTORM.MaxPax
, opening with 1-Barracks proxy-Reaper harass into a fast Mine drop with an Armory. However, MaxPax defended both attacks so perfectly that he was able to counterattack and win before the five minute mark. Kelazhur tried another early game strike in game two, attacking very quickly with 1 Tank, 1 Cyclone, 1 Medivac, and a handful of Marines. While he was briefly able to lay siege to MaxPax's natural, the arrival of Blink Stalkers and Immortals quickly put an end to the aggression. Again, the counterattack from MaxPax was deadly, ending the game at just inside the seven minutes this time around.
Unfortunately for
Liquid`Clem
, all he could do at that point was try to salvage some map score. Clem successfully averted a Liquid sweep in game one, smashing SpeCial's early-mid game tank push with Ravens and counterattacking to force the GG. Clem then took a second consolation point as well, narrowly triumphing in a 20 minute Marine-Tank thriller on Glittering Ashes.
Team NV 6 - 0 Platinum Heroes
Watch VOD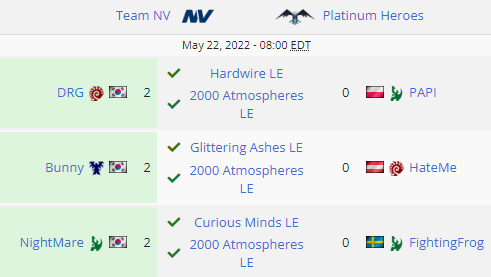 Platinum Heroes suffered their third sweep in four games as a less-than-full-strength Team NV squad gave them the business.
PH.Papi
made his WTL debut in the opening match against
NV.DongRaeGu
, but he wasn't able to put up much of a fight against the veteran Zerg. Game one on Hardwire saw DRG batter his opponent down in the mid-game with constant frontal and backdoor attacks, while he nabbed a faster victory in game two with a quick Zergling-Baneling attack.
PH.HateMe
couldn't offer up much more resistance in his series against
NV.Bunny
, as the Terran player took the 2-0 with a pair of unstoppable Marine Tank pushes.
Final runner
PH.FightingFrog
had the best chance to score some points as he was playing against the rarely deployed
NV.NightMare
, but the Team NV Protoss managed to put the final touches on the sweep despite coming off the bench. Game one on Curious Minds saw NightMare triumph in a Phoenix war after punishing the cruel croaker for overextending into enemy territory. The burly bufo set himself up to get the consolation point on 2000 Atmospheres after securing both a supply and upgrade advantage in the mid-game, but NightMare's superior positioning in key fights allowed Team NV to ultimately take the sweep.
KaiZi Gaming 2 - 4 Kwangdong Freecs
Watch VOD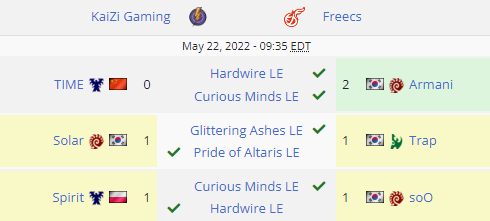 KaiZi Gaming's questionable decision to rest ace player Reynor was exactly what the Kwangdong Freecs needed to start their rally as they took a 4-2 victory to get their first win of the season.
The hero of the day was unquestionably
KDF.Armani
, who put his team in a fantastic initial position with a 2-0 against
KZ.TIME.
Game one on Hardwire saw the KaiZi Terran pay the price for his decision to play a greedy 3-CC build with fast Liberators, as he was quickly trampled over by Armani's Roach-Ravager timing. Game two on Curious Minds was a more of a proper TvZ brawl, with Muta-Ling-Bane slugging it out against Terran bio for over 18 minutes. Armani's dogged backdoor attacks were the key to victory, making it so TIME eventually ran out of steam.
KZ.Solar
and
KDF.Trap
picked up where the last two players left off, throwing themselves into a bloody land war on Glittering Ashes. Solar's decision to add Swarm Hosts to his Roach-Ravager comp didn't quite work out for him, as Trap was able to play around the Locust cooldowns and overpower Solar in the end. The usual Zerg safety net of Pride of Altaris prevented KaiZi Gaming from losing immediately in game four, as Solar just barely held off a Disruptor-Drop into Disruptor-Stalker timing from Trap to make the score 1-3.
KDF.soO
wasn't one to leave his team hanging as he promptly took a fourth map to earn Freecs their first victory of the season, as well as getting his own first victory of the campaign. Similar to his teammate Armani, great Muta-Ling-Bane play on Curious Minds was the key to soO's victory as he withstood
KZ.Spirit's
Marine-Tank onslaught to clutch out the vital victory. Spirit managed to snatch a map on the way out, using his sturdy turtle-style on Hardwire to grind a GG out of soO.
This week's best performance definitely belonged to
KDF.Armani
, who helped dig the Kwangdong Freecs out of their 0-3 pit with a crucial 2-0 win over
KZ.TIME.
Just going by their recent results, you couldn't be blamed for perhaps thinking that TIME had already surpassed Armani at this point in their careers. However, the Freecs Zerg player proved that he's still a force to be reckoned with by taking two convincing wins against the Chinese Terran.
Weekly MVP's:
Week 4: KDF.Armani

Week 3: GP.Ryung

Week 2: KZ.TIME

Week 1: SR.Harstem
Week 5 Preview
Monday, May 30 12:00pm GMT (GMT+00:00) Matches
Realistically speaking, TL's playoff aspirations probably came to an end last week after their 2-4 loss to PSISTORM Gaming. Still, with Elazer becoming eligible to play in week six, a victory over Shopify would keep the faintest glimmer of hope alive.
Alas, facing a Shopify line-up with two Zergs and one Terran, Liquid have the misfortune of drawing Clem in a TvT. The Terran mirror might not be his critical weakness anymore, but a TvZ still would have been far more preferable. Also, given MaNa and Kelazhur's performances so far in this season, they're going to be hard pressed to get a 2-2 result. Even achieving a combined 1-3 record feels like a 50/50 proposition considering how Scarlett and Lambo have been playing lately.
At the end of the day, I think it's just too hard for everything to click at once for Liquid—both Clem getting a 2-0 and the supporting staff stealing a map or more. This match will probably be the end of Liquid's playoffs aspirations.
Prediction: Shopify Rebellion 5
- 1 Team Liquid
It's looking like Platinum Heroes' 4-2 win over Team GP in week two was more an indictment of Team GP's skills than a credit to the underdog European squad. Aside from that match, the Heroes have failed to win a single game, suffering three 0-6 sweeps against DPG, Shopify, and Team NV.
While PH has given up some brutal game losses where the weight-class difference between the players was quite stark, they've also put up surprisingly strong resistance in a number of other games as well. Given SpeCial's befuddling weakness in WTL and GuMiho's inconsistency since his return from military service (oddly enough, Gerald seems like the most stable one here), I think PH could steal a map.
Prediction: PSISTORM Gaming 5
- 1 Platinum Heroes
Tuesday, May 31 12:00pm GMT (GMT+00:00) Matches
With a crucial win against KaiZi Gaming in hand, the Freecs can finally start their campaign to reach the playoffs in earnest. It certainly seems like they'll be able to start building some momentum, as their next match is against last place SSLT.
Interestingly enough, KDF have decided to give Trap a rest in favor of giving KeeN a chance to play. The Freecs know very well that resting your ace player can backfire spectacularly—that's the exact mistake KaiZi Gaming committed against them last week! On the other hand, Team NV got away with benching Creator for NightMare against Team GP, securing a 6-0 sweep despite weakening their line-up.
The return of Silky makes SSLT slightly more dangerous—the Chinese Protoss put up a 1-1 record before being suspended for going AWOL on a match—but they're still hugely outmatched on the whole. The randomness of ZvZ does give SSLT a higher chance of taking a map, but the overall outcome really isn't in question.
Prediction: Kwangdong Freecs 5 -
1 SSLT
Alpha X vs DPG is one of my favorite match-ups in all of WTL. The golden dragons have historically done very well against the Chinese super-team, showing that preparation and focus can sometimes triumph over disinterested talent.
On that note, I'm intrigued by the roster DPG brought to this match. Cure and herO are two of the more consistent players for DPG, and thus ideal picks for this match in my opinion. However, bringing out Rogue feels like a risk—he's been both a one-man army and a one-match-and-out player for DPG at different times.
As for Alpha X, they've made a minor tweak to last week's line-up by replacing Classic with Astrea. I think this is actually the preferred line-up they should go with going forward. Not only is Astrea in slightly better form than Classic right now, but I just think he's a better team league player. Classic, despite numerous displays of strategic brilliance in the past, hasn't really shown us much build order variety in his return from military service. Astrea has been the more creative, outside-the-box thinker, and that's the kind of wildcard Alpha X needs to try and upset DPG.
I'm still predicting DPG to win as they're favored in all three match-ups, but I expect Alpha X to continue their trend of punching above their weight class in team leagues and making this a close fight.
Prediction: Dragon Phoenix Gaming 4
- 3 Alpha X
Wednesday, Jun 01 12:00pm GMT (GMT+00:00) Matches
#1 team Team NV have benefited greatly from receiving the softest opening schedule, having faced Team GP, Kwangdong Freecs, SSLT, and Platinum Heroes in the first four weeks. Now, the difficulty level will ramp up significantly as they face KaiZi Gaming in a match that will tell us if their first place spot is truly deserved.
This match is probably the hardest one to predict so far this season, with much depending on how you rate the players at the moment. If you believe Creator's Code S finals run to be mostly 'real,' then you'd have to consider him the favorite against Solar. However, if you think there was some divine intervention involved (as I happen to think), then it's probably closer to 50/50.
As for TIME vs Bunny, I think Team NV have the slight edge here. Bunny might have been eliminated in the RO20 of the most recent Code S season, but it seems obvious that his broken wrist/hand had a huge effect on the outcome. Prior to that, Bunny had been on a roll, even reaching the top eight of IEM Katowice. Now that he's recovered, it's no surprise to see him mashing the opposition in WTL (albeit, against the weaker teams in the league). While TIME has also been on an upward trajectory in recent months (most notably reaching the top four of DHM Last Chance), I still rate him slightly below Bunny.
Reynor vs DongRaeGu will be the most important clash of the evening. There's no question that Reynor is a far superior ZvZ player to DongRaeGu, with Aligulac.com giving Reynor almost a 90% chance to win in a BO3. However, the volatility of ZvZ is such that even a huge underdog like DRG can pull off huge upsets now and then, nowhere more famously than in his double BO3 wins against Serral at DHM: Last Chance. If DRG can steal a single map, that might be all Team NV needs to take the series victory.
This match is very close on paper, but I'm giving KaiZi Gaming the slight edge as they have the stronger ace player. A super ace is the single biggest asset anyone can have in the WTL, and for this season, Reynor might just be the superest of them all.
Prediction: KaiZi Gaming 4
- 2 Team NV
I get the feeling both sides will be looking at each other and thinking this is quite the winnable match.
Team GP will have been relieved to see Prince break his losing streak and finally get a point on the board last week, but personally I'm disappointed that we haven't seen more all-ins or cheeses from him. If he doesn't try to do something unpredictable against Rattata, I think he'll be hard pressed to get a point against the ever-solid Russian Zerg.
Ryung vs Nice is a match-up where I see Team GP having a solid advantage, but not so great that I think a 2-0 is an easy prediction. Nice strikes a great balance between macro play and devious all-ins, and I think he has a good chance of stealing a 1-1 out of the series.
Finally, I think Dream vs Cham favors GGG by a solid margin. Dream might be a very predictable cheeser against stronger players, but he can still bring very solid macro play against opponents that he's favored against. It's been a struggle of a season so far for Cham, and I don't like his chances against a traditional WTL powerhouse like Dream.
When I put it all together, I have to give GGG a slight advantage. However, the margin between the players isn't extreme, and Team GP could definitely make it a competitive match if they prepare well.
Prediction: Good Game Gaming 4
- 2 Team GP
---
Credits and acknowledgements

Writer: Wax
Stats: Aligulac.com & Liquipedia
Images: SCBoy