World Team League - 2022 Summer Season
by: Wax
Week 2 delivered our first surprise of the season with newcomers Platinum Heroes upsetting last season's fan-favorites in Team GP. While things will only get more difficult going forward, the Heroes still get to enjoy a week in their well-earned position of 8th place.
On the other hand, things are still looking quite predictable at the front of the rankings, with DPG, KaiZi, Team NV, and Alpha X settling into the top four with 2-0 records. Defending champions DPG had a chance to rise to 1st place undisputed, but that went out the window as after they dropped a few maps against GGG in a predictably lackadaisical victory,
The highlight matches of Week 3 look to be DPG vs the Freecs and PSISTORM vs KaiZi Gaming. DPG and KaiZi are the favorites, but they're certainly not invulnerable from what we've seen in two weeks of play. If MaxPax or Trap are on form and can get a little support from their teammates, there might be trouble brewing for the league leaders.
Week 2 Results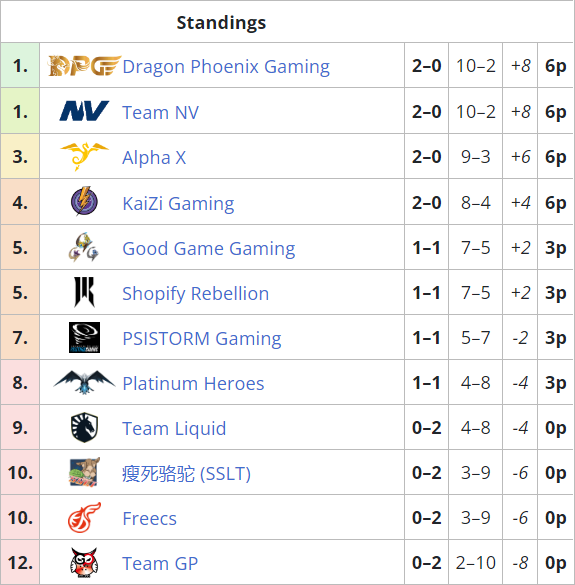 Top 7 teams qualify for the playoffs.
Points are awarded as follows:

3 points for a victory in a series that does not require an ace match

2 points for a victory in a series that requires an ace-match

1 point for a loss in a series that requires an ace-match

0 points for a loss in a series that does not require an ace match
Platinum Heroes 4 - 2 Team GP
Watch VOD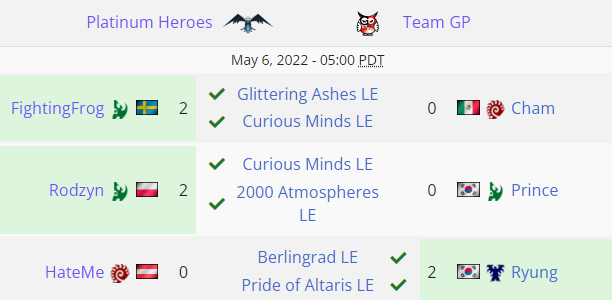 PH.FightingFrog
jump-started the Heroes' first win of the season, getting a solid 2-0 win against
GP.Cham
to kick things off. The terrible tadpole showed good defensive play on Glittering Ashes in game one, holding off waves of Zerg attackers before winning with a high-tech army. The rambunctious ranid took game two with a different approach, using an early chargelot all-in to force another GG out of Cham.
PH.Rodzyn
then sealed the victory for the Heroes with a 2-0 of his own against
GP.Prince
in the next series. Early Prism+Adept harass was key for Rodzyn in game one, allowing him to build an early economic lead and ride it to victory. Game two was much more even for much of the contest, except for the fact that Rodzyn managed to sneak in faster upgrades. The Polish Protoss found a window to attack where he had +2 compared to his opponent's +1, which allowed him to prevail in the decisive battle between similarly sized armies.
Despite the series already being confirmed as a loss,
GP.Ryung
was willing to play for as long as necessary to recover two map points for Team GP. He ended up defeating
PH.HateMe
in two lengthy macro games to make the score 2-4, with his two wins taking almost the same length of time as his teammate's four losses. The last game on Pride of Altaris was particularly drawn out—even Maru would have been proud of his friend's patient performance.
Dragon Phoenix Gaming 4 - 2 Good Game Gaming
Watch VOD - herO vs Rattata G2 (network issue for the English stream)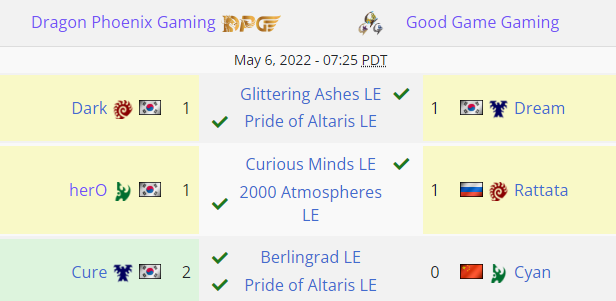 Dragon Phoenix Gaming faced some unexpectedly strong resistance from Good Game Gaming in picking up their second win of the season with the underdogs snatching two maps.
GGG.Dream
got one of those wins right off the bat, pulling out his trusty proxy 2-Barracks rush against
DPG.Dark
. Despite this being an extremely predictable move, the GGG ace still managed to inflict enough damage to play from a strong position. Dream continued to keep the pressure up after that, and eventually rolled over Dark in a surprisingly easy win. Dream's early gambit in game two led to a starkly contrasting outcome, as his blue flame Hellions were handily countered by Dark's decision to play a Roach-Ravager composition. This time, Dark was the one who took the early lead and then snowballed it safely into a victory.
Good Game Gaming retook the lead in the next set as
GGG.Rattata
brought out a clever fast Swarm Host strategy against
DPG.herO
on Curious Minds. herO did his best to dance around the Locusts and counterattack Zerg bases, but he couldn't win the battle of attrition in the end. He did manage to avert a total disaster by tying the series again in game two, getting some great damage in with early Oracles and then fending off a Ling-Bane all-in from Rattata.
Thus, in an unexpected turn of events,
DPG.Cure
and
GGG.Cyan
went into the final series with their teams tied 2-2, with GGG having a small chance of forcing an ace match and taking a point. Cyan tried to get a quick victory on the board in game one, going for a 2-base bust with Immortals and mass Gateway units. Cure's decision to go for an infantry-heavy start really helped him out, as he was able to deflect the attack and get the win. Cyan went for a different kind of gamble on the next map of Pride of Altaris, taking a fast gold base to start. He even made the Has-play of taking his third base at the ENEMY gold base, setting himself up to send a deluge of low-cost units at Cure. However, Cure had the perfect response: he got in a crucial Mine drop to delay Cyan's economic ramp up, and also he made sure to turtle up on two bases and not give Cyan any openings to attack. Cure only moved out once he had a critical mass of infantry, and proceeded to mow through Cyan's largely Zealot-Stalker army to force the series-winning GG.
SSLT 2 - 4 PSISTORM Gaming
Watch VOD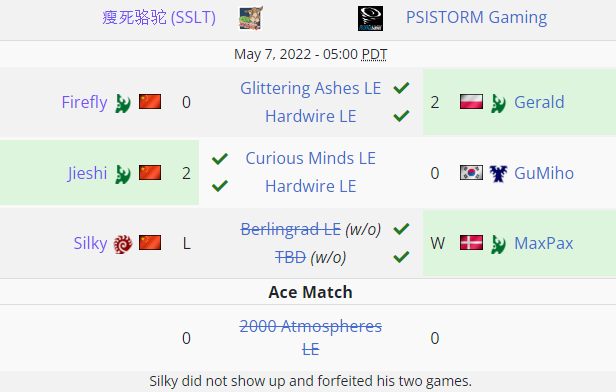 PSISTORM vs SSLT was the shortest and more bizarre series of the week, with Silky forfeiting the crucial third series after his teammates had fought their way to a 2-2 tie. The exact reason for Silky going AWOL is unknown at the moment, but it doesn't seem like he was able to offer a reasonable explanation as the league has suspended him for two subsequent matches.
PSISTORM.Gerald
gave his team a nice 2-0 cushion to start, taking down
SSLT.Firefly
in the opening PvP. Gerald took game one by inflicting heavy Probe damage with his Oracles while also holding off Firefly's aggressive Blink Stalker attacks. Defensive macro play was the key to Gerald's victory in game two, as he safely snowballed to victory after holding off a smattering of attacks.
SSLT.Jieshi
tied things up in the second series with a 2-0 upset against
PSISTORM.GuMiho
—alas, Silky's failure to show meant that SSLT was unable to push on and try to get their first win of the season. Game one on Curious Minds saw GuMiho put Jieshi in an early bind with a Marine drop + Cyclone harassment, but he got a little overeager with his follow up Marine-Tank push. Jieshi's Chargelots pounced before GuMiho could get his troops into proper siege position, causing a massacre on the Terran end. Jieshi won the defensive battle by such a wide margin he was able to immediately counterattack and force GuMiho's surrender. The next game on Hardwire came to an abrupt end at the 1:15 mark, with GuMiho GG'ing out after his single proxy-Barracks was caught by a Probe.
Team NV 4 - 2 Kwangdong Freecs
Watch VOD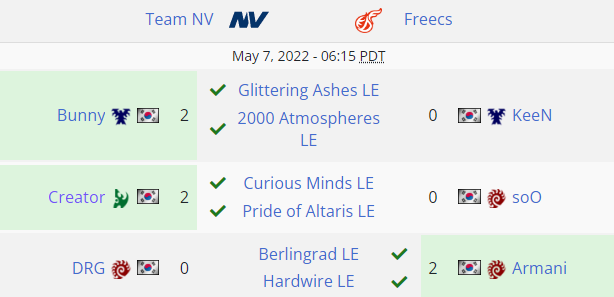 [b]NV.Bunny started the proceedings with a 2-0 against [b]KDF.KeeN, but he had to sweat a close call with defeat in game one on Glittering Ashes. Things were going great for Bunny up into the mid-game as he established both an army and economy lead. However, he got overaggressive in trying to push into KeeN's fortified positions, allowing KeeN to pull off a beautiful defensive flank that devastated Bunny's army. Unfortunately for KeeN, he made the same mistake as Bunny once he had the lead, forcing too many wasteful attacks and drops. Bunny retook the lead by solidly defending against KeeN's attacks, and this time, he made sure to close out without error. Bunny then proceeded to take game two as well, shutting down some early drop harassment from KeeN and finishing him with a fast Tank push.
KDF.soO
made his WTL debut for the Kwangdong Freecs, but it was hardly an occasion to celebrate as he lost 0-2 to Team NV's new ace in
NV.Creator
. Game one was a pretty one-sided loss for soO, as he took early damage to Adepts and Oracles and GG'd out after his Nydus all-in was thwarted. soO went for a more macro-oriented approach after picking Pride of Altaris as the second map but it didn't change the outcome. His Roach-Ravager-Baneling attacks didn't do any meaningful damage to Creator, allowing the Protoss to assemble a deadly Archon-Immortal based army that ended the game.
While the Freecs were already guaranteed a loss,
KDF.Armani
at least managed to earn a few map score points by 2-0'ing
NV.DongRaeGu
in the final series. Game one went Armani's way when DongRaeGu failed to deal significant damage with an early Ling-Bane attack, while game two was won on the back of Mutalisk superiority in the air.
Shopify Rebellion 2 - 4 KaiZi Gaming
Watch VOD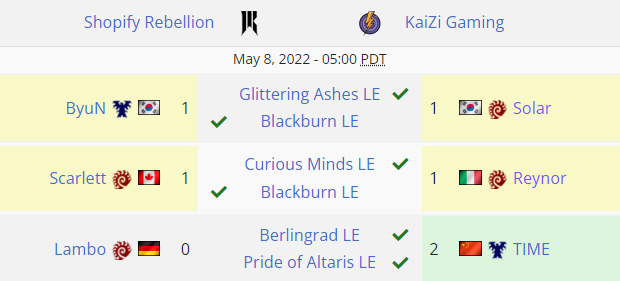 SR.ByuN
gambled on a proxy Factory-Starport Hellion drop to open the series, but
KZ.Solar's
good reaction speed and Drone-splitting allowed him to survive without taking much damage. The follow-up Marine-Hellbat push failed to achieve much either, and Solar went on to take an easy win against his impoverished opponent. ByuN went for a different proxy gamble in game two with a 2-Barracks Bunker rush. While it didn't do much direct damage, it did seem to mess with Solar's sense of timing as ByuN's Hellion-Banshee harass did major Drone damage. A follow-up Marine-Medivac drop was enough to end the game and tie the series 1-1.
KZ.Reynor
put his team back ahead in the next game against
SR.Scarlett
, out-microing her in early-game Zergling-Baneling skirmishes to force a quick GG. It looked like Reynor might get a similar victory in game two after he punished Scarlett's fast gold base on Blackburn with more Ling-Baneling attacks, but he failed to read a low-Drone Roach-Ravager all-in and had to surrender the tying point to Shopify.
The final series between
KZ.TIME
and
SR.Lambo
started in tense fashion as both players looked to clinch victory for their team. Lambo's early Roach-Ravager strike didn't amount to much, but it didn't put him too behind either—both players were content to resume macroing up passively and split the map. TIME decided to do his best Maru impression, starting off by turtling in his corner of the map and very cautiously moving out to take more expansions. TIME was able to emulate Maru's cost-efficiency on defense, meaning he didn't need a 50/50 resource split to win: he could still outlast his opponent on a -1 base disadvantage. Despite Lambo's best efforts to tech switch and mix in spellcasters, he couldn't match TIME in the battle of attrition and had to GG out at around the 34 minute mark.
The two players engaged in a more active game on Pride of Altaris, with TIME looking to get aggressive in the mid-game with Marine-Tank-Medivac. It looked like Lambo had taken the wind out of TIME's sails with a big Ling-Bane backdoor attack during TIME's first big advance, but it actually ended up being a poor exchange for Lambo as he sacrificed many crucial units without buying much time. When the slightly delayed Terran push arrived at Lambo's doorstep, the Shopify Zerg couldn't muster the units to stop it and had to surrender the series.
Alpha X 4 - 2 Team Liquid
Watch VOD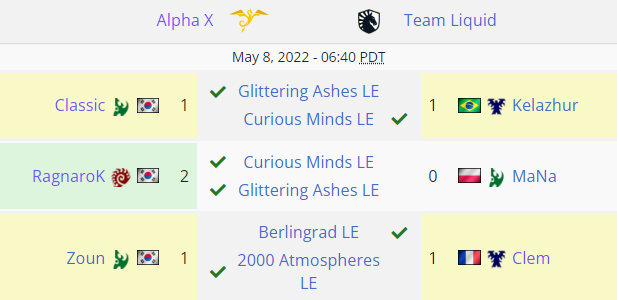 A week after PSISTORM.SpeCial tried a fast BC opener against SR.Harstem, [b]Liquid`Kelazhur was the second Terran to try the unusual TvP opener in his first game against [b]αX.Classic. Alas, similar to SpeCial, Kelazhur didn't get enough done with the BC's to justify their cost. While he went with a standard bio follow-up as opposed to SpeCial's mech, the outcome was the same: a Terran loss. Things looked to be going poorly for Kelazhur as well in game two, as he was hardly able to bother Classic at all as he climbed the tech tree to Carriers and Disruptors. Perhaps made overconfident by his powerful end-game army, Classic committed the cardinal sin of engaging into a spread-out concave of Terran infantry. The Protoss armada was wiped out by the concentrated Terran firepower, and Kelazhur was able to counterattack and force the GG.
αX.RagnaroK
put his team ahead in the next game, accurately reading
Liquid`MaNa's
'fake' Glaive Adepts into Dark Templars from start to finish to get a comfortable win. MaNa posed a much bigger threat in game two, as he assembled a powerful mid-game army of Archon-Immortal-Templar that had a chance to re-tie the series. However, his Psi Storms didn't quite hit the way he wanted on Banelings—softening them up but still allowing many of them to detonate—which let RagnaroK survive to take the 2-0 with Brood Lords.
Still, with Kelazhur contributing a single map win, TL had successfully set the table for a potential
Liquid`Clem
carry. The Liquid ace stoked such hopes in game one against
αX.Zoun
, totally shutting down his early Void Ray + Glaive Adept all-in to get a quick point on the board. Unfortunately for Clem and TL, Zoun fared much better when he reverted to more standard play in game two. After some even mid-game skirmishing, Zoun was able to swing the tide in his favor with his signature unit in the Disruptor, blowing up big chunks of Terran infantry to seal the 4-2 victory for Alpha X.
Weekly MVP Award: KZ.TIME
With KaiZi Gaming tied 2-2 against Shopify Rebellion after two series, TIME came in as the third runner and guaranteed all three victory points for his team with a clutch 2-0 finish against SR.Lambo. TIME got to show off his TvZ skills in two very different games, outlasting Lambo in a Maru-esque turtle-a-thon in game one, and played more toward his own personal style by winning with a mid-game Marine-Tank push in game two.
Overall, it was a convincing 2-0 win against one of the stronger 'sub-ace' players in the WTL (to be fair, Shopify doesn't really have a single true ace, and Lambo is effectively their 'vs Protoss ace'), directly leading to his team's victory.
Runners-up include NV.Creator (2-0 vs soO) and NV.Bunny (2-0 vs KeeN) who earned Team NV a victory against Afreeca, but didn't beat quite as tough opponents as TIME did for KaiZi Gaming.
Weekly MVP's:
Week 2: KZ.TIME

Week 1: SR.Harstem
Week 3 Preview
Friday, May 13 12:00pm GMT (GMT+00:00) Matches
Silky's two-match suspension due to his no-show in week 2 is certainly a big blow for SSLT, but it probably doesn't really matter against Team NV. This match was already looking to be quite one-sided in Team NV's factor, and swapping out Silky for Toodming doesn't change much in that regard. Jieshi did manage to score a big upset against GuMiho in last week's match, so perhaps he bears keeping an eye on given that DRG can be inconsistent in ZvP.
Prediction: Team NV 5 - 1
SSLT
Last week, Good Game Gaming drew extremely unfavorable match-ups of Dream vs Dark and Rattata vs herO in their match against DPG, but somehow managed to get a 2-2 tie out of those games. Now, with much more winnable draws of Dream vs RagnaroK and Rattata vs Astrea, Good Game Gaming have a great chance to take their second win of the season.
Still, I have to give Alpha X the edge here. Classic vs Cyan is a match-up with a considerable Aligulac.com rating gap, and even the randomness of PvP might not help GGG get the tie. Also, RagnaroK is playing very well right now (both in WTL and GSL), while I'm not really sure where Dream is at in terms of form. GGG's performance hinges on how well Dream can perform as the ace player, and one good upset against Dark with a 2-Rax proxy doesn't convince me he's back in his best shape.
Prediction: Alpha X 4
- 2 Good Game Gaming
Saturday, May 14 12:00pm GMT (GMT+00:00) Matches
This match feels like an important litmus test for these two 0-2 teams. Team GP are currently last place in the league, looking to have lost all their magic from the previous season. If they suffer a hapless defeat here without putting up a fight, then they'll really fall back into the 'just trying to avoid last place' tier of teams. On the other hand, if Team Liquid can't get a convincing win here, then you might as well cross them out of playoff contention just three weeks into the season.
Overall, I like all these match-ups for Liquid. Both Clem and Ryung are TvP killers, but only Clem managed to draw that favorable match-up. MaNa vs Cham is a duel of best vs worst match-ups for each player, giving the Polish Protoss a chance to get some momentum going in WTL. While the cheese-factor of Prince looms as a danger for ace player Clem, I'm going to predict TL to win here.
Prediction: TL 5
- 1 Team GP
Dragon Phoenix Gaming vs Kwangdong Freecs
Rogue
< Berlingrad >
Trap
Zest
< 2000 Atmospheres >
Armani
Cure
< Hardwire >
soO
Ace Match
:
< Glittering Ashes >
If every DPG player was playing at their best, I'd expect the Freecs to get beaten into a bloody pulp. However, the first two matches feature DPG's two least consistent players in Rogue and Zest, giving the Freecs a small chance at an upset victory.
Rogue might be the reigning Code S champion, but he happened to lose 1-2 against Trap during the RO10 of his victorious season. Regardless of Rogue's vows to stop going through his infamous championship hangovers, I think the outcome here will be at least a 1-1 for Trap.
As for Zest vs Armani, there's no rational analysis to offer here. On paper, Zest should destroy the Freecs Zerg, but he might randomly have one of those off-nights where he plays ridiculously poorly and loses 0-2.
Fortunately, DPG do have one 'reliable' win in Cure vs soO, with the Kwangdong Zerg still looking somewhat unconvincing in his return from military service.
Prediction: Dragon Phoenix Gaming 4
- 2 Kwangdong Freecs
Sunday, May 15 12:00pm GMT (GMT+00:00) Matches
While I really like the individual players on PSISTORM's roster, this season is starting to look like yet another one where the whole simply doesn't equal the sum of its parts. Somehow, everyone manages to look significantly better in the ESL Open Cups (except maybe Gerald, who is delivering at the expected level), but just can't bring the same level of performance to team competitions.
As usual, MaxPax is the X-factor. He's rivaling some of the best players in the world in smaller competitions, but we're still waiting to see him make that leap in major events—both individual and team based. Thus, while the ESL Open version of PSISTORM could probably force an ace-match here, I think the WTL result is more likely to be a comfortable victory for KaiZi Gaming.
Prediction: KaiZi Gaming 5
- 1 PSISTORM Gaming
Platinum Heroes are making a line-up change this week, swapping out Rodzyn for recent signee Botvinnik. The Spanish Terran wasn't part of the Heroes' roster during their WTL qualifying run in March, so it will be interesting to see what kind of contribution he can make for the underdogs going forward.
In any case, I'm having a lot of trouble judging where the Heroes stand in the WTL. Their players were obviously outmatched against DPG in week 1, so there wasn't much to learn from their 0-6 loss. Similarly, beating Team GP in week 2 with 2-0's over Cham and Prince wasn't all that informative, as those players (minus last season's magic) were some of the weaker ones in the league. Thus, I expect the Rebellion to be the most telling measuring stick yet, showing us if the Heroes will merely be scrapping to stay out of last place or be a real threat to mess with the playoff picture.
Prediction: Shopify Rebellion 5
- 1 Platinum Heroes
---
Credits and acknowledgements

Writer: Wax
Stats: Aligulac.com & Liquipedia
Images: SCBoy