Dark and PartinG barely advanced past opponents and into the semifinals.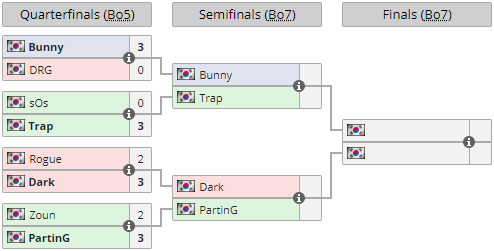 Dark's quarterfinal match against Rogue got off to an extremely strange and equally exhilarating start, with Dark's 12-pool Spine Crawler all-in resulting in draw. Neither player even agreed to a draw as is customary in such cases—StarCraft II's automatic stalemate detection kicked in and declared the game to be a tie. Then, Dark pulled out the exact same strategy in the rematch, this time narrowly winning after some hectic early game combat. While fan-favorite games tend to be ones that extend beyond fifteen minutes, the initial pair of the games from this series (the tie and the rematch) were some of the most entertaining 'fast' games to be had in StarCraft II.

Not to be outdone, Rogue brought out his own extreme early-game all-ins in the next two games, taking both Blackburn and Lightshade rather easily to go up 2-1 in the series. Things finally settled down once the two players headed to macro-map Romanticide for game four, with both of them establishing three bases for more standard play. Dark's Muta-Line-Baneling composition ended up prevailing against Rogue's ground-based army, as Dark's torrential attacks gradually wore Rogue down before a Lurker-based defense could become fully entrenched.

The two players reversed roles once again for the final showdown on Oblivion, with Rogue going for fast Mutalisks against Dark's Lair-less Roach-Baneling-Zerg aggression. This game was full of twists and turns, with Dark going for multiple busts but not quite succeeding at finishing Rogue off. At the same time, Rogue couldn't use his Mutalisks to gain a serious advantage, as he had to play in constant fear of damaging backdoor attacks from Dark. In the end, Dark's Spores and Queens were enough to establish a superior economy, which he used to overrun Rogue after a protracted game.

After the series, Dark said he was happier than if he had won a championship, referencing the many times Rogue had eliminated him in major tournaments. Along those lines, Dark seemed to think that the hardest part of the playoffs might be over, with Rogue having been the biggest threat to his championship aspirations.

The last quarterfinal match saw Zoun come close to pulling off a dramatic reverse-sweep against PartinG, but he ultimately threw away his chance at victory with a questionable engagement on the final map.

PartinG took the first two maps of Oblivion and Blackburn due to his cunning, exploiting the trend of 1-Gate-Stargate builds on maps with high-ground expansions. On Oblivion, he showed his opponent the 'standard' Stargate before cancelling it and going for a hidden Dark Templar drop, which forced a quick GG out of Zoun who had been preparing for a Phoenix war. Zoun then tried to go Stargate expand again on Blackburn, but ended up giving up another fast GG—this time to PartinG's proxy-Void Rays + 3-Gate Stalkers + Batteries.

In a move that was either born of sheer stubbornness or a multi-layered mind-game, Zoun went for Stargate expand yet again in game three on Oxide, which PartinG responded to by going for the same Void Ray + Stalker all-in. However, this time around, Zoun made an Oracle as the first unit out of his Stargate, killing off the enemy Probe that was supposed to start laying down a field of Shield Batteries. This, combined with some better micro from Zoun on the whole, allowed him stave off the attack and recover a point.

Game four on Romanticide seemed like it might deliver the first standard game of the series, but PartinG had another trick up his sleeve in the form of a hidden Dark Shrine. However, Zoun wasn't duped this time, sensing something was awry and setting up his defenses in time. A mostly standard game did play on out from that point, with Zoun having the advantage due to his less risky start. There weren't any further twists—Zoun was able to assemble a powerful army with more Immortals and Archons, which he used to end the game and tie the series.

PartinG's proxy tactics were growing less and less effective with every game of the series, and in game five, they almost backfired on him in a fatal way. His attempt to go for a hidden Dark Shrine was discovered extremely early, with Zoun able to pick off a Pylon and two Probes as a bonus. The game seemed like it was headed toward a similar ending as in game four, where Zoun would calmly snowball his early-game advantage into a more powerful mid-game army. PartinG himself later admitted he had almost given up once his proxy failed.

However, PartinG would end up being bailed out by his opponent's impatience. As the two players massed mid-game armies of Zealot-Archon-Immortal, Zoun decided to take an incredibly unwise fight. Despite having won the previous game due to having more Archons, this time Zoun charged headlong into PartinG's army despite seeing that he was clearly outnumbered on the Archon front. The fight ended in complete disaster for Zoun, allowing PartinG to survive a near reverse-sweep and book his ticket to the semifinals.

After the matches, an emotional PartinG talked about the intense practice regimen he had been putting himself through, and revealed his intent to get a notable result before beginning his military service.

Code S will resume on Monday, Jul 19 9:30am GMT (GMT+00:00) with semifinal match #1: Bunny vs Trap.