World Team League - 2021 Summer Season
by: TheOneAboveU
With only two teams remaining undefeated after the third week of the WTL 2021 Summer Regular Season, it looks like the coming weeks will host a variety of intense battles for what is shaping up to be a very exciting playoff race. Teams projected to be in the middle of the pack have shown themselves to be quite competitive, taking down top-tier squads and mucking up the rankings.
While the bottom three teams had to take another series of one-sided beatings this week, two series culminated in exciting ace matches as well: Alpha X showed their preparation strength with a snipe against Team Liquid, while the Shopify Rebellion took down Korean juggernauts Afreeca Freecs to showcase their ability to keep up with the heavy hitters. Also notable was Team eXoN, which broke Good Game Gaming's undefeated streak to get the first win and start their playoff campaign in earnest.
In Week 4, the two current top dogs Team NV and KaiZi Gaming clash to decide who will stand on top of the rankings, with one of the teams guaranteed to lose its undefeated record. Meanwhile, Dragon Phoenix Gaming and Alpha X will collide in a rematch from the GTC playoffs. Also, Team Liquid is under pressure to overcome Good Game Gaming, lest the Dutch team falls behind its competitors.
Catch the WTL 2021 Summer Season on the streams of Wardi and CreightonOlsen every Friday, Saturday and Sunday at 11:00 GMT (+00:00)!
Week 3 Recap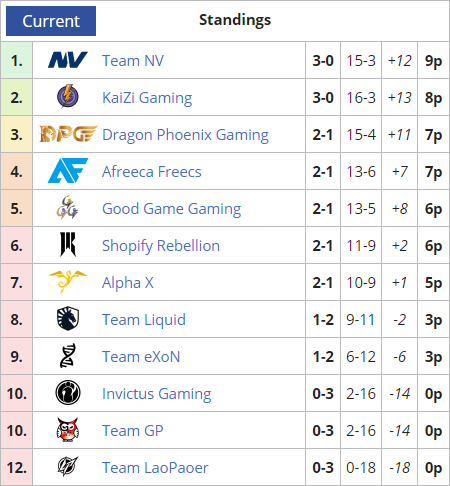 Top 5 teams qualify for the playoffs.
Points are awarded as follows:

3 points for a normal victory in a series that does not require an ace match

2 points for a victory in a series that requires an ace-match

1 point for a loss in a series that requires an ace-match

0 points for a loss in a series that does not require an ace match

Invictus Gaming 1 - 5

Team NV
Watch VOD
Facing insurmountable odds,
iG.MacSed
showed no fear by going for all-out aggression against
NV.Maru
on the first map, trying to overwhelm the Korean Terran early on with proxy Gate action and an Oracle follow-up. But Maru kept a cool head and deflected the attacks with minimal losses, countering with a Bunker push to secure victory. Maru turned the tables on MacSed on the second map, now taking the role of aggressor for himself by opening up with Hellion-Widow Mine harassment to keep MacSed occupied, following this up with a Bio-Tank push supported by an SCV pull. The Chinese pro could not stem the tide, giving Maru a 6-0 record in TvP games in WTL.
NV.Creator
favored a Phoenix-Robo style on the first map against
iG.XY
, which made for a quiet early game as no side could really hit the other with powerful attacks or harassment. The tension exploded in a series of larger battles around the middle of the map when XY finally moved out. Though the Terran got rid of the Colossi with his Viking squadron in the air, the Protoss had by now added Disruptors into the mix, for which his opponent had no answer. Creator obviously saw no reason to change his initial approach going into the second game, with the exception of now attacking as soon as he hit a solid count of Colossi, overpowering XY's third base and completing the win for Team NV with a clean performance.
With XY out of the picture,
iG.Coffee
remained the sole hope for Invictus Gaming to secure at least a single map against
NV.NightMare
. The first game developed into quite the brawl with both sides delivering and receiving bruises: Coffee scouted NightMare's proxy Gate, but still had to give map control and the economic lead to the Protoss. But in return, a strong Bio-Tank push with some clever positioning by Coffee reset his opponent's Colossus count and wrecked important production buildings. NightMare cleared the attack under heavy losses and countered with devastating effect, finally taking control of the game for good by staying on the offensive until he could brew a GG out of Coffee. Like Creator, NightMare stuck to his guns in game two by repeating his proxy opener to pressure Coffee early, but his follow-up diverged quite heavily as he basically went for all the tech a Protoss can grab at once: Phoenixes filled the air, Colossi were produced and High Templars warped in while Charge and attack upgrades were researched. All the while, Coffee built up a sizable Bio-Tank force, with which he attacked NightMare's small high-tech army, overrunning the Protoss to seize victory and salvage a map win for his team.

Team Liquid 3 - 4

Alpha X
Watch VOD
The clash between Horse and Dragon presented fans with one of the highlights of the week, delivering intense action until the very end.
Liquid'Harstem
opened the festivities against
αX.RagnaroK
with another Stargate-centered build, completely shredding the Zerg's Mutalisks. The Korean did manage to land heavy blows against his adversary's economy with Baneling attacks, but it was too little too late, as the Dutchman had collected enough of an armada in the air to claim the first map for Liquid. Harstem chose Stargate-Disruptor on the second map, and then successfully deflected RagnaroK's Ravager-Queen push against his third base. The Korean still believed in the power of Mutalisks even after the beating they received in the previous bout, getting some decent damage done this time before they were picked off by Phoenixes. Keeping a strong economy running for himself throughout the match, RagnaroK managed to wear down the Captain's fleet in a series of inefficient engagements all over the map, until he was finally able to break the Protoss player at his fourth base to equalize the series.
αX.Astrea
and
Liquid'MaNa
dueled with Blink-Disruptor armies on their first map. The American showed vastly superior control of his forces than his opponent, trading much more efficiently throughout the match, though with Disruptors on the field it was still hard to finish the Polish player off. A crucial mistake from MaNa, who left his units of mass destruction out in the open, was all it took for Astrea to seize victory with a courageous blink on top of the golden orbs. Staying in the role of the aggressor for the second game, Astrea pressured MaNa with Gateway units from the beginning, but the Liquid player remained calm and pulled off a very clean defense against wave after wave of attackers. In contrast to the first game, only Astrea went for Disruptors in the match, while MaNa stayed on Stalker-Immortal. The American tried to be cute by hiding Disruptors in the high grass on the map, luring his adversary into an ambush, but the clever move didn't pay off. The experienced MaNa concentrated on his Stalker control, picking off Disruptor after Disruptor, until his Immortals had enough space to shred Astrea's Stalkers to pieces and once again even the scores.
It was down to
Liquid'Clem
and
αX.Zoun
now, with most people probably favoring the Frenchman after his recent performances. The Korean Protoss played a very strong first game, though, taking map control and the economic lead by bringing Dark Templars and Warp Prism on the map, using the DT threat to his advantage despite the tech being scouted early by Clem. Being late on his third base, the Terran tried to go into the offensive, but a Zealot flank by Zoun shut down the tank push, while a run-by furthered his lead. Unable to get anything done in terms of harassment, Clem went for a base trade to try and profit from the ensuing chaos, but Zoun had the perfect army split to keep the Terran from entering his production, coming out ahead after the dust settled. One last strike with his combined forces at the Liquid player's natural sealed the deal. The second bout felt much more comfortable for Clem, who got off to a more regular start into the match, from which he was able to fall into his familiar pattern of relentless attacks, chipping away at the defending Protoss forces. Zoun did try to harass his opponent whenever he could and even managed to push Clem back a few times, but the Terran had managed to attain a sizable economic lead, parading army after army out of his base to win the war of attrition and force the ace match.
This is where the Golden Dragons truly shined. One would easily favor
Clem
over
αX.Nice
any day of the week, but the Taiwanese PvT specialist had put a week of effort into preparing for this ace match in the type of full commitment we've come to expect from Alpha X in this league by now. The Frenchman is incredibly strong, but he's also a very obvious ace pick for Liquid, making him the perfect target for a dedicated snipe build. The Taiwanese Protoss went for a hidden Stargate, opening with Void Rays, and plastered Clem's natural base location with Shield Batteries, quickly adding Tempests to his siege force. He also placed a Nexus at the Terran natural to use Battery Overcharge. The Liquid player quickly massed whatever seemed best to him in the heat of the moment, producing Marines, Cyclones and Vikings, but Nice kept him bottled up in his main base. He also sneaked out his second Command Centre and a Medivac loaded with Marines, but Nice had wisely prepared a Battery in his main and repelled the harassment without losing much by recalling his Void Rays, which had just ravaged Clem's sneaky base. Adding a sizable Gateway force to his army, Nice invaded Clem's main base after the Terran had failed to break the siege, completing the huge upset and securing a true team victory for Alpha X.

Dragon Phoenix Gaming 6 - 0

Team LP
Watch VOD
Another Saturday, another 6-0—though only the most optimistic of Team LP's fans would have expected a different result between this uneven pairing.
DPG.Zest
kept things very clean against
LP.JieShi
, scouting his opponent's Dark Templars on the first map and ending the match with a massive Blink Stalker attack after the successful defense. The Chinese Protoss opted for more aggression in the second game with a proxy Robo and Gateway, but the Korean held him off with Void Rays and static defense until the cheesy offensive ran out of steam.
Things began better for
LP.Wanted
, who warded off an early attack by
DPG.Rogue
by playing it safe with some Spine Crawlers. He was unable to keep himself on even footing with the former world champion for long, however, losing his third base to Speedlings and then failing to cause damage with his Nydus attack, after which Rogue brute-forced his way to victory with a Roach attack. The LP player followed a similar plan in the second game, but Rogue held the Nydus push off with ease, securing victory for DPG.
Unexpectedly for a player in his debut match,
LP.mymy
delivered the most resistance from any Team LP member in this series, making
DPG.Cure
work for his money—at least in the second game. The first map featured a less than optimal Reaper rush from proxy Barracks, which really don't deserve the "proxy" title, since they really weren't placed anywhere near Cure's base. The Korean sniffed the cheese out in any case, prepared accordingly and won the game with a cloaked Banshee after an easy defense. It turns out, mymy is more of a macro player. The Chinese Terran kept up very well with Cure on the second map in this department, bouncing back from losses in quick fashion to his opponent's surprise. Severely lacking, however, were his army movement and drop defense. Here is where the Korean won the match, as he repeatedly was able to kill SCVs, snipe upgrades and cut off large chunks of mymy's army without losing much himself. As far as hopelessly outmatched debuts go, this was a pretty good one.

Shopify Rebellion 4 - 3

Afreeca Freecs
Watch VOD
Liquid had shown in the previous week how the mid-tier teams could land upsets against top teams like DPG, and the Shopify Rebellion seemed to take inspiration from the achievement. Not only did they break the "6-0 Saturday'' curse, but reinforced the reality that not a single team in this league is untouchable.
Things did start rather poorly for the Rebels, as
Shopify.Scarlett
outright died to
AF.Stats
' Glaive attack after taking a lot of early worker losses from Oracle and Adept harassment in the first game. The cunning Canadian struck back on her map choice of Submarine with a 12-Pool, fooling Stats into thinking she had expanded, but then cancelling the Hatchery and pulling all her Drones for an all-in attack. She managed to slide through the Protoss base's entrance, surrounding both Zealots as they spawned and equalized the series.
The rough day for Afreeca's Protoss department continued with
AF.Trap
getting a taste of
Shopify.Lambo
's Queen aggression. Trap played a similar opener to Stats in the first game, Lambo defending much better than his colleague, though he had some problems with a pack of Void Rays hunting down his Overlords. Despite this nuisance, the German unleashed his attack as planned from his forward second base and hammered the third Nexus, overrunning the position after Trap had prematurely used Battery Overcharge on his natural. Lambo quickly transitioned into Drones while he kept the pressure up on his opponent a bit more, attaining an advantage of two bases and about 30 workers. Unwilling to gift Trap any chance at somehow reversing his fortunes, the Zerg gave him the coup de grace with double the overall supply count the Protoss could muster. The second game worked out much better for Trap, as he was able to score much more Drone damage early on akin to the first game between Stats and Scarlett. Lambo went up to almost 100 workers after a while, but had to replace a great deal of workers in the meantime. As Carriers and Disruptors streamed out of Trap's production, Lambo went for Hive and two Spires. Several battles between the high-tech armies ensued, the Protoss getting the better trades repeatedly. Meanwhile, the Zerg lost Drones to harassment and was never able to build up a bank, losing the war of attrition and subsequently his first map in WTL.
With the ZvPs amounting to a standstill, the series' fate lay in Terran hands with
Shopify.ByuN
and
AF.TY
clashing. The Rebel attained a solid advantage from early skirmishes, as both players traded some workers in drops, but ByuN managed to hit a frontal blow with a larger force at TY's natural as well. Unlike in the previous week, he refused to let the advantage slip through his fingers this time, closing the game out after a questionable battle from the Afreeca player. The second map featured earlier aggression from both, ByuN opting for reactored Reapers, while TY built Hellions and Marauders with the Concussive Shells upgrade—the Shopify player was easily routed, while his opponent mounted an effective counter to take control of the game. Running away with a better economy, TY took a defensive stance and deflected wave after wave of ByuN's aggression, finally landing the killing blow with a triple Medivac-Marine drop at ByuN's natural expansion.
The Rebels seemed confident in Afreeca sending out a Protoss player, picking
Lambo
as their ace instead of ByuN, perhaps also wary of his wrist issues and the ace match choke of the previous week. Whatever the causes, the choice turned out to be a wise one: Lambo once again opted for a forward second base, deflecting
Stats
' Void Ray opener and then starting the march of the Queens towards the Protoss bases. Having invested heavily into tech and upgrades, Stats surrendered his third base without a fight. Things might still have turned out well from here, but the Shield of Aiur felt too confident in his own forces and moved out onto the map, where the German's swarm caught and crushed his army. This blunder presented Lambo with the opportunity to kill the third base again, which in turn made Stats desperate for damage himself. Once more, Lambo lunged at the Protoss forces, sniping the valuable Disruptors and forcing a retreat with Stats having achieved any of his objectives. Successfully having bought time for Hive and Vipers to come into play, Lambo gathered a massive swarm of units under his banner to unleash the final attack of the game, overwhelming Stats at his third base to claim the underdog ace win for the Shopify Rebellion.

Good Game Gaming 2 - 4

Team eXoN
Watch VOD
The newest of the Chinese teams in WTL faced its first real test against Team eXoN on Sunday, with
GGG.Dream
and
eXoN.MaxPax
clashing as the initial pairing. The Protoss played a standard game centered on using DTs and a Warp Prism, but the initial damage was negligible. The follow-up drop with two Archons, however, considerably weakened Dream's Marine count, forcing him to stay passive for quite a while. MaxPax almost fell into an attacking frenzy, trying to do more and more harm to the Terran with his Warp Prism and Blink Stalkers, making costly mistakes during the multitasking. Overall, this aggression fulfilled its purpose, as it kept Dream busy defending, leaving the Dane enough space to get the Colossus-Disruptor force he needed to brute-force himself to a win. Dream struck back quickly and deadly on the second map, a Hellion drop killing almost 30 Probes, which forced MaxPax into a futile all-in—running into Siege Tank fire, the attack was dead on arrival.
In the PvP between
GGG.Cyan
and
eXoN.Gerald
, both players seemed a bit shaky with several mistakes leading to confusing as well as comedic situations, such as when the Polish player's Adepts wandered into Chinese player's base, who wasted several Force Fields trying to catch them, only to retreat without attacking the Probes. In the end, DTs played the decisive role in the match: Cyan had almost broken Gerald at his third base, but without an Observer present, the invisible warriors turned the tide in the defensive battle, while a Warp Prism delivered the deadly cargo to Cyan's main base in the meantime, cutting off all power towards his production. In the second game Gerald showed why Disruptors are such a dominant force in the match-up, completely crushing Cyan's attempt at countering them with Phoenixes through sheer numbers as well as the protection of Archons, pulling off several great holds before unleashing the game-ending counter.
Short and spicy was the story for the last match-up of the series, with
eXoN.SpeCial
taking a page out of Dream's book to secure the overall win for his team against
GGG.Patience
in quick manner. A proxy Starport provided swift passage behind enemy lines to four Hellions, which killed 14 Probes, from where things snowballed to an easy Terran victory—and the first WTL win for Team eXoN. The second map took even less time as SpeCial tried to play a proxy Barracks and immediately left the game when Patience detected the construction site with a Probe, gifting GGG a second map win.

KaiZi Gaming 6 - 0

Team GP
Watch VOD
Unsurprisingly, the day ended with another series of stomps as undefeated KaiZi Gaming got challenged by the clear underdogs from Team GP.
GP.Prince
worked on his reputation as a rather creative player and chose to neglect Warp Gate research in favor of committing to air power, a build which gave TY some trouble previously.
KZ.TIME
had the perfect answer for the strategy, though, starting a slow push with Siege Tanks, Vikings, Bunkers and Missile Turrets to slowly choke Prince out and secure a comfortable first win. The second map looked more promising for the Korean, as his quick Charge attack with Warp Prism support gained some steam in the main base, but the disastrous choice to pick up his Zealots at the exact moment when a Widow Mine targeted the Prism ground any blossoming hope into dust—
the expression on his face says it all
.
Somehow
KZ.Solar
made the games against
GP.TAiLS
even less close than TIME's already dominating performances, placing Hatcheries at the Protoss player's natural base in both games to throw him off his game plan. A Ravager-Queen attack closed out the first game against a Void Ray fleet, and Roaches sealed the deal on the second map after Speedlings had already completely crushed TAiLS' Glaive attack.
GP.Ryung
and
KZ.INnoVation
brought some entertainment back to the series with an action-packed first game: The old SlayerS player fell back on old tricks, killing 13 SCVs with a quick Hellion drop. The Machine had landed a Siege Tank and some Marines in his adversary's main base at the same time, managing to outright win the game with some reinforcements streaming across the map. The final game was a bit slower, Ryung preferring to use a mechanized style and staying defensive most of the time, while INnoVation contained him with Marine-Tank. Liberators and Hellions ravaged the KaiZi Terran's SCV numbers late in the game, but it was too late for the economic damage to have any impact: the Machine had methodically used his air superiority in combination with Siege Tanks to slowly thin out Ryung's defensive line, finally breaking them to end a rather forgettable series.
Weekly MVP Award: Shopify.Lambo
Winning with clean 2-0's against eXoN.Cham and KZ.Solar in previous weeks,

Lambo
has shown himself to be extremely reliable for the Shopify Rebellion and has become the team's most valuable contributor right from the start. Fulfilling this responsibility with great skill against very strong opposition in the clash with the Afreeca Freecs, Lambo not only took a map off AF.Trap to contribute to forcing an ace match, he also stepped up in the decisive game and secured the overall victory for his team against AF.Stats, beating two of the world's best Protoss players. Going into the season some fans might have picked out the German as potentially the weakest Rebel, lacking the star power of his colleagues—it suffices to say that this might have been an erroneous judgement. Once more, team league competition has its very own ruleset and atmosphere, and Lambo seems one of the players striving in those circumstances.
An honorable mention must be given to
αX.Nice
this week, whose own ace match triumph was a bit overshadowed by Lambo's excellent performance on the following day. Coming out of nowhere to snipe one of the world's best Terran players as the clear underdog after investing a week of preparation time into the match made for a great team league moment, and it showed that a deficit in star power can be overcome with brains and dedication.
Weekly MVPs

Week 3: Shopify.Lambo

Week 2: Liquid`Clem

Week 1: NV.Creator
Week 4 Preview
Friday, Apr 16 11:00am GMT (GMT+00:00) Matches

Invictus Gaming vs.

Shopify Rebellion


MacSed
< 2000 Atmosphere >


Lambo


XY
< Beckett Industries >


ByuN


Coffee
< Blackburn >


Scarlett
Ace:
< Lightshade >
After two weeks of strenuous series going down to the ace match, the Shopify Rebellion can finally go at it a bit easier in Week 4 when meeting Invictus Gaming. That said, they shouldn't make themselves too comfortable as the Chinese team has taken maps in the two previous weeks, and getting a full three points is a must for the Rebels if they want to get into a good position for the playoff race. With
Shopify.Lambo
drawing another Protoss in
iG.MacSed
, he looks to be well placed to get his team off to a great start.
The two following match-ups might be a bit closer:
iG.XY
has played some beastly TvTs against Korean opposition in the past and
Shopify.ByuN
has taken some losses in the mirror recently.
Shopify.Scarlett
almost got 2-0'd last time she faced an Invictus Gaming Terran in GTC, though it was XY she had to contend with at the time instead of
iG.Coffee
. The two Rebels will go into their matches as clear favorites as well, but the Chinese Terrans are always good for an upset.
Prediction:
Invictus Gaming 1-
5 Shopify Rebellion

Good Game Gaming vs.

Team Liquid


Patience
< 2000 Atmosphere >


uThermal


Cyan
< Beckett Industries >


Clem


Dream
< Blackburn >


Kelazhur
Ace:
< Lightshade >
Having failed to pass their test in the previous week, Good Game Gaming are up against an even tougher opponent in Week 4, who could well overtake them in the rankings if the map score differential is large enough. For their part, Team Liquid are still waiting for the first clean win of the season, so far only having triumphed through an ace match against DPG. That was an accomplishment rich in glory, but not so much in points. Taking three points against GGG is obligatory for a playoff contender.
Returning from a competitive hiatus he entered after IEM Katowice,
Liquid'uThermal
faces an
old nemesis
in
GGG.Patience
. While it's hard to estimate the Dutchman's form due to his recent inactivity, the preparation format of the WTL should play right into his strengths. Seeing as how Patience dropped maps to both iG.XY and eXoN.SpeCial, uThermal should be able to secure one point for Liquid at least, before
Liquid'Clem
goes into his advantageous match-up against
GGG.Cyan
. It has to be noted, though, that this kind of lop-sided duel has in past seasons produced the best games from the Chinese Protoss, who seems to thrive whenever he faces terrible odds.
In return,
GGG.Dream
goes into the match with
Liquid'Kelazhur
as the favorite, though there are one or two notes for this one as well. Dream's TvT results have been
rather mixed
lately and a lot of his mirror games are easily available for study, possibly providing an angle for the Brazilian to take a map. Kelazhur played surprisingly well against DPG.Cure in Week 2, almost winning a game that would have secured a victory for Liquid, so while we don't see all too much from him these days, he's certainly still capable of contributing to the team.
Prediction:
Good Game Gaming 3-
4 Team Liquid
Saturday, Apr 17 11:00am GMT (GMT+00:00) Matches

Team LP vs.

Afreeca Freecs


Wanted
< 2000 Atmosphere >


Armani


JoliwaLoves
< Beckett Industries >


Stats


JieShi
< Blackburn >


TY
Ace:
< Lightshade >
While Team LP are the clear underdogs against every team in the WTL, they also got the strongest opponents allotted to them early on in the season: KaiZi, NV, DPG and now Afreeca. Not exactly conducive to a happy and motivated start to the season. As things stand, it's going to be another week of being used as punching bags for a team that's angry about their ace match loss in the previous week. Perhaps
LP.Wanted
can build upon his performance against
DPG.Rogue
and surprise
AF.Armani
, but that is still a very long shot.
The odds certainly do not look any better for the Protoss contingent consisting of
LP.JoliwaLoves
and
LP.JieShi
, who face
AF.Stats
and
AF.TY
respectively. Aligulac is very pessimistic about their chances, giving JoliwaLoves a possibility of
0,09%
to take both maps, whereas JieShi's
1,84%
to do the same are actually the best chance Team LP's got—these numbers are smaller than 'six', which is likely the number of maps the Afreeca Freecs will take in this series.
Prediction:
Team LP 0-
6 Afreeca Freecs

Dragon Phoenix Gaming vs.

Alpha X


Dark
< 2000 Atmosphere >


RagnaroK


Zest
< Beckett Industries >


Nice


Rogue
< Blackburn >


Zoun
Ace:
< Lightshade >
Fans should look forward to this one, as it's become a real GTC classic over the course of last year. While Alpha X lost 2-4 against Dragon Phoenix Gaming in the 2020 Spring Season, they narrowed the gap and forced an ace match in the Fall Season, only narrowly losing the bout 3-4. In the Fall Season playoffs, the Golden Dragons finally managed to overcome the league's top dogs. Once again, Alpha X battled DPG to a standstill and forced an ace match, where RagnaroK took down Cure to eliminate the defending champions and send Alpha X on to the grand finals. Both teams so far haven't looked as sharp in the WTL as in GTC, but with Alpha X regaining their god-tier preparation powers last week and DPG taking relaxation time against LP, the opponents should be ready for another exciting clash.
Unfortunately for the Golden Dragons, the match-ups didn't pan out too well for them on paper.
DPG.Dark
, though not at all at the height of his power, defeated
αX.RagnaroK
with a clean 3-0 on Wednesday in the finals of
OlimoLeague #244
. Pairing this recent result, which can't be great for his opponent's confidence, with Dark's generally solid ZvZ record
compared
to RagnaroK's, the DPG Zerg should be in a good position to finally deliver a 2-0 for the first time this season.
Alpha X probably hoped to hit either Dark or DPG.Cure with
αX.Nice
, either employing his PvT snipe capabilities or his remarkable skill to always take a map off the Zerg in a team league environment. In this instance, DPG for once out-picked the American team, sending out
DPG.Zest
on Beckett Industries. Zest, retaining a record of
44-8
(11-2 in 2021) in maps against the Taiwanese player and never having lost a single series against him, is basically a living nightmare for Nice—a true nemesis. While a PvP upset is never completely out of question (especially on a recently added map), the Korean seems to live in this particular opponent's head rent-free.
DPG.Rogue
and
αX.Zoun
have recently shared a group in Code S, with the Zerg taking a 2-0 win in their clash, which sent the Protoss on to the road to elimination. Sporting the superior historical and recent
stats
, Rogue looks well positioned to wrap the series up in favor of his team, if that hasn't already been done by this point. Zoun did take a series against the Zerg previously this year, leading to a close 2-3 map score in Rogue's favor from their most relevant duels, so the creative Alpha X player can't be counted out quite yet, but it's safe to say that this is one of the rougher match-ups he could have gotten here.
Prediction: Dragon Phoenix Gaming 5
-1 Alpha X
Sunday, Apr 18 11:00am GMT (GMT+00:00) Matches

Team GP vs.

Team eXoN


NaTuRal
< 2000 Atmosphere >


MaxPax


Ryung
< Beckett Industries >


SpeCial


Prince
< Blackburn >


Gerald
Ace:
< Lightshade >
With Team GP mostly delivering a pretty bad performance against KaiZi Gaming in the previous week, while Team eXoN secured their first win of the season, morale could likely not be any more different going into this Week 4 match-up. The American team will enter the bout as clear favorites. Still, they do have a lot of catching up to do in the playoff race, so they'll want to win while taking as many maps as possible.
Once again
eXoN.MaxPax
starts his team off with a PvT, facing
GP.NaTuRal
as the favorite. If he can protect himself from a one-punch knock out by Hellion drop and keeps his level of play similar to the previous week, the Dane should secure his first 2-0 win of the season.
GP.Ryung
has shown himself to have the most fighting spirit amongst the GP crew and almost managed to take a map from KZ.INnoVation last week, so
eXoN.SpeCial
won't have an easy job on Sunday. That said, the Mexican is a
TvT beast
in his own right and won't be caught off-guard by anything the Korean veteran might throw at him.
The greatest potential for chaos lies in the Protoss mirror between
GP.Prince
—whose shenanigans have so far been ineffectual at best, almost embarrassing at worst—and
GP.Gerald
. The Polish Protoss delivered a solid PvP in the previous week and should have ample experience regarding the handling of cheesy play—MaxPax is his team mate after all and the two often meet in online tournaments under competitive circumstances. However, Prince has won out in both of their previous meetings, leading
4-1
in map score, so perhaps this is where Team GP can find a map win.
Prediction:
Team GP 2-
4 Team eXoN

KaiZi Gaming vs.

Team NV


Solar
< 2000 Atmosphere >


Creator


TIME
< Beckett Industries >


Maru


INnoVation
< Blackburn >


DongRaeGu
Ace:
< Lightshade >
Concluding the week is a real top match, with the two hitherto undefeated teams clashing with each other to contend for supremacy. The defending champions have performed admirably so far, not fazed whatsoever by the rule changes affecting them, continuing their tradition of ruthlessly beating up underdogs without dropping a map. Shopify Rebellion has shown cracks in their armor, though, and forcing them into an ace match which was only decided in favour of KaiZi after some serious, unforced mistakes from Shopify's ace ByuN. Team NV have had a rock-solid start into their first WTL season, and funnily enough, they've given playtime to their experienced team members rather than play their best players each week. As their first clash with a real top team dawns, this strategy has been overhauled in favor of a more forceful approach to provide their ace player with fire support, though NV are still not sending their absolute strongest line-up out.
KZ.Solar
goes up against
NV.Creator
as a favorite for sure, but the difference between them may not be as big as in the previous year.
Historically
, the Zerg has crushed the Protoss, demonstrating his expertise in the ZvP match-up time after time, but so far in 2021 the two players are 2-2 in series, marking the first occasion in their careers when Creator took two series in a row against Solar. The NV Protoss has been more solid than usual recently, perhaps gaining confidence from having his team's trust, but that's typically where he once again starts to disappoint. Having any sort of expectations for Creator other than being a mediocre Protoss has been really hard in years past, so doubt about his abilities to deliver the necessary goods here are justified.
The WTL has been a steady source of high-level TvTs so far this season,
KZ.TIME
and
NV.Maru
will be the next players to contribute to this stream of games. Stylistically, both players fall into the same category of fast-paced and relentless attackers, albeit they have shown remarkable patience and defense when necessary. The Chinese Terran gave us a taste of his mirror match-up strength in Week 3 of the team league, battling Shopify.ByuN to a draw after losing the first game of the series to early Reaper-Hellion aggression—certainly a possible avenue of attack for Maru as well. While the Korean cannot be anything less than the favorite on
reasons
both historical and recent, one can't help but feel that the KaiZi Terran has a decent shot at forcing a map-split here, which might put his team into a very strong position as we usher in the final pairing of the day.
The ultimate closer of the league and leader of the individual rankings with a current record of 7-0,
KZ.INnoVation
, takes the field in the last match-up of the series against
NV.DongRaeGu
. The Zerg had ample opportunity to scout the Machine's TvZ in GSL Code S Group C, though with DPG.Dark playing Roaches as opposed to DongRaeGu's favored Muta-Ling-Bane, it may not have been so revealing. It's a shame these two players' primes didn't quite intersect—imagine INnoVation's Bio-Mine parades clashing with DRG's Ling-Bane-Muta swarm in an action-packed, back and forth over the entire map!
Their
only previous duel
in 2021 went in the Machine's favor by a 3-2 scoreline, providing us with the insurance that these two can have very exciting battles even today (and those playstyles mentioned above are still in fashion). DRG will have a tough road ahead of him here, as his own ZvT performances recently
haven't been great
across the board (though he did look good in the GSL), while INnoVation has retained a
rock-solid win rate
against Zerg players on the highest level, elevating TvZ to his best match-up in recent times.
Prediction: KaiZi Gaming 4
-2 Team NV
---
Credits and acknowledgements
Written by:
TheOneAboveU
Editor: Wax
Stats: Aligulac.com & Liquipedia
Images: SCBoy