Gold Series Team Championship:
2020 Spring Season
by: TheOneAboveU
The regular season of GTC Spring 2020 is over! After nine weeks of intense competition, Dragon Phoenix Gaming came out on top and claimed first place with an undefeated record. Four teams will follow DPG into the playoffs, all tied with 5-3 records: KaiZi Gaming, Alpha X, Team LaoPaoer, and Brave Star Gaming.
The playoffs will be held on June 27-28, with Brave Star Gaming vs. Team LP kicking off the "gauntlet"-style playoffs. The all-star tournament will serve as an appetizer, with the top players of the regular season playing in an individual competition on June 25-26. Hopefully, the Twitch stream ban will be resolved before these events begin, allowing Wardi and other international streamers to resume their coverage of the GTC.
Week 9 Recap - Regular Season Ends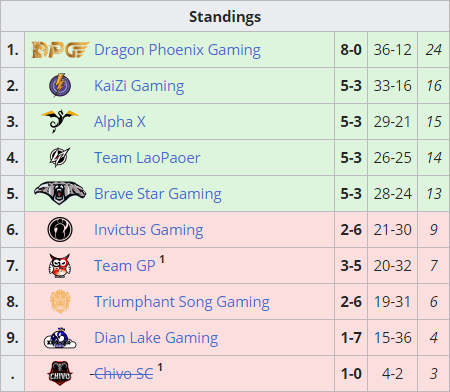 Points are awarded as follows:

3 points for a 'normal' victory in a series that does not require an ace match

2 points for a victory in a series that requires an ace-match

1 point for a loss in a series that requires an ace-match

0 points for a loss in a series that does not require an ace match
Triumphant Song Gaming 2 - 4 Team LP
Watch VOD
Triumphant Song Gaming did not get the glorious send-off they may have hoped for—instead, their last GTC series was a sadly appropriate summation of their season. TSG.Solar was able to score two solid wins, but the rest of the line-up could not back him up, rendering the ace's efforts ultimately futile.
LP.Jieshi
started TSG's downfall by taking a 2-0 win against
TSG.Cloudy
, winning comfortable with his aggressive play.
TSG.Solar
did all he could to give his team a chance in their final match, tying the score back up with a 2-0 victory against
LP.Impact
.
However, it was all for naught as
TSG.Star
couldn't stand up to
LP.Patience
in the deciding series. In game one, Star essentially lost after failing to deal with his opponent's initial Adept-Stalker pressure (as he had earlier in the season), though it took a Blink attack to really finish the game. Star survived the early pressure on the second map a bit better, but still lost 17 SCVs to Patience's Blink follow-up. He pushed out with a good number of Tanks and Marines, as well as his remaining SCVs, but Patience sacrificed his 3rd base to buy some time for his Disruptor to come out while also ravaging Star's main with his Warp Prism. It turned out to be the correct decision, with Star quitting upon seeing the Disruptor. Thus ended the tale of Triumphant Song Gaming, champions of the
very first CTC/GTC tournament
.
SYF 2 - 4 Invictus Gaming
Watch VOD
After looking like locks to finish in last place for much of the season, Invictus Gaming ended things on a high note, taking down SYF to secure their best ever CTC/GTC finish of sixth place.
In the first series,
SYF.SortOf
was crippled by early attacks from
iG.Coffee
in both games. Coffee played a 2 Barracks Proxy in Game 1, killing five Drones to secure an early advantage. The Swedish Zerg answered with a Roach-Ravager attack, but Coffee was prepared perfectly, having a Tank ready on the high ground to hold off the attack. A Marine-Tank push ended the game a bit a later. In Game 2, the Coffee caught SortOf off-guard with a Hellbat attack, gaining a critical advantage which enabled him to end the game a bit later with a Hellbat-Banshee follow-up attack.
With SortOf unable to take a map,
SYF.EF
needed to get at least one map win to keep SYF's hope for a series victory alive. Unfortunately, he was not quite able to overcome
iG.XiGua
, who once again turned out to be Invictus Gaming's most solid asset. XiGua played defensively in game one, taking third base and walling off his natural, while EF wasn't quite sure what to do and opted for a later third, coupled with Nydus aggression. However, the Nydus tactics went poorly for EF, allowing XiGua to comfortably snowball his advantage into a victory. EF tried a different approach in game two, going for earlier Spawning Pool and a Speedling flood. But once again, XiGua defended with relative ease, and secured the series win for Invictus Gaming.
Though the series was already lost, and SYF was confirmed to finish the season in last place,
SYF.DynaMite
at least wrapped up his team's ill-fated journey on a winning note, defeating
iG.XY
2-0 to bring things to an end.
Team GP 1 - 5 Dragon Phoenix Gaming
Watch VOD
As expected, Team GP could not keep the juggernaut that is Dragon Phoenix Gaming from rolling over them, giving DPG a perfect, undefeated finish to regular season play.
The first series between
GP.Bomber
and
DPG.Dark
was rather quick, with Dark drawing first blood with a Roach rush on the first map (employing some clever hidden-Zergling tricks to mask his intentions from a scouting Reaper). Bomber tried a Battlecruiser-Hellion build on the next map, but just as SYF.DynaMite before him, he just couldn't make it work against Dark's Roach-based defense and counter-attacks. Dark continued to pick Bomber apart after transitioning to Mutalisk tech, leaving his opponent caught between trying to attack and putting out fires in his own base. Eventually, Dark crushed Bomber in two big engagements to clinch a 2-0 start for DPG.
The following PvP was also quick, as neither
GP.Super
nor
DPG.Firefly
aimed for macro games. In the first game, both players hid Stargates on the map. Super ended up being the victor, with his Oracles doing critical damage while Firefly's Phoenixes were out of position. In game two, Super died straight-up to Firefly's Dark Templars after he failed to get detection in time.
GP.GogojOey
did all he could do against GSL finalist
DPG.Cure
in the final series, playing for Roach-Ravager aggression twice in a row. jOey was especially all-in in the first game, but Cure held against it nonetheless to force the GG and confirm DPG's series victory. Cure proceeded to run up the score in game two, holding steadfast against JOey's mid-game Roach-Ravager attack to seal the 5-1 victory for DPG.
Brave Star Gaming 4 - 3 KaiZi Gaming
Watch VOD
With KaiZi sending out their "B-team" after having locked in their #2 spot in the previous week, BSG took advantage of the situation by scoring a 4-3 upset. The result didn't have any consequences in terms of final rankings, but it did demonstrate how BSG might be a threat to upset in the playoffs.
Our opening match-up was explosive as expected, with
BSG.Dream
securing a game one victory over
KZ.Bunny
with some excellent micro in the initial Reaper-Hellion skirmishes. Dream baited Bunny's first units out from the safety of the high ground, destroying them with his superior micro and moving on to kill nine SCVs. Bunny tried to come back with a Hellion drop, but Dream was ready for that and also had cloaked Banshees on the way, which made Bunny GG right away when they arrived at his base. Game two saw both players opt for Battlemech play, leading to an action-packed game with plenty of swings in momentum. Dream had the initial advantage, as his steady harassment secured him a worker lead. However, Bunny was consistently better at adjusting his army's composition and moving it around the map, allowing him to turn the tables on his opponent. His superior maneuvering netted him several CC kills and allowed him to take more efficient trades, eventually leading him to a series-tying victory.
Rather more clear-cut was
BSG.Scarlett
against
KZ.Dear
. The Protoss secured a critical advantage for himself in game one with a Glaive build, killing twelve Drones and leaving the Zerg unable to defend his follow-up Immortal-Gateway push. Dear got off to a worse start in game two after his Stargate build was scouted, but his Immortal-Sentry push still hit the perfect timing to overrun Scarlett before she had the fully prepared her defenses (including the crucial Baneling speed upgrade).
KZ.Nice
had a chance to bring down the hammer and finish the series, but instead
BSG.Cyan
clutched out two wins to force an ace match. The BSG Protoss used Oracle-Adept harassment to keep Nice on the back foot in game one, and proceeded to pull off a cheeky double-expand. Cyan duped Nice completely by expanding first to his "third" base and then taking his natural, fooling Nice into thinking he was on two bases instead of three. Nice just couldn't deal with this economic disadvantage (especially after his own harassment failed), and eventually tapped out against Cyan's much bigger army. The KaiZi player fell behind again in the second game, despite mirror builds being played. Cyan was just quicker and more decisive at every turn, eventually finding the chance to lift his units into the enemy main and force-field off the ramp. That classic move ended up being the killing blow, and forced an ace match to decide the series.
Technically, KaiZi could have sent KZ.INnoVation out as their ace (though he hadn't played in the 'regular' matches), but they went with Dear to try and take the victory home against Dream. At the beginning, this looked like the right decision, with Dear scouting Dream's single proxy Barracks, stealing one of his Gas Geysers to disrupt his tech options, and then defending the follow-up Widow Mine drop with only two Probes lost. Despite this fantastic start, things went south for Dear when Dream's +1 Bio push hit. During the attack, a split-off drop managed to get some Probe kills at the third base, while a Widow Mine drop got in a devastating shot when Dear bungled his Probe evacuation. Dear did a decent amount of damage to Dream with a counter-attack, but was still stuck on low-tech with a crippled economy. Dream was able to prepare the Terran triple threat of Liberators, Vikings, and Ghosts to counter whatever Dear had planned, and his high-tech army finished Dear off to earn his team the victory.
Weekly MVP Award: BSG.Dream
It was difficult to choose the MVP in week nine, as the standings had mostly been locked in by the end of week eight.
In the end, I went with

Dream
for scoring three map wins in BSG's victory over KaiZi (vs KZ.Bunny and KZ.Dear), which saw him end the regular season with a league-leading sixteen map victories. If one believes in the importance of momentum, Dream certainly put his team in a better position headed into the playoffs.
Notable mentions this week go to
BSG.Cyan
, whose clutch PvP play allowed Dream to finish KaiZi off in the ace match. Also,
iG.Coffee
was the key player in iG's victory over SYF, powering iG to an unexpected sixth place finish.
Regular Season MVP Award: BSG.Dream
With a
16-3 overall record
,
Dream
secured the most map wins of any player in this regular season, and did so while putting up a very impressive win-percentage as well. He also played in three ace matches for BSG, where he put up a 2-1 record. Dream's 16 victories make up over half of BSG's total wins, which shows how hard he carried them throughout the nine week regular season. He's the main reason BSG are in the playoffs at all, and thus I believe deserves the title of Regular Season MVP.
αX.Astrea
and
GP.Super
were worthy candidates for the award who deserve an honorable mention. Astrea has proven himself to be a very dangerous player in this preparation-heavy format (a good omen for his upcoming GSL appearance?), putting up a very impressive 14-4 record to help power Alpha X to third place. Super arguably carried an even heavier burden than Dream, going 14-6 in a league-leading twenty games. While his 3-1 record in ace matches was particularly impressive (making him the most successful ace in the league), it wasn't enough to get Team GP over the hump and into the playoffs.
I would also like to talk about the Chinese-region players for a bit and assess the GTC/CTC's long-term goal of fostering regional talent.
DPG.Firefly
was the one to reach the most wins overall, going 8-8 (2-6 against non-Chinese players), followed by
iG.Coffee
with a 7-11 record, who also won the most maps against non-Chinese players, going 4-9 against them. The stand-out player was
KZ.TIME
, who was able to get a 6-0 record (2-0 against non-Chinese) players, and alongside
iG.XiGua
(5-4 overall, 3-4 against non-Chinese) is the only Chinese player to amass a positive win rate.
Overall, I had the impression that the Chinese players had a much better time against non-Chinese players this season than in the last one, and I also felt that the game quality in the intra-Chinese duels went up quite a bit to be very enjoyable for the most part. With TIME and Firefly there are now two players who can consistently go up against some of the best Koreans and make an even match out of it. Players like Coffee,
LP.Jieshi
,
BSG.Cyan
,
iG.Jim
, and XiGua managed to take some surprising victories over non-Chinese players, and played some pretty solid matches against them otherwise, despite losing out in the end. Same goes for
iG.XY
and his TvTs against the Korean Terrans. While the CN vs. non-CN win rates have only been improving up at glacial rate, the overall matches have been closer on average, and that is a good and positive development. Case in point: the full Chinese squad of Invictus Gaming made it to #6 in the rankings, forcing several surprising ace matches against teams with Korean players, and who would have expected that at the start of the season?
---
Credits and acknowledgements
Written by:
TheOneAboveU
Editor: Wax
Stats: Aligulac.com & Liquipedia
Images: Netease