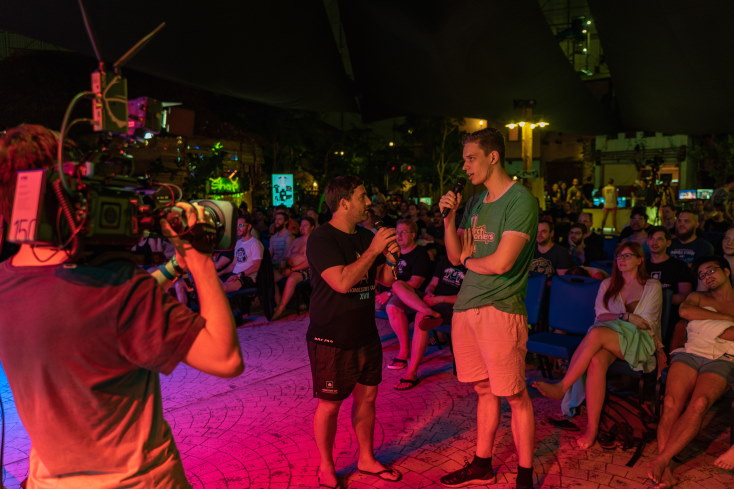 Photo: TakeTV
After three interviews with Zerg players (and an Orc-Protoss hybrid, technically), it was about time we talked to a Protoss player as well. Ladies and gentlemen, it's none other than Team Liquid's latest signee

Harstem
who's here to tell us about joining Liquid, the state of balance, who's hot ahead of IEM Katowice, Bob Dylan(???), and many, many other topics.
*This interview has been edited and condensed.
---
Wax: What have you been up to in the off season? Have you taken some time off?Harstem:
I never really stopped playing. I feel like other people, they benefit from breaks. But whenever I take breaks and come back I'm kind of s***. Like, of course I take breaks now and then, but I don't try to take breaks for longer than a week, usually. I took a small break over Christmas—the 24th, 25th, 26th—for the rest, I just continued playing, continued streaming, basically. And I went on a small holiday to Poland with some of my friends.
Oh, what's in Poland?
Drinks?
*Laughs*
You mean StarCraft friends?
Yeah, it was Lambo, Elazer, Miniraser, if you remember him, and Drogo.
So you went to Poland because one, I guess it's cheap, and two, you have Elazer to show you guys around?
Well, we didn't go to Warsaw. We went to Warsaw for New Years 2017 and we enjoyed Poland a lot, so we were like "Let's go back there." And Elazer doesn't really want to go to Warsaw because that's where he lives, so we figured Krakow was good. It was pretty cold, but it's always a good time in Poland.
So, mostly drinking.
No, no, also lots of sightseeing, obviously. We're really big into culture. We're a culturally diverse group. Nah, my parents read this stuff so we can't go too much stuff about drinking
*laughs*
. We had a drink every now and then
*laughs*
I was looking at our last interview from 2018. You also said back then you hated taking breaks, but maybe you'd try to work on changing that.
Yeah, I tried to take some breaks, and I take more small breaks now, that's for sure. But I kind of gave up on the longer breaks. Like I think Serral said he does three weeks, and I know uThermal likes to do it two weeks at a time sometimes. But whenever I did like a two week break, I just felt awful after. So I take a lot more one day breaks... before I didn't really feel comfortable taking a day off in the week, but now pretty consistently, at least one day a week, I play like less than 3 or 4 hours a day. So that's kind of a big step, I guess, you know, to getting a healthier life. But yeah, I dunno—I'm not big on breaks.
I guess that makes the pro SC2 scene good for you, in the sense that there's no real off-season—this current off-season being an outlier—and it rarely truly stops. Other players seem to dislike it, but it's not a much of a problem for you.
Yeah, I don't really care about it. I like tournaments more than not having tournaments. I'm not big on online tournaments. One, because I hate playing with ping, and playing against the same Europeans in tournaments that I do on the ladder feels a bit incestuous after a while. It's a bit weird to play only online tournaments against Europeans, but if I want a different opponent, I have to play with ping, which I absolutely hate. Like even if it's just 60 or 70 ping, I can't stand playing with it, it just makes me angry. I generally don't like to play online tournaments too much.
I've been liking the ESL Pro Tour Cups though, it's good. I think for some reason, the ESL Pro Tour Cups, even if it's just 10 points—I don't really care too much about the 70 or 100 dollars you get as well—I think just the points, it being an official event, it makes you try harder. It feels like fiercer competition for whatever reason, than like another $100 cup. There's been some events I've participated in that I thought were good, like the Wardi 2020 I thought was really cool, playing the team tournament with the Fantastic Five.
Everyone seems to really like ESL Pro Tour, like no one has anything bad to say about it.
Yeah, obviously. It's fantastic. I think I mentioned it before to people: it's like Blizzard is a game developer, right? ESL is a proper tournament organizer. So I'm not saying there was a lot wrong with the WCS stops, with the actual events, because a lot of the time it would be done by DreamHack or Starladder.
But the speed of announcements, basically the communication with Blizzard has always been worse than it has been with major tournament organizers, so that already is a big step up for us. And this is not to throw shade at the esports team at Blizzard, I always think that they did a good job. But it's a company whose infrastructure, I believe, wasn't entirely set up for organizing tournaments. And you have DreamHack and ESL whose infrastructures are completely set up to be tournament organizers. It's what they do, right? So it always felt like they were just a bit better at that as well.
So that's very nice, on top of that having some clarity for your future is a good thing, I believe. The three year plan, also just announcing stops ahead of time, that kind of stuff. I don't know, I'm just generally quite happy with this.
What are some small things casual fans might not appreciate that pros feel are improvements from WCS? As I said with other players, it doesn't feel like that big a change.
Well, I'm not sure how closely you've been paying attention, but you might have noticed that there's no WCS points for Challenger anymore. I think that's really, really big. Mainly for seeding in the events, that uses WCS points a lot, so you kind of had a natural advantage if you got points for Challenger as well. I mean, it felt a bit unfair that some players within the same system were getting a big advantage. So it felt, weird to have that kind of [regional] advantage within the same system, so I'm glad that's gone.
I think this kind of opened up the conversation for more foreigner vs Korean tournaments as well. I think Apollo mentioned it as well, that for 2021 it will be a serious option. I'm not even sure if that's the best thing to do, but I think it's always good to at least have a very open mind to that kind of thing. And it seems like the people of ESL and I guess DreamHack are very much in tune with our community when it comes to that kind of stuff. Like they I think they truly understand well what they want, and I think they can make changes a lot faster than Blizzard ever could.
You mean getting rid of region lock?
Yeah, not even necessarily getting completely rid of region lock, but changing something there. Whatever that might be, or whatever form that might be, I think it's always good to keep your options open when it comes to that. I think gradual change is always good. Because I think before, in like the 2014-15 system, changes were always so sudden. It felt very difficult for people, to all of the sudden, within a matter of one or two weeks, to make big, life-changing decisions. But if there's gradual steps that's always nicer, and I think ESL is aware of that.
Regarding Challenger, you mean the 'weaker' regional Challengers giving out the same amount of points, that's what you're talking about?
Yeah, yeah. I'm not sure if they got the same amount of points, it just felt wrong to give points for that. I think the Challenger was very nice in that it gave spots to people who might otherwise not be able to fly to these tournaments. People always talked about taking away spots from Australia, but I actually think it's good if you have an underdeveloped scene, that you actually get opportunities and you get an incentive to play for. Like two spots for Australia is good. I think it's fine to incentivize a certain region to play for something, to be able to qualify for a tournament. I just don't believe these spots should be seeded, and don't think these spots should be giving WCS points [just for qualifying].
Yeah, unfortunately this does end up being fighting over who gets a bigger share of the same pie. Hopefully people don't argue too much about it, but I guess it's inevitable.
Yeah, I don't think it's bad if people argue about it, I think it's good when people talk, as long as you give good arguments. I just think it's important that you have local scenes that can grow without giving them a weird advantage in the WCS system, like giving a lot of points. Like Has getting so many points from WCS Challenger each year, or Probe being able to get so many points from WCS Challenger and outperforming other people by quite a bit. It feels weird, but I don't think you should take away their spot for a tournament. I think they should still be able to qualify through their region to the tournament so their flight gets paid. Because don't forget a lot of people need to pay for their own flights because they don't have a team. I think that's a big incentive already, for especially weaker regions, just to participate.
You talked about getting tired of playing the same guys over and over. Maybe a good way to break the monotony would be to go to Korea again?
Uhh, no, not really honestly. I'm not really too interested in visiting Korea at this moment. I think going to Korea is very good for a bunch of reasons. There's really nothing else going on—obviously Korea is a really nice country to visit—but you're very... you don't have your friends, you don't have your family, so a lot of your natural responsibilities kind of fall away, so you have more time for playing StarCraft. The ladder obviously is higher level.
But for me, at this point, I believe I'm at a level where it's easy enough for me to find practice against people that are better than me. It would be nice and I'd probably improve there, but I'm not sure how much better it would be to go to Korea. And I think I also really enjoy the current routine I have, I think it helps me a lot. I think I've actually been steadily improving for the last 4~5 months, more so than I did between the end of 2016 till about mid 2019. So, I feel like I kind of don't want to break the streak, you know? I'm happy in my routine.
What's the new routine?
I don't know, I've just been more consistent with my sleep mainly, I think that's very big for me. I picked up playing guitar, which seems to have replaced idling on the internet. So where before I would refresh Twitter 35 times, now I just pick up a guitar and play the same song four times. I'm not sure how helpful it is, but it's been giving me some peace of mind. Like I said I take one or two day breaks now, spend time with family or my girlfriend.
I think it's just a combination of the things, with sleep probably being the biggest one that improved. I always had a bit of a haphazard sleep schedule where it would go well for a couple of days, and I would ruin it by staying up till 3. But now I've been pretty consistently going to bed at the same time, waking up at the same time. I think it pays off for me, at least.
What are the couple of songs you play?
Mainly Arctic Monkeys songs, I play some Bob Dylan. I'm a big Bob Dylan fan.
So you're a rock and roll guy.
Well, Bob Dylan originally is folk, of course. He only switched on to electric later in his life, to the great dismay of the folk community. During his 1966 tour, he continuously got booed off stage.
So, not exactly rock and roll, but yeah, especially his later stuff is folk rock. Arctic Monkeys is more alternative rock, I'm not sure if you'd describe it as rock and roll, I guess so.
Man, I just said some words.

Moving on to actual, in-game StarCraft II. I've only talked to Zerg players so far, and they've all said the game is fine. And when a progamer says the game is fine, it usually means...
They're slightly favored.
Well, it's very difficult because we haven't had any big tournaments in a while, and really in the new patch we hardly had any. I think we're still gonna see a lot of Zerg champions. Whether that is because the race is favored or because the players that we currently have as Zerg are extremely good, I'm not sure. But I think the best players are still Zerg.
Personally I don't perceive a lot of imbalance in PvZ. PvT, it's really difficult for me to call because sometimes I feel very good against European Terrans and I wanna say that PvT is Protoss favored, but then you just get destroyed by
a tier-2 Korean, like a Bunny or a Dream will come over and 3-0 me in a HomeStory Cup. So it feels like it's a risky match-up to make any statements on, for me.
The only thing that I think is generally disliked, currently, is PvP. I think it's the worst the match-up has ever been. Bar, maybe 4-gate vs 4-gate, warping over force fields. It's in an abysmal state, where it's really difficult to practice, it's a really bad match-up to watch. Like, the early game is... I don't want to say unplayable, but it's filled with gambles that have very little to do with StarCraft and more with roulette.
The consequences of the early game have been way bigger than they have been in a while. Whereas in HotS, there was some luck involved and stuff like that, you generally transitioned into the mid-game. A lot of the time now, the game just kind of ends with the wrong gamble. Proxy-robo being the worst offender, just being extremely powerful against anything that isn't a Stargate opener. But even some Stargate openers kind of struggle against it.
So, yeah, it's by far the best build there currently is, and because there is a build that's so extremely good, the hard counters are also very good. But then, the kind of standard play kind of counters those hard counters. Yeah, it's just lots of gambles, and of course, there's people that are better at the match-up and will be able to win more. But in general it feels frustrating to play and not very fun.
There's still a lot of situations where if you hit the wrong build with what you're doing, you just die, or you're so far behind that you can't possibly win anymore. Which I think should never be the case. Like, not in any match-up where... you should always be able to have a build that's slightly behind against everything. But there's no such build. You just always die against something, and that's an issue. I wouldn't mind being down a couple of workers, to go into a safer mid-game, but it seems just basically impossible.
Who's good ahead of IEM Katowice? Other players I've talked to have said not much has changed. What's your view?
I think I'm a lot better than last year. I think Clem is also better, I think I'm a lot better. I FEEL a lot better at least? I feel very confident against a lot of people. It's a bit arrogant, isn't it?
You can be doing a lot better, but the bracket is still pretty brutal to get out of.
Sure, but personally I feel a lot better. And other people, it's always hard to say, because you only see one match-up of them.
So I think Clem has improved immensely over the last four or five months, obviously. I think ShoWTimE is at a more stable level than he's been in a while. Where he just seems extremely solid. And I know we always say he's extremely solid, but lately his level just seems to have gone up by like... if we talk in MMR, by like 50 or 100 MMR consistently. You know, he just feels slightly better, getting closer to that Serral level. I think he's definitely very dangerous.
I think Reynor's break actually put him back a little bit, from where he was. I think at the end of last year he was absolutely godly, but he took a really long break. Like, extremely long, I want to say a month, month and a half, even. He hardly played, he feels a bit more vulnerable than he did before. But, I mean, maybe if he plays for a week and a half, real hardcore, he'll be better again. All of these things are very fluid and they vary from day to day as well.
It's always difficult to make sweeping statements about that kind of stuff, but obviously Clem is the main guy. I'm not saying [ShoWTimE] closed the gap, but he's inching forward. Getting more solid.
How did you end up joining Team Liquid?
Well, I've been in contact with Dario for a while. And sometime in December, he said hey, I think there's some serious interest now.
And yeah, from there on out everything went very smoothly. It took quite some time to get everything finalized, I have to admit, of course with the Christmas break. Then we wanted to announce it a bit before the bootcamp, but then it was "it's so close to the bootcamp now," so we might as well take some good pictures there for a nice announcement video. So we waited a bit longer. I've already been under contract for about a month and a half at this point, so I've been with TL for quite some time before it got revealed. We've been able to keep it a good secret, I think.
What's good about being on a team like Team Liquid?
It's nice to have a lot of people that are basically 100% trustworthy in their practice. Where, like you already have some people around you who you 100% trust, but getting five people added to that is very helpful, you know? You just have a bigger base of people that are very good to practice with, that you know don't leak, that you know that they are basically nice to practice with and they won't share your s***.
Is that a big problem? Careless practice partners.
It's never really malicious. But there's people that are just more careless than others.
And there's also, most people when they play, they have some priority. So I know for a fact that if now there's ever a match between me and Elazer, he can't play with MaNa, you know? It's just not really possible. Indirectly, it's helping me a lot like that.
Naturally when you're in a team, at least for me, you always get closer to the people that are there. Me and MaNa before, we spoke every now and then, but not very frequently. And now, at least while we're here at the bootcamp,
I have days filled with just speaking to MaNa. Which is a good thing, and the same with TLO, clem, uthermal, we talk a lot, but especially with MaNa.
Is there a huge benefit to boot-camping in person?
Yeah, I think there is. At least for me, there is. It's very motivating to constantly see people playing around you. This depends a bit on who you bootcamp with, of course. If you have a guy who just watches Korean dramas 35 hours a day, it's less motivating and you're more likely to basically become like him as well. You kind of mirror yourself to the people around you, but the majority here are rather hard working. I don't think I've seen MaNa out of a game for the last five days. I can't really slack off when he's playing like 95 games a day and I've barely hit 40.
And the sharing of strategies and ideas has to help, I guess?
Yeah, most of the time it's good. The only problem is that if you spend too much time with the same people, that a lot of the times you start using the same method to solve problems. So I always try when I have an issue to not interject too much, as to not steer them in a certain direction. If I have a problem, I might want to fix it with method A, because I'm not aware that there's B or C. And then, just by talking to other people showing them the problem, I might steer them to A and close their eyes to B & C as well.
So it's, I think it's tricky, you can't share too much, talk too much or influence each other too much, or you then lose the diversity, which is the initial power of talking—that you have a completely fresh perspective on things.
Okay, thanks for your time. Any shoutouts or final comments?
Is there no good question right now? We used to have the pirate one? Where's that one, the fun question at the end of the interview.
First for shoutouts, obviously thanks to Team Liquid for taking me in. I welcome all my old and new fans under the Team Liquid banner.
Big shoutout to my parents, and...
I also would like this platform to say that I absolutely destroyed Clem 5-0 in Street Slam. It's a retro arcade game that we've been playing, and I've been teaching him how basketball is played 3v3.
[Note: Has this statement aged well????]
---
You can follow Harstem on Twitter at @HarstemSc2 and catch his stream on Twitch.TV.