These are the last two days of R2, and with one more round to go before the Season 1 playoffs, five teams are very much in contention for the four playoff spots. Predictably, KT Rolster leads the way at 9 - 4 (and a blistering 5 - 1 this round!) and KHAN will finish close to its current score of 8 - 5. This leaves SKT, CJ and Stars tied at 7 - 7, and STX trailing by one game at 6 - 7. What does this give us? Lots of healthy competition.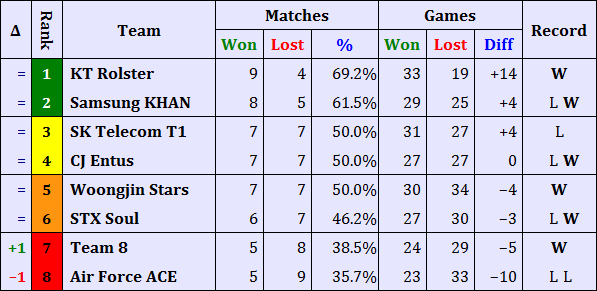 My, how things change.
We head into the last regular season round of the season with six teams playing for four positions. While fans may say that KT and KHAN are all but assured entry into the S1 knockouts, we'd like to remind them that just one round ago, CJ looked invincible. Now, CJ sits at #4, and after a dismal performance (2 - 5) this round, hanging on to a playoff spot by the skin of its teeth. In fact, CJ's run has been so problematic that we had to
bring in Csheep to try and make sense of it for us
.
Professional Starcraft is a merciless arena, and indeed, as Brood War's very future hangs in the balance, the stakes have never been higher. If this is indeed one of the last seasons of Proleague, then making the playoffs means getting an opportunity to perform in its swan song. There isn't a team in the league right now that would want to miss that opportunity, and you can rest assured that R3 is going to be fast and furious.
In fact, R2 ends tomorrow, and R3 starts on Sunday. That doesn't give us time to breathe, let alone write anything. And yet, who are we to complain? We're getting back-to-back Proleague. While you wait,
check out the (mostly minor) map changes for R3
, and be sure to
catch the top 5 games of the week as well
.
Here's to a weekend of non-stop Broodwar!
-- riptide
Recaps, Round 2 Week 5

By: Kiante



CJ's performances this round have been less than stellar to say the least, so when STX managed to clean sweep them it wasn't the most surprising result in the world. The interesting part of this series was how one-sided the games managed to be. Bbyong was taken out by Last in a game where the build orders differed very little, but Last always seemed to come out on top in the engagements until his lead was so overwhelming that Bbyong was forced to tap out. STX then fielded Calm (as opposed to Clam) who easily took down Snow with an effective double lurker drop followed up by a simple hydra bust while Snow was floundering around trying to clean up the mess that was being made of his main base.

Finally Mini took down Effort in a relatively one sided game, with Mini utilising a two stargate strategy excellently to put him in a fantastic position to do a pre-hive timing attack, destroying Effort who attempted to stay in the game far too long, reminiscent of certain Fantasy games of times past. All in all it was a really disappointing effort from the CJ lineup considering how much talent the team houses.



Woongjin Stars put out a good performance to take down a rampaging Khan in a close series. Roro was sent out first and was unable to best Soulkey's excellent ZvZ, with both showcasing some excellent play to create one of the better ZvZ's of the season. Grape came out next but was sent back to the bench in quick time as Zero produced a simple hydra-ling all-in build order that Grape was unprepared for and unable to hold off.

With defeat looming Stork was sent out to save his team from a whitewash and was successful, being matched up against the oh-so-hopeless-at-TvP Light, and after some hillarious reaver shenanigans he easily took down Light's attempted three base push and soon after won the game. Shine was sent out against Free and, as we all know, Shine knows only two things, mutalisks and hydralisks. For this iteration of the Shine cheese show he chose hydras as his weapon of choice, breaching Free's defences and taking the game thereby equalising the series at two games a piece. Finally Brave was sent up to attempt the comeback against Shy in what turned out to be an underwhelming final game. Shy rushed dark templar and Brave's detection was far too late and was forced to tap out, giving the victory to Woongjin, three to two.



A quick glance at the overall leader board would lead someone to believe that SKT was going to clinch this series with ease, but appearances can be deceiving. With the exception of Khan and KT, almost all teams have been displaying both good and shaky performances, so the three nil whitewash of SKT by Team 8 wasn't quite as unlikely as it might have looked. The series itself was quick and dirty. The opening set featured Jaedong against Ssak. Unfortunately for Ssak, he wasn't ready for Jaedongs five pool, and despite managing to get a wall up at the last second, the zergling onslaught was too much for him to hold. Tyson came out next and took care of Bisu with a well hidden three gate all-in that Bisu didn't scout, getting himself caught out of position and easily crushed. Jaehoon sealed the series for Team 8 showcasing a quirky two gate fast nexus build against Best with a strong reaver/speedlot follow-up that was too much for Best to handle. While the games were short and cheesy, Team 8 showed that they still want to win, and are searching for a way into the play-offs at the end of round three, taking wins in any way they can get them.



KT's dominant reign over proleague continued with a strong victory over a disheartened Ace lineup. Ggaemo was the first of the boys in blue to fall, losing his third to Mind's pre-lurker timing attack and never being able to recover. Mind sealed the game with a mid-game mech switch, showcasing textbook TvZ play. Iris was next in line for defeat as he had the poor luck of being matched up against Flash, whose proxy barracks with wraith and vulture follow-up was enough to take care of his unfortunate fourteen cc build order choice. Canata struck back for ace, taking down barracks in a hillarious game that featured both players building proxy barracks, but Canata managing to take an easy win due to mistakes from Barracks. KT wrapped up the series with Stats getting an easy win over Kal, gaining a build order advantage with early goon pressure and being gifted a shuttle with two reavers in it to seal the game later on. It was a poor performance from Ace, who will need to step up their game if they hope to make it to the play-offs.



With both STX and Khan coming off strong wins earlier in the week their series against each other was highly anticipated and lived up to expectations. Stork and mini were out first and played a gripping PvP, with Stork getting the better of the harassment to take the victory on the most entertaining PvP that Outlier has yet seen. Hyvaa equalled the score for his team, taking down Roro with a simple build order advantage ZvZ victory, utilising his second gas, Roro's micro mistakes and lack of scourge to take an easy win. Bogus then fell to Turn in a seesawing TvT, with Turn finding a critical weakness in Bogus's defences, breaking Bogus's natural and sealing the game.

Calm equalised for STX, busting Jangbi's defences with Hydras with ease, punishing Jangbi's attempt to take a quick third before storm was even done. The final match was a sight to behold, with Reality proxying a barracks in spitting distance of Last's later proxy rax, forcing Last's rax to cancel. Last then proxied his own factory in an attempt to run by Reality's defences, but Reality had walled off, and as soon as his siege tanks were done building from the factory he made in Last's natural, the game was over.



Ace continued on from their disappointing loss to KT earlier in the week, falling to the inconsistent CJ in quick time. Movie and Great played an entertaining game, with Great's attempted hydra bust failing and Movie showing excellent reaver harass to help him amass a two-base push that Great was unable to stop. Leta took down Kal with a simple three-base push that was assisted by Kal's far too late zealot leg speed upgrade, meaning Leta's push was unstoppable. Finally Hydra took down Orion despite not getting the BO advantage, with Orion making several mistakes and losing his advantage. It was a victory that CJ really needed after their poor form in the round, as they try to claw their way back to the top of the table where they sat in the early stages of the season.


Top 5 Games of the Week


Because awesome games deserve another watch
By 2pacalypse-
Stork vs Mini: Outlier


A battle report.
By: Hyde
The series begins with a PvP, STX Soul sending out its promising Protoss rookie, Mini, and Samsung Khan sending its fearsome Commander, Stork.
Mini spawns at eight o'clock in brown, while Stork spawns in white at four o'clock. Mini scouts after his gateway, Stork scouting after his assimilator. The builds begin to diverge at this point; Stork opts for a cybernetics core, Mini electing to build a second pylon, delaying his core slightly for an extra unit.
Stork forgoes 'goon range to get his citadel up as quickly as possible. Mini, on the other hand starts his 'goon range as well as his robotics. With the citadel finished, Stork warps in his templar archives and prepares to expand to his natural behind his DTs.
Mini mines out the mineral block above his main, giving him the access he needs to start his second base at ten o'clock.
Stork's first DT arrives and he gives the order to move out, taking his natural simultaneously.
Mini has his observatory up and manages to produce an observer just as Stork's DT arrives at his main ramp, his 'goons are able to ward off the invisible ninja. With the DT unable to inflict any damage, Stork strengthens his natural's defences with cannons and HT in preparation for the eventual assault.
Stork tries to sneak another DT into the enemy's main, but Mini has left behind two 'goons and an observer to deflect any DT shenanigans.
Stork adds more gates and starts researching 'goon range, while Mini acquires some reavers. Mini patrols his army around the center, controlling the map.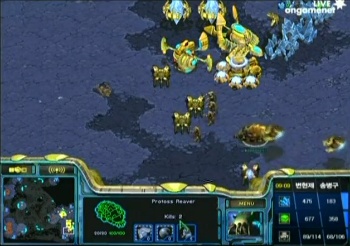 Mini adds more gateways just as his second shuttle arrives, reaver/dragoon/zealots are loaded up into the shuttle, and the order to move out is given. Mini's shuttles head towards the main, while he simultaneously co-ordinates another attack at Stork's natural.
Two speed-shuttles fly over Stork's pylon just before entering into his main, Stork only having three dragoons inside the main to defend. Mini drops his payload, the reaver fires off a scarab and kills two workers, while the zealots take care of the two 'goons.
Stork manages to hold off the attack at the natural easily with cannons and storms, forcing Mini to retreat his forces. Upon successfully defending the natural, Stork sends his units back into the main to wipe out the units left behind from the drop.
Stork retaliates with his own shuttle-play, dropping a DT and a high templar at Mini's second base. Two well-placed storms decimate Mini's mineral line, killing 23 probes and hampering his economy.
The shuttle-drop play continues, Mini ferries two reavers along with a handful on zealots into Stork's main, however, Stork has left some units behind to defend against potential drops. A small skirmish takes place and Mini's drop is overwhelmed by Stork's dragoons, a retreat is ordered and Mini loses a shuttle as it exits the base. Stork attempts another storm drop but it's stifled by Mini's dragoons, Stork only able to storm Mini's assimilator…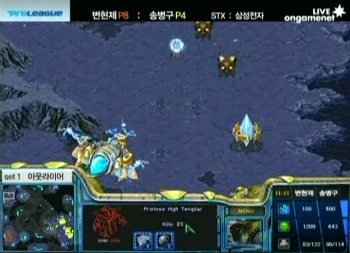 Take that, Assimilator!
A small skirmish takes place at the center of the map. Mini brings in his reavers to aid his army and Stork orders a retreat after losing a few units. Stork takes his third; his natural is dropped by two reavers. A scarab is fired as the workers flee, but it explodes without dealing any damage. Mini is persistent and continues to harass the natural with his reavers, eventually killing a few workers.
Stork moves his shuttles over towards twelve o'clock, four zealots are dropped and make short work of a hapless 'goon. The zealots move onto Mini's second base where they find cannons and more 'goons, they pull back upon seeing the defense and are evacuated by a shuttle.
Mini takes his natural as his third as he continues to shuttle-drop. Two high templar are dropped into Stork's main, two storms nab a handful of workers as they scramble for safety. Mini shuttles the HT towards Stork's third, but is blown out of the sky by Stork's dragoons.
Stork fires back with another drop, this time at Mini's natural. A high templar is dropped but is killed by a reaver as soon as it touches the ground. Stork takes a fourth base while his +2 army patrols the center. Stork continues to harass and disrupt mining at Mini's natural with some brilliant shuttle micro.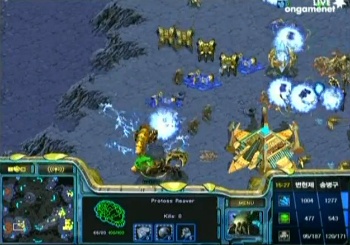 The Final Battle
Stork, feeling confident with his current forces, leads his army towards Mini's natural. Mini fires off two storms over Stork's army before the engagement. Zealots and archons charge forth as the armies collide. Several storms are cast from both sides, Mini loses the majority of his army while Stork still has a number of archons/zealots/dragoons left, tearing through the natural. Mini calls in two shuttles, which drop two reavers and a sprinkling of zealots. Stork immediately throws two storms over the reavers, destroying them. Stork rallies more units into the battlefield, reinforcing his attack and taking control of Mini's natural.
Mini, realizing his shuttle and half dead reaver won't be able to hold off Stork's evasion, concedes and leaves the game.
Team Spotlight: CJ Entus


Where are the Victories of Yesteryear
By: Carnivorous Sheep
CJ Entus holds the dubious honor of having had the largest shift in rankings from R1 to R2 results, going from first place in R1 to last place in R2. Their 5-2 record was mirrored to a 2-5, giving CJ a 50% overall win rate, and keeping it in the top four by the skin of its teeth, with both STX and Woongjin eyeing that uncertain playoff spot.
Personally, I knew something like this would happen. Many will dismiss me as simply anti-fanning CJ – from vocally supporting the "Effort is bad" school of thought to dismissing the importance of Effort, Hydra, and Movie's individual league runs, I've certainly drawn the ire of some CJ fans. However, I stand by my views; CJ is not the invincible powerhouse that many assumed at the beginning of the season. CJ is not a favorite to win the 2011-2012 Proleague. I would even go so far as to say that CJ is not even a particularly threatening contender for a playoff spot anymore.
It's easy to accuse me of simply riding on a transient run of bad luck and bad play on CJ's part to try to make a point, however, I am one of the most adamant believers in the relative unimportance of short term performance. My lack of confidence in CJ spawns not only from recent results, but from some fundamental issues that CJ has been grappling with since the beginning of the round – issues that are starting to catch up to them.
On Teamliquid, CJ has been surrounded by hype since the Savior era. Savior's dominance (and to a lesser extent, Xellos' presence) helped CJ rise to prominence, both in individual leagues and in the Proleague. Since the inception of the favorite team option on TL profiles, CJ has never left the top three spots, and frequently contests SKT and KT for the position of "most followed team." Little wonder then that CJ's accomplishments are so often magnified, while their failures are ignored or marginalized. Make no mistake, I don't consider myself to be a CJ anti-fan, I merely seek to objectively evaluate CJ's current position, and in the light of their R2 performance, this seems like a good time to do so.
At the most basic level, a team's strength is correlated strongly to the strength of the individual players. On its active roster, CJ boasts an OSL finalist, an OSL winner, and a MSL winner. At three finalists, CJ has one of the highest counts in the league. In terms of medal count, though, CJ's count remains pitifully low at three, trailing far behind SKT's nine,
Flash
KT's nine, and Samsung's eight. With all these other teams' medals also coming from only two to three players, what does this tell us about CJ? Inconsistency. In the world of professional Broodwar where the skill difference between progamers is as thin as a sheet of paper, it's almost expected that any competent player can make deep runs in leagues at least once. Singular runs are by no means rare sights, and a lone Starleague victory is not as much cause for celebration – at least, not in the context of Proleague, above all a team league that values consistency over sparks of brilliance. Effort, Hydra, and even Movie are all good players. They're just not good enough.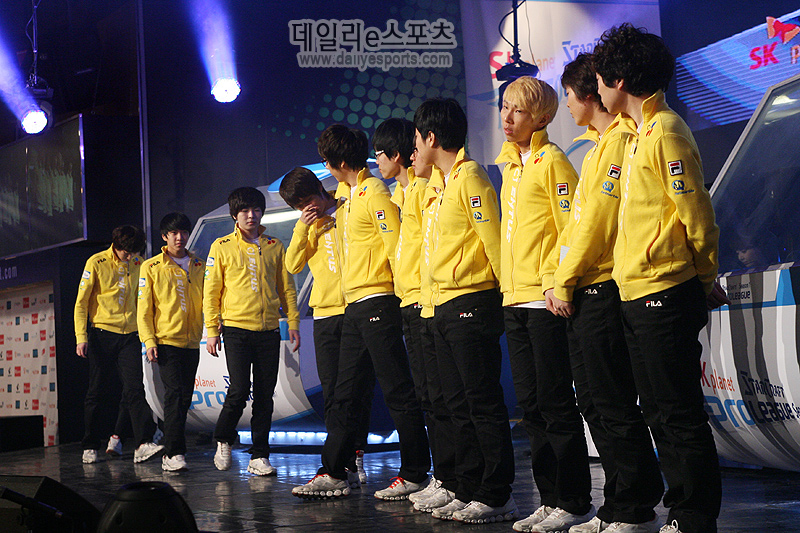 Indulge me in some thoughts regarding Effort. In the weeks leading up to his much-anticipated de-retirement, I've held that his performance would be lacklustre upon return. I privately predicted to a friend that Effort will get a record along the lines of 1-5 and go right back into retirement. Obviously, that didn't happen; in fact, Effort went 3-0 when he first returned, and CJ/Effort fans rejoiced and hailed the Second Coming of their Messiah. Perhaps my predictions of Effort's abject failure were unfounded, since (at 6-4) his record certainly isn't lacklustre. Nor, however, is it stellar. Two of his wins come from build-order ZvZ wins, the only ZvZs he's played. A 1-1 ZvT record included a thrashing by Flash after a pathetic all-in and an arduous ZvT against Iris, long past his prime, but against whom Effort nonetheless struggled and showed some questionable decisions against the now standard late game mech transition.
There is no doubt in my mind that a more mechanically capable Terran would've won that game. At 3-3 against respectable opponents, Effort's ZvP seems to have held up over his retirement. So here we have your standard, run of the mill solid player with decent strategy, decent mechanics, and decent win rate. This player also happens to be the top performer on CJ right now, which is a troubling fact.
Let's take a step back and think for a moment – CJ is supposed to be an unquestionably strong team. CJ is not just some team that people expect to win more often than not; CJ is a team that people are expecting to see in the finals of the entire Proleague. And when your best player is 6-4 and only doing decently, you are going to have trouble meeting those expectations. After CJ's R1 performance, they seemed to have bought into this illusion of invincibility. An apparent disregard for their weaknesses in R2 led to CJ fielding rookies against teams who promptly punished them for it. Despite repeatedly getting good match-ups thanks to CJ's traditionally strong coaching staff, CJ players lost game after game, series after series, until they fell to the bottom of the R2 rankings. CJ is simply not as strong as its fans would like to believe.
I emphasize that CJ is by no means a bad team. They are, however, downright atrocious when compared to what they're expected to achieve with their supposedly godlike line-up: MSL winner Hydra, Flash-slayer Effort, TvT bonjwa Skyhigh, power house Movie, macro monster Horang2, Terran ace Leta. What other team boasts two above average players of each race? They should be undefeated in this Bo5, no-ace-match format!
I refer back to my article on Samsung Khan last week, and I would like to make a comparison. CJ could be what Samsung is and then some, but only if CJ tries as hard as Samsung does. CJ is the stagnant empire (insert your own favorite bygone superpower here – the possibilities are endless), which has grown accustomed to victory and glory, and suddenly wakes one day to find it no longer rules the world.
Perhaps I'm being too harsh. CJ does show signs of recognition of its current state. In last night's game against Ace, CJ was relentless, fielding its top players for a quick and decisive 3-0. Maybe there is still hope for the empire to rise again. The Entusmen face two futures; will they reclaim their throne, or will they become a walking memento mori as KT and Samsung fight for the crown?
Round 3 Map Changes


A Succinct Summary
By: Kiett
Maps have always played an integral part of BW and proleague. Good maps can bring out incredible games from players of all races, while bad maps reek of imbalance. This season, we brought out 6 new maps. Since then, we've experienced such phenomena as Terrans avoiding Outlier and Chain Reaction like the plague, Zergs fleeing from Jade, weeks of nothing but PvPs on Outlier, and an abundance of cheeses and all-ins on CR. For Round 3 of the SK planet Proleague, five of the maps have been revised in order to address these issues, of which three were altered enough to don the "Neo/2.0" title. Check out the changes made. Let's hope that these will only improve in the quality of games for the upcoming round.
Neo Chain Reaction
+ Show Spoiler +
- Number of mineral patches in the natural reduced from 8 to 7.
- Changes to topography: mineral patch added to entrance to the natural, ground outside of the natural is now buildable.
- Space cleared out on the high ground behind the natural to allow units to be dropped.
- Bridges adjusted to be all the same width.
Neo Outlier
+ Show Spoiler +
- Minerals at the 12 o'clock base changed so that it can be manner pylon'd like the other two spawning points.
- The number of mineral patches at the main decreased from 10 to 9.
- The number of mineral patches at the natural increased from 7 to 8.
- Location of the 3rd expo shifted closer to the natural.
Neo Electric Circuit
+ Show Spoiler +
- Number of mineral patches at the back mineral-only bases increased from 5 to 6.
- 5 o'clock natural entrance topography changed to help Protoss sim city.
- Obstacles in the center of the map reduced in size.
Jade
+ Show Spoiler +
- Mineral positions at the 5 o'clock natural changed.
- Mineral and gas positions at the 7 o'clock base changed.
Sniper Ridge
+ Show Spoiler +
- Mineral and gas positions at the 9 o'clock base changed.
- Topography at the 5 o'clock natural changed to help Protoss sim city.
Previews, Round 2 Week 6 and Round 3 Week 1

By: mustaju
Current Proleague Prediction Challenge Progress:
Matches
Predicted
Actual
Gain/Loss
Current
-1
CJ Entus v STX SouL
2 - 3
0 - 3
0
Samsung KHAN v Woongjin Stars
3 - 2
2 - 3
-1
SK Telecom T1 v Team 8
3 - 1
0 - 3
-2
Air Force ACE v KT Rolster
1 - 3
1 - 3
+3
Samsung KHAN v STX SouL
2 - 3
3 - 2
-1
Air Force ACE v CJ Entus
1 - 3
0 - 3
+1
Final
-1
+ Show Spoiler [The Rules] +
If I predict the winner and the result correctly, 3 points
If I predict the winner correctly, and the result is off by 1, 1 point
If I predict the winner correctly and the result is off by 2, 0 points
If I predict the winner wrong, and the result is off by 1, -1 points
If I predict the winner wrong and the result is off by more than one, -2 points.
Saturday, February 11th
KT Rolster vs. Samsung KHAN

Thus far, the collisions of the #1 and #2 teams have been rather one sided blowouts rather than the epic matches we had been hoping to see. Nevertheless, KHAN vs. KT looks very promising, especially now that KHAN fields Shine and Turn to great results instead of the expected Protoss spam.
KT has it's own promising players in Mind and Wooki in addition to the always glorious Stats and Flash, and we could be seeing great PvTs and ZvPs, with the potential for a battle of the undefeated, a Turn vs. Flash match.
Will KHAN come closer to beating KT than CJ? I would think so. Are they better than I gave them credit for last week? Questionable, seeing as they lost to Woongjin and their win over STX was somewhat decided by luck, but still, I'd gravitate towards, "Yes." Will they actually do it? I don't see it happening, just no way. You should definitely tune in though, after all these unexciting 3-0s, this game should be a breath of fresh air.
My prediction:
KT Rolster
3-1 Samsung KHAN
I am a huge fan of STX. Sorry, let me rephrase that, I am an insufferably huge fan of STX, quite possibly the most annoying one of them all.
+ Show Spoiler +
Admittedly, that's an easy feat when there's only 10 of you.
That said, even I can't deny that the team I dedicated my heart to has weaknesses. Don't get me wrong – on paper, STX has the advantage, but I expect Team 8 to roll over them.
I already hear some of you asking: "Mustaju, are you on an emo-trip again?" First, get out of my head; it's filthy in there. Secondly, the games in the last few weeks have done nothing to change my opinion of STX SouL. STX should have won all those matches and was really close in the last one.
Team 8 will roll over STX because the neo-SouLites are inexperienced and can't handle unexpected situations (read: cheese) which could as well be the new icon of Team 8. While my heart will cry foul, the rankings will move ever closer yet again, keeping the overall tension high.
My prediction:
STX SouL 1-3
Team 8
ROUND 3
Sunday, February 12th

Air Force ACE vs. Woongjin Stars

With Woongjin Stars and Air Force ACE, the first matchups that jump into mind are epic TvZ-s with players like ZerO, Neo.G_Soulkey, Firebathero and Iris. Sounds pretty good in theory, no? In practice, both Iris and Firebathero have seen little playtime compared to the new(-ish) generation of Zerg players Chavi, Great and Orion. While that still promises at least one ZvT, Light rolling over the mediocre
KHAN
ACE Zerg lineup excites few, if anyone.
With varying results from both Canata and Kal, and the streaking results of Neo.G_Soulkey, I'm inclined to give this to Stars, on account of its having at least
one
solid player (two if you count Light being solidly bad in TvP). On the other hand, this could easily be an upset with all the potential ZvZ involved. Add to that the possibility of Light being sniped by Kal and we have a real crapshoot in our hands.
My prediction:
Air Force ACE 2-3
Woongjn Stars
Remember the last two rounds when CJ vs. SK Telecom was
the
match you had to watch? People hyped it months before it actually took place. You don't hear the hype now, for some reason. Why? Because both teams performed horribly last round, and you shouldn't need me to tell you that.
Score-wise, SKT is definitely the favorite, since it handed CJ two losses when they looked near undefeatable, and now CJ is doing really badly to boot. If SKT didn't drop the ball time and again, I'd have an easier time predicting a win, but I can't bring myself to do anything else either. Precedent says it'll be a blowout, so who am I to disagree?
My prediction:
CJ Entus 0-3
SK Telecom T1
Tuesday, February 14th
KT Rolster vs. Samsung KHAN

With less than half a week to prepare for a rematch, revenge for either team is likely going to depend more on skill rather than a witty strategy, and I suspect KT has more of that. With Flash acting as an autowin and all of KHAN being spotty at times, it's hard not to lean in KT's direction.
Despite this, I feel like the matches could turn out more favorable for KHAN than last game, since KT's coach will find it hard to predict which players January will send out – rather than player/map stats and strategy, January favors practice results as the deciding statistic, and KT's lineup seems to be preparation-based, while KHAN's is more intuitive.
My prediction:
KT Rolster
3-2 Samsung KHAN
In the second rematch of the week, I expect worse snipes, but a closer and more exciting game overall. The deciding factor will likely be luck, but also the ability to fix one's mistakes, and there are plenty of those. Bogus has his TvT, Last has his excitement issues, Calm is lacking in the mid-to-late game, and Classic has yet to show a single decent TvZ. Team 8 has Jaehoon's bad engagements, Seas's TvP and Baby's self-confidence to worry about, and they have to give Jaedong's drones a lot of sleep. All in all, it seems pretty equal, but this time I'm banking on STX,
since I'm a fanboy
because I think they'll practice extra hard to take revenge for Saturday.
My prediction:
STX SouL
3-2 Team 8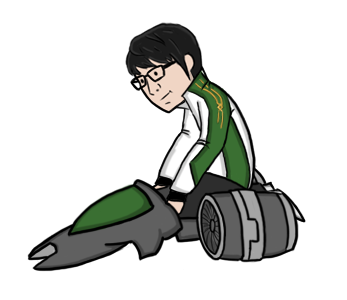 Art by moopie
Art by fishuu
Team: riptide, HawaiianPig, Kiante, Mustaju, SirJolt, 2Pacalypse-, Carnivorous Sheep, Simplistik
Guest Writers: Hyde, Kiett