The MLG StarCraft 2 National Championships are set to begin on Friday, November 5th and run all weekend until the evening of Sunday, November 7th. This will be Major League Gaming's third and final event for 2010. This is the big one, folks. The crowning achievement for North American StarCraft 2 players carries a hefty prize pool, MLG's biggest of the season. $17,500 will be split among the top eight players, but this time the field of competition will be doubled, from the 64 of Raleigh and DC to 128 in Dallas (because everything is bigger in Texas). First place will not only receive $6,250, but also the title of Major League Gaming's National StarCraft 2 Champion, to be forever remembered as the first national champion and all the glory that comes with it.

The full schedule for this weekend's events can be found here. Keep in mind that games start Friday, November 5th at 21:30 GMT (+00:00) and will be streamed by MLG throughout the weekend on their website, so keep your eyes peeled on the SC2 Tourneys Forum for a stream announcement later on.

Now that we know what's at stake and when everything starts, let's take a look at the contenders, shall we?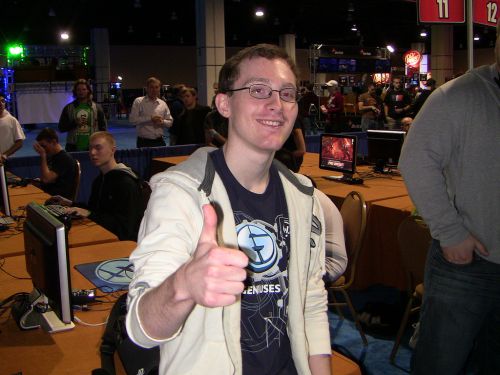 IdrA can beat normal players with just a single thumb.

IdrA will be flying back from his most recent trip to Korea, where he acted as foreigners' greatest hope in the

GSL 2, to defend his title and try to repeat his performance from MLG DC. IdrA isn't the only one flying to the United States to get a piece of the action though! A slew of European, Asian, and even South American players are traveling to Texas to give IdrA a run for his money. In addition to local North American favorites like

HuK,

SeleCT,

KiWiKaKi,

drewbie, TT1,

Tyler, and more, the MLG newcomers include the entirety of Team Liquid,

Fenix,

Sen, and ZpuX.

Socke, with his very impressive 3rd place finish at MLG Raleigh, will be back as well to remind everyone of his incredible Protoss play.

MLG Dallas will be set apart from Raleigh and DC by the huge team aspect as well. Let me show you what I mean as we break down the four largest clans that will be represented in Texas.



Root Gaming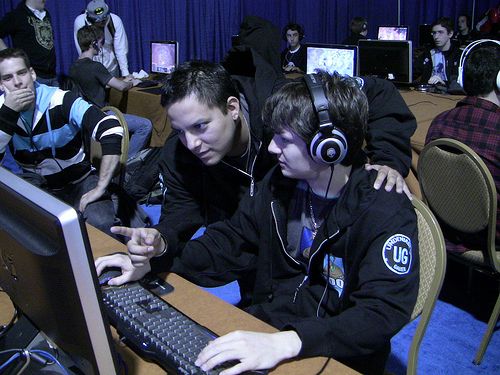 CatZ: I'll teach you everything you need to know!
KiWiKaKi: I already know how to defend 7-pool.


Root Gaming will be out in force, with CatZ, drewbie, qxc, KiWiKaKi, SLush, and Bubba confirmed and Sheth and CauthonLuck as perennial "maybes." KiWiKaKi, SLush, and drewbie all recently took part in the EG Masters Cup Series Round of 16, and SLush even managed to take second place and a cool $500. qxc and drewbie both are widely considered to be some of the top Terrans in the region and it's only a matter of time before they smash their Zerg and Protoss opponents for good. Four of the top eight seeded players going into MLG Dallas are from Root Gaming, and you can bet they are ready to take one of these tournaments all the way.



Fnatic MSI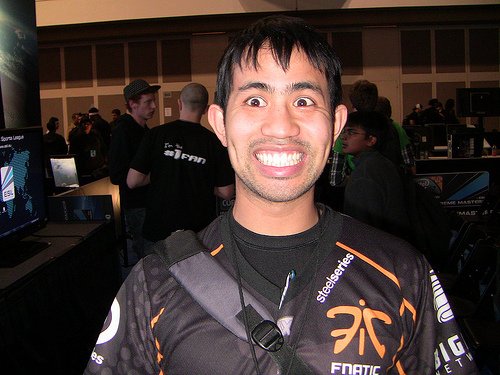 Smile for the camera, Gretorp!


Fnatic MSI has previously seen success in MLG events, with TT1 earning the 10th highest seed going into the weekend, and Gretorp at 16th. KawaiiRice showed us some great games back in DC, but unfortunately for him and for Fnatic, he is not on the list of registered players. Fortunately for Fnatic, Fenix and Sen will be flying in and playing their hearts out. Both of these guys had some success in Brood War, but in SC2 they have shown signs of real brilliance. Fenix and Sen both were invited to play in the Blizzcon Invitational just a couple of weeks ago, but neither managed to come home with a podium position. Fenix managed to take first place at the Intel Extreme Masters North American Championships just a month ago, so if anyone has a title defend, it should perhaps be him. Fnatic MSI is bringing out their big guns for this one, and I for one am excited to see how they'll fare!



Evil Geniuses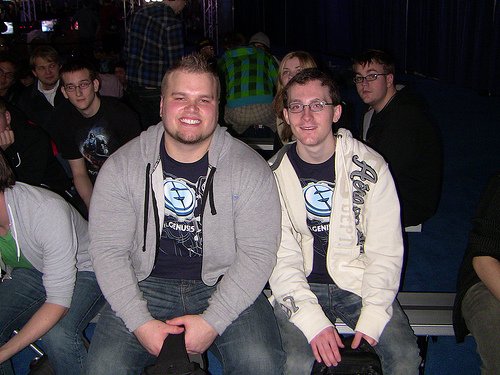 iNcontroL measures his bench presses in IdrAs.


Aside from IdrA taking down all comers at MLG DC, Evil Geniuses have shown varying degrees of success at the previous MLG events. This is of course due in part to a seeding mishap at Raleigh which caused Machine and iNcontroL to have to play each other in the very first round, and eventually lead to iNcontroL knocking LzGaMeR out of the tournament entirely. Despite their previous woes, however, the entire lot of Evil Geniuses has shown that they're not going anywhere. LzGaMeR and Machine in particular just came in at 3rd and 4th in the EG Masters Cup Series, and iNcontroL is still boasting the 15th highest seed in MLG. IdrA is in top shape right now though and is coming to Texas with a 1st place title and the 4th seed spot. LzGaMeR and iNkA have some seeding points as well, and Axslav and Strifecro will be making their first MLG appearances to help Evil Geniuses achieve even more! With all of EG representing this time around and defending champion IdrA on their side, I'd say they have an extremely good chance of leaving with some cash and a podium position or two.



Team Liquid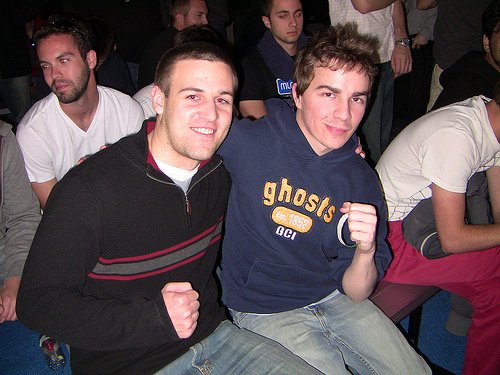 Liquid is mass recalling HuK to Korea.


Team Liquid is bringing every member they have to compete in the tournament this weekend. That's right, TLO, HuK, Tyler, Jinro, HayprO, Ret, and Nazgul are all flying in to take part and display some European muscle in this "National" Championship. The boys in blue have been very busy lately, with three of them already living in the TL-oGs house in South Korea. Right after the tourney, HuK will be joining them and Ret will be on his way soon after, leaving Tyler as the only Liquid member still in North America. But of course, before these guys can even think about their GSL 3 qualifiers, they've got to kick butt and take names here in the States. HuK of course was the 1st place winner at MLG Raleigh and is the highest seed for this weekend, but coming in 3rd at both the Intel Extreme Masters American Championships and MLG DC has left him wanting more. He may not be stopped by an American living in Korea (IdrA) and a Korean living in America (SeleCT) this time around. Or, perhaps we'll just see a bunch of mothership rushes. Who knows?

And The Rest!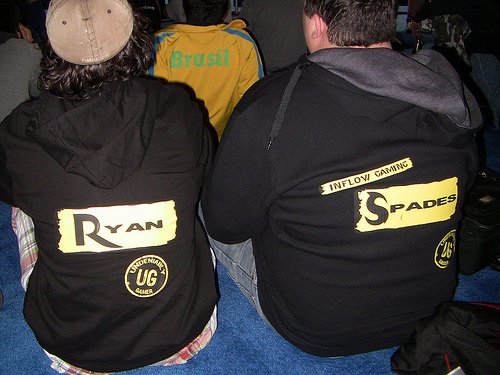 Ryan and Spades in their matching hoodies, how cute!


The field may be filled with imposing figures from highly regarded clans, but don't forget about the lesser known teams also being represented, like vT Gaming, Inflow Gaming, Dignitas (SeleCT, anyone?), vVv, and NrG. Davids have been known to slay Goliaths from time to time, so don't count anyone out! HDStarCraft might be one of the more surprising names in the registered player list, but everyone has a fighting chance. Check out the rest of the players and their seeds right here.

That about wraps up our MLG Dallas preview. All of the pictures were used from my Flickr and you can bet I'll be taking tons more throughout the weekend. If you're interested in spectating, passes can be bought online for $25 on MLG's website or at the door of the venue, which is right here:

Hilton Anatole
2201 Stemmons Freeway
Dallas, TX 75207

If you've never been to an MLG event, I highly recommend it! The experience is different for everyone, but I've never met anyone who didn't enjoy it. Again, the stream will be announced closer to the start of the event, so keep your eyeballs glued to the SC2 Tourneys Forum and MLGpro.com to see it right when it goes live. To the live spectators and the stream viewers around the world, have fun, and to the players, good luck.