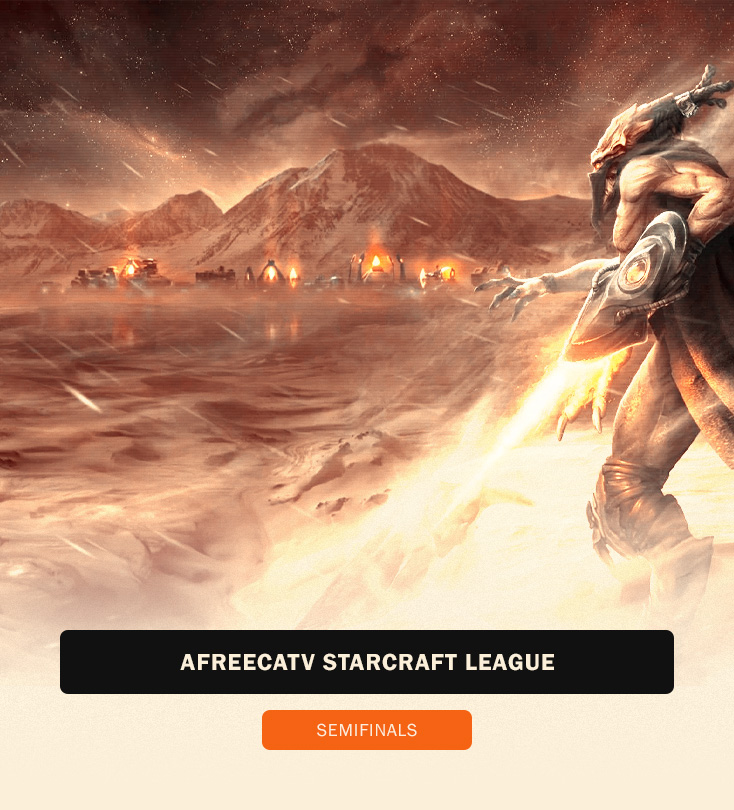 If there was a theme for this Ro4 it would be about facing your hardest challenges, we saw that when it came to the other semifinal match between
Light
and
Bisu
overcoming their historically worst matchup, now we see how the cool
Rain
faces off against the Relentless
Soma
.

Rain
faces off against
Soma
in the round of 4. Rain has proven himself to be an unstoppable force in the ASL. Since his first bracket qualification in 2017, Rain has succeeded in making it to the round of 8 in every season he participated in. Despite his great success, his only championship was won 4 years ago. Rain would then play his final tournament before a long hiatus in 2019. He finished third in ASL Season 8. At that same time, Soma made his tournament debut. Soma was knocked out early from a tough group that contained
Flash
. Soma took that experience, grew from it, and a year later was in his first ASL finals.
Both players have established their pedigree and share very similar styles. First and foremost,
Rain
and
Soma
are just solid. Even against the very best of competition, neither player is expected to get stomped. On top of that, both players are extremely clever in their game preparation. The little details are what will separate these two in competition. Rain's micro stands out based on his recent match versus
Soulkey
and his micro was unrivaled when he was at his pinnacle in PvP. Soma's attention to his economy has given him unseen advantages against Protoss this season. Rain will be tested heavily as to whether he can micro efficiently enough to overcome his economic disadvantages Soma will most certainly deploy against him.

Revolver
is an amazing first map for
Rain
. The map creator here really wanted to add advantages to the natural expansion for Protoss players. The high ground advantage on top of the extra-long distance with cross spawns really gives Rain the upper hand. Revolver is also a really hard map to rush on for Zerg and an even harder map to hydra all-in on. This first win is looking like Rain's all the way. He has taken a 49% winrate up to 62% against Zerg in the last month. With the first map pick being the best Protoss map, he will definitely start with a lead here.

Vermeer
is the first pick for Soma and opens up an infinite range of possibilities for Zerg. The natural expansion is far more vulnerable then on Revolver. Even if Protoss takes a third, this map allows Soma's strongest play which is lurker contains. If Soma is on top of his nerves, then he will strangle Rain out of his resources and prevent any possibility of Protoss winning game 2.

Butter
is a slick second pick for Rain. He's eyeing the long rush distances between the two spawns and might even consider just forward gate, zealot rushing Soma into a fast victory. Even if this is Rain's second favorite map, it is a bad strategy against Soma. Soma is the king of mineral boosting and fast economy right now. Whatever advantage Rain thinks he can garner on this map, there is no way that Soma falls victim to it at his current level in PvZ. Soma has an 89% winrate versus Snow, who might be the closest to Rain in PvZ style now. This map will go poorly for Rain and Soma will take a 2-1 lead.

Allegro
is a very tough map for Rain. Allegro is the most veto-ed map in the PvZ match up this season. Down one game at this point, he may just try to cannon rush Soma. The natural may be defendable, but no top tier Zerg should ever allow a Protoss player to take a third on this map. Unless Rain goes for the reaver plays that were popular when he was at his peak, this is a definite win for Soma.

Eclipse
, Rain's third and final pick allows for more optimism if you are a Rain fan. The map is split nicely, the spawn distances are far apart, and the high ground third is very defensible. The problem with eclipse is the same problem you run into every time against Soma. He's just too good at contains. This is why he has beaten
Snow
,
BeSt
,
Bisu
, and
Mini
amongst other Protoss players in the last 4 seasons of the ASL. Soma is one step closer to being the definitive best ZvP player in ASL history. His body of work is just too good. Then you hand him a map like eclipse and there's no way Rain ever makes it beyond two bases.
Rain
is on a hot streak and played great in his return, but
Soma
is going to be the party stopper here.
Soma advances 4-1 to the Grand Finals!
---
Writers: BisuDagger
Graphics: v1
Editors: BLinD-RawR