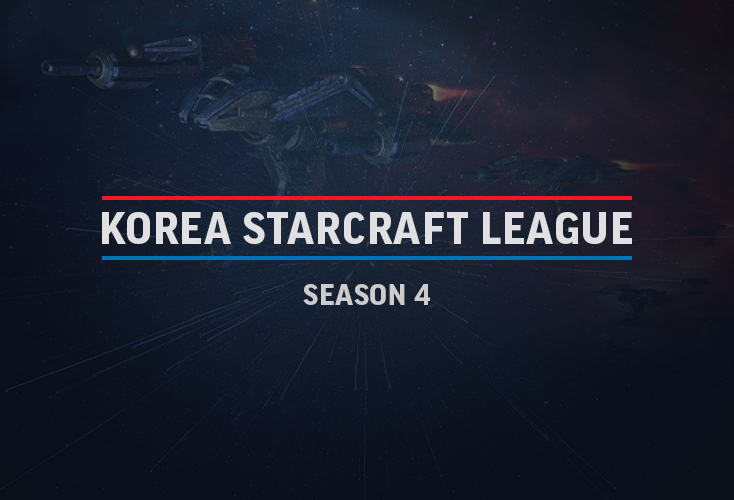 StarCraft is a beast. Few can wrangle it, and even fewer can tame it. This distinction is what separates champions from legends, and it's what we in competitive Brood War community enjoy winessing more than anything. Who is "the best"? Who has mastered the game beyond their peers? We search for this narrative. We look for meaning in "why" of it all.

Now, more than ever, is a unique time in Brood War's lifetime. So many of the old legends (Bisu, Jaedong, Stork, even Flash) have started to move on due to military service or waning interest, and even those that rushed to take their place in the post-Kespa period like Effort or Mind have moved on. In the vacuum of greatness which was once filled with legends, we are faced with a question of who in this generation—which generation of Brood War are we even on now?—can rise to the challenge of not only surpassing their peers, but leaving marks of greatness which will last forever.

The Korean StarCraft League (KSL) is not the most prestigious tournament in the Brood War world. Its haphazard production and rushed scheduling is far from polished and nowhere near the epitome of competition. But it's what we have, and it's another chance for players to distinguish themselves and begin writing their own legends.

There is so so so much that can be said of Season 4.

But really, what we're left with is: Who is "the best"?



Table of contents

The Light Illuminates You
StarCraft, as one of the most competitive games in existence, both demands and rewards excellence. The community has been treated to plenty of excellent displays over the course of the last two decades, but there is more to the game. We enjoy mechanical displays, but what we crave are stories, not just snapshots: legends of extraordinary people rising to fame or falling into disgrace; or tales not only of technical accomplishment, but of overcoming one's inner demons. In the aftermath of KSL, we weren't disappointed. So many great moments came out of this tournament, but no story is as compelling as Light's journey from "The Invisible Terran" to last man standing.
Covering Light's professional history in detail is way beyond the scope of this article, but we'll try to cover it to some extent. He's one of the veterans of StarCraft who debuted as a progamer way back in 2006. His potential was immediately recognized and yet somehow never fully unleashed. He dominated Zerg opponents, did well in mirrors, but lost more often than not against Protoss. He was a valuable asset for his teams in Proleague—specifically in seasons 2008-2009 and 2009-2010 where he had total win rates above 60%—but failed to impress in individual leagues. Save for a 3th/4th place finish in the 2010 BigFile MSL, where he narrowly lost 2-3 to Jaedong in the semifinals, Light rarely survived the group stages of individual tournaments. His peculiar way of being constantly present but rarely noticed, especially in individual leagues, suited his nickname as the "Invisible Terran".
After completing his military service in late 2015, Light returned to streaming and signed up for virtually every premier offline tournament in the post-Kespa era. And for quite some time, it didn't seem like much had changed. His fundamentals were still solid, his work ethic impressive, but his results mediocre. Light's online play picked up quite a lot in the second half of 2018, though. His total win percentages were consistently above 60%, but that record failed to translate into any significant offline result. He was getting eliminated in the group stage of every tournament, although sometimes barely. Light gave Jaedong a run for his money in KSL Season 1 when he narrowly lost the decider match 2-3 after winning their first series 3-1. But in the end, he was all but officially labeled an offline choker despite his considerable skills.
Again he was eliminated 0-2 by zergling all-ins from ggaemo and Modesty in the Ro24 of ASL7. After losing twice in his best matchup historically, his frustration was evident. He gave up on Terran and started playing Protoss in the following months with no success. It looked as if his confidence had been entirely shattered. Lee Jae Ho failed to qualify for KSL3 and switched back to Terran.
And that's when those great online results finally started translating into becoming an offline menace. Light earned his first top 8 finish in nine years in the ASL8 before losing 1-3 in an impressive series against Flash. It was the first time we got a glimpse of what was to come.
Coming into the KSL4 finals, Light was still almost universally considered an underdog. He had an easy Ro16 group with ForGG and Zerg players Hyuk and Zero. His way to the finals seemed comparatively easy, too. His opponent in the Ro8, Mind, often had trouble in mirrors while Soma, whom Light faced in the semifinals, was still considered an amateur despite being a ZvT prodigy.
What was very significant, however, was how Light had seemingly overcome his tendency to choke in individual leagues. He was confident, steady, and composed throughout both matches. But calmness gave way to exhilaration when he realized he had reached his first finals in thirteen years of being a professional player. Try as he might, Light failed to contain himself and shed tears of joy. He had finally made it.
His adversary in the finals, however, was of a different caliber. After a fairly successful StarCraft 2 career, Rain has easily been the most prominent Protoss player in the post-Kespa era. His extraordinary natural talent—blunted to some degree by his recent obsession with MOBAs—was pitted against Light's immense work ethic that had so often been not quite enough. Rain was still a fearsome foe, and he leaned on Light some more in the psychological build-up to the match by famously announcing his intention to make Light cry tears of sorrow this time around. But would Light yield?
Game 1 on Match Point began with a gas steal and an offensive pylon by Rain, which forced Light into an impromptu gasless expand. The Terran opted for four factories but was quickly discovered by a great zealot runby and two factories were cancelled as Light was forced to adjust yet again. After taking some economic damage through dragoon pressure, he quickly deduced he could get a third since Rain probably was going for another expansion himself.
Reaver tech was incoming, though. Rain proceeded to deal significant damage to Light's economy and army with his trademark multiple speed Shuttles. Light stabilized through good defense and precise macro, but all the advantage Rain had built up with the pressure he applied throughout the game proved insurmountable as a maxed Protoss push, topped with a great stasis, destroyed the Terran army in the final engagement. Light had no choice but to tap out, 1-0 for Rain.
Crippling stasis
Light, clear in his intention to put some pressure on Rain, picked Block Chain as the second map. He opted for a gasless expand that was deftly defended against zealot pressure. A vulture drop followed which Rain defended brilliantly with a quick pylon block. Knowing that a push was inevitably coming, Protoss went for arbiter tech off two bases. After Terran pushed out, a standoff ensued in the middle of the map with Rain patiently sniping a few tanks and dragging mines into Light's army. A small group of dragoons with an arbiter were isolated south to the center, and Light noticed. Very significantly, he correctly deduced a recall was coming his way since he hadn't been stasised yet.
Light retreating (visible on minimap) to defend the recall. Note the red blob to the right of the center, the arbiter is still there at this point.
Light limited Rain's observer vision and started pulling back a large portion of his army even before the arbiter approached the main. Rain was certainly surprised when he found the Terran army waiting for him back home and was flustered. A sizable squad was recalled at the mouth of the Terran natural only to be quickly destroyed.
Rain, we already did that on this map versus Last and it didn't turn out well.
With the strategic initiative in Light's favor, he pushed across the map. Rain tried for a second recall at the production facilities, but a small squad of very well-placed tanks and vultures was enough to defend, and Rain GG'd to make the score 1-1.
Great defensive position for the second recall.
Not unexpectedly, Rain picked Overwatch as the next map. Again, Light chose a gasless expand as his opener and again defended well Rain's attempt at pressuring with zealots. The game progressed in a fairly standard fashion with Rain significantly slowing down the Terran's third base with shuttle/reaver and a squad of goons while expanding himself and teching to carriers. During the live stream, the observer became desynced from the actual game around this point, so the viewers were treated to a display of idle workers, four-digit mineral counts, and long-distance mining while Light was actually defending against the pressure at his third and losing a number of tanks.
Both players' macro apparently slipped a bit.
After a while, the game synchronised again just as Rain was pushing with a max supply army of zealot/dragoon and a significant number of carriers. Light had decided on a daring three port wraith switch to try and kill as many carriers as possible in one decisive battle.
Light tipped his hand. Cloaked wraiths barely visible in the bottom.
Rain apparently caught wind of this due to Light's uncharacteristically timid behavior and brought a total of five observers along. When Light revealed the big wraith switch, he got just one carrier for the cost of eleven wraiths and was noticeably lagging behind in terms of army power. A big engagement followed below Light's newly established fourth base, but the factory army proved inadequate, and Rain emerged victorious. Light was forced to tap out with Rain regaining the lead 2-1.
Eddy was the next map to be picked. No surprise there since Terran has a ridiculous 60.8% win rate versus Protoss in sponsored matches. Light, possibly wary of early pressure by Rain, once again went for his preferred barracks expand but with a refinery before command center. Rain responded with an economic opener of his own and adopted a defensive posture against vulture harass to set the stage for a macro slugfest.
Light got a quick third and expertly defended Rain's attempts at pressuring with a shuttle/reaver by managing to snipe it with goliaths. Meanwhile, Rain expanded on the 12 o'clock island and followed his reaver with carrier tech. In a stunning display of macro prowess not unlike Flash, Light's factory count exploded, goliaths were quickly massed, and he pushed across the map while simultaneously expanding twice. Not insignificantly, a lone zealot was sniped while heading to the top left corner to scout Light's base, which left Rain with incomplete information.
Oh, no you don't.
Light never missed a beat with his macro and dominated the map while protecting his expansions. Rain managed to earn a tactical draw in a big engagement in front of his natural, but Terran already had a substantial lead. Light reduced Rain's carrier count significantly. With 3/3 upgrades, significantly better infrastructure, and the strategic initiative in his favor, Light soon closed the game in a dominant fashion and evened the score 2-2.
Carriers getting EMPd.
Rain picked Fighting Spirit for Game 5. A factory expand this time around for Light while Rain expanded at 29 supply. Craziness followed, however, when Rain attempted to dive on the first siege tank with his two goons. One of his dragoons bugged out and neither moved nor fired for a precious few seconds, and the tank survived while critically injuring the bugged dragoon.
Bottom Dragoon took a break.
Light quickly seized the initiative and trained two more marines and another tank for a push on Rain's natural with rallied vultures behind. A bloody fight ensued as probes were pulled. The lone survivor of the whole ordeal was a 2 HP dragoon, sniped seconds later by a rallied vulture. Light seized control of the natural with his single vulture, forcing Rain to evacuate his probes. As the Protoss attempted to push back the vultures coming in his natural, he uncharacteristically lost his two dragoons to a pair of the mines in front of the ramp. At this point, it looked like Rain was frazzled.
Boom.
From there on it was an uphill battle for the Protoss. Rain's attempts at Reaver harass were thwarted by well-placed turrets, and the Protoss army was eventually decimated by an implacable five-factory push to put Light in the lead for the first time in the series.
Pressure was on Rain to perform now. Light opted for a bit of cheese himself, however. He built a second factory in the middle of the map whilst scouting for any proxy attempts by Rain. For his part, Rain decided to go for a DT drop that would miraculously remain unscouted until the DTs themselves popped out. However, Light wreaked havoc on Rain's economy with vultures and aptly defended his front with a bunker and a few unsieged tanks in an impressive display of multitasking.
The DT drop did just enough damage to offset what Rain suffered at the hands of Light, so both players proceeded to the midgame fairly bruised. The game stabilized in a macro stage with a few tank/vulture drops by Light around the map that had varying success. Rain unsuccessfully attempted to bust Light's well-defended third with a gateway army and a critically damaged shuttle with reavers.
Gateway Man. Note the red Shuttle.
Both players continued to expand, but Rain never managed to claim another main base location and set up gateways there. He was running out of time. His strategic situation was becoming increasingly precarious, and he attempted a second bust at Light's third as the Terran army was out of position. However, Light managed to reinforce the position quickly enough, and the Protoss army was all but destroyed.
Rain's second unsuccessful attempt at busting Light's third.
With army trades in his favor and a solid macro infrastructure to back him up, Light advanced on the map with his 3/2 upgraded mech ball. In a big engagement in the middle, he dealt the final devastating blow to Rain to win the championship!
Light barely contained his emotions in his booth, reaching for his eyes where tears of elation were undoubtedly pooling up. There was more than joy in Lee Jae Ho's expression, however. It was the relief of overcoming not only a formidable adversary, but also his own greatest demons. No more would he let himself down the way he had so many times before. Rain put pressure on him every way he was capable of before and during the match, but fear found no purchase on Light's soul. From the very first game of the series, Light refused to be intimidated and never lost his composure throughout the match. He had stood up to Rain's pressure and readily returned the blows.
His newfound confidence is what finally earned him a place among the ranks of premier league champions that he had worked so hard for in the past thirteen years.
In context, however, this already tremendous achievement is even more impressive. Light not only won against overwhelming odds, but did so in the Terran power vacuum caused by the absence of Flash and Last. He readily rose to the occasion and maybe, just maybe, this is a sign of things to come. This title might be the defining moment of Light's career, but I doubt this story ends here.

Ups & Downs
Its been an eventful season, to say the least, so let's look back at its low lows and high with our "Ups and Downs" segment! (In my opinion of course).
Downs
Schedule:
Oh boy was the season rushed from start to finish. The whole tournament itself lasted four weeks, and while that in itself isn't a problem per se, it's that every series was at least a Bo5. The result was long broadcasts of six to eight hours including the long breaks between each series that left the studio nearly empty and online viewership dwindling. The worst of it was the Ro8 in one day right after the Ro16 with no break talk about being punished for advancing second. Luckily, the players only needed to show up for their time slots, but even they still had problems with the production, including Stork's monitor incident.
The finals being on a Friday instead of a Sunday was also a huge bummer. The finals didn't feel like a big match like it should have (but to our delight, it delivered in spades).
The Round of 16:
The Ro16 matches, especially the winners and losers matches suffered the most from the format changes due to players being exhausted and unprepared going into their second Bo5s. If there is going to be another KSL following this kind of schedule, switching to Bo3s in the Ro16 would help out everyone. While I personally wasn't a fan of the Bo5s in the prior seasons, at least then they were given ample amount of time to prepare for each series, and it was on them to play the best games that they could. With the rushed tournament format we witnessed in KSL4, the quality of the matches was greatly diminished.
Ups
The Round of 8 onwards:
Turns out that despite the issues with production and scheduling, StarCraft is still a good game. And so, the Ro8 onwards was great. There was some good StarCraft and fun times: Mini vs ZerO was a great series, and if you haven't watched it yet, I do recommend that you please check it out along with the other series. (I particularly enjoyed Soma vs BeSt and will get to that a little further). All the games were pretty solid, and ultimately, this KSL told a story that people cared about.
Soma:
Of all the people in this tournament, it goes without saying that Soma had an absolute break out tournament. He didn't just make it to the Ro4, he absolutely crushed his way to it. He did have a slow start against Sorry in his opening match, but he managed to pull through with the reverse sweep and follow it up with a brutal 3-0 takedown of Snow to advance first from his group, which earned him the confidence of fans during predictions:
On November 15 2019 00:30 bovienchien wrote:
Mini 3-1 Zero
Rain 1-3 Snow
Soma 3-0 Best
Light 3-2 Mind
On November 15 2019 00:03 NoS-Craig wrote:
I'll give my predictions for tomorrow. I'm still amazed the quarter finals are already here.

Mini 3-1 Zero
Rain 3-0 Snow
Soma 3-2 Best
Light 3-1 Mind
On November 15 2019 03:22 whaski wrote:
Zero 3-0 Mini
Rain 3-1 Snow
Soma 3-2 Best
Light 3--1 Mind
bovienchien got it right: BeSt got sent packing 3-0. Soma getting into the semifinals also means that he is seeded into the next KSL (I hope there is another season despite the turnout now). Between his second set loss against Sorry in his opening match and his second set to eventual loss from the tournament against Light, Soma had
10 consecutive wins
. That's saying a lot about someone who's fairly untested in the offline realm and in a space that is void of new faces. Soma has set the bar for himself now, and I cannot wait to see him top it in 2020.
Light vs Rain:
I'm sure you've all read the recap (if you haven't, then scroll up: it's a good recap) and watched Light's run to win it all, but the finals themselves told a fantastic story. We all believed that Rain would easily take the tournament from the beginning, and he dispatched all his opponents with relative ease to make it to the finals. Light has been known for years for being very weak in TvP, and managing to get through the tournament without having to face Protoss at all led to a lot skepticism from the community whether they would be getting a competitive finals at all.
The bets said it all
What transpired was a great moment: Light won his first StarLeague since his career began 13 years ago with a win in his historically weakest matchup against the current best Protoss player. Even now, after all these years later, there are players who are able to grow as competitors, and hopefully Light's success inspires other players that BW still has a lot to offer going into the new decade.
Who knows, one day we could see BeSt beat someone like EffOrt in the finals of a tournament so I can say the same for him.
---