Right from the start, this ASL has proven to be quite interesting with the first two groups being played this past weekend. Shuttle, the ASL1 champion has already been eliminated at the hands of Soulkey in the deciding match on Outsider while the amateur, PURPOSE was unable to win a single game, proving to be inferior to the battle-hardened veterans.

The second group wasn't much different, though the elimination of the dragon free and Snow by EffOrt and Shine means more Zergs and less Protoss in the Ro16. Could this be the first sign of protoss extinction? Only time will tell but it's an interesting prospect. The next two groups are an almost all protoss group featuring Bisu and a variety group featuring hero and Rain. Will Bisu be able to silence his critics after his humiliating loss in ASL2? Tune in to find out in

In the meantime, read our group A and B recaps by c3rberUs and our newest re-addition, conTAgi0n while BLinD-RawR and FlaShFTW preview groups C and D respectively. Let's get ready for more BW action!
Table of Contents
No PURPOSE
It's Season Three! We started off the new season with the appearance of a new player and a new map. It was PvZ featuring Season 1 Champion Eyewater (Shuttle) and an amateur zerg player who went by the handle PURPOSE on Camelot. This first game went entirely within expectations as Shuttle's veteran experience under the lights of the studio made short work of PURPOSE who had trouble right from the start. He went 5-hatch lurker and tried a lurker contain but Shuttle just walked over it. no problem, defeating it with pure zealots in the next round as a DT made mince meat of drones in PURPOSE's main.
Up next was SoulKey vs Mong. Ever since his ATB finals ace match win versus FlaSh, you know people are going to look at SoulKey differently. The openings were standard for both players; 3-hatch spire against 5-barracks. SoulKey made no hassle about the third-denying potential of Mong's opener by choosing to build two third bases. While I admit I haven't seen plenty of games on Camelot, the cramped nature that's pretty obvious just by looking at the map foretold of the constant aggression. Bases were really close to each other and it really became a festival of runbys and worker pulls. With Mong being able to defend adequately, he was able to macro up a push that he used to tear down SoulKey's key fourth-base
Strong SoulKey pincer attack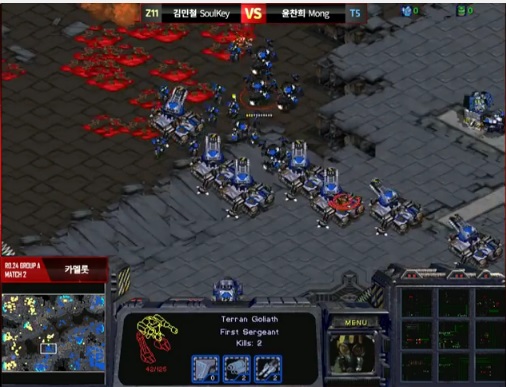 But Mong's line was deeper.
The Winners' Match was akin to a rousing of a gentle giant. During the game, Shuttle allowed Mong's very greedy four bases off two factories to go unpunished, and chose instead to sit back, fend off vultures and play the macro game. This was key. Shuttle attacked first, on the back of his first arbiter's stasis. Initially, it looked like Mong was caught at a bad time; he looked overrun and it seemed too easy for Shuttle. However, the game made a complete 180 degree turn. All the resources from each of those four bases kicked in and Mong sent out wave after wave of terran mech. It felt like Shuttle could only watch as tanks and vultures tore down expos and when he tried to use arbiters, emps always hit their mark. It was a complete victory!
The Losers' Match was a short affair as always. Unlike in his first game, PURPOSE played better but was noticeably nervous. Even though he had a build order advantage early, defending a hatch-first from a pool-first opening- he made many control mistakes that you just can't make in a control-focused matchup like in the zerg mirror. It made it really easy for SoulKey to take out all of PURPOSE's mutas on the way to a match with Shuttle.
Shuttle versus SoulKey on Outsider SE was a bit painful to watch as a protoss player. It seemed like everywhere Shuttle stepped on, SoulKey had a bear trap waiting to spring up and bite. All of this reminded me that Outsider was SoulKey's playground in the ATB. Shuttle went for 1-gateway reaver tech while SoulKey went for a 3-hatchery hydra and build. SoulKey played the game masterfully, allowing him to get up to 5-bases. He upgraded drops for overlords which was very useful on this map to the point of it being vital and started chipping away at Shuttle's armor. He struck at awkward times for Shuttle and even sniped the natural nexus. And when Shuttle powered out of his now defunct natural base, SoulKey fed him hydras, truck loads of them! Shuttle ate them all and tapped out.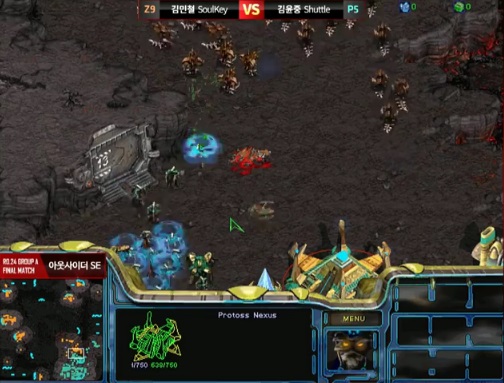 Notice how many zealots got hit by that lurker?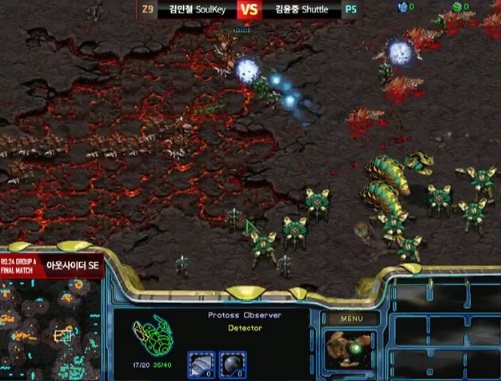 Loads and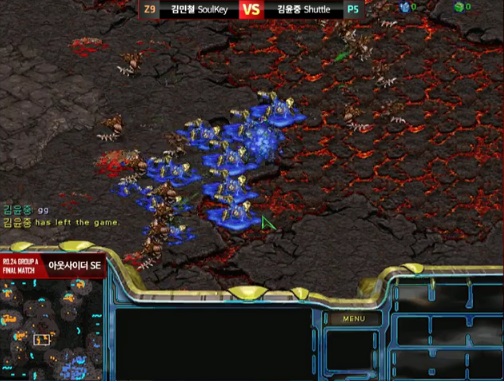 loads of hydras
Shining EffOrt
ASL Ro24 night two began with a showdown between former CJ Entus teammates and A-teamers EffOrt and SnOw. As the ace of the team and a top Zerg both then and now, EffOrt is the clear favorite here.
EffOrt spawns in teal at the upper left position, while SnOw gets yellow at the bottom right. EffOrt opts for a overpool into double expand while SnOw opens with forge FE.
SnOw manages to dance his scouting probe around in EffOrt's base just long enough to see the lair start morphing, at which point EffOrt hatches a second pair of lings to help chase out the probe. Content with the information he has gathered, he opts to escape with the probe before the lings can bring it down.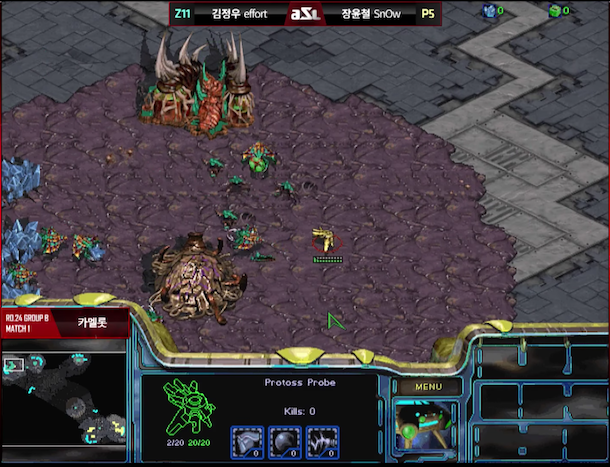 What SnOw sees
What SnOw does not realize, however, is that he has just been fatally deceived.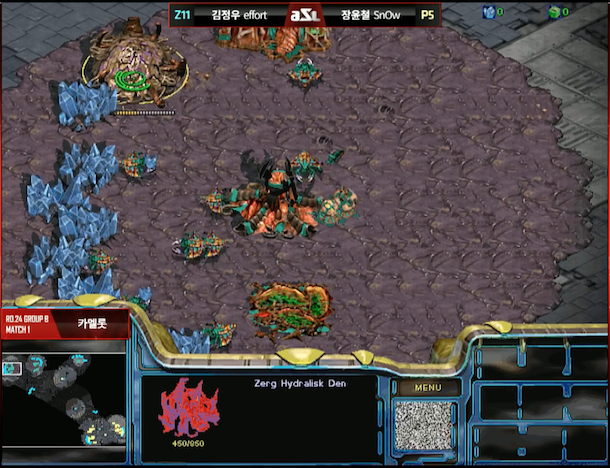 EffOrt's base a few moments later…
Six well-micro'd lings ensure that SnOw is completely in the dark about the incoming bust until his first corsair meets the speed hydras barely a full screen north of his natural. With no defenses ready, SnOw ggs as EffOrt tears down his front.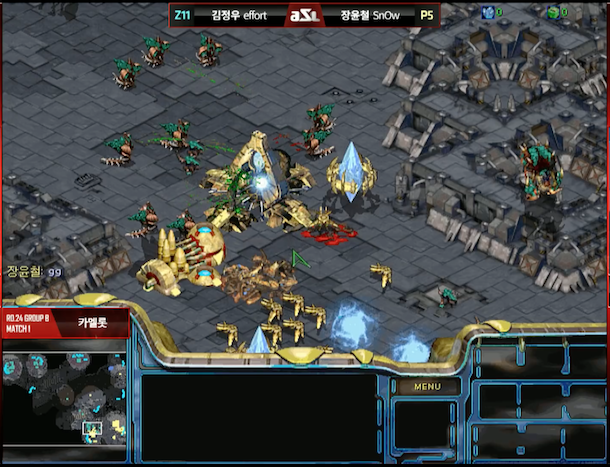 Over before it started
A short, uneventful game to start the evening. It's hard to criticize SnOw for the quick loss. EffOrt hid his cheese well, and SnOw took a calculated risk by not playing more conservatively during the short but critical blind window before his first corsair was out. With everybody wondering how Zergs are going to handle Camelot, it is perhaps revealing that EffOrt chose to make the game short.
Next was Protoss dragon Free's turn to take on Zerg at Camelot, starting as red Protoss in the upper left. Squaring off against him as yellow Zerg in the bottom right would be none other than Shine in his debut performance of the post-KeSPA era.
Once again, we get a very standard opening. Shine opens overpool into a straightforward 3 hatch spire into 5 hatch hydra build, while Free forge FEs into a neo Bisu build. With his first handful of zealots ready, Free moves out just ahead of speed finishing to apply some pressure.
Finding Shine's third only lightly defended, Free makes a huge blunder and commits his precious early zealot force to an attack on Shine's mineral line. I can only assume that Free was expecting Shine to drone for one more round of larva, and so he thought that he had a few more seconds to be disruptive and get out safely.
As Free tries to back out, zerglings and hydras stream in, trapping him in the Zerg base. Free loses his entire zealot squad without inflicting hardly any damage in return.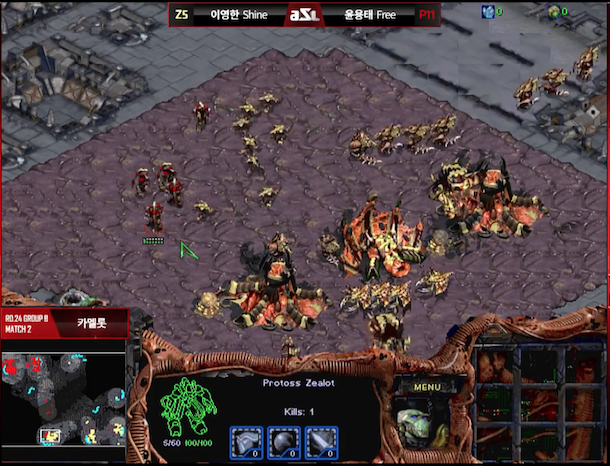 Free's zealots get more than they bargained for
Shine immediately recognizes the opportunity and marches straight for the Protoss natural, arriving before Free's line of emergency cannons finish warping in. For the second time tonight, mass hydras easily break through an unprepared Protoss natural and end the game early.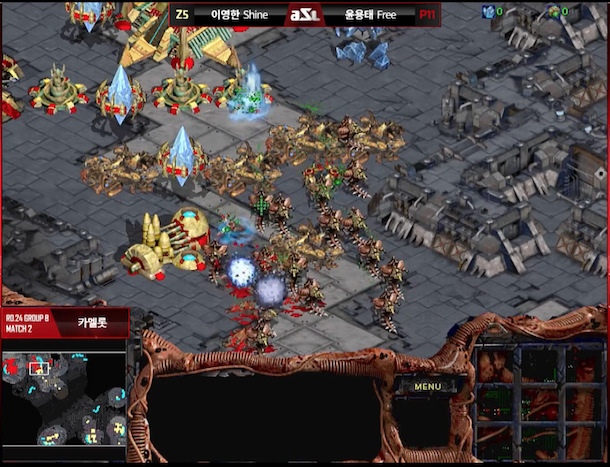 Hello, anybody home?
Despite Shine's reputation as a cheeser, there was nothing all-in about this hydra bust. Free cost himself the game by throwing away zealots when Protoss can least afford to do so. Shine, on the other hand, did well to strike as quickly as he did. A few seconds more, and the cannons would have been ready, giving Free a shot at survival.
The two Zergs of the group meet in the winner's match. EffOrt opens 9 pool in the bottom left as the purple Zerg. Shine goes with the less conventional 9 hatch as the orange Zerg in the upper right.
EffOrt finds Shine quickly as he techs straight to lair, and slips a ling through Shine's ranks to scout the main. Now aware of the all-in headed his way, EffOrt puts down a couple sunkens and sets up an arc of zerglings at the top of his ramp. EffOrt puts on a great defense and holds off double the zerglings with only a single drone loss.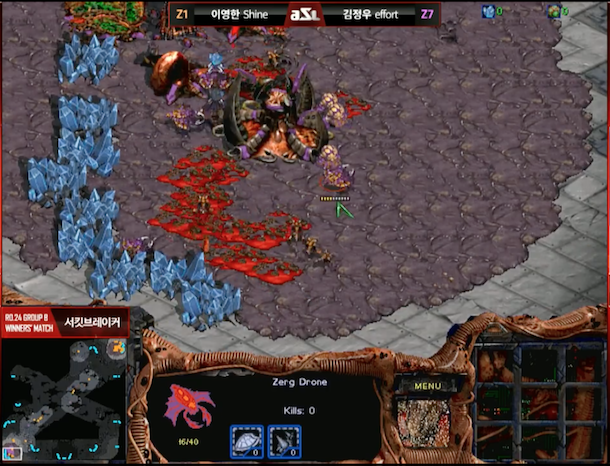 Lots of zergling blood, but no drone carcasses.
Shortly after the attack, EffOrt gets his first mutalisks out. Shine, who has yet to even start morphing his lair, boldly chooses to put down a third hatchery at his natural. In the meantime, he uses his larva advantage to stall for time, keeping EffOrt busy chasing his zerglings around the map while Shine puts up spores to defend.
EffOrt leverages his mutalisk advantage to get another hatchery and eventually takes his natural, while Shine leverages his economic advantage to tech to lair and eventually gets his spire. The two Zergs continue to inflict significant damage on each other, but EffOrt gets the better of Shine overall.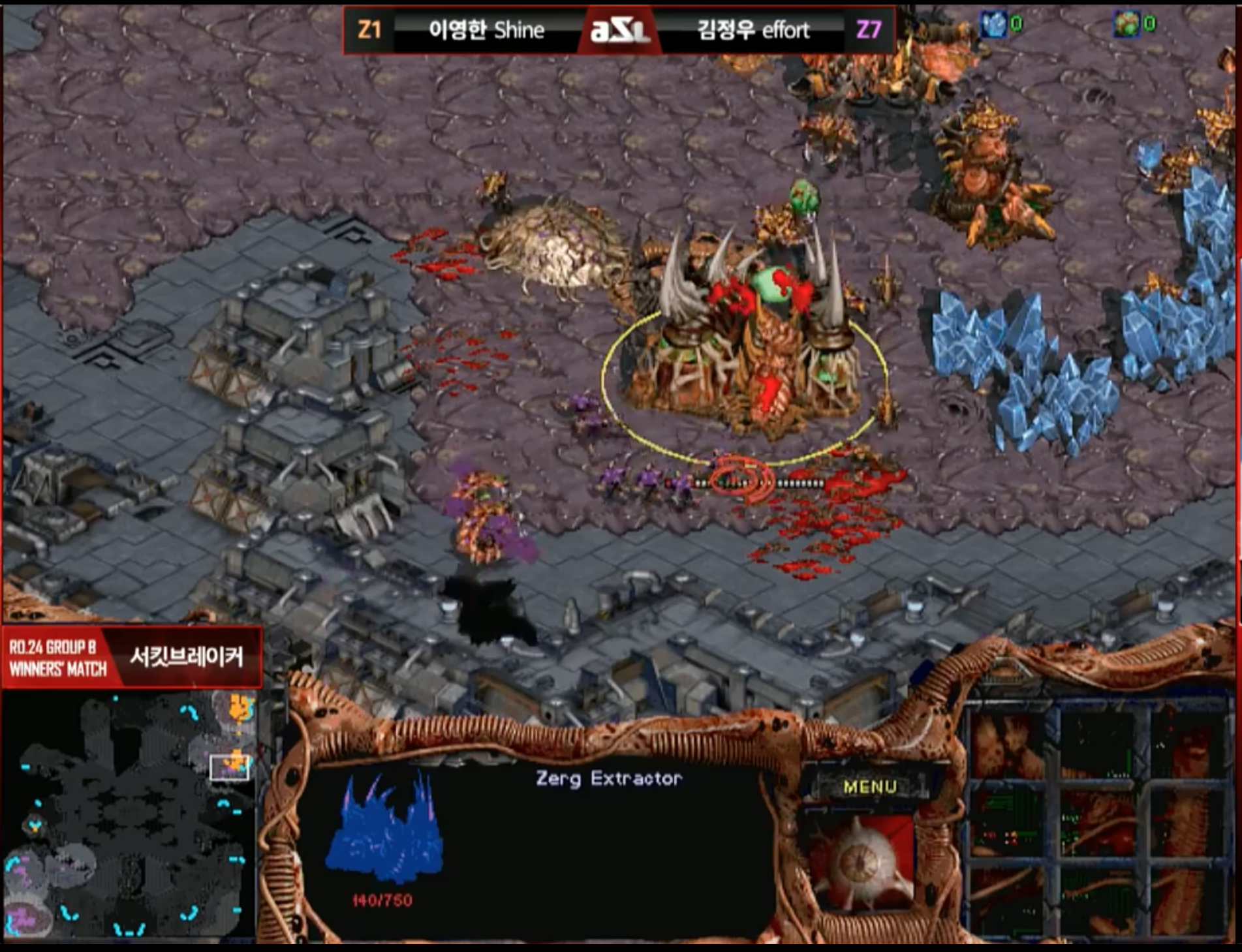 EffOrt and Shine continue to give each other headaches
As a result, by the time they both stabilize on three hatch with spire tech, EffOrt has the stronger mutalisk count and faster +1 carapace. Shine's spores keep EffOrt from killing him outright, but his air superiority enables him to take a third while denying Shine.
Feeling the game slip away, Shine starts teching for hive while trying again for a third base. EffOrt scouts both, and flies across the map to shut down Shine's attempt at a third. Shine tries to counterattack at EffOrt's natural, but is chased off by a fresh batch of scourge while EffOrt muscles through Shine's natural with his own mutalisks.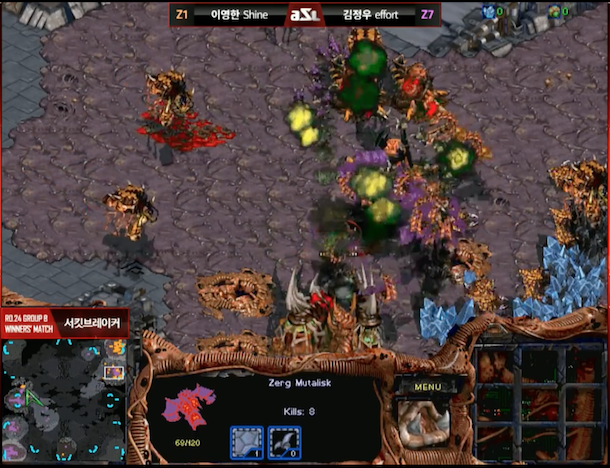 EffOrt's mutalisks crush my hopes of seeing a hive tech ZvZ
EffOrt was in top shape this match, excelling at pretty much every aspect of the game. Despite being outplayed the whole game, Shine also impressed. With close spawn positions, things may have played out more favorably for him.
Snow
<
Circuit Breaker
>
free
Our two Protoss players play for survival in the loser's match after both going down to hydra busts. SnOw gets blue in the bottom right while Free starts as brown in the upper left.
SnOw puts himself at an early advantage by taking his natural and adding gateways before robo, while Free plays it safe and gets robo plus observatory and support bay before his own nexus + gateways.
Free moves out first and engages SnOw at his natural. I really do not like this choice for Free. Free is a reaver up, but SnOw already has a group of dragoons stationed on the high ground west of his natural, meaning he is well positioned to flank any push into his natural. Free saw this with his observer, but decides to go for it anyway.
Sure enough, as Free moves in, SnOw surrounds him with dragoons from three different directions, quickly eliminating both of Free's reavers while scoring tons of damage with his own.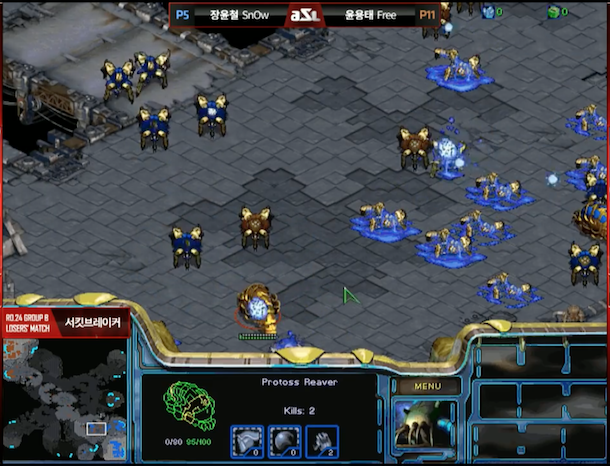 The last of Free's army, broken and surrounded
SnOw adds a bunch of gateways, and then moves across the map. I will berate him more for this later, but here we see SnOw's fatal flaw as a player: his over-eagerness to end the game upon gaining a big advantage. Rather than settling for a contain while waiting for his freshly added gateways to kick in, SnOw goes straight for the kill.
Free by this time has rebuilt enough to defend, and pushes SnOw back. Lots of units go down on both sides, but the exchange definitely favors Free, who eliminates both of SnOw's aggressively placed reavers without losing either of his own.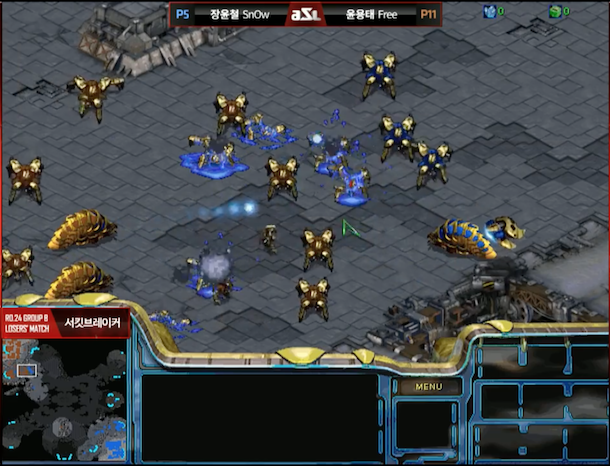 SnOw pays for being hasty.
After about a minute of rebuilding, Free goes back on the offensive, and tries another assault on SnOw's natural. The problem is that both Protoss players are pumping units off of eight gateways now, so by the time Free arrives at the cross position with his initial force, he finds himself confronting a significantly more powerful army.
SnOw beats back the attack and chases all the way back to his side of the map. Free tries to make a stand on the high ground east of his natural, but SnOw slaughters his zealot heavy army with some nice scarabs while picking off Free's reaver and shuttle.
SnOw pushes Free all the way back to his natural, forcing him to cancel his third as SnOw's third continues to warp in. Free manages to hold on, but takes heavy casualties in the process, thanks largely to some great reaver micro by SnOw.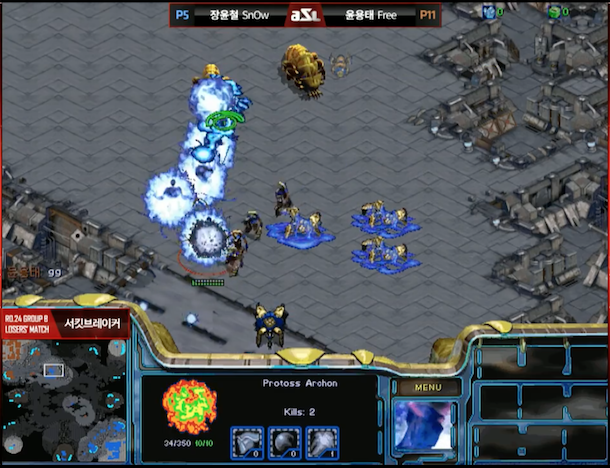 Free is left with nothing but his reavers as his probes all die. GG.
With his third up and running, SnOw's advantage deepens, and with a replenished army, he moves back out to attack Free. SnOw sneaks a DT into Free's mineral line as he defeats the remainder of Free's forces on the high ground east of Free's main, and Free concedes defeat.
Overall this was not an exceptional game, but we did get to see some good battle management and reaver micro. What a disappointing night for Free though! Going 0-2 in what should have been a decent group for him, costing himself both games with some very poor decisions. If that weren't enough, he got solidly outmicro'd by SnOw. Free is going to have a lot of soul searching to do before the next ASL.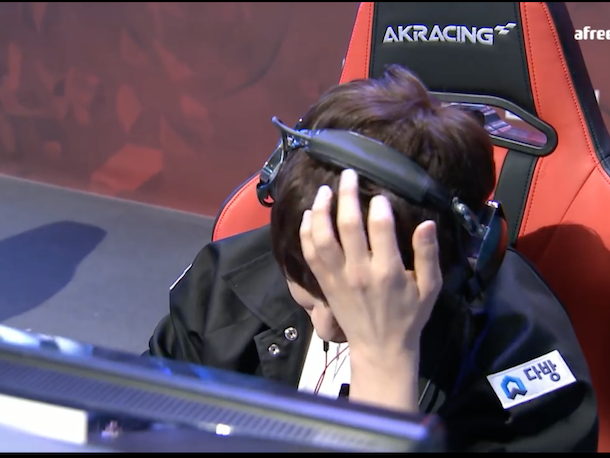 A bad night for the Protoss dragon.
In our final match of the night, SnOw takes command of the blue Protoss encampment at the 9 o'clock position, while Shine spawns as the teal Zerg colony at the 5 o'clock.
Once again, Shine overpools into a 3 hatch spire spire build. This being Outsider, an unfavorable map for Protoss FE builds, SnOw goes 1 base corsair into reaver play and expands to his mineral only base in the back.
Rather than mass a hydra army, Shine goes for fast lurkers – not a strong choice against the dragoon reaver composition SnOw is headed for, but effective on Outsider as a tool for both turtling and harassment.
On three bases, Shine gears up for exactly that playstyle, putting down sunkens and placing defensive lurkers. SnOw dodges scourge while scouting and hunting down overlords with his growing corsair fleet, and secures his natural.
What happens next is a critical moment in determining the pace of the rest of the match. SnOw moves out to pressure Shine's natural. With all of Shine's hydras morphed into lurkers, SnOw's +1 corsair fleet sails over the sunkens and lurkers to find a big juicy herd of overlords congregated in the Zerg natural. In a clumsy air fight, Shine throws scourge and a group of newly hatched mutas at the corsairs, but SnOw is at critical mass.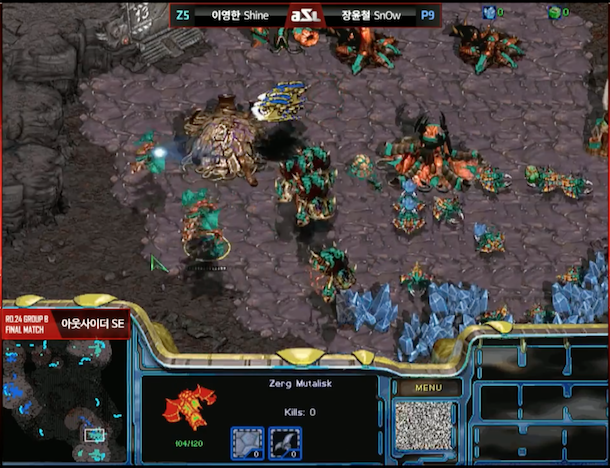 SnOw's corsairs clean up.
Heavily supply blocked, having just lost a big investment in muta scourge, and having nothing but a few lurkers and sunkens to defend with, there is nothing Shine can do except to throw in the towel.
…or at least that seems to have been SnOw's thinking. Rather than consolidate his advantage by expanding, reaver harassing, macroing up, or even dealing with a lurker blocking most of his mining at the mineral only, SnOw tries to end the game.
SnOw lays siege on Shine's natural again and again, wailing away at Shine's wall with his reavers. More than once, the Protoss come close to breaking the Zerg there, but with some tight defense and clutch snipes, Shine manages to force SnOw back again and again.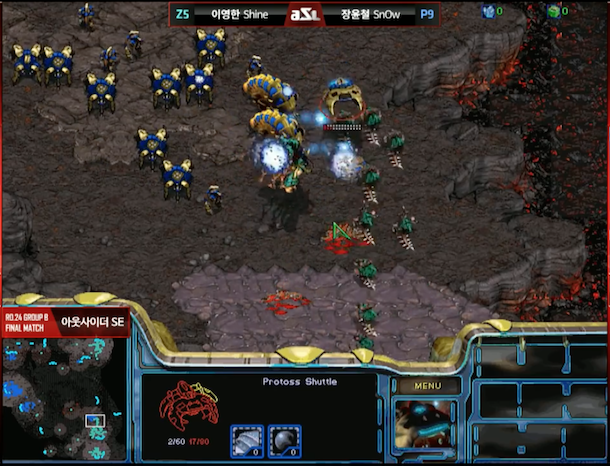 SnOw tests Shine's defenses again and again.
As Shine's forces start to recover, he starts hitting SnOw with a small but steady stream of drop harass. In the meantime SnOw takes the mineral only towards Shine, and then the double gas in the upper left. This is an absolutely critical base for SnOw, who has only had access to two gas the entire game so far.
Before the double gas can start to kick in, Shine drops a small army on top of it. With his own forces out across the map posturing for yet another attempt on Shine's heavily sunkened natural, SnOw has no hope of defending, and instead barrels into Shine's third base.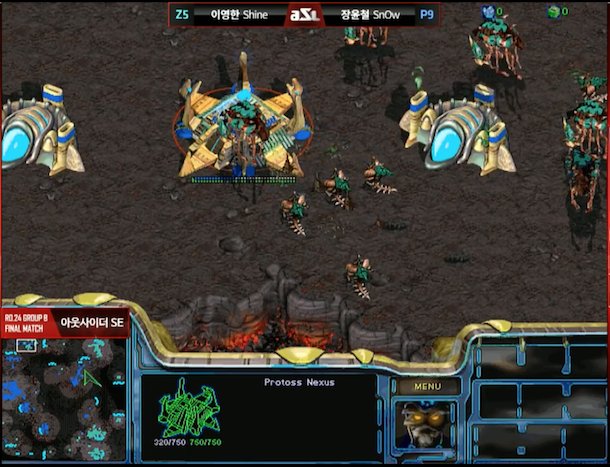 Not pictured: All of SnOw's other bases under attack.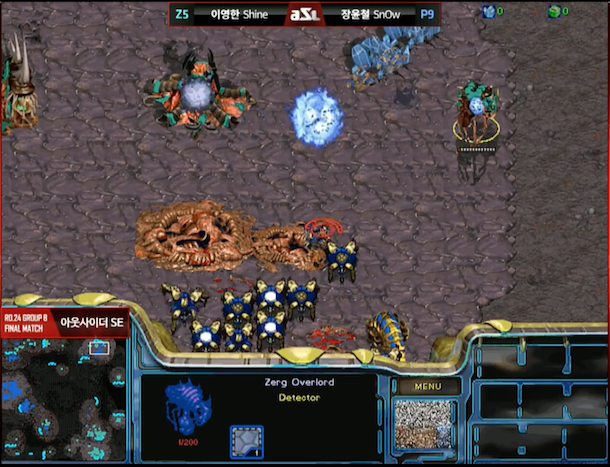 SnOw retaliates at Shine's third.
This trade works out very badly for SnOw, as attacks on multiple fronts bring him down to just one mining base at his natural. Meanwhile, Shine has plopped down two hatcheries at mineral bases on the right side of the map, and has been mining from three gas for the entirety of the game.
SnOw again launches an assault on Shine's natural, and this time Shine's defenses give way. Shine retreats to his ramp as SnOw razes the hatchery. Unfortunately for the increasingly desperate Protoss, Shine manages to hold him off there with some heroic observer snipes, keeping safe the vital tech structures in the Zerg main. Shine is now mining from two fresh mineral only bases on the right side of the map, and getting ready to take the double gas between them.
Unsurprisingly by this point, SnOw decides his best move is to take what remains of his army and try to kill Shine's north mineral only, where there are at least nine or ten sunkens waiting for him. SnOw's attack narrowly fails, and costs him almost his entire army.
FINALLY, SnOw decides it is time to go for some economic harass, and with a flurry of drops, nets a huge number of drone kills.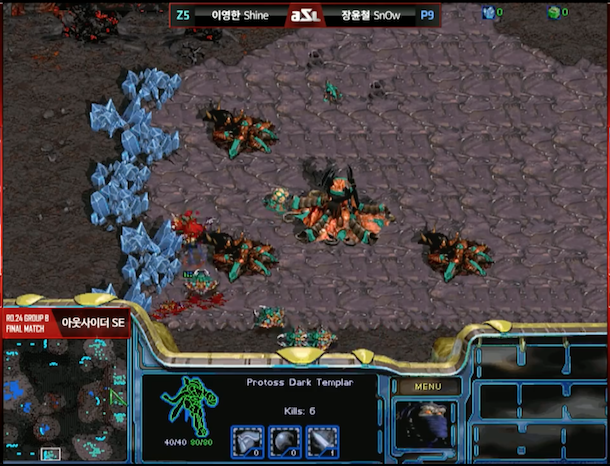 Where was this 20 minutes ago?
This is much too late to save him though, as Shine is now up to three mineral only bases and a double gas, against SnOw's single mineral only that he has re-expanded to. As Shine starts picking off probes with mutalisks and hunting down remnant Protoss forces, SnOw admits defeat.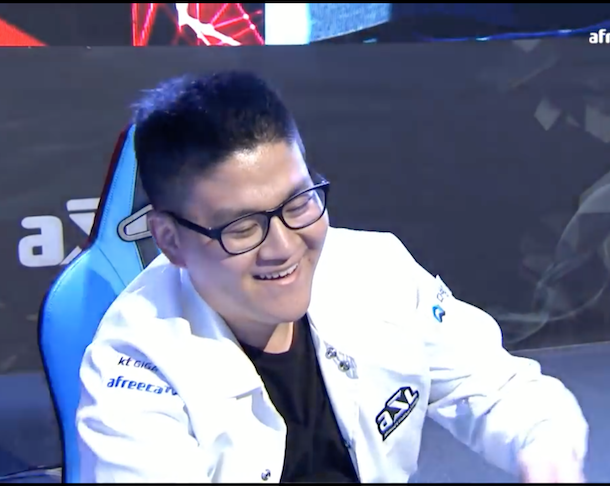 Our ASL and GSL observer, not to mention happy family man, moves on.
This was an excitingly good game by Shine. After getting behind early on, Shine defended tenaciously against a very scary Protoss army again and again, and slowly turned the tables on SnOw with a barrage of well-executed harass.
As for SnOw… look, I really do like SnOw. After all, the
first battle report
I ever wrote for Team Liquid was on one of his games. But his performance this game was highly disappointing. Sometimes converting a lead into a victory requires you to play safe and keep maximizing your advantages, but SnOw didn't show any patience for that. Much like Free, SnOw fully deserved his loss here. This was a frustrating night for Protoss fans.
Bisu's Turf
Group C is a pretty big name group for someone like
Mini
to really make a name for himself, going up against
Jaehoon
,
Light
and
Bisu
himself. However, make no mistake. It's a tough group to get through for Jaehoon and Light too. Bisu however, not so much.
Last week, I put Bisu at #3 on the power rank which managed to raise some eyebrows (unlike him, we do have those). Unfortunately for everyone, this group doesn't help or hurt my case. Any PvP for Bisu is a complete squash match. He has over 90% PvP win rate in tournaments and went 10-3 in March in sponsor matches. Needless to say, it's pretty good for him, and as far as his PvT goes, it has dropped since his VANT Starleague run in late 2015, but against Light, he should be fine even without bearing any fruits from his practice.
A sight like this is surely to be seen when he puts his best out there
Light got the short end of the stick….again and this time, he didn't even ask for it. Light's preparation needs to be absolutely top notch to really beat any of his opponents here even if it's one matchup. Historically, it has been his comically worst matchup. Bisu is already pretty good but Mini and Jaehoon are no slouches in the PvT department. I would have loved to see Light play anything but a TvP.
Mini has been called by Flash himself, the most annoying player to play against and even has a winning record against Flash in March. That alone should be a reason why he deserves your attention. His PvP rate is a flat 50% which is troubling because Jaehoon and Bisu are pretty good PvP players, but it would be a surprise if he dropped to Light because PvT is a better matchup and it's light he's playing against.
Annoyingly Good -
Mini
Jaehoon's enigmatic ways took him to #2 in the March ranking, effectively gaming the system that ygosu built. That said, it's not a bad group for Jaehoon. As I've mentioned in the cases of both Mini and Light, he has a pretty good PvP going 36-28 (56.25%) in tournaments and 24-13 (64.9%) in March. I've always argued that his PvT is pretty strong, because he's found a way to make both arbiters and carriers work. Whether or not Light might play into Jaehoon's plans to show that brand of PvT remains to be seen.
Bisu
and
Mini
Advance!
Raining Heroes!
Group D comprises of some pretty solid players with the return of
hero
,
Rain
, and
sSak
while featuring first time ASL player,
Lazy
. Rain looks to make it to the Round of 8 to match his hype while hero hopes to improve his standing. Let's get right into it!
Hero's ZvP looks to make a return after getting destroyed by BeSt in the ASL2 Ro8. And he'll have a relatively easy matchup in Lazy who is a lower-tier player. He's still sitting at a comfortable 69% winrate and one of the best ZvPers in the game right now. He's also 9-3 against Lazy in the post-KeSPA era so he definitely has his number in terms of the head-to-head. Lazy on the other hand has a 47% PvZ and can only seem to beat the no-namer amateurs in low level tournaments. Camelot, while looking like a bad Zerg map, has shown a 4-1 ZvP winrate so far though most of those games ended with a fast hydra bust. This map actually looks good for Hero's close 3rd aggro-style, going for potential 3-4 hatch hydra busts. Lazy will need to scout well to make sure he doesn't get caught off guard by hydra timings.
Rain has been on an absolute tear right now in PvT ever since his return. Having been his most played matchup and his best, he has been destroying Terrans with a 20-8 record for a stunning 71% winrate. sSak is ok with a 55% winrate against Terran but most of his wins come from easier Protoss players. Rain is no easy Protoss, playing in his best match against a mediocre Terran. That being said, this map is Camelot and we saw the power of how fast tanks can leapfrog their way to the enemy bases in Mong vs Soulkey. Still, Rain is a solid Protoss and I don't see him losing to sSak.
Once again, another ZvP for hero to play in, but with the recent meta shifts and his struggles against better Protoss players like BeSt, he'll need to kick it up a notch against Rain. Circuit Breaker does offer him that option for the close 3rd with aggressive hydra style, but 6 gate timings on this map are very deadly with close corridors and good storm use. That being said, Rain seems to be unable to break through to the upper-echelon of PvZ, constantly losing to ZerO and Soulkey, two very good ZvPers. This will be a very good and close game and I hope to see some epic play. (Potentially Rain vs EffOrt 2.0?)
Ironically, while Lazy's worst matchup is PvT at 41%, he has a winning record in the head-to-head against sSak with a 7-6 record. That being said, all of these matches were played in 2013-2014, so take that with a grain of salt. With too much time since Lazy last played an official PvT match (January 2016), I think his weaknesses in the matchup will be revealed and he will succumb to sSak.
Outsider is just one of those matches that's really hard to predict because of all the funky weird strategies. That being said I think that Rain has shown his prowess with shuttle play on this map and on other maps to the point where I believe he has the advantage. Terrans have a bit of an awkward time fitting in starport and dropship on Outsider and Rain can abuse the mineral lines with his reavers. I expect sSak to do a faster timing push off potentially 2 fact to end the game earlier before Rain has time to take over.
hero
and
Rain
advance to the Round of 16!
---