http://esports.dailygame.co.kr/news/read.php?id=39653
Commentator Shark, "A new challenge, a new dream"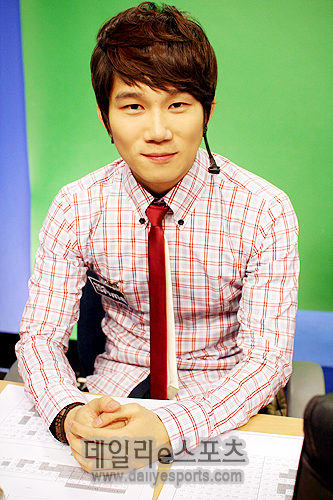 If you have been watching the MBC Game channel recently, you can hear an unfamiliar voice among the commentators. Until the end of the match, the voice is a source of curiosity as there doesn't seem to be a person that comes to mind. His pronunciation is very clear, yet his voice doesn't sound like a commentator's voice. But there are probably few who are able to figure out who this new person is.

Then when the game ends and the commentators' faces appear on the screen, the viewers have nothing but surprise written on their face because the person they see is Shark – who through MBC Game's variety shows has already experienced screen time – sitting next to caster Kim Min-chul. Progamer Shark. He has now entered the realm of commentating.

I met Shark right before the break, on the 1st. He is a rabbit on the Chinese Zodiac, which makes this New Year's Day very special (T/N: This year is the Year of the Rabbit on the Chinese zodiac). But compared to most others who are happy to meet the new year, Shark's feelings have rather fallen. His seriousness stems from the fact that he faces the difficult road of the commentator.


The luck of being able to be a commentator

Closing the book on his career as a progamer, Shark took on the goal to become a broadcaster. At first however, he did not begin working in broadcast to become a commentator. Because MBC Game already had outstanding commentators, Shark felt that there were no spots left.

"The commentators for MBC Game are very good at their jobs so I thought it would be impossible for me to try to get where they were. So for the past two years I focused more on building experience in the entertainment programs. I did not think that I would have ever been able to become a commentator for Proleague. It's not that I didn't dream of becoming a commentator; rather I couldn't dream of becoming one."

But after commentator Lee Seung-Won's throat condition deteriorated, an opportunity came to Shark. Even before he could mentally prepare himself for the work, Shark found himself commentating and having to learn on the spot. One week before he began commentating, Shark received a message about the job and was able to grab the opportunity that he never even thought of before. Shark found himself both happy and nervous at the same time.

"Jumping into this job after not thinking about it was very surprising and confusing to me. At first I felt that I was really lucky to be given this opportunity but as time went on I felt more and more scared about it. I wasn't preparing for this job so I hadn't been watching Proleague recently. But I didn't want to miss this opportunity."

Shark remembers the phrase "Life gives you three chances". And the opportunity to become a commentator seems to be one of those chances. Until he began commentating, Shark stayed up all night, watching the VODs that he hadn't seen and preparing for his debut as a commentator.


Protect the pride of Zerg as a commentator!

Most of the players who transitioned into commentating roles have been either Terran or Protoss players. Strangely, there hasn't been any commentators who played Zerg as progamers. Fans also discussed who would be the first Zerg player-turned-commentator.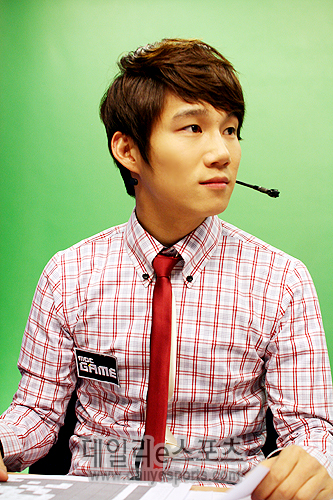 Shark was also pretty lucky in those regards. Even though he did not receive much attention as a progamer, the fact that he was the first Zerg player to become a commentator was the source of much notice from others. Becoming a commentator through good fortunes was the biggest change in his life.

"I guess I was pretty lucky because I'm a rabbit (laughs). I also found it interesting that there weren't any commentators with Zerg background before. As a previous Zerg player, I know that I can protect the pride of being one by being the best commentator in ZvZ matchups. So I'm practicing my commentating for ZvZ a lot."

Shark said that his role model was commentator Kim Jung-min. Kim also transitioned from progaming into commentating and is regarded as the most successful commentator. Shark explained how he wanted to become just like Kim.

"Being a progamer and then becoming a commentator can be bad in certain aspects. You only focus on the race you play so your understanding of the other races fall compared to other commentators. But Kim Jung-min hyung knows all three races at the highest level. It's really amazing. I can tell that he put in a lot of effort. I want to become like him. I don't want to know just Zerg but also be able to comment on the other two races at a deep level of understanding."


Shark understands both his pros and cons.

I wonder if there are any commentators who knows about himself as much as Shark does. Along with comments from others, Shark knows exactly his strong and weak points, which suggests that he is progressing fast in his development as a commentator.

"A lot of people congratulate me on having a clear and distinct voice that is unlike a rookie commentator. My pronunciation and speaking improved a lot after attending acting school (T/N: Not "school" in the traditional sense, but Korea has many small private institutions that specialize in teaching certain subjects, like acting, for example, that many students enroll in, either to get better grades in regular school or specialize in some kind of skill.). But it's hard even for me to hear the tone of my own voice (laughs). I have a relatively high-pitched, cheery voice that I think is a strong point for me personally, but now I realize that it's a disadvantage for commentating."

After hearing netizens and others comment that he "sounds like a gay guy", Shark has been working on making his voice tone sound better. He tries to speak loudly at a lower tone. And the second day was better than the first, and the third day was better than the second.

"Along with my tone, my command of vocabulary is not strong. And I sometimes say the wrong thing while on air. I want to be able to say a variety of expressions but the words don't come out as I want them to (laughs). I know my own weak points better than anyone else so I know I'm going to get better so I'm not worried about it."


"Please pack some tasty food for me."

Even during the holiday, Shark cannot rest peacefully. He needs to spend more time making up for his shortcomings and watching old VODs. But even though he won't be able to pass his break having fun as he normally would have, Shark still feels thankful and gratified.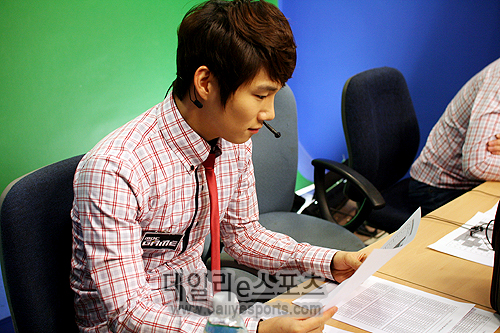 "To be honest, I wasn't that successful as a progamer. I practiced hard but I wasn't sent out often and because I wasn't given many opportunities, I began to wander and I felt lost. But now I have a task given to me and because I have the opportunity to work hard I am very happy. I feel like my success depends only on me now. I will continue to work hard during the holiday to become a better commentator."

Shark lets out a sigh at the thought of missing out on the good food of the Lunar New Year holiday. During a previous interview he asked his fans "please pack the leftovers for me". Shark must really miss the New Year's food.

"I want to pass on my fortunes during the Year of the Rabbit to everyone. I hope you have a happy new year and I hope only good things happen to you all. And don't forget to pack the leftovers for me (laughs). I will do my best to become a better commentator so please cheer for me."


Interview credit goes to: Lee So-ra 이소라 기자 sora@dailyesports.com