Developer: Tecmo
Platform: PSX
Release: March 1, 2000.
Genre: Traps? / RPG something
Disks: 1


Deception is a hard game to define. Basically we are some defenseless girl in the middle of armed men that want to kill us for some reason. There is a story in the game, but to be honest, I never payed attention to it. It's not catchy, or relevant to what you have to do in the game: kill people with self made traps.

The game is divided in scenarios. Each scenario is a grid defined room with stairs, fireplaces, precipices, rivers, anything. At the start of each of this scenarios we are given the stats of the enemy and a overview of the place were we are going to fight.

Once the "fight" begins, we are left in the room, where we can access a menu to set up our traps. Once we do so, we must act as bait to lure the enemy into walking into it, activate them, and kill them.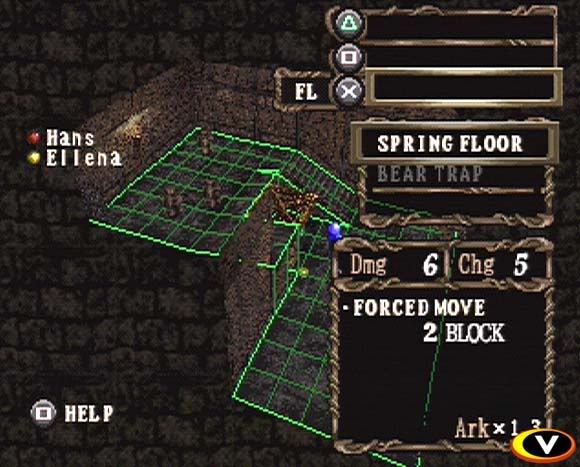 What makes Deception fun is the number of traps available and how they can be combined. For example in the picture below Hans is about to get his feet trapped by a bear trap, followed by some arrows going through his right arm and a failing boulder by the stairs as a finishing blow.




The damage a combo does combined, the number of hits our combos had, the damage we received and how fast we killed our enemy determines a number of "Dreak" we acquire. Dreak is the currency used, along with items we unlock by progressing to make new traps.

We have different types of traps available: floor, wall and ceiling. Inside each of those types, you can pick different categories, such as boulder or pendulums inside ceiling traps. We can also enchant our trap by using "emblems" with the elements of fire, ice, thunder among others.

The next variable we have in a trap is rings. Rings modify how much a trap takes to recharge (fast recharging traps can be used more often within the same combo). Rings can also make traps self trigger, or attract the enemy to them among other stuff. Finally there's the orbs, the higher the orb number, the higher the level of the trap we are creating will be.

All this variables make a ridiculous amount of combination's one can use to create different traps and makes you want to defeat more evil guys to unlock them. Also as the story progresses, our enemies will have special scenarios in which they will take damage. For example some enemies will only receive damage if hit in mid-air, some others will only take damage after the 3rd hit of a combo, some only will die if you attack them with fire and so on.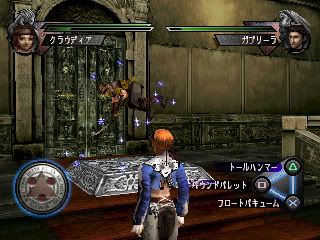 There's isn't much more to say about the game, the music is "OK", the graphics are not excellent but serve their purpose, the story you won't care about and the character movement isn't the best; but the concept of the game will probably keep you hooked until you can finish it.


Yay

Original idea.

Addictive.

Infinite trap numbers you can create.

Nay
The camera sometimes

The non existing story. (but it's not such a big deal)

The movement of the characters

---

Poll: You should play this game...
(Vote): right now!
(Vote): only if you like the genre (?????).
(Vote): never.