Well, that's it for BlizzCon. This Summer has been pretty eventful for me, but this whole week of hanging out with people I know from an internet gaming forum probably stands out as the best. In this post I will discuss a lot that's going through my mind right now (and obviously show more pictures) and hope to also entertain you guys who have been reading my BlizzCon blog report so far.

First and foremost,

THE PICTURES:
+ Show Spoiler +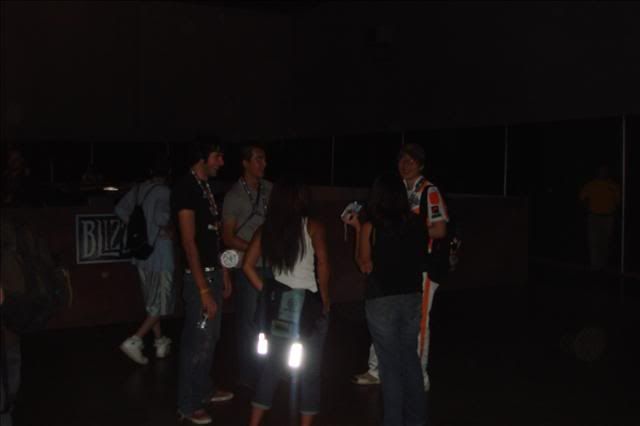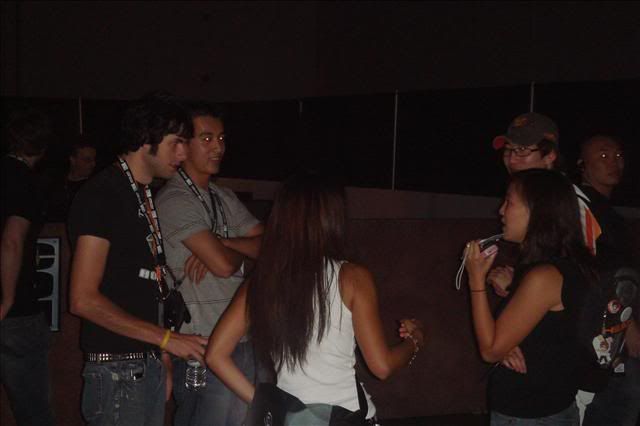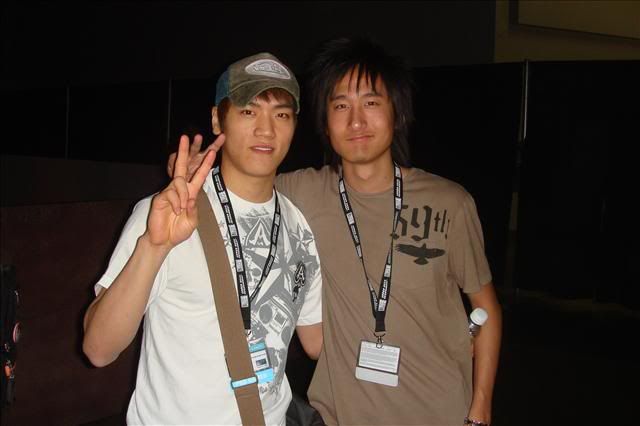 Didn't think I'd get it, but I GOT IT BABY. Reach is a cool guy it seems, and after the photo was snapped, he said "Thank you" to me as if I had just helped or given him something. Maybe he felt me mentally caressing his buttocks and liked it?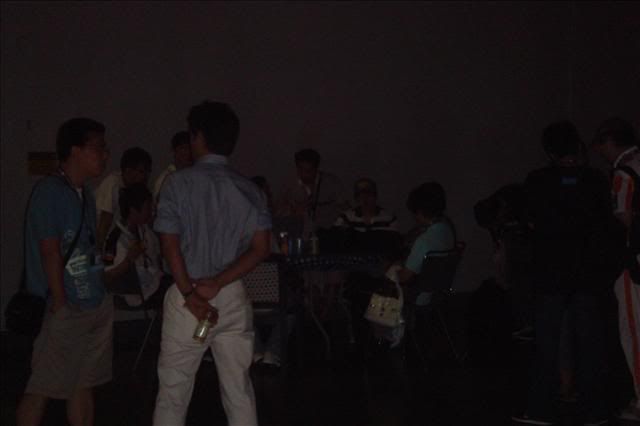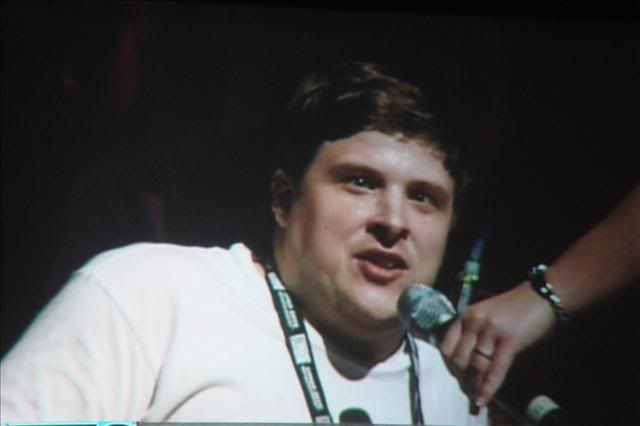 So before the SC match they had a WoW Q&A session where a bunch of socially incompetent WoW nerds went up to complain about some aspect of WoW and question when appropriate changes will be made. This dude here is the most hilarious looking WoW downy I've ever seen. I hate to be mean, but really, this guy talking with a high-pitched voice and hilariously crossed eyes had us (TL guys) absolutely rolling.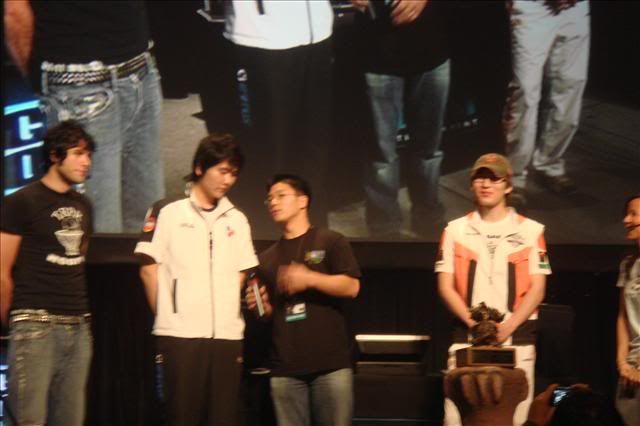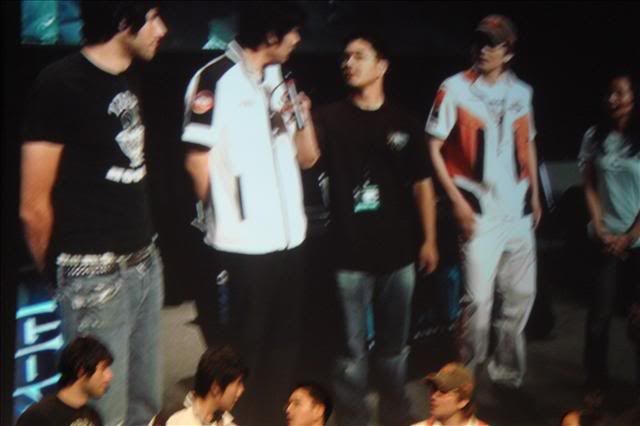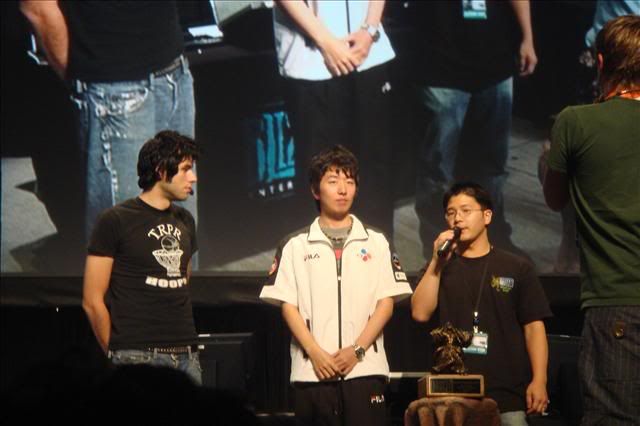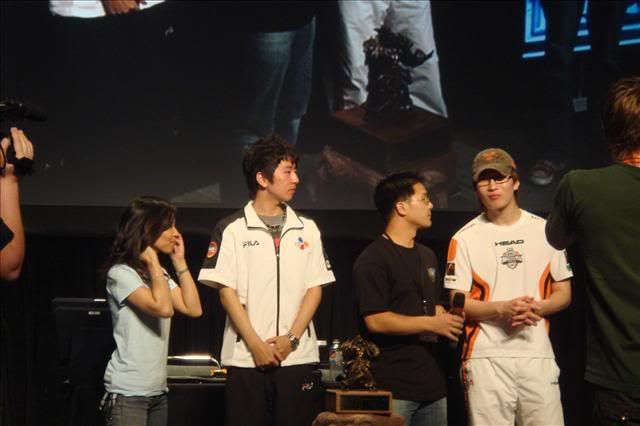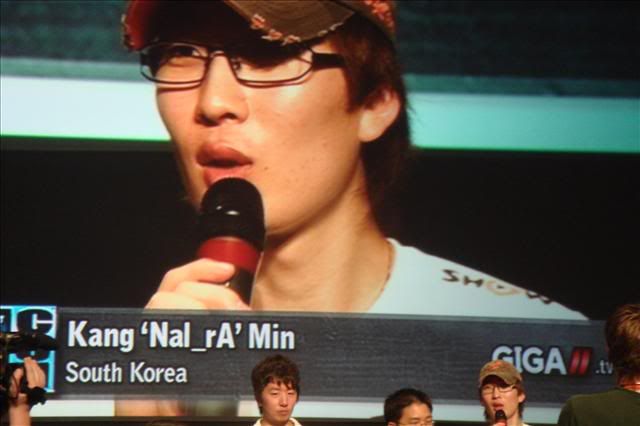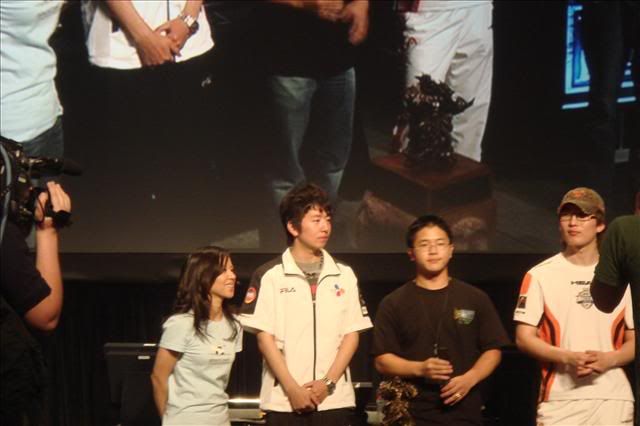 yubee and hot_bid on a date, look how cute they are together

. The vintage 2005 wine bottle is totally appropriate.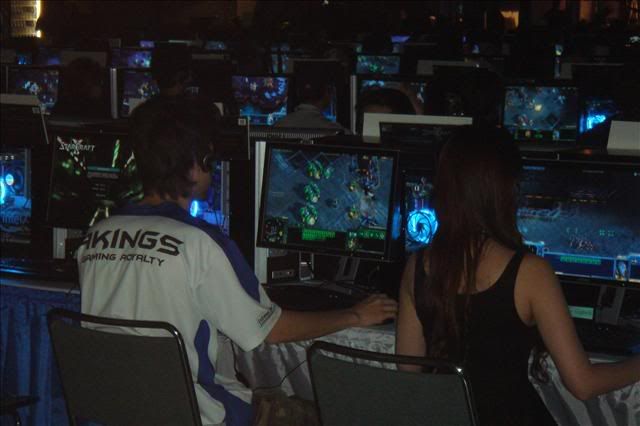 Grubby and his gf playing sc2
New Additions 8/5/07:
+ Show Spoiler +
On August 05 2007 19:37 PanoRaMa wrote:
This is actually a pretty hard question because it's not like I was hanging out with the pros all day long (whereas, if you wanted the inside scoop on TL.netters I'd be able to slander like no other

), but here are some things I recall:
- SaviOr practices using Terran
- YellOw practices using Protoss
- YellOw's Protoss was actually pretty good, but still lost the game vs someone's main race (IriS i think?)
- The pros practiced on Longinus, nothing else.
- Everyone is shorter than you would think. Yellow's face/head is a bit smaller than I remembered, IriS is still pretty tall however.
- Reach has soft hands, I liked touching them.
- The CJ coach is still pretty close with Nal_rA and would ob his games and talk to him afterwards.
- After losing in the loser bracket vs rA, XellOs and the CJ coach went over to the corner of the practicing area, wherein the coach lectured a dismal-looking XellOs. I
really
don't want to imply or suggest anything, but all I'm saying is that XellOs had the face of a player who looks like he's ready to give up/retire.
- My favorite guys there were Nal_rA, IriS, Reach, and sAviOr in that order. XellOs looked very glum throughout the whole thing, and I didn't really get to see YellOw much (he was behind the scenes for the most part).
Here are just some quick 1 min clips of XellOs playing. I would've taken longer videos but I was still unsure with how the video feature works on my camera (which isn't mine), so I didn't really plan to make a long recording. For some reason, when I uploaded it to youtube it seemed to have gotten darker. I even use a pretty high brightness level on my LCD. But meh, hopefully you guys can enjoy it or something.
StarCraft 2 Thoughts and Observations
+ Show Spoiler +
I said I wasn't going to make this write up, but I think I have to,
considering I am currently among the top 25 best SC2 players in the world
(according to yubee, due to TL.net's absolute domination in SC2, we're probably at the top of the top right now

). We played somewhere around 10 games today, 15 games in total, I was partnered with

NeoIllusions

who has some sick protoss ground macro. I'm not going to write an essay, and I think it'll be easier to follow in bullet points anyway, so here are some thoughts:

- "Death" in SC2 is confusing and detracts from actual gameplay. In SC1, when a marine dies, there is a loud cry and he pretty much explodes and red blood goes everywhere. Even for SCVs, there is a poignant sound to be heard, that if you hear it, you instantly think "dead scv", and there's still a bright explosion. In SC2, units take a tad too long to die, with no distinct death sounds. Some mechanical units diminish into rubble, and for the time being it's not really noticeable that something had really died there. This isn't a HUGE issue, but it does detract from the game in that sometimes you want to know exactly, at a glance, how many of x has died. Additionally, as a spectator sport, it helps the audience understand certain things better when things simply blow up, not take an ice age to slowly deteriorate.

- As far as balance goes, obviously there isn't much because it's still so early. Terran, as I see it, is

completely useless as of right now

. Right now meaning, with no Zerg in SC2 yet, and with certain Protoss units just being too overpowered.

- The Phoenix is the most imbalanced unit in the game right now. They control somewhat like mutalisks in SC1, but are much deadlier. For harassment purposes, it only takes 4 Phoenixes to kill a probe (off 1 volley of shots). It is relatively cheap, can be made VERY quickly (it's basically a corsair that owns everything on ground), and there aren't many counters to it, ESPECIALLY from the Terran side.

- As far as strategies go, we kept devising new strats and constantly improved on them.

As of right now

, the most optimal strategy in my opinion for 2v2 is double protoss, with early game builds being flexible, just as long as you eventually mass archons and phoenixes. Archons may be the only viable counter to the Phoenix right now, but Archons are pretty much on the high-tech side, whereas Phoenixes are medium tech and are much easier replaced. Archons might not even be that great of a counter simply because of the Phoenix's mobility as an air unit. The Terran cobra

should've

been able to counter the Phx, but it's too slow and can't keep up with a smart Phx user. Same with the Viking, even with air-transformation upgrade. I expect the Phoenix to be changed within a week.

- The game engine is roughly more like WarCraft 3's. This isn't too bad, as it wasn't particularly the engine that stunted War3 (it was more the hero and creeping premise instead). The biggest problems, however, might be the overabundance of "noob-friendly" features that are a controversy amongst us SC1 elitists. Such features have been addressed already, including multiple building grouping, auto-worker splitting, rally-to-mineral functionality, combat log (tells you when something is completed in text version), etc.

- On the brighter side, as I've said before, gameplay can be fast-paced, especially if players opt for early game confrontation instead of FE macro whoring. Mostly because marines will still die in 3 hits to a zealot, etc. Also, as you progress in tech, certain units start oscillating in their effectiveness due to the armor/attack types (such as in War3 and SC1), which means the unit you were massing before can be rapestomped in 2 seconds by some unit some kid made by grouping all his high tech production buildings together and pressing one hotkey. What this essentially means is that

micro and macro

still play a huge factor.

- Like SC1 and War3 before it, SC2 relies a lot on adaptability to your opponent's builds and trying to stay on top of game flow. The biggest things are basically, if you go MM (there are no Firebats btw, which sucks because mm sucks vs charged-zealots), your terran opponent for example, can tech to Vikings (vulture-level tech) and have an advantage because Vikings are light-armor killers. You have to respond accordingly, by having enough Cobras (a combo of a vulture/goliath, only assume the vulture also kicks ass and doesn't do crap concussive damage) to take out the Vikings, etc. I thought this specific aspect was cool, because it spawns all sorts of unit compositions that complement each other, for example viking/cobra, phoenix/zealot, etc.

- I think there are more, but I'm getting a bit tired and have forgotten quite a bit. Regardless, it's been fun, especially noob-stomping with NeoIllusions.




Final Thoughts
- The highlight of this event really wasn't SC2, or the Pro Gamers...well just kidding of course it was and nothing can top that. However, the TL.net crew I've met over the week have been really good people. A quick shout out to the people I've hung out with and have talked to starting since Wednesday: CM, Chips/trident, Mani, HB, yubberz, afk-illusions, Etter, omgbnetsux aka tawt in control, Meat, x_woof_x, Hurricane, dknight, semioldguy, mnm, tasteless, and jesus christ the list just goes on. All these people are stand-up guys simply because this is a great forum and community.

- Regarding XellOs, I talked with Autumn (aka translator lady) and I mentioned that some from the community may have acquired the impression that XellOs is annoyed by the fans (probably as a result of his cheerful). In actuality, XellOs appreciates his fans very much, and although he wasn't THAT fond of his cheerful, he still enjoys meeting his fans etc. etc. She even told me that she wasn't lying just to save face for XellOs, and when women tell me they're not lying, then that's good enough for me!

- Blizzard Staff, at least in the SC2 area, had been courteous, helpful, and friendly throughout both days, despite having to deal with a bunch of kids and a ton of smelly WoW geeks. I was really surprised, simply because if I had their job, I would've been a total asshole by Day 2.

- Watching and meeting the Pro Gamers was an awesome experience that I probably won't forget for another, I don't know, 2 months. But seriously, I've been to Korea before, was even in the audience during rA's famous Parallel Lines game against GF where he mass hallucinates his Arbiters to double recall, and that doesn't beat being able to share this geeky hobby of mine with other guys with the same interest, on the cold, hard floor of the Anaheim Convention Center. It probably had something to do with the Fighting cheers, which had officially given me a huge sore throat (we had to yell over thousands of people okay?).

- I'm very glad that Iris, sAviOr, and rA were able to show us such fantastic games (watch savior vs iris game 1, iris vs ra games 1 and 2, and savior vs ra game 1). Nonstop yelling/cheering for these guys that we've only been able to see on SC2 was a very fulfilling experience.

- Pro Gamers in Real Life: I would say Hot_Bid's RL Pro Gamer ranking system does well here, it's very accurate though of course XellOs' 4 rating can be disputed. But the KTF guys know marketing (well it's their livelihood - they're not being paid big bucks to win OSL because they never do - instead they're being paid because they're icons). Oh, and, savior looks kinda chubby on tv, but is actually a skinny, boy-ish looking guy in real life.

If you guys want to hear about anything pertaining to BlizzCon, the pros there, SC2, other TL.netters (such as HB and yubeast's little relationship), feel free to mention it in a reply and I'll be glad to answer. I've accumulated SO many memories at BlizzCon and I'd love to share them with you losers who couldn't come

.

- Kevin