TSL3 on Liquipedia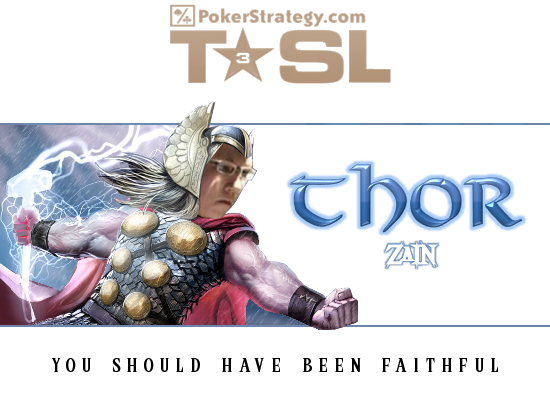 Cheerful by arctics86
When ThorZaIN qualified for the TSL, I tried to explain my reservations about the qualifiers to Plexa on MSN.
"I just don't know," I wrote, "I watch the TLOpen and I feel like some of these guys are doing things that I could do. I mean, the guy who qualified today, is he any good? He didn't seem to be anything special."
"Thorzain?" asked Plexa, "Yeah, he's really good."
I wanted to believe him at the time, but I didn't really believe it. I wanted to convince myself that ThorZaIN stood a chance, and that the awesomeness of his name would be reciprocated by awesome play. But ThorZaIN, who was last seen not advancing from his Dreamhack group, was a black box. Between his semi-final appearance in TLOpen #1, and his qualification in TLOpen #5, ThorZaIN had gotten bumped out of the TLOpens before reaching the series stage. And his handle was absent from any other competition. Between his qualification and the opening day of the TSL, he was nowhere to be seen.
Who was this kid, and why is he here? I liquibet Fruitdealer.
I could not watch the first day of the TSL live. But when I watched ThorZaIN's opening sets against Fruitdealer, I had a huge banana grin on my face, that slowly dropped until I looked like Edvard Munch's 'The Scream', with my mouth wide open and my hands cupping my face. ThorZaIN wasn't stale or gimmicky. He was exquisitely prepared. He was flawless.
And then doubt crept in again. Koreans began to drop like flies. The foreign scene was mounting a stiff defense, and suddenly ThorZaIN's workmanlike defeat of Fruitdealer was obscured by Adelscott's flashy destruction of MVP, and QXC's heroic perseverance against Genius. Suddenly, ThorZaIN's exceptional play aquired asterisk after asterisk. Fruitdealer had long been slumping. Fruitdealer was unused to the lag. Fruitdealer was playing a broken match-up.
And so, three weeks later, ThorZaIN had to prove himself once more against the reigning TSL champion and fan favorite Liquid'Tyler. I liquibet Tyler. This time, ThorZaIN's victory had some savagery to it. In the final game on Metalopolis, ThorZaIN ended up with upgraded bio units against upgraded gateway units unsupported by tech. It was a massacre. Yet again, doubts crept in. Tyler had looked completely out of sorts. And ThorZaIN's next opponent was MC. MC!
I liquibet MC.
There's nothing for me to add about that series that hasn't already been typed in all caps with exclamation points. But I shouldn't have been surprised. The TSL has always been different. The TSL does not treat the usual suspects kindly. Every TSL has been largely defined by the new players, the closet gosus who fly under everyone's radar until it's too late. The open qualification invites this. The preparation time invites this. For players like ThorZaIN, this was the opportunity to distinguish themselves. Who knows when that opportunity would've come again?
For the semi-finals, I liquibet ThorZaIN. No matter that his weakest match-up was TvT. No matter that Kas was a TvT beast. I changed my IRC name to "Thorhugger". I spammed variations of "THORZAIN!!!" I briefly considered going to the Thor movie. And in five fantastic games, ThorZaIN had won once again.
Both players in the TSL finals, have made tremendous turnarounds in the
Pokerstrategy.com TSL3.

For ThorZaIN, he has gone from a complete unknown to a hero for tens of thousands of fans. He has gone from ranked as an afterthought to considered one of the world's premier terrans. His play has triggered admirers, copycats, countless frustrated opponents, and even a crucial change in a balance patch.
And this weekend, in New York, he will meet his toughest challenge yet. To turn 'TSL finalist' into 'TSL Champion'.
-- tree.hugger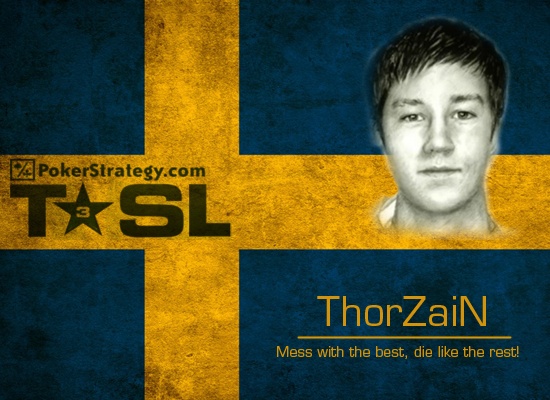 Cheerful by eXplod3
http://www.youtube.com/watch?v=Fw518RCm4AA
"Wow, I didn't know who thorzain was, but from today on..."

-- Korean Netizen
Wikipedia says
"In Norse polytheism, Thor (from Old Norse Þórr) is a hammer-wielding god associated with thunder, lightning, storms, oak trees, strength, destruction, fertility, healing, and the protection of mankind."
In Starcraft 2, ThorZain is a 250 mm Strike Cannon wielding god associated with macro, micro, cloaked ghosts dropping EMPs to prevent psi storms, destruction, SCV repairing, and the protection of foreigners against an over-arrogant Protoss.

ThorZain FIGHTING!

-- Achille5
i'd scream for ThorZaIN like a little girl infront of Justin Bieber if i met him RL!

-- Mob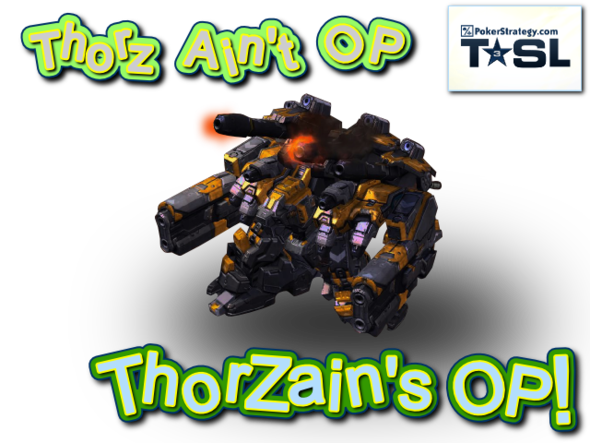 Cheerful by Heimatloser





Poll: What score will ThorZaIN win with?

4-3

(353)

47%

4-2

(267)

35%

4-0

(78)

10%

4-1

(56)

7%

754 total votes

Your vote: What score will ThorZaIN win with?



Links:
The Thorzain Fan Club!
Naniwa and Thorzain arrive in NYC
Thorzain on TLPD
Thorzain on Liquipedia