Master's Coliseum: Group Stage Preview
by Wax
There's a long gap between the two ESL Masters seasons this year, but there's been no lack of third party events to keep delivering high-level StarCraft in the meanwhile. We've already had Gamers8 and the World Team League playoffs in August—now it's time for Master's Coliseum!
Held by WTL organizers SCBOY, Masters' Coliseum resembles an online version of Katowice. 24-players start in a round-robin group stage before moving on to a 12-player playoffs. However, there aren't any pesky offline time constraints as in Katowice, which allows for the playoffs to be held in a double-elimination format.
Tournament Overview
Schedule:
August 22-23 11:00 GMT (+00:00)
: RO24 Group A

August 24-25 11:00 GMT (+00:00)
: RO24 Group D

August 26-27 11:00 GMT (+00:00)
: RO24 Group C

August 28-29 11:00 GMT (+00:00)
: RO24 Group B

TBD-September 10th
: Double-elimination playoffs
Prize money:
¥300,000 CNY (approximately $41,000 USD), ¥120,000 for first place
Stream:
Open to community streamers— Check TL.net at match times!
Players and groups: (Note: Groups are played in A-D-C-B order)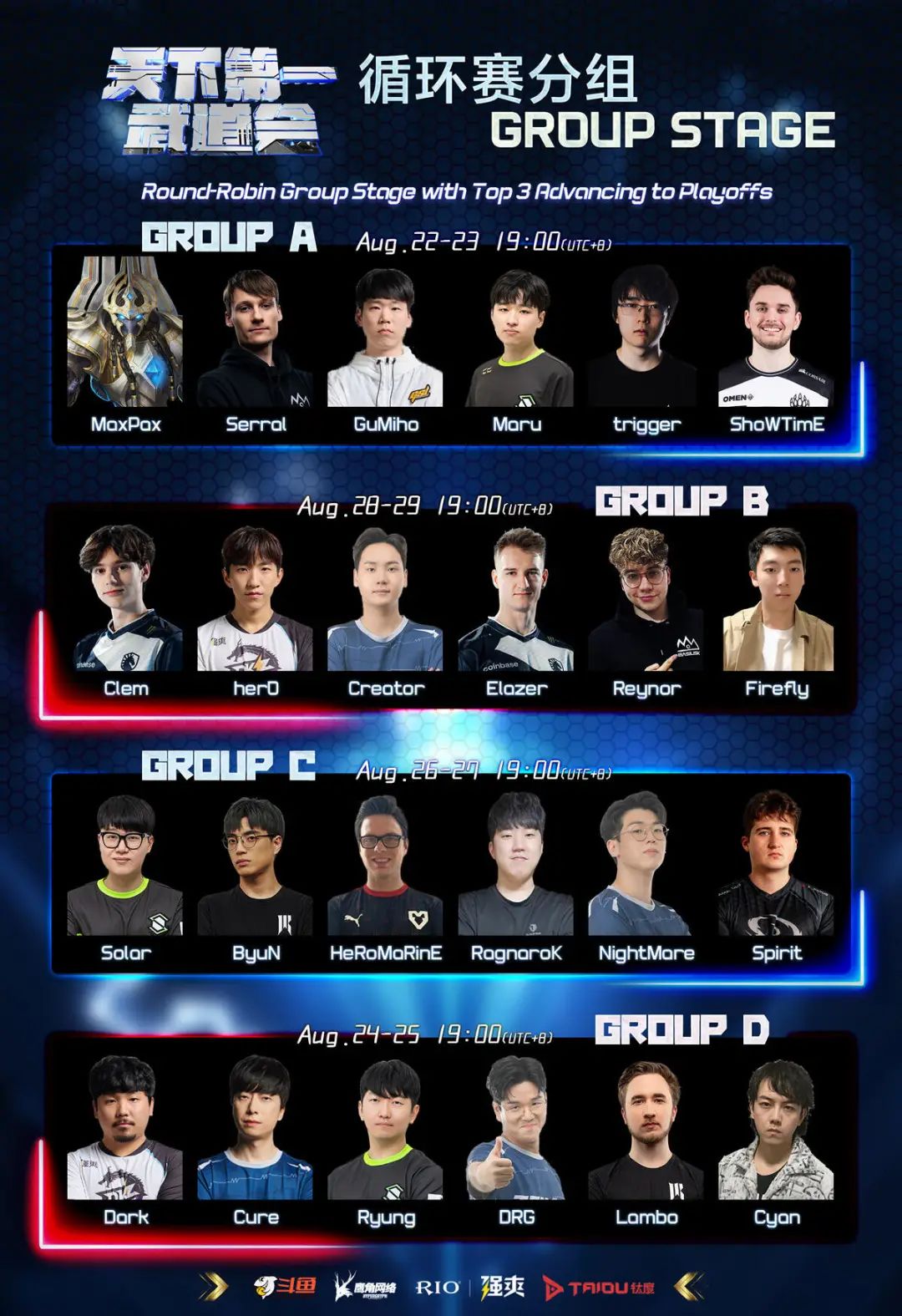 Group Stage Preview
The top two players from each group start in the winners' bracket of the double elimination playoffs. The third place player from each group starts in the losers' bracket. The bottom three players from each group are eliminated.
Group A: Serral, ShoWTimE, GuMiho, Trigger, MaxPax, Maru
August 22-23 11:00 GMT (+00:00)
The story for Group A seems to be simple at first glance: Serral will lock up first place without any Zergs to challenge him, Maru will take the second place slot, and the other four players will scrap for the third place spot.
However, Maru might be more vulnerable than his reputation suggests. He had poor results at
AfreecaTV Champions Cup
and
Gamers8
(RO8 eliminations), and has losing records against Serral, GuMiho, and even MaxPax in the last couple of months. If this mini-slump continues, there's a realistic worst-case scenario where he goes 3-2 and is eliminated on map score differential.
Among the other contenders, I give MaxPax the slight edge over GuMiho and ShoWTimE in terms of claiming the third (or second) playoff spot. All three players are similarly strong at their peaks, but MaxPax is by far the most consistent. Unfortunately for Trigger, it's hard to give him any chance at advancing at this time, despite his considerable growth in 2023 so far.
Prediction:
Serral, Maru, MaxPax advance.
Group D: Lambo, Ryung, Cure, Cyan, DongRaeGu, Dark
August 24-25 11:00 GMT (+00:00)
The situation here is eerily similar to Group A, with Cure and Dark standing out as the two favorites to advance, the trio of DRG, Ryung, and Lambo duking it out for third place, and Cyan looking rather outmatched by his more accomplished opponents.
Again, like Group A, I think the projected second place player Dark could be vulnerable to being upset. ZvZ is very volatile at the top end of pro play, and both Lambo and DRG could easily deal him a loss or two. On top of that, he's really struggled against Cure as of late (especially in the late-game), so there's a 3-2 elimination scenario on the table.
In terms of who claims the third place spot, it's a very tight three-way between DRG, Lambo, and Ryung. It's true that Ryung's TvZ is weak compared to his TvP and TvT, but that's only a fatal weakness against the absolute best Zergs. His two-base timings, proxy-Barracks cheeses, and late-game turtling could very well get him over the hump against DRG and Lambo. Alas, I can't see any plausible scenarios for Cyan to get through. However, like Trigger, he could throw a wrench in the works for someone else by taking a few maps or series.
Prediction:
Cure, Dark, Ryung advance.
Group C: Solar, HeroMarine, Spirit, RagnaroK, NightMare, ByuN
August 26-27 11:00 GMT (+00:00)
It's not quite the group of death, but Group C deserves some notice for being the most even overall. ByuN and Solar might be slight favorites on paper, but all six players have a fighting chance of making it to the playoffs.
The two most interesting competitors for me here are RagnaroK and NightMare. RagnaroK achieved his best career result back at
IEM Katowice
, stunning Serral to finish in the top four. His subsequent slump made this seem like a flash in the pan, but various GSL interviews suggested RagnaroK had continued to maintain a high level of play on the ladder. Recently, he showed there was some substance behind this praise, reaching the top four of AfreecaTV Champions Cup. I think that's more in line with his 'true' level of play, and he's my pick to take third place in the group.
NightMare might seem to fall into the Trigger/Firefly/Cyan category as the designated last place player, but I think he's proven just enough to be considered a long-shot contender for a playoff berth. He's earned himself Code S 'regular' status over the last year (even if that means much less in 2023 than it has in the past), and had a very solid
WTL regular season
where he went 14-8 in maps and stole 1-1 ties off Reynor and ByuN. While I'm not predicting NightMare to advance, I'm looking forward to seeing if he can keep things competitive against stronger players and continue his steady improvement.
Prediction:
Solar, ByuN, RagnaroK advance.
Group B: Clem, Creator, Reynor, Firefly, Elazer, herO
August 28-29 11:00 GMT (+00:00)
A few months ago, it would have been easy to pick Reynor, Clem, and herO as the three heavy favorites to advance. However, herO's slump has gone from concerning to catastrophic over the last few months, culminating in group stage elimination at Gamers8. At this point, I wouldn't blame anyone for picking Creator or Elazer to advance ahead of him (although both of those players were also eliminated in the group stage of Gamers8).
Personally, I'm willing to extend herO the benefit of the doubt for just one more event. He's still very strong in ESL Open Cups, and I'm a firm believer that weekly cup form translates to results in bigger events in the long term. It's more likely that this is a nerves/mentality crisis herO is going through right now, rather than one of skill. Considering his championship pedigree, especially that of being the only post-military player to win a Code S title, I believe he'll eventually get his act together and retake his position as a top championship contender.
Another Protoss I'm cautiously optimistic about is Firefly. His last two seasons in the World Team League were
very impressive
for a player of his stature, recording well over a 50% win-rate and taking 1-1 ties off of players like Clem, Neeb, GuMiho, and Reynor. However, he hasn't been able to convert this to individual tournament success at all, getting 'upset' by Coffee in the last two EPT China regionals. Even if Firefly has maxed out as a team league wild card so far in his career, for the sake of Protoss, I hope there's more potential for him to unlock.
Prediction:
Reynor, Clem, herO to advance.
---
Credits and acknowledgements
Writer: Wax
Images: SCBOY/World Team League
Statistics and records:
Aligulac.com
and
Liquipedia