Week #144 of the ESL Open Cups saw

ByuN win a Korea/Americas double, while

Reynor was victorious in Europe.

The most recent round of tournaments in week #145 saw

ByuN win once more in Korea, marking his third straight week with a win in any region (NA-KRx2-KR). In Europe,

HeroMarine claimed gold to become the first player to reach fifty cup wins in his career. Finally, the Americas Cup saw

Dark shake off a long string of underwhelming cup performances and finally take first place.

Week #145 Results

Korean Cup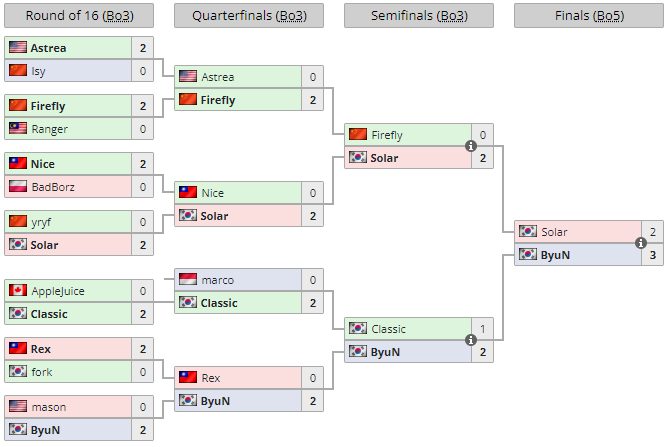 The KR cup had only a few Code S level players participating, notably ByuN, Solar, Astrea, and Classic. Most of the matches went exactly as expected, except for Chinese protoss Firefly defeating Astrea 2-0 in a continuation of his solid WTL performances. However, Firefly ended up losing to Solar who went all the way to the finals without dropping a map. On the other side of the bracket, ByuN took down Rex (2-0) and Classic (2-1) to reach the finals as well.

The finals between ByuN and Solar was pretty close, ending in a 3-2 victory for the Rebellion Terran (VOD). Solar won the first game on Waterfall in around 13 minutes, using the early lead he gained from wiping out ByuN's early Hellions and launching a Zergling counter-attack. ByuN won the second game on Cosmic Sapphire, where he started with an aggressive 2-Barracks proxy that got him ahead. The nail in the coffin for Solar was a 3-Medivac drop from ByuN that inflicted lethal damage and forced him to GG.

Solar won the next game to take the 2-1 lead, but ByuN was very resilient and won two games in a row for the 3-2 victory. The last game on Inside and Out featured a lot of skirmishes between bio and Roach-Ravager armies, with ByuN ultimately coming out victorious.

Upset(s) of the day: Firefly defeating Astrea was surely the biggest upset. The Chinese Protoss is not that well known outside of his region (except to long-time fans of the ESL Opens or SCBOY team leagues), and he had less than a 23% chance of beating Astrea according to Aligulac.



*****


European Cup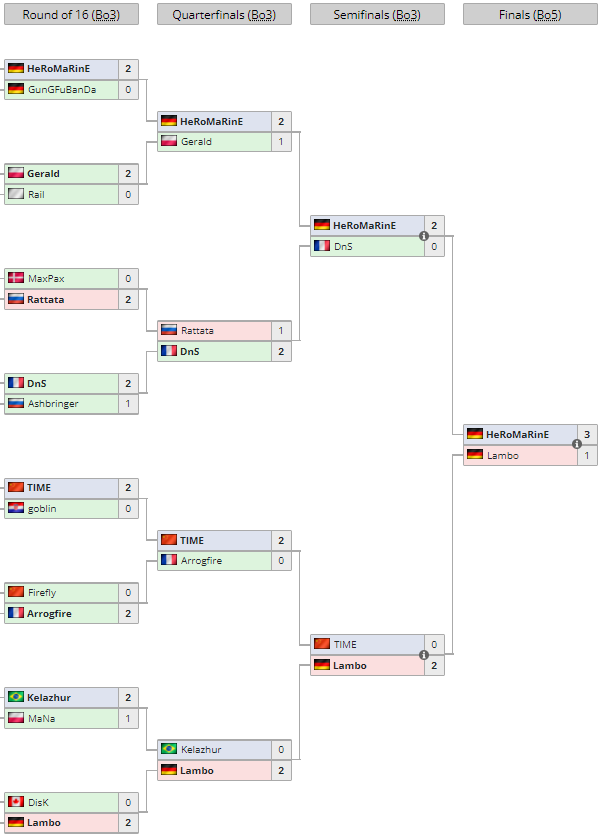 The top finishers in the recent DreamHack: Europe competition declined to participate, but there were still a lot of strong players in the European cup. Zerg notably had Lambo and Rattata participating, while Terran had HeroMarine, Spirit, Kelazhur, and TIME (Cure briefly participated despite it being cross server, but he forfeited early after a map loss to Ashbringer). Protoss was, as usual, the most represented race, with MaxPax, Gerald, DnS and Arrogfire being the most high profile participants.

The bracket was rich with upsets—more details are included in the section below—but ultimately it was the powerhouse German players HeroMarine and Lambo who faced off in the finals (VOD). Lambo managed to win first, taking the victory in an action-packed, 20+ minute game on Stargazers. Unfortunately for Lambo, HeroMarine was just getting warmed up and he proceeded to win the next three games in a row.

HeroMarine opened up game two with an atypical proxy 2-Barracks, but Lambo managed to defend properly and get slightly ahead with Roach-Ravager. Still, HeroMarine managed to claw his way back into the game with relentless pushes, ultimately winning. On Moondance, HeroMarine nicely abused the map layout to deal some damage with Medivac drops, and proceeded to kill Lambo with a big push off 59 SCVs / 3 bases afterwards. Finally, Big Gabe used the map layout effectively once more on Data-C to close things out. He got cost effective trades with nicely placed Tanks outside of Lambo's third, which allowed him to get a lead and kill Lambo later on.

The 3-1 victory brought HeroMarine to a record-setting FIFTY victories in the European cups, meaning he's won more than one-third of all cups ever played. HeroMarine also retained his position as the player with the most overall cup wins across any server, while Clem trails with 45 wins and Zest with 44.

Upset(s) of the day: MaxPax losing 0-2 to Rattata was the first big upset among many on the day. MaxPax has been very successful these last months in the EPT cups, and he had more than a 80% chance of beating the Zerg player according to Aligulac. That's the second big upset for Rattata in the last few weeks, as he recently eliminated Dark from the NA cup as well.

The next upset was Rattata himself losing to DnS 1-2 right after his aforementioned victory, albeit the odds were only 60:40 for the favorite this time. Since DnS does not participate often in those cups, it was hard to know what to expect.

The French Protosses were on fire that day, with young Arrogfire defeating both Spirit (2-1) and Firefly (2-0). Aligulac rates Arrogfire beating Spirit as a bigger upset than Rattata defeating MaxPax, with Spirit having more than an 87% chance of winning. However, I'm picking Rattata 2-0 MaxPax as the 'official' upset of the day, since MaxPax has been in great form in recent cups.



*****


American Cup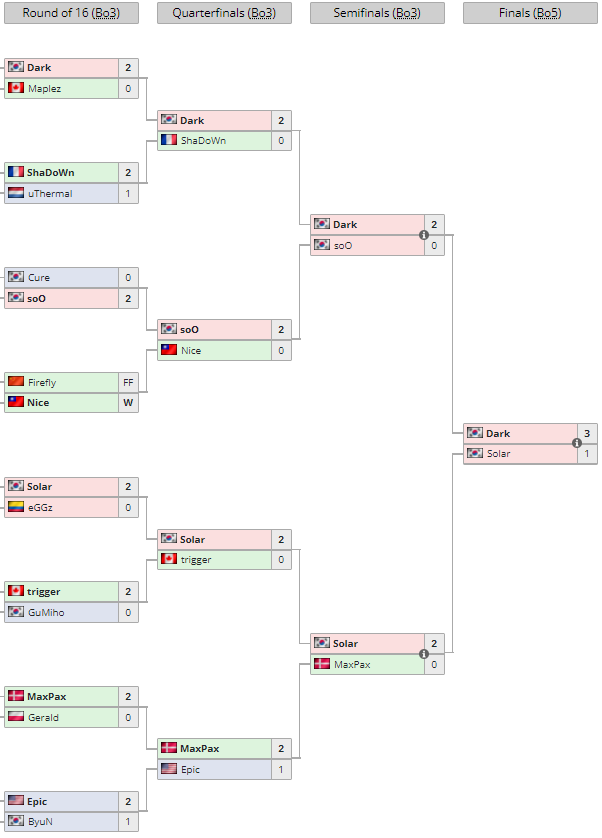 This week's NA cup featured a more impressive line-up than usual. Dark, soO, and Solar were the top Zerg representatives, Terran had ByuN, Cure, and GuMiho participating, while Protoss had a strong European contingent of MaxPax, Gerald, and ShaDoWn joining regulars Nice and trigger.

Despite Terran coming in strong, most of them got upset early on and only Epic survived to reach the quarterfinals after an impressive 2-1 victory over ByuN. Dark, soO, and Solar dominated the bracket alongside MaxPax, but it was Dark and Solar that qualified for the finals with 2-0 victories over soO and MaxPax.

In the first game of the finals (VOD), both Dark and Solar went for Roach-Ravager, but Dark also had decently sized squad of Mutas to help him harass and defend. He was able to reach the main of Solar, forcing his opponent to come back and take bad trades, while defending the counterattack of Solar with his Muta squad to take the win. Dark also won the second game in just 7 minutes, using a quick all-in off 3 bases and 44 Drones.

Dark was once again the aggressor on Stargazers, attacking with a big Roach-Ravager-Ling army off of 3 bases. Solar traded decently as the defender and bought enough time to build a squad of Mutas to clean up Dark's army and win the game. That loss was only a brief roadblock for Dark, who seemed to be in a hurry to win. He pulled out another very aggressive strategy in game four, this time faking a third base and going for a Zergling flood. That caught Solar off guard, giving Dark the 4-minute victory and overall 3-1 series win.

Upset(s) of the day: Cure losing 0-2 to soO was quite an upset given soO's lack of notable results lately. trigger defeating GuMiho 2-0 was also nice for the underdog, but my choice for biggest upset has to be Epic and his 2-1 victory over ByuN in the TvT mirror. ByuN had absurd odds of more than 95:5 according to Aligulac—maybe he drank too much soju while celebrating Maru's GSL victory?


---
Week #144 Results
Korean Cup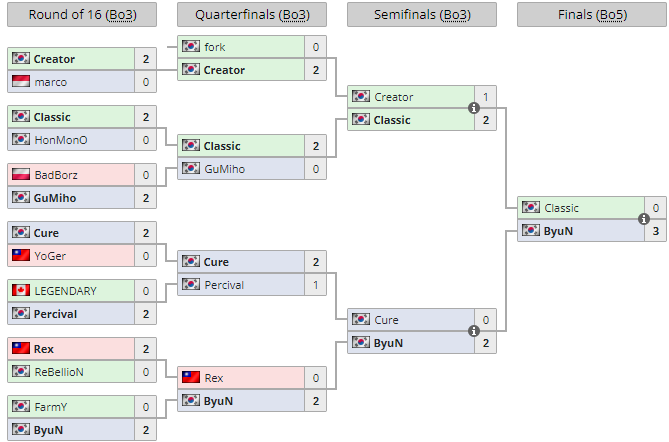 *****
European Cup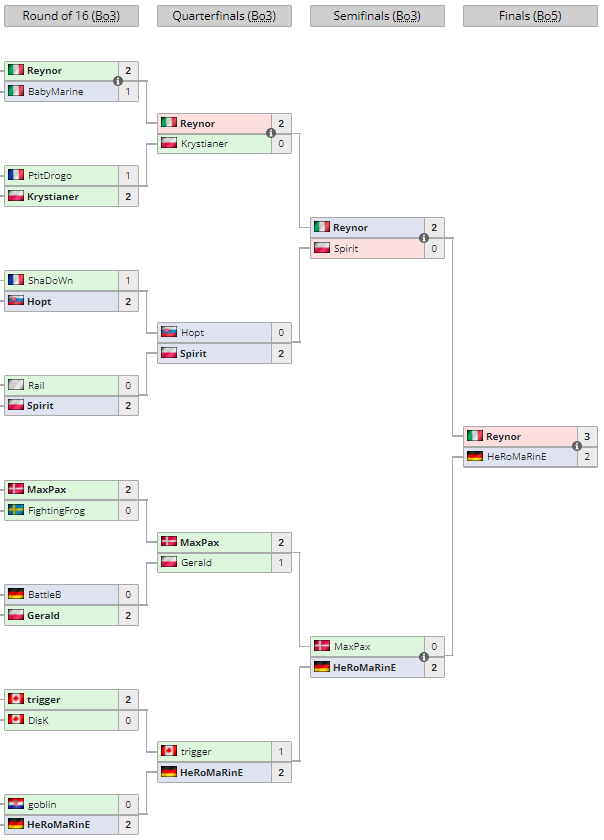 *****
American Cup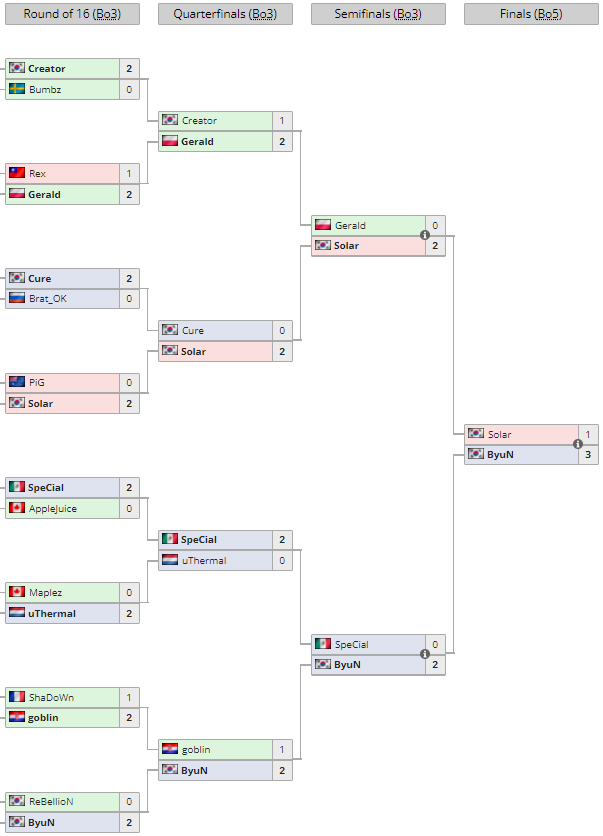 by Poopi