Week 1 Preview
Brackets and standings on

Liquipedia
Follow
Twitch.TV/TLnet
to keep up with the games!
Week 1 Preview
by Wax
Seven months after Rogue triumphed in
TSL 8
, the TeamLiquid Starleague returns with its ninth tournament!
The stakes have been raised yet again, as this time 32 players will be competing for $40,000 in prize money ($15,000 first place)—the most in TSL history. There's also 2,540 precious EPT points on the line, which will help players qualify for the 2023 IEM World Championship.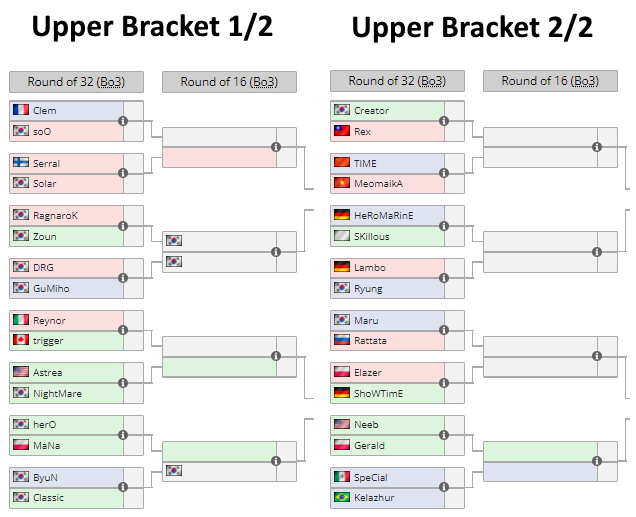 The schedule for week one is as follows:
All games streamed on Twitch.TV/TLnet

Friday, Jul 29 11:00am GMT (GMT+00:00): Upper bracket round one, first half (best-of-3 matches)

Clem vs soO

Serral vs Solar

RagnaroK vs Zoun

DRG vs GuMiho

Reynor vs trigger

Astrea vs NightMare

HeroMarine vs SKillous

ByuN vs Classic

Saturday, Jul 30 11:00am GMT (GMT+00:00): Upper bracket round one, second half (best-of-3 matches)

Creator vs Rex

TIME vs MeomaikA

herO vs MaNa

Lambo vs Ryung

Maru vs Rattata

Elazer vs ShoWTimE

Neeb vs Gerald

SpeCial vs Kelazhur

Sunday, Jul 31 11:00am GMT (GMT+00:00): Lower bracket round one (best-of-3 matches)
Week 1 Highlight Matches: DongRaeGu vs GuMiho, Elazer vs ShoWTimE
The EPT point-based seeding means that the finals-caliber matches will be reserved for week 2 (Serral vs Clem, anyone?), but a couple of week one bouts stood out to me in terms of having big entertainment potential.
First, the day one clash between
DongRaeGu
and
GuMiho
could be absolutely fantastic, and I'm not saying that because I'm waxing nostalgic for the Wings of Liberty days. These two army veterans have upped their games considerably in recent weeks, winning huge upsets over championship-class players. In DRG's case, he beat Clem 2-1 in the World Team League and Maru 2-0 in the GSL (although Maru repaid the favor with a 3-0 sweep in a later round), showcasing dominant mid-game macro play. As for GuMiho, he took a 2-0 against Serral in the group stages of HomeStory Cup XXI, even outlasting the Finnish Phenom in a
26-minute map-split game
.
While high level TvZ is one of the best bets for entertainment, that's not the only reason I'm intrigued by this match. GuMiho has always been known as a creative player who's not afraid to bring unorthodox strategies to the table, and that happened to be the case against Serral at HSC as well. After going for a double-Starport Battlecruiser build in game one, he brought out an even more unusual strategy in the form of double-Thor drops in game two. Well, it would have been unusual for any other player, but it was actually an old favorite for GuMiho. This combination of ZvT excellence and the potential for wild Terran builds is why DRG vs GuMiho is my pick to be the highlight match of day one.
Moving on to day two, I'm going with a pairing of European players who really showed out at HomeStoryCup XXI. Both
Elazer
and
ShoWTimE
fought their way into the top eight of the Krefeld event, once again proving how deep the European region is. Elazer collected quality wins against Reynor and HeroMarine along the way, while ShoWTimE scored a huge 2-0 victory over Serral (breaking a 10-match losing streak). With not even a week having passed since HomeStory Cup, it will be interesting to see which one of these two players can carry over their momentum into TSL9.
It's hard to pick a spotlight match for day three when nothing has been determined, but I know I'll be sad to watch the confirmed lower-bracket match of [
RagnaroK
/
Zoun
] vs [
DongRaeGu
/
GuMiho
]. It wouldn't be a surprise to see any of those four players reach the top four of TSL9 if they're playing at their best, so it will be a damned shame to bid one of them adieu so early.
Reynor and Maru - Off-Chance of Off-Race?
Reynor
has made quite the splash with his off-racing shenanigans in recent weeks, piloting Protoss to victories over the likes of Solar, ShoWTimE, HeroMarine, and Lambo in various events. Now that he's set to play one of TSL9's lower-seeded players in
trigger
, one has to wonder if he'll be tempted to reach for the Protoss card once again.
On one hand, Reynor has already beaten trigger with his Protoss in the recent past, taking him down 2-1 in ESL Open Cup #127. On the other hand, Reynor has typically limited his antics to either smaller cups, or the group stages of major events where he's afforded a second chance. If Reynor plays Protoss here, it would arguably be the riskiest situation in which he's tried to off-race. Chances are he just plays it safe, but you never know with the impish Italian.
While Reynor has been by far the most prolific off-racer,
Maru
is a dark-horse candidate to bring his Protoss out against
Rattata
. Perhaps emboldened by Reynor's success, he recently off-raced for the first time in a competitive event, playing Protoss against Percival in the TSL9 Korean server qualifier. It was a successful outing, as Maru won 3-1 to secure his spot in the bracket.
Maru has suggested that he's willing to play Protoss in the main event as well, but will he actually have the resolve to follow through when it's time to play? Considering that Rattata recently lost 0-4 to Reynor's Protoss in a recent
grudge match
, this might be Maru's best chance.
Fabulous Prizes - TSL9 Contests
Before you go, make sure you enter into TSL 9's three contests!
Hot Seat Community Questions:
Everyone loves to spam Twitch chat about how an interviewer's question was terrible—well, let's see you do better! Submit the questions you want the TSL9 players to answer, and we'll pick the best ones to be asked during the Hot Seat (sponsored by Secretlab) interview segments. Winners are entered into a raffle to win a best-in-class gaming chair, courtesy of Secretlab.
TRUE or False:
Shopify and TLO are back with another season of TRUE or FALSE, where viewers can try to out-predict the ever-creative Dario Wünsch. The potential prize here is credit for the official
Team Liquid store
, where we'll soon have unique TSL 9-themed merch on top of the usual pro-team goods.
Bracket Prediction Contest:
The last contest is a bracket prediction contest brought to you by IMC Trading and Liquipedia. Basically, you take a look at the starting bracket and try to predict it out to the very end, learning some very useful Liquipedia syntax in the process (wow, once you've learned those skills, why not put them to use and update some future ESL Open Cups?). We ran out of gaming-themed prizes for this one, so IMC Trading is just handing out $1,000 in straight cash to whoever has the most accurate bracket when it's all said and done.
Liquid+ Check-in:
One last thing! While this isn't really a "contest" per se, we're including Liquid+ check-ins for all of the TSL9 related posts on TL.net. Liquid+ is TeamLiquid's fan loyalty program, which allows you to earn points that can be redeemed for merch just by interacting with TeamLiquid related content on the internet! This involves social media interactions and watching Twitch streams, but also includes reading TSL9-related articles on TL.net. Check the bottom of all of our TSL9 related articles and news posts to find a check-in link as such:
Good luck, and have fun!
---