World Team League - 2021 Winter Season
by: Wax
With week two in the books, the rankings table is looking a lot more familiar: KaiZi are on top, while iG are at the bottom. But there's still plenty of chaos in between, with Shopify taking the #2 spot early, while a depleted Afreeca squad are still looking to recover from a poor start. Will week three continue to correct things toward normalcy, or will we see more upsets that bring chaos to the standings?
Also, we must sadly note that beloved WTL reporter TheOneAboveU is on a temporary (we hope) hiatus, leaving WTL in the untrustworthy hands of Waxangel for the time being.
Catch WTL 2021 Winter every Friday, Saturday and Sunday at 14:00 CEST on Wardi's channel!
Week 2 Results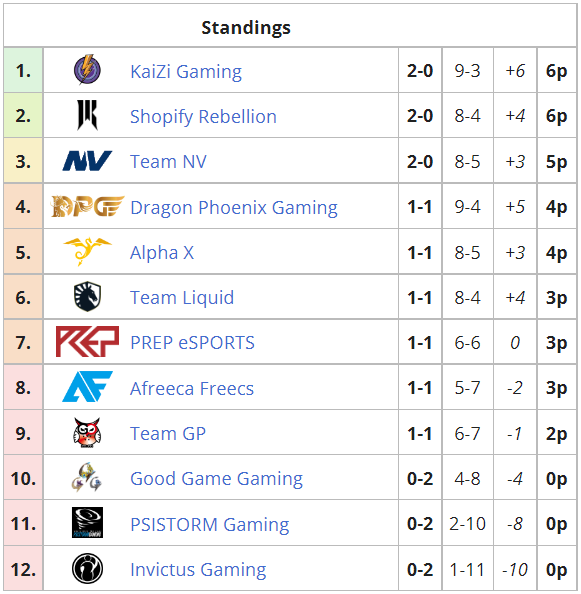 Top 7 teams qualify for the playoffs.
Points are awarded as follows:

3 points for a victory in a series that does not require an ace match

2 points for a victory in a series that requires an ace-match

1 point for a loss in a series that requires an ace-match

0 points for a loss in a series that does not require an ace match
Alpha X 3 - 4 Team NV
Watch VOD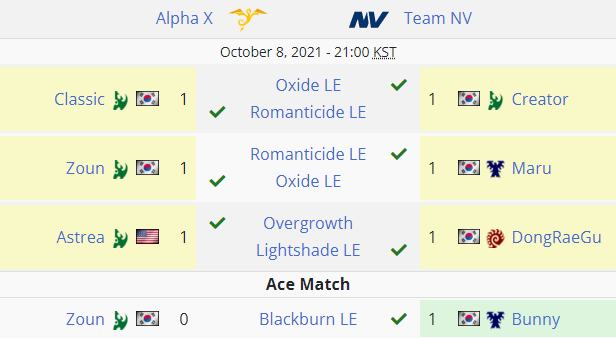 Game one of
αX.Classic
vs
NV.Creator
was effectively ended in the early game, with Classic allowing an Adept to slip into his main to wreak havoc in his Probe line. A follow-up Oracle from Creator put Classic in an unwinnable position, and the Alpha X Protoss GG'd out after a failed desperation attack. The early game advantage went the other way in game two, with Classic successfully protecting his fast expansion against Creator's 3-Gate pressure. While Creator showed a lot of grit to stay in the game, he couldn't overcome his economic disadvantage in the end.
The next match between
NV.Maru
and
αX.Zoun
proved to be quite the banger, with the two players splitting Romanticide in half and battling it out in a late-game brawl. As is often the case, Maru's defensive style was too solid for his opponent to handle, with neither Carriers nor Tempests being enough to crack his defenses before the Protoss economy ran out of steam. The two players moved on to have another exciting bout on Oxide, with the combat starting early and continuing on until the mid-game. Unfortunately, the game ended in somewhat anti-climactic fashion, with Maru losing a base-race scenario after failing to react to Psi Storms which devastated his army.
αX.Astrea
brought back an retro-strat on a retro map, going for a fast gold-mineral expansion against
NV.DongRaeGu
on Overgrowth. While I can't remember if going for a Zerg all-in was the right counter back in 2016~2017, it certainly wasn't the answer in 2021 as Astrea held steady to take a quick victory. Unfortunately for Alpha X, Astrea couldn't quite close things out on Lightshade, with DongRaeGu swatting aside Oracle harassment and a Stalker-Immortal attack to send the series to an ace match.
Following a trend from the previous season, Team NV made the intriguing choice to entrust
NV.Bunny
with ace duties ahead of Maru. This proved to be a winning decision as well, as Bunny was able to narrowly edge out
αX.Zoun
in an intense macro game on Blackburn. Though Zoun was able to fight Bunny evenly through much of the game, the arrival of range-upgraded Liberators was too much for his Robo-based army to handle, and he tapped out to give Team NV the series victory.
Team GP 2 - 4 Shopify Rebellion
Watch VOD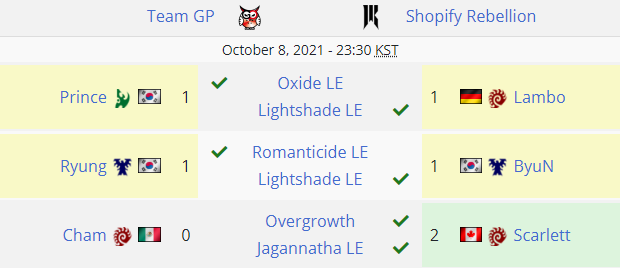 Team GP got off to an encouraging start, with
GP.Prince's
mid-game strike with Stalker-Disruptor-Immortal able to overpower
SR.Lambo's
Roach-Ravager-Bane and force a GG in game one. However, Prince failed to build upon that success on the next map, with his off-tempo Glaive-Adept all-in failing to breach Lambo's defenses. The Rebellion's Zerg counterattacked with mass Roaches to tie up the series before passing on the baton.
SR.ByuN
couldn't quite right the ship for the Rebels, as he gave up his initial map against
GP.RyunG
. Fans got to see glimpses of one of the great TvT specialists of old, with Ryung using his mastery of positional Marine-Tank play to methodically beat down ByuN on Romanticide. Ryung tried to steal a quick 2-0 with proxy-Barracks Reapers on Lightshade, but it ended in disaster against ByuN's excellent defensive micro (the camera might have caught an expletive leaving RyunG's mouth).
Team GP had played Shopify to a surprising 2-2 tie, and with their ZvZ sniper
GP.Cham
going up against
SR.Scarlett
, it seemed like they might score an upset victory for the second week straight. Alas, Team GP ended up getting reality-checked by Scarlett who clinched the victory for her team with a 2-0 win. The queen of
brood war
blades' command of the skies proved to be key to her victories, using Mutalisks to control the map in game one, and then countering Cham's own Mutalisks with Corruptors in game two.

PSISTORM Gaming 0 - 6 Team Liquid
Watch VOD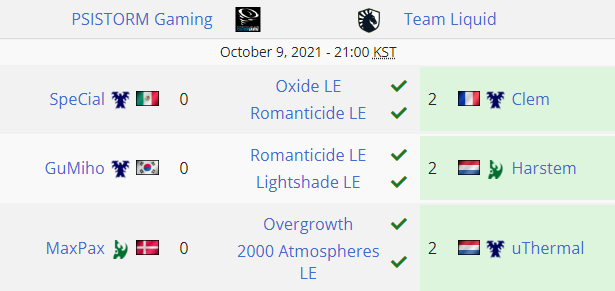 PSISTORM's aspirations to be a mid-tier contender took a serious blow, as they were routed 0-6 by Team Liquid.
PSISTORM.SpeCial
was unable to capitalize on
Liquid`Clem's
occasional TvT frailties on the first map, losing a quick game after his early Tank-push was flanked and destroyed. Game two saw SpeCial pull out his favored mech strategy on Romanticide, and for a while, he seemed to dictate the pace of the game with his powerful Tank army. However, SpeCial ended up ceding control of the air to Clem, and he was forced to surrender against the might of Clem's Liberators and Vikings.
The second coming of the GuMiGod was denied by
Liquid`Harstem
, who looked dominant in his 2-0 victory over
PSISTORM.GuMiho
. Game one on Romanticide saw the Dutch Protoss stay in firm control of a macro game, eventually finishing his opponent off with mass-Disruptors. Harstem took victory in even quicker fashion in game two, hemming in GuMiho with Phoenixes before finishing him off with Zealot-Archon to lock in a W for Liquid.
Liquid`uThermal
arguably had the toughest assignment of the night against
PSISTORM.MaxPax
, but still came through with a 2-0 victory of his own to complete the perfect sweep. We didn't see any trickery for MaxPax—perhaps that was a result of the series already being decided by this point. In any case, uThermal looked speedy and sharp in two straight-up games where he overpowered and outmaneuvered the young Dane.
Invictus Gaming 1 - 5 KaiZi Gaming
Watch VOD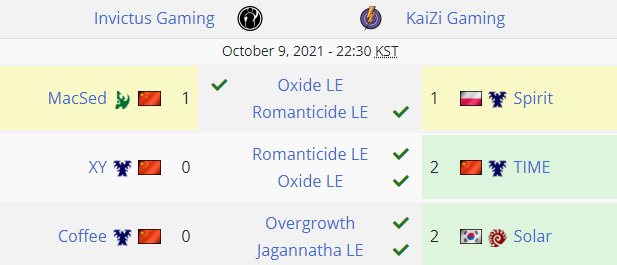 Game one raised hopes that the resilient version of Invictus Gaming might show up in week two, as
iG.MacSed
took down
KZ.Spirit
. The Polish Terran seemed to be off to a good start after a successful Hellion-drop, but a disastrous attack with yellow-Health bio (Spirit apparently didn't notice his dwindling Medivac energy) let MacSed win with a Colossus-Stalker counterattack. However, Spirit learned his lesson and played more methodically on Romanticide, using his superior macro-play ability to keep MacSed's expansion count in check without going for any risky kill-moves. Spirit snowballed his advantage until victory was assured, and secured the GG at around the 19-minute mark.
Alas, after a decent start, iG took a series of blows to end the series on a loss.
iG.XY
was able to drag out his first game against
KZ.TIME
on account of the map being Romanticide, but the conclusion was never in doubt. XY tried to even the score with an aggressive Tank-push oriented approach in game two, but TIME's air superiority allowed him to push back the attack and counter with his own Tank push to confirm his 2-0 victory.
KZ.Solar
then locked in the series victory against
iG.Coffee
, swarming over him with Roach-Ravager on Overgrowth. Coffee had a chance to recover a point in the following game when Solar went for a wasteful Roach-Ravager bust on Oxide, but the KZ ace recovered to take the game anyway.
Good Game Gaming 2 - 4 Afreeca Freecs
Watch VOD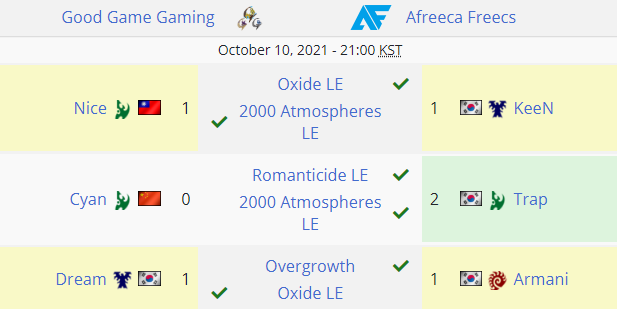 Game one ended up being crucial in Afreeca Freecs securing the full three points, as
GGG.Nice
failed to close out what seemed to be a routine victory against
AF.KeeN
. Despite being in a great position after deflecting a Mine-drop and follow-up Tank push, Nice took some disastrous engagements with his Colossus-centric army that allowed KeeN to take a come-from-behind victory. Nice was at least able to recover a point in game two, using his Blink-Stalkers to defeat KeeN's early aggression with Bio and Tanks. Still, he'd end up rueing game one, as a victory there would have forced an ace match later.
To a lesser degree,
GGG.Cyan
may have felt like he missed an opportunity as well. The Chinese Protoss actually outplayed
AF.Trap
for much of the early-mid game on Romanticide, and looked to be in a strong position headed into the late-game. Unfortunately for Cyan, Disruptors proved to be a huge game-changer for the Freecs ace, and he piloted them to a turnaround victory in the end. Cyan gave a good account of himself on 2000 Atmospheres as well, using Blink-Stalkers to keep Trap on the backfoot by threatening a game-ending attack at any moment. However, Trap stayed composed on defense, waiting until his Chargelot and Immortal tech could kick in. Once that happened, Trap's army proved to be far superior to Cyan's, and he took the win to make it 3-1 Freecs.
Has
GGG.Dream
become too predictable? That may very well be the case, as
AF.Armani
was able to clinch the series victory for his team by hard-countering Dream's proxy-Barracks Bunker rush with a Gas/Pool-before-Hatch opener. Dream took one more consolation map for his team with standard bio play on the final map, but ultimately, the series still felt like a blown chance for GGG.
PREP eSPORTS 0 - 6 Dragon Phoenix Gaming
Watch VOD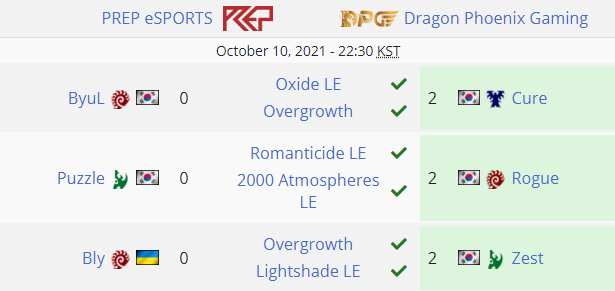 One would think facing the regining Code S champion would be a brutal draw for
PREP.ByuL
, but the recently returned Zerg was surprisingly competitive in his match against
DPG.Cure
. ByuL played the Ling/Bane-into-Lurker style very well during the setup phase, holding off all the Terran aggression and putting himself in a great position headed into the late-game. However, as is often the case on Oxide, the Zerg side just didn't have the late-game finishing ability to kill off a turtling Terran, and Cure defended his way to a victory in the end. The early game didn't go nearly as well for ByuL in game two, as he lost a significant number of Drones to Cure's Hellion and Banshee harassment. However, ByuL was still impressive, fighting his way back into a semi-playable position with his famed Muta-Ling-Bane. Unfortunately, this comeback was more due to Cure's cautious approach on Overgrowth—another turtle-friendly map. Cure saw no need to push the issue after his successful early game, and simply went into map-split mode to take his 2-0 victory.
PREP.Puzzle
found himself in a similar scenario against
DPG.Rogue
, who invited his Protoss opponent to play a split-map game with him on Romanticide. Similar to ByuL, Puzzle's late-game execution just wasn't on par with his championship-tier opponent, and he was out-traded by BL-Infestor-Corruptor in the end. Rogue then changed pace in game two, using a Queen-Baneling-Zergling bust to kill off Puzzle and secure the 4-0 victory for DPG.
Garbage time with
PREP.Bly
and
DPG.Zest
gave us some famous Bly tactics, with an offensive Hatchery being deployed on Overgrowth. While the game was delightfully bizarre—even featuring Drones mining from Zest's natural—it was ultimately a solid hold-into-victory from Zest. Bly tried a more conventional all-in in game two, Queen-walking against Zest's Void Ray opener. Once again, Zest's defense was more than up to snuff, and he inked down the 6-0 victory for DPG.
Weekly MVP Award: NV.Bunny
After much deliberation, the week two MVP award goes to
NV.Bunny
, whose ace-match victory over
αX.Zoun
gave Team NV a much-needed two points.
This week's MVP proved to be unusually difficult to award, as most of the players who notched 2-0 victories did so against an opponent they were heavily favored against. Liquid`uThermal's victory against PSISTORM.MaxPax was the only upset of the 2-0's, but it also came after the series had already been decided 4-0 in Liquid's favor. Among the 2-0 victories that actually affected the outcome, Liquid`Clem had the most difficult opponent, going up against a dangerous TvT player in PSISTORM.SpeCial.
While I considered giving Clem the nod over Bunny due to the number of maps played and won (two is greater than one, after all), I ultimately went with Bunny as he defeated the tougher opponent in Zoun.
Weekly MVP's
Week 1: GP.Cham

Week 2: NV.Bunny
Week 3 Preview
Friday, Oct 15 12:00pm GMT (GMT+00:00) Matches
Team NV are certainly expected to win here, but the absence of Maru in the line-up makes it easier to imagine a path to PREP eSPORTS stealing a point.
Bunny should take care of business easily against YB, but the next two matches have some upset potential. DongRaeGu's ZvP defense might be much improved from its post-military nadir, but you still have to be a bit worried as he faces an infamous cheeser in Has. ByuL is an even bigger x-factor, as he looked rather impressive in a losing effort to Cure. If his ZvP is on a similar level, and if he's on the same fast-recovery trajectory like some other returnees, he might be at the center of a suprise result.
While all that's fun to think about, I still have to give Team NV the nod in the predictions.
Prediction: Team NV 5
-1 PREP
Shopify Rebellion vs Good Game Gaming
Lambo
< Frost >
Cyan
ByuN
< Oblivion >
Dream
Scarlett
< Lightshade >
Nice
Ace Match
:
< Jagannatha >
This series may have looked closer with different match-ups, but the current card seems to favor Shopify to win without needing an ace match.
Lambo's ZvP may have come down slightly from its Spring/Summer peak, but it's still strong enough to make him a heavy favorite to take down Cyan in the initial match. The middle match of Dream vs ByuN seems like more of a toss-up, with both players showing inconsistent form in TvT. However, the final match favors Shopify once more, with Scarlett holding a ridiculous career head-to-head advantage against Nice.
Prediction: Shopify 4
- 2 Good Game Gaming
Saturday, Oct 16 12:00pm GMT (GMT+00:00) Matches
Despite their 0-6 loss in the previous week, I feel like PSISTORM Gaming have a reasonable chance at taking an upset against the Freecs. If SpeCial can prepare for Armani like he did back in Code A, when he used a plethora of cunning builds to take a 3-2 victory, then he might take a 2-0 here to give PSISTORM the lead.
Trap vs MaxPax should go Afreeca's way, as Trap is probably still the #1 PvP player in the entire game. Still, MaxPax's PvP is very highly regarded in Europe, and if he can leverage some of the stylistic differences between EU and KR, he might be able to force a draw.
KeeN vs Gerald is another swing match that could be an opportunity for PSISTORM. KeeN wasn't particularly impressive against NICE in the previous week, even though he came out with a 1-1 draw. A 1-1 score is a realistic goal for Gerald here, but he might even be able to take the 2-0 that earns his team a point.
Prediction: Afreeca Freecs 4
- 2 PSISTORM Gaming
Dragon Phoenix Gaming vs Invictus Gaming
Cure
< Frost >
XY
Zest
< Oblivion >
Coffee
herO
< Lightshade >
MacSed
Ace Match
:
< Jagannatha >
Dark and Rogue taking a break? It's alright—just beat em down with Cure and Zest. DPG's roster is frankly unfair, and even with the military-rusted herO coming in, it's hard to see them being threatened here at all.
Prediction: Dragon Phoenix Gaming 6 -
0 Invictus Gaming
Sunday, Oct 17 12:00pm GMT (GMT+00:00) Matches
With a couple of Korean Zergs shaking Clem's aura of ZvT invincibility lately, this match seems like it could go down to the wire. Clem took a 0-2 defeat to DongRaeGu in week one, which came weeks after his 0-3 loss to Rogue in ASUS ROG Fall. While RagnaroK is a weaker Zerg than both of those players, he should certainly feel more hopeful about winning a map than before. Clem's divided focus with the DHM Europe regionals won't help either.
At this stage of Classic's return, it seems fair to say he should be around evenly matched with Harstem, so the middle-match seems headed to a 1-1 split.
Zoun is the favorite on paper against uThermal, but the Dutch Terran did leave a strong impression on us last week with his 2-0 victory over MaxPax. Sure, it was after the match was already decided and both players didn't have any pressure on them, but you can't deny that uThermal looked solid. Could he take a 1-1 here?
By hook or by crook, I see this series going to an ace-match eventually, where I give a slight advantage to Liquid and Clem. Even though Clem is likely to play one of his relatively weak match-ups in TvP, it's hardly a weak match-up in a general sense, and he should be good enough to take out whoever Alpha X throws at him.
Prediction: Team Liquid 4
- 3 Alpha X
Is it time to ring the upset bells? Well, no. But Team GP do seem to have maximized their meager chances of scoring an upset with these line-ups. Whether intended or not, Team GP have deployed the old Proleague
nonge
strategy by sacrificing Prince to their enemy's strongest opponent in Solar, while giving their two TvT specialists a shot at pulling off a miracle.
Percival himself has said his best match-up is TvT, and he has given a solid account of himself against ByuN in a couple of GSL matches. Aligulac.com isn't impressed, however, and sees TIME as a strong favorite anyway.
Ryung displayed some strong TvT play against ByuN in week two, where he started to resemble the mirror-master from the days of WoL and HotS. Again, Aligulac.com still gives the advantage to the KaiZi player, but Team GP still have a better chance than they might have hoped for otherwise.
Prediction: KaiZi Gaming 5
- 1 Team GP
---
Credits and acknowledgements

Writer: Wax
Stats: Aligulac.com & Liquipedia
Images: SCBoy