Power Pentagons
Totally an original idea
Brackets and standings on

Liquipedia
TSL7: Caster Power Pentagons
by XiaoXiaoo
TeamLiquid StarLeague 7 is underway! TL.net has already presented the completely objective
TSL7 Power Rank for the players
, but what about our casters? Shouldn't we share the love(?) with them as well for being our guides through this delightful event?
Without further ado, we present the TSL7 Caster Power Pentagons, a TL.net original, which was definitely not borrowed from the
WTL Power Hexagons
or anything.
[Editor's note: All opinions in this article belong solely to the writer, and do not represent the views of TL.net. All scorn and criticism should be targeted toward the writer, even regarding the parts that the editor snuck in.]
RotterdaM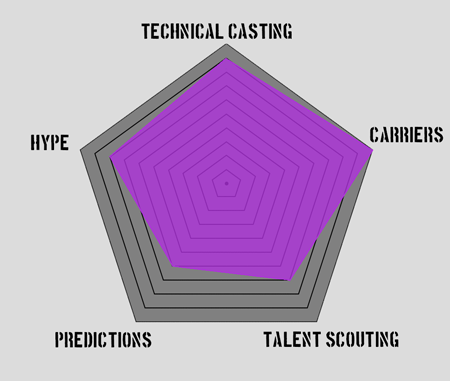 Technical Casting - 9

Hype - 8

Predictions - 6

Carriers - 10

Talent Scouting - 7
First up is Kevin "

RotterdaM
" van der Kooi, a name that needs little introduction if you've been following StarCraft at any time in the past decade. Well known for his strong support of +2 Carriers and his equally vigorous hatred of Motherships, RotterdaM is a staple of any major StarCraft II event in 2021. But what makes him so lovable?
First is his sheer technical talent at playing the game. Some might say he abuses skytoss being overpowered, others might say he's winning off of the karma he's built up from all his losing during his poker streams. But the results don't lie. At 5800 MMR on the EU GM ladder, he's the highest rated full-time caster we have. Until someone like Lambo converts entirely to casting, Rotti keeps the top dog rating at
9
in
technical casting
, since we all know higher mmr = better caster, duh.
Despite being one of the most laid back personalities in the scene, RotterdaM still brings a sense of excitement that's best described as two best friends chatting about a game they love while walking home from school. You can trust RotterdaM to keep it real—no manufactured hype, no over embellishing—just a man who genuinely enjoys watching StarCraft. It might not be quite as hair-raising as Tasteless doing his throaty GGs, but it's a different kind of hype. An impressive
8
in the
hype
category for Rotti.
RotterdaM started off great with his TSL7
predictions
, accurately forecasting the winner in all eight RO16 matches. However, things have been going downhill for him ever since then, as he's only managed a 50% accuracy rate in the subsequent rounds of the tournament. While it feels like he's fallen into the trap of over-thinking things and second-guessing himself, he still has one more week to find some clarity and out-predict his fellow casters.
6
is a fair grade for now.
The Carrier is certainly a unit RotterdaM would stand by to the end of time. Doesn't matter what matchup, Carriers. Doesn't matter what map, Carriers. Doesn't matter if they get nerfed or buffed, Carriers. In fact, RotterdaM recently
got a Carrier in real life
. I wouldn't be surprised if he eventually married a woman named "Carrie R." and had eight kids all named Interceptor.
Scouting
up and coming talent is always hard. Some rise explosively like Reynor, while others like TY take nearly a decade to realize their potential. Meanwhile, countless other young prospects never really get to shine on the big stage. RotterdaM has some big hits in seeing future, being at the head of the Serral, Reynor, and Clem hype trains. Meanwhile, we may still have to wait and see with some of his Protoss favorites in MaxPax and Goblin. Whether he has an eye for talent or is just going by his experiences of getting beat up by youngsters who pass him on the ladder, RotterdaM is certainly a good scout and gets a score of
7
in this category.
Wardi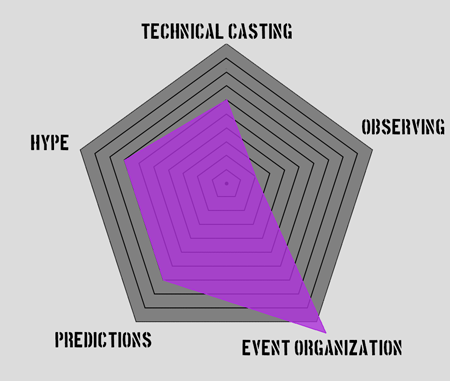 Technical Casting - 7

Hype - 7

Predictions - 7

Tournament Organization - 11

Observing - 2
Jonathon "

Wardi
" Ward is honestly an underrated name today. Having an almost universal presence on Twitch, it's hard to find a time when he isn't covering an ongoing event if you live
on Earth
in a EU friendly timezone. Where we call everyone else a "full-time caster", Wardi should really be in his own category of "overtime caster", so it's great to see him as part of the TSL7 roster.
Technically
speaking, Wardi isn't as much of an expert at the game as some other casters. But through sheer exposure to so many hours of professional StarCraft, he's accrued more scouting information than an entire KeSPA Proleague team. According to Twitch chat, that makes him at least GM level theoretically, which is in turn, worth a
6.
While people joke that Rotti always looks tired (much to his chagrin), Wardi often
is
tired. And can you blame him for casting for eight+ hours a day, while producing YouTube content, lining up work for the next day, interacting with his chat and doing the observing for all of his own games? But that's also why when you see Wardi get excited, you should get excited, because coming from a man who's been through countless crappy 3-0s, he doesn't just get excited over nothing. Wardi gets a
7
in the
hype
category.
Wardi might not be particularly known for his
predictive
prowess, but it felt unseemly when TLO went out of his way to target him in
Week 2 of True or False
, forecasting that "Wardi will predict no more than half the matches correctly this weekend." In reality, Wardi was the caster with the most accurate predictions on the weekend, going 7/10. As for TLO, well, he's gone 0/6 in True or False so far. Wardi gets a respectable
7
for predictions, but a perfect
10
in dumpstering TLO.
I shouldn't need to explain why Wardi breaks the scale and gets a score of
11
in Event Organization. If you're curious, just check out his
Twitch channel
,
Youtube
, or
literally THOUSANDS of Liquipedia pages
with "WardiTV" in them.
You can't talk about Wardi without a viewer inevitably complaining about his
observing skills
, as he occasionally misses key events during a game. But seriously, what do we expect from someone casting everyday for hours non stop, while also managing production, lobby invites, twitch chat and observing? Still, he frequently tries to rewind the game to catch what he missed, and even had the ambition to try and run picture-in-picture, multi-screen observing as a one-man operation. So, let's say….
2
?
ZombieGrub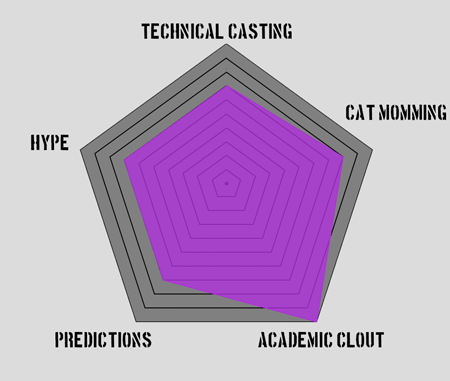 Technical Casting - 7

Hype - 7

Predictions - 7

Cat Momming - 8

Academic Clout - 10
Jessica "

ZombieGrub
" Chernega is another staple caster in the StarCraft II scene, starting off casting online cups and growing to become a regular fixture in major events. Like Wardi, ZombieGrub is also an underrated, multi-talented individual with pursuits in
podcasts
,
voice acting
and
blogging
in addition to her better known casting role.
Zombie holds a masters degree in Terran, the unequivocal hardest race to play. I'm sure nobody will disagree when I say that a Masters Terran professor (more on that below) deserves at least a
technical rating
of
7
.
One cool thing people might not know about casters is that they often conduct research specifically for each event, and sometimes even each day. ZombieGrub is one of the few who actually publicizes this process by
streaming it
. Not only does she study the basics like recent performances and rivalries, she also reads TeamLiquid and even /r/starcraft to see what fans are excited about. So yeah, she knows how to get you all hyped, cuz she knows what you're all excited for!
7
for
hype
.
ZombieGrub's
prediction
game is fairly conservative Like her casting, she likes to base her predictions off of logic and precedent rather than take big swings on hunches or be swayed by the all too powerful influence of the I-changed-my-answer-because-someone-else-stole-my-guess effect. Still, this reserved approach worked wonders for her in week 1 of TSL7, where she had the best prediction accuracy among casters at 87.5%. Still, things didn't go quite as well for her in week two, as she dropped to 50% accuracy by going 3/6. All the remaining predictions in TSL7 are going to be extremely difficult, so we'll soon see which caster is truly the master of predictions. Until then, ZombieGrub receives a
7
in this category.
Since basically every event is taken online and casters are streaming from the comfort of their homes, unexpected appearances by pets are all too common. With over 50% of her Twitch emotes dedicated to her cats, and with one even called "zgbCatMom," ZombieGrub receives a substantial
8
in the
Cat Momming
attribute. The only reason it's not higher is that ZombieGrub still manages to keep her cats separate from her role as professional SC2 caster, instead of shamelessly exploiting them for audience approval (mostly, anyway).
While teaching is an element of casting, only ZombieGrub has actually taught a
full-blown university course
. "Intro to StarCraft" at NYU's Department of Game Design sought to teach students about the design, gameplay, and cultural impact of StarCraft, giving them a better understanding of one of the most important competitive games ever made. Hopefully, ZG's students are now ready to help build the next generation of great RTS games. In any case, we award
10
to Professor Chernega for
Academic Clout
.
[Editor's note: If you would retort "that's not how academia works," we can only respond "shut up, nerd."]
Day[9]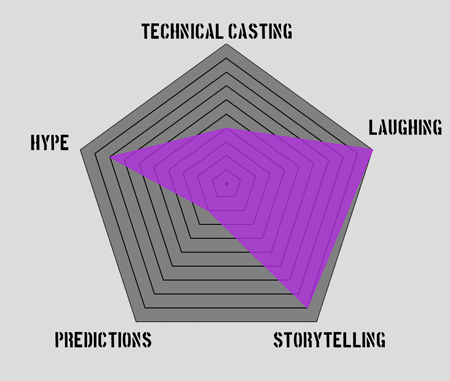 Technical Casting - 4

Hype - 8

Predictions - 3

Laughing - 10

Storytelling - 9
Last is guest caster Sean "Day[9]" Plott, whose rare appearances are guaranteed to delight all old school fans of StarCraft. Some fans know him for his
Day[9] Dailies
, others know him as Tasteless's younger brother, but everyone knows about his love for StarCraft. Great to see you back Sean, we missed you!
Normally, you would think someone who's been away from the scene for almost 5 years since his last official StarCraft II cast would be totally out of the loop given how much the game and scene has changed. But Day[9]'s special guest appearances in recent TSL's have proved us wrong—kind of. Sure, there are points where he misreads a situation, or is awed by a move that's mundane to today's pros, but he always recovers gracefully and uses the opportunity to learn. Ultimately, he still has a deep fundamental understanding of RTS games that allows him to adapt rapidly whenever he pops in for a guest appearance. Day[9] receives a
4
for
technical casting
, which is still quite good for a guest caster.
But let's be real, technical insight isn't why we're so hyped about Day[9]'s cameos in TSL. His fun and outgoing banter is where it's at. Day[9] doesn't even need the game to be in a passive state to go on wild tangents that are hilarious for no particular reason. Who knows, we might even hear
Sean's infamous vacuum cleaner
make a return during TSL7. Day[9] doesn't need to try to bring any
hype
, it just seems to come naturally from being himself.
8
is the score here.
Day[9] wasn't asked to make any official TSL7
predictions
, so we'll have to make an educated guess here. Over the years, Day[9] has spent a lot of time in close proximity to Artosis, be it at old North American Brood War tournaments, or backstage during the height of Wings of Liberty. While the scientific community has yet to reach a clear consensus on this topic, there's an abundance of troubling new research that suggests "caster-cursing" is highly contagious. We can only assume this is the reason Day[9] was omitted from making caster predictions, with TSL7's diligent production staff unwilling to expose the players to any unnecessary risk.
Few things represent Day[9] as well as his
laughter
. It's the sound of pure happiness, innocence and silliness that infects everyone around him. Not only is his laugh great, he's generous with it too. Heck, when Day[9] makes a joke, he himself is almost always the first and loudest one to laugh at it. For anyone else it might be
kinda weird
, but for Day[9] it's absolutely adorable thanks to his genuine laugh. We give him a
10
for his signature laugh.
Day[9]'s stories were always the best part of his casts and dailies for me. The fact that he could take any small thing and go on an hour long tangent branching into real life stories always excited me. Now, there may not be as much downtime in-game anymore as we wait for economies to grow, Day[9] might still bless us with a story or two from his time away from SC2. I hope we get to hear some of his extended tangents, like his
campfire story
from 2010, because he really is an amazing
storyteller
.
---