Code A concluded with two final matches, seeing nineteen-year-old Percival earn his first ever Code S appearance with a 3-1 victory over returning veteran ForGG, while PartinG broke an eight-match losing streak against Zest in an emphatic 3-0 sweep.





Percival quickly went up 2-0 against ForGG in the first match of the night, dealing early-game damage with Hellion-Reaper pokes and finishing his opponent off with follow-up Tank pushes. ForGG was hardly known for his precise micro in his prime, and it seemed to be a problem for him against the youngster. Still, ForGG made an adjustment to recover a point in game three, goading Percival into a fatal overreach with his early game units.

It seemed like the two players would finally have a more prolonged bout on Romanticide, with ForGG navigating early game hazards and establishing a strong Mech-army. However, he paid the price for moving out too quickly with his low-mobility army, as Pecival quickly pounced on the opportunity to launch a devastating backdoor attack. ForGG was completely outpaced in the ensuing basetrade and surrendered his final GG of the series.

After the matches Percival mentioned how numerous practice losses to Team NV teammates Maru and Bunny had shaken his confidence, but the actual Code A match had turned out much easier in comparison. The first time Code S player was still realistic about his standing in the big picture of the GSL, however, predicting (correctly) he would be taken first during the group selections.

PartinG headed into his match with Zest with a daunting 5-28 head-to-head record in competitive matches, but pulled out a surprising 3-0 sweep to return to Code S. The series was a neat encapsulation of PartinG's strengths: Game one was a low-econ match, with PartinG using his superior Stalker micro to overpower Zest's tech. PartinG then won a more standard macro game on Romanticide, outmanuevering his opponent before ending him with a series of devastating Disruptor shots. The final game was the most PartinG-esque of all, as he faked a cannon rush while secretly preparing a Void Ray + Shield Battery all-in. Zest fell for his opponent's feint and overreacted on anti-cannon defense, making it all too easy for PartinG to take the victory with his Void Rays.

While Zest's exact military enlistment date has yet to be confirmed, it seems likely that he will have no more chances to play GSL Code S before his military service begins.

The Code S group selections began shortly after the Code A matches, with Rogue holding court as the #1 seed. Though Rogue was not as meticulous or calculating as past #1 seeds (notably TY), he still assembled a favorable, practice-friendly group against three Terran players. Overall, the Season 2 group selections ended up distributing top players evenly throughout the RO16, and there appears to be no obvious 'group of death.'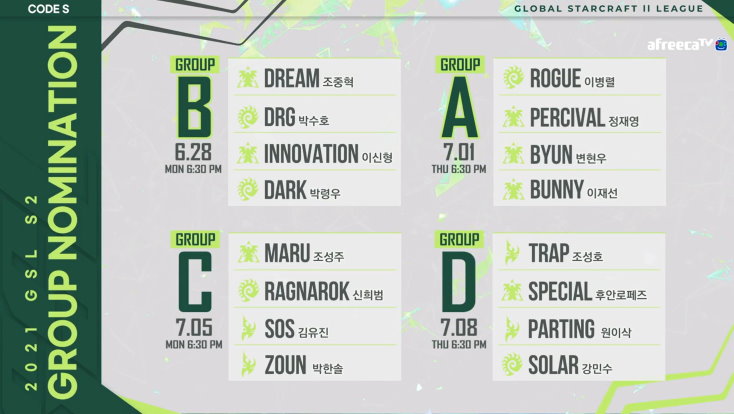 Deviating from the usual group order, Code S will begin with Group B on Monday, Jun 28 9:30am GMT (GMT+00:00), featuring Dream, DongRaegu, INnoVation, and Dark.

Poll: Group of Death?
Group A
(5)
6%
Group B
(19)
24%
Group C
(8)
10%
Group D
(7)
9%
There is no Group of Death
(41)
51%
80 total votes
Your vote: Group of Death?
(Vote): Group A
(Vote): Group B
(Vote): Group C
(Vote): Group D
(Vote): There is no Group of Death