Gold Series Team Championship:
2020 Fall Season
by: TheOneAboveU
The results of Week 2 presented no surprises, leaving Dragon Phoenix Gaming and Jin Air Green Wings with an early lead ahead of the other contenders. However, the season is still in its early stages, and everyone still has a chance to catch up—especially KaiZi Gaming.
Week 2 Recap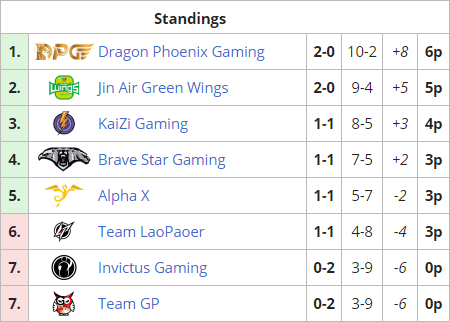 Points are awarded as follows:

3 points for a 'normal' victory in a series that does not require an ace match

2 points for a victory in a series that requires an ace-match

1 point for a loss in a series that requires an ace-match

0 points for a loss in a series that does not require an ace match
Dragon Phoenix Gaming 5 - 1 Team GP
Watch VOD
While the result of this match is absolutely not surprising, the player dropping the point on DPG's side very much is:
DPG.Dark
. The Zerg was unable to properly defend
GP.LunaSea's
standard Adept pressure in the very first game and was then utterly crushed by the follow-up push with Adepts, Immortals and Phoenixes. Wanting to complete the immense upset, LunaSea tried a cannon rush on Eternal Empire, but Dark has had a lot of practice against that recently, most famously against JAGW.sOs in the ESL Open Cup Korea—transferring his base of operations elsewhere, Dark won the long game against LunaSea's unusual Disruptor-Void Ray composition. Still, props to LunaSea: This was a debut to remember.
Unfortunately, this would be Team GP's zenith in this series, with their sun very quickly setting.
DPG.Firefly
confirmed his reputation as a strong PvZ player against
GP.GogojOey
, rolling him over with an Immortal-Stalker-Sentry push on Golden Wall and then capitalizing on the Zerg player's failure to make his Mutalisk-build work on Eternal Empire.
Ineffective Mutalisks were also at the heart of the first map between
DPG.PartinG
and
GP.DRGLing
, who could not make as fashionable a debut as LunaSea. Having been unable to make his Mutas work in Game 1, the Zerg opted for a very early Ling attack on the second map, but the Big Boy paid attention and deflected it with ease.
Jin Air Green Wings 5 - 1 Invictus Gaming
Watch VOD
The series between Jin Air and all-Chinese underdogs Invictus Gaming started with a very polite PvP match. Polite, because
JAGW.Creator
tried really hard to throw the matches into
iG.MacSed's
lap, but his opponent was simply too nice to take him up on the offer. Thus, the two PvP matches featured some baffling army movements and decision making moments, with Creator either trying to be too fancy, or too safe, giving MacSed many opportunities to somehow come back into the games. If not for MacSed's addiction to suicide blinking/dropping his army into Creator's base, he might actually have won! In the end, Creator finally got some wins on the board for himself, but the solid 2-0 on paper didn't really represent the quality of his play.
JAGW.Rex
did his part to contribute to the team's efforts, as he secured Golden Wall against
iG.XiGua
with a crisp Nydus attack timing (maybe that practice with JAGW.Rogue paid off?), flooding his three base opponent with Roaches from two bases. Pillars of Gold developed into a macro game, with XiGua coming out ahead in a massive Roach-Ravager battle raging around his third base. Turning the tide, he managed to surround Rex's reinforcements and force a checkmate.
The first game between the next two opponents,
JAGW.sOs
and
iG.Coffee
randomly ended in the harassment phase without any transition into a longer match. Coffee's early harassment was easily dealt with by sOs, while Korean ravaged the Chinese Terran's main base with a Warp Prism, one Immortal and a bunch of Stalkers, getting Coffee to quit. On Pillars of Gold sOs opened with a Gas steal (you need that to build tanks, right?), forcing Coffee out of his comfort zone. The Chinese player actually handled that pretty well at first, with his Marine-Hellion drop killing seven Probes, but gave back some of his advantage to sOs's harassment. A macro game ensued, which sOs eventually won in a big battle, where he caught Coffee's Siege Tank-heavy army out of position. All-in-all, this week's Jin Air flight took off and landed on time without any hiccups.
Brave Star Gaming 6 - 0 Team LP
Watch VOD
If BSG had one of their bad Regular Season days, then perhaps Team LP could have made something happen here—or so I thought initially about this match. In reality, BSG secured the first 6-0 of the season, making up for their 1-5 loss in Week 1 to DPG. As it turns out, there was no reason to be worried about
BSG.Scarlett
and her dalliances in Brood War, as she expertly dealt with
LP.Jieshi's
Hatchery block and Adept pressure, and overwhelmed her opponent with Roaches and a bit of Swarm Host support on the first map. The pattern repeated itself on Submarine, with the Canadian defending against Adepts, though at least the Chinese player got his third base up without delay this time. Once again opting for Swarm Hosts, Scarlett slowly ground him down with her Nydus Network helping her attack from multiple fronts at once. Jieshi held on bravely, but with Lurkers and Vipers joining the swarm, there was not much he could do to avoid the eventual outcome.
Both players in our next match felt very confident in their macro abilities, with
BSG.Cyan
and
LP.Wanted
aiming for a long game on Golden Wall, which turned into a long, drawn-out skirmish between a Gateway-Disruptor force and a mainly Ravager-based army shooting their abilities at each other. Eventually, Cyan managed to break the stalemate via Zealot runby and disintegrated Wanted's swarm. A successful Immortal-Gateway push sealed the deal on the series on Pillars of Gold.
The series was decided, but
BSG.Dream
and
LP.Patience
still had to play their duel out. A Bio-Tank push with Bunker support netted the Terran his first win, Patience's DTs being too late to change the result. Patience tried to turn the next match into a repeat of their infamous ace match from last season, where he pulled the greatest eco cheese of all time on Dream. But Dream was more active this time, and Patience wasn't allowed to add key splash units to his army. Even though his Gateway army was highly-upgraded, without support it just melted versus Bio-Ghost-Tank.
KaiZi Gaming 5 - 1 Alpha X
Watch VOD
It would have been unreasonable to ask Alpha X to repeat their upset of KaiZi Gaming from last season, especially with how the match-ups were set this time around. Former team mates
KZ.Solar
and
αX.Nice
continued the historical trend of the Protoss having not much of a say in how their matches go: Solar scouted his opponents' Dark Shrine and subsequently took no damage, rolling over Nice with a Roach-Ravager push. On Deathaura, the Zerg got cheeky using Speedling drops with a strong effect, and then outmaneuvering Nice with his mobile army, checkmating him without much of a battle.
It looked like
αX.RagnaroK
might have been able to bring the series back on track, taking out
KZ.TIME
in a long macro game on Golden Wall to start. It went all the way to the Brood Lord stage and featured some absolutely devastating Widow Mine shots into masses of Ling-Bane. Submarine went the way of TIME despite strong runbys from RagnaroK, as the Chinese player was able to win the key army engagements efficiently, wearing the Zerg's Ling-Bane count down until he was forced to GG.
Unfortunately for Alpha X,
αX.Zoun
winning head-to-head record against
KZ.INnoVation
didn't do him any good, as the Machine won 2-0 to complete KaiZi's victory. Trying to play an Adept based game on the first map, Zoun did some initial damage with Phoenix support, but in a straight-up fight his army got shredded by the Terran's Bio-Tank force. On Pillars of Gold, a crucial Observer snipe from Inno left Zoun's planned Blink aggression impotent, and once more a Bio-Tank simply ended the game due to the Protoss army being unable to deal with the firepower.
Weekly MVP Award: GP.LunaSea
In a week with pretty one-sided series, there weren't any singular, heroic performances worth lauding. But there were still small upsets and personal triumphs to be had, even if they were futile to the team's efforts in the very end.
No other result is as eye-catching this week as

LunaSea
's map split with DPG.Dark. The odds for that were below ten percent on Aligulac, and I'd say he's worthy of a weekly MVP award simply for performing far above expectations.
Mention must also be made of
JAGW.Rex
, who secured a map for the second week in a row and seems to be quite a solid addition to the Jin Air contingent, much different to his earlier appearances for them in 2019.
Week 3 Preview
Seeing the need to keep Brave Star Gaming off their back, Jin Air finally send out a line-up with two of their star players to secure this important victory. It looks like we might have another one-sided week on our hands, with a clear cut difference between favorites and underdogs.
Monday, Aug 24 11:00am GMT (GMT+00:00) Matches
KaiZi Gaming vs. Team GP


Solar
< Deathaura >


Prince


INnoVation
< Eternal Empire >


GogojOey


TIME
< Ever Dream >


Bomber
Ace:
< Pillars of Gold >
Korean underdogs Team GP will have lop-sided odds in every single match-up against KaiZi Gaming, beginning with
KZ.Solar
taking on
GP.Prince
. The Protoss player had a relatively successful debut in Week 1 of the league, splitting maps with αX.RagnaroK and almost getting both wins locked down. However, he suffered an individual setback in not qualifying for GSL Code S again, losing his hard earned S-status after only one season. While we have seen his macro PvZ being quite solid, RagnaroK is no Solar in the match-up. The KaiZi Zerg is sporting a recent win rate of
over 60%
in the match-up, which has historically been his best and the one he first gained fame for.
Prince's team mates didn't get any luckier with their draws, as
GP.GogojOey
faces
KZ.INnoVation
on Eternal Empire of all places, the mother of all solid macro ZvT maps. While INno's form hasn't been excellent whatsoever lately—he qualified for GSL via the loser's bracket on the second day—there should be no doubt about who the favorite is here. As long as the Machine doesn't get cocky, all things should pan out well for KaiZi here. It's hard to see a way for GogojOey here that doesn't rely on INnoVation committing a massive blunder.
The only match, where Aligulac doesn't favor one player with a 90% plus chance to win, is
KZ.TIME
versus
GP.Bomber
—and even here we are
very close
to that mark. While many of his fans may wish this to not be true, Bomber simply has not been doing well ever since he returned. In GTC Spring, he scored as many wins as GogojOey and often looked outclassed. The peak of his suffering was a textbook macro ZvT spanking at the hands of fellow old-timer iG.XiGua. With TIME regularly beating the likes of INnoVation in TvT, he should have no problem dealing with Bomber's uninspired Marine-Tank play. This is a conflict of generations, and young TIME simply has outgrown his older counterpart.
Prediction: KaiZi Gaming 5-1 Team GPJin Air Green Wings vs. Brave Star Gaming


Rogue
< Deathaura >


Dream


Rex
< Eternal Empire >


Cyan


Trap
< Ever Dream >


Scarlett
Ace:
< Pillars of Gold >
While you could have rightfully questioned how seriously Jin Air take this league in the past two weeks, you couldn't argue with their two wins. In week 3, Jin Air's line-up leaves us no doubt about their intention of achieving a good finish here.
JAGW.Rogue
, the reigning GSL champion and ace player of their CTC 2019 Season 2 run, makes his grand entrance. Rogue will meet an old Proleague adversary and recent GSL opponent in
BSG.Dream
, someone who has also been a strong playoff player in GTC. Historically, Rogue has dominated the Terran in series as well as map score, leading
29-12 in games
(that's a win rate of over 70%) and 12-2 in series. If Rogue's recent 3-0 sweep of Dream in the Code S quarterfinals is any indicator, then this is going to be a
rough
outing for the BSG ace. That said, if Rogue is going through another one of his infamous championship hangovers, Dream might be able to score the upset that leads to an unlikely BSG win.
While
JAGW.Rex
has become a much more solid player it seems, he is quite an underdog in this next match-up against
BSG.Cyan
. The Protoss sits on a
recent win rate
of almost 80% in PvZ, which is incredibly impressive. The Zerg on the other hand records a negative statistic in this field, while also being down in historical score. With how much of a macro beast Cyan has become, it's hard to see Rex standing up to him in this department, so his best bet may be to ask Rogue for one his specials.
A few months ago, when
BSG.Scarlett
was deep in Code S territory and
JAGW.Trap
couldn't win a PvZ to save his life, this match-up might have been BSG-favored. With the Protoss having
regained his mojo
against Zerg, however, the Canadian and her team look like they're in trouble. While her ZvP remains quite strong with options of trickery and macro available, Trap's newly found groove will be tough to stop. But, if Dream manages to take a map off Rogue and Cyan successfully does his job against Rex, a single map is all BSG may need to complete a monumental upset, and if someone has to steal a map off Trap, then Scarlett is a pretty good choice.
Prediction: Jin Air Green Wings 4-2 Brave Star Gaming
Tuesday, Aug 25 11:00am GMT (GMT+00:00) Matches
Dragon Phoenix Gaming vs. Team LP


Firefly
< Deathaura >


Jieshi


PartinG
< Eternal Empire >


Patience


Cure
< Ever Dream >


Wanted
Ace:
< Pillars of Gold >
Our first match will be
DPG.Firefly
fighting against
LP.Jieshi
in a fairly evenly matched PvP, in which the DPG player is going to be a slight underdog. Jieshi leads Firefly in all metrics but his fan base, and that one is not going to help the DPG Protoss out very much. In 2020, both won
four maps and two series
against each other, with Firefly notably winning the Bo3s and Jieshi the Bo1s. A brotherly map split in the Bo2 format of GTC would not be very surprising. The pressure is very much on Jieshi, though, to secure two map wins here, as it will be the only chance for Team LP to win or at least force an ace match.
Doing all that would be up to
LP.Patience
, who will face
DPG.PartinG
in our second PvP of the day. It's a fun little quartet of players we have here, with the two Korean mentors and their Chinese apprentices—Firefly has publicly said before that PartinG helps him out a lot, and I call Jieshi 'Patience Jr.' for a reason, as their play style seem very much aligned. While the junior duel leans slightly towards LP's Protoss, the Korean match squarely favors the DPG player: PartinG sports a ridiculous win rate of over 80% in PvP and has Patience beat
5-2 in maps
and 3-0 in series this year. While I'll never fully count out Patience, these are tough odds to beat even for our chaotic miracle-maker.
Team LP really has to win in the PvP phase of this series, since the last duel isn't exactly a great one for them:
DPG.Cure
is given a
90,90% chance
to secure the 2-0 here by the maths powered intellect of Aligulac. And while LP fans may pull a Han Solo and shout at me to never tell them the odds, believing in their Zerg underdog to make the impossible possible, I will have to disappoint them. Not even Zerg is that imbalanced.
LP.Wanted
really has looked quite solid over the last couple matches he played and I think he is a real alternative to Jieshi once LP.Hurricane has entered the fray, but beating Cure is simply a level above his pay-grade at the moment.
Prediction: Dragon Phoenix Gaming 4-2 Team LPInvictus Gaming vs. Alpha X


XiGua
< Deathaura >


Nice


Coffee
< Eternal Empire >


Zoun


XY
< Ever Dream >


RagnaroK
Ace:
< Pillars of Gold >
The pressure is on Alpha X in this one, as the golden dragons need to get down to business and secure a solid win for three points here to keep up with the rest of the pack. First up for them is once again
αX.Nice
in a PvZ, which did not work out well last week, but
iG.XiGua
is a very different opponent than KZ.Solar. It's an interesting duel, because XiGua, historically, has the same hold on Nice as Solar does: The Taiwanese Protoss has never won a series against the Zerg, with XiGua leading
7-0 in series
and 17-2 in maps. However, the Chinese player has recently suffered an immense amount of ZvP losses in regional tournaments, standing at a mere 28% win rate. While Nice's strength clearly lies in PvT, his PvZ is rather solid and he should be able to secure at least a map against the Chinese star player here, if not both. The start into this series should go much differently for Alpha X than against KaiZi.
In a re-match from last season,
iG.Coffee
meets
αX.Zoun
. In said duel the Chinese Terran was actually able to pull off a bit of an upset and split maps with the Protoss, due to Zoun struggling with his decision making. Having recently re-qualified for Code S and playing a very solid GTC Spring season, Zoun has matured a lot as a player since then, becoming a bit more secure. With Alpha X being the masters of preparation they are, they will have noticed that Coffee tends to be a bit one-dimensional in TvP. We'll see if the Terran can mix it up and throw Zoun off balance, but I wouldn't hold my breath for it.
Rejoice, XYFANS of the world,
iG.XY
once again graces us with his presence. According to comments he made on a recent stream, all the maps on offer so far were too imbalanced for him to play a Zerg or Protoss on—he will probably not be too happy to face
αX.RagnaroK
then, who happens to play Zerg pretty well. XY should have researched the top secret fact that Alpha X has no Terran players to play TvT against. All jokes aside, it's obviously a tough match for the Terran, who has last met RagnaroK all the way back in 2014 in an official match (losing 1-3). In the present, all the
statistics
clearly favour the Korean, who should be cruising towards a 2-0 victory here, as long as he keeps an eye on XY's sometimes very creative strategies. Those are probably the best shot the Terran has at stealing a map here.
Prediction: Invictus Gaming 1-5 Alpha X
---
Credits and acknowledgements
Written by:
TheOneAboveU
Editor: Wax
Stats: Aligulac.com & Liquipedia
Images: Netease