Cool Things From 2019:
Maru Wins His Fourth Code S
by Ziggy
Back when Brood War still sat atop the throne of esports, repeat championships were anything but commonplace. Winning an OSL or an MSL even once was a feat most could only dream about—winning two or more seemed reserved for legends of the game. As the industry grew, OnGameNet and MBCGame realized the importance of recognizing those who achieved those extraordinary feats. And thus, Golden trophies were born. Upon winning his third MSL title in 2003,
NaDa
was presented a Golden Badge to commemorate his achievements and superiority over the rest of the scene (Nada's wins were technically in the 'KPGA tour,' the predecessor of the MSL). Nada would be the first in a line of five players (iloveoov, sAviOr, Bisu, Flash) ever to win three titles in the MSL series. OnGameNet, too, prepared a 'Golden Mouse'—this time in anticipation of
Boxer's
third OSL title in 2005. Yet, Boxer failed to triumph over Anytime in the finals, and it would be none other but NaDa who later claimed the first Golden Mouse in 2006. Only three others—July, Jaedong, Flash—would ever matched this OSL record.
The last golden trophy of the KeSPA/Brood War era was awarded in June 2011, when Flash won his third MSL title. The same tradition, however, hitherto has not been continued in StarCraft II. The notion of repeat championships doesn't seem to have the same impact, nor is it celebrated in the same manner, even in the community. It's understandable for two of the Korean majors: The OSL only held two seasons of SC2 competition before being discontinued. SpoTV's StarCraft II Starleague (SSL) never saw the same person lift its premier trophy more than once during its 7-season tenure (shoutout to herO for winning 1.5 in an oddly formatted season).
But there's one more Korean circuit with a storied history. Yes, you guessed it (if you didn't—go sit in a corner and seriously reflect on your life): it's the Global StarCraft II League.
How come the GSL doesn't have its own 'golden' 3-time champion trophy? Given that the Golden Mice of the OSL contained more 24-karat gold than the mouths of some 2000's rappers (
roughly 206 grams
), one could forgive GomTV for balking on the expense side of things.
But the lack of any commemoration at all? Well, in retrospect, GOMTV/GOMeXP/AfreecaTV's StarCraft 2 competition has had a complicated history. Given SC2's infamously rocky start in Korea, there was probably a period where they weren't sure how long they'd even be around. Also, there was that unusual, hyper-accelerated 2011 season where they held nine-ish major tournaments in a single year. The GSL circuit launched on the 28th of August in 2010. Barely a year later,

Mvp
had already won three championships. And, frankly, I don't think GOMTV were ready at that time. But it was a mistake they were ready to rectify when Mvp faced off against

Life
in the Code S Season 4 Finals of 2012.
After a whirlwind 2011, GomTV seemed to realize midway through 2012, that they had a history that deserved to be commemorated in a special way. And thus, the elusive G5L Trophy was born. The Holy Grail of competitive StarCraft II. A trophy that could have been G4L, if GomTV had readied it in time for Mvp's
fourth
title victory against Squirtle in Season 2 of 2012. A trophy that was made and dedicated, but never awarded. With Mvp's loss to Life, the G5L trophy was sealed away, sentenced to gather dust somewhere until Mvp's second coming. Ironically, GomTV did get to cash in some of the Brood War mythos after that final: Life was awarded an actual, real-life sword for walking the fabled 'Royal Road' (a moment that has aged especially poorly in hindsight).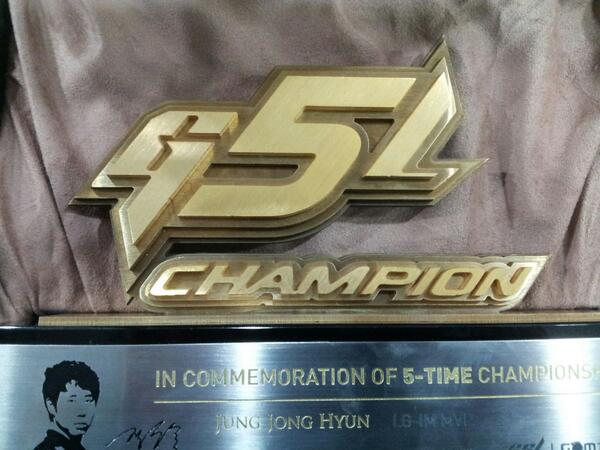 Dedicated, but never awarded.
After 2012, GSL tournaments became more sparse while Korean competition grew more fierce at the top. But the G5L Trophy—even as it became less and less obtainable—never left the consciousness of the fans as a tradition that GomTV/AfreecaTV would be obliged to honor, should the time ever come. And indeed, AfreecaTV has become more active about celebrating records and milestones, with both the NesTea and Parting Awards continuing under their patronage. They were quick about coming up with their own 3-time award for the Brood War ASL: the
Golden Trophy & Ruler
, presented to Flash in 2017 (more reasons for SC2 peeps to watch the Brood War circuit!).
Mvp never did rise from the dead. But in 2019, an even older veteran of SC2 continued a revival of his own, which put the fabled G5L trophy back in the realm of reality. Coming off an already jaw-dropping 2018, with three-out-of-three Code S championships taken (on top of the finals of WESG2017), Jin Air's

Maru
had asserted himself as the closest thing to a transcendent force in Korean SC2. It didn't necessarily come as a surprise, given the talent he showed ever since his 'MarinePrince' days on Prime, his Royal Road win in the OSL, and continued excellence over the years. Yet, his exponential growth in skill starting in 2018 was a sight to behold. Season in, season out, Maru just kept getting better and better, and if one were to draw a graph to illustrate that, well, it would probably be the inverse of Activision-Blizzard's stock price around that time.
Going into the
first season of Code S in 2019
, there was no 'right' answer to the question of who the eventual champion would be. If you said Maru, you might have been ridiculed for believing anyone could ever score four Code S tours in a row. Conversely, if you picked anyone else, you'd be mocked for believing anyone could topple this unstoppable, once-in-a-lifetime force (it only serves to prove that sometimes the only choice is to play Switzerland).
Seeing as it was the start of a sparkling-new competitive year, the seedless Maru actually had to go through the qualifiers. An eyebrow-raising loss to

Dear
in the qualifiers saw him fall down to the losers' bracket in his group. While Maru didn't necessarily struggle against Keen to qualify, seeing him advance in second place rather than first wasn't exactly what die-hard fans spamming F5 on Challonge at the crack of dawn would expect. Still, it was just a qualifier, and his loss wasn't read into
too
deeply.
As soon as the main event commenced, Maru once again brought his A-game to the studio, securing a spot in the Ro16 with two 2-0's against both RagnaroK and herO. However, the Ro16 brought new worries. Though Maru opened with a 2-0 against Impact, he was shocked by

Bunny
as the underdog came back from 0-1 to hand Maru's his first Code S series loss in over a year. Maru did advance off a rematch against Impact—but even there he dropped a map, which only amplified worries that not all was well with the Jin Air Terran.
With the playoffs looming on the horizon, nay-sayers were quick to bring up Maru's loss to Dear in the qualifiers, questioning the former's chances in their Ro8 rematch. The Terran didn't seem fazed by the prospect of facing Dear, however, as he stated:
'I was OK, as long as it's not herO.'
in their pre-game interview. The reasoning behind his fears started to take shape, as Maru's focus in the series lay in gaining an advantage in the early game and closing out neatly off 2-3 bases—a style which could have had trouble finding purchase against herO. Constant aggression, paired with intricate maneuvering, despite not always yielding direct damage, allowed Maru to stifle Dear in three out of four games, with King's Cove standing out as the map where Dear actually got to play StarCraft II. Maru did a lot of things other Terrans wouldn't, like repeatedly committing to Widow Mine drops on Year Zero against the Phoenix-based defense of the Protoss. And I guess you'd normally question the integrity of this approach. In the case of Maru? Not at all. All in all, Maru's 3-1 victory over Dear was disappointing given the level of PvT Dear had shown in the preceding months, but Maru has a way of ruining everyone's game.
Next-up:

Trap
. Running into a teammate is never fun. Imagine how awkward breakfast must be the following morning at the teamhouse. As far as the viewing experience is concerned, however, you could hardly ask for anything better than a teamkill between two top-tier title contenders (while calling Trap a contender wouldn't have passed for apposite at the time, I think you'll agree it is justified in retrospect). This is where the minutiae of StarCraft become as explicit as one could hope. A team-kill is just as much about getting into your opponent's head as it is about keeping them out. Running into Trap in the semi-finals, Maru managed to do both. Trap? Not so much. Maru came out with cool, non-sequitur builds you'd normally scratch your head seeing, like following a Widow Mine drop with two Vikings to try and harass. Not completely ridiculous, but weird enough to surprise. And then he'd reverse back to as standard a build as they come, catching Trap off guard with a dose of tried and trusted simplicity. Maru broke Trap that series with a clean 4-0 sweep to advance to the finals. I guess he must have felt bad and later helped Trap practice so much the latter made it to two consecutive finals later that year, but that's neither here nor there.
'I came to the finals to accomplish the 4-peat.'
The sentiment was clear—Maru knew how significant of a win this particular final would turn out to be, should he succeed. On the other side, Classic, with military service looming on the horizon, said
'Besides GSL, there are not many tournaments I can attend and win [...] when it comes to this year's GSL, I really want to win.'
If you tuned in to the series then you might have experienced a similar cognitive dissonance as I did at first.

Classic
, a player you'd normally associate with a more orthodox approach to PvT, proxied in 5 out of the 6 games. Even on King's Cove, a map Terran famously struggled to deal damage on in the early to mid game, Classic chose to rely on tripping Maru up right from the get go. It worked twice, including the Tempest + Shield Battery rush on Cyber Forest. In all the other games, Maru did exactly what he'd need to do against this play-style. He scouted, had Bunkers ready, opted for safe openings. Don't get me wrong, I like the idea of Classic taking a more proactive stance in the series. Having heard that Maru was afraid to face herO that's exactly what I'd have done. But the way he went about it? Questionable. Save for the King's Cove game, where Maru was forced into as late game a scenario as they come, Nukes and Battlecruisers abound, the games didn't feel even. It was either Maru getting caught off guard by cheese, or Classic getting driven into the ground by a counter when the cheese didn't work. And despite the deceivingly close 4-2 score, Maru was by and large on a different power level—the kind you'd expect from a record-breaking, four-in-a-row GSL Code S champion.
Unfortunately for Maru fans, the Jin Air Terran cooled off ever since, leaving his fans hanging in their wait for the G5L trophy. But the saga is anything but over, as recent news indicates the Korean scene will continue with at least three major tournaments in 2020. While it's not confirmed that the letters 'GSL' will be affixed to these tournaments, we know that's the legacy they'll be inheriting. And should Maru win a fifth Korean major, that accomplishment, if not the trophy, will certainly be gilded.
'I still have a long way to get G5L so I should keep going.'
You go, Maru!
---
Credits and acknowledgements
Written by:
Ziggy
Editor: Wax
Images: AfreecaTV