Photo Credit: ESL
Jaedong: Raise Your Dongers, It's About To Get Hot In Here
Don't forget to read about Jaedong's road to blizzcon here.
In August of last year, Jaedong broke out of the semis of the WCS Season 2 Finals, looking like he had finally overcome his old ZvP demons and looking stronger than ever. With a boastful shout, he proclaimed "The Tyrant is back!" What occurred directly there afterwards was a 4-0 whomping from Bomber, followed by a year of ZvT woes. Although Jaedong managed to finish 2013 strongly, in 2014 he has gone 5-14 in ZvT, an atrocious record for any pro, notwithstanding the legendary title Jaedong has to live up to. His overall win percentage in ZvT has dipped down to barely 50%, and almost all of his 2014 tournaments have been cut short by a ZvT in the earlier rounds. In spite of curing his ZvP ailment, he seems to have found another Achilles' Heel.
When we look back to the Jaedong we knew a year ago, the player who was expected to do well in every tournament, who frequently took second place at every major event (usurped by soO in this trivial day and age), who not only eked out wins but demolished his opponents in a decisive manner, how can we not believe in him? Among the rough history of the last ten months have been a few beauties, a few treasured games, but what lives in everyone's memory is the legend, the story of a time when things were better. Jaedong will never be remembered for fumbling, indecisive play or failed success; he will always be remembered as one of the greatest Zerg players of all time.
Jaedong's ZvT, for the most part, has been characterized by very solid macro play with lots of aggression and constant ling counterattacks. Jaedong typically opens very safely, transitions to a solid mid game, and plays all the way to the late game, where his superior mechanics and speed gained from Brood War come into play. He is very fond of lings, and will often delay mutalisks for quite a while to crush early timings and do constant ling counterattacks. While others may fear to step off of creep, Jaedong is not afraid to take engagements off of creep, knowing when and where he has the advantage to take such engagements and only trading as much as necessary.
Jaedong vs Innovation G1 on Bel'Shir Vestige
Innovation v Jaedong G1 ASUS ROG Northcon

To commemorate the legend, what better way than to remember his first premier tournament win in SC2? In December of 2013, after a full year of "close-but-not-quite"s, Jaedong had one more opportunity to finally secure the win he had been hoping for all year at ASUS ROG Northcon. The finals against Scarlett shouldn't be underestimated, but when looking at the brackets, Innovation was definitely the final boss for Jaedong and perhaps the strongest player at the tournament. Game 1 on Bel'Shir Vestige displays not only Jaedong's signature style, but also showcases an impressive display of counterattacks, ling/bling micro, and brilliant decision making that allows him to take down the The Machine.
Jaedong opens very standard with a hatch first into quick speed while scouting Innovation's anticipated CC first. He pulls workers off of gas after 100 to focus on his economy, shooting up to 40 drones and a 6:00 third base. After deflecting Innovation's small hellion pokes, Jaedong makes a swell of lings to pressure. When the hellions move out of position, Jaedong sneaks 20 lings by, surrounds the hellions, and pushes all the way to Innovation's base, where a small runby forces Innovation to defend while the creep spread and the fourth base at home remain unharassed. The entire time, this runby is also buying Jaedong time to tech up to lair safely.
Jaedong finishes lair and immediately sends overlords to block off the potential third of Innovation with creep. However, Innovation is a little too quick and manages to place his CC down before the overlord can get there. Innovation's first poke with marines and medivacs looks like it might be devastating at first, as he immediately loses two queens and kills almost nothing with his initial lings before Innovation picks up, but his split second decision making to counterattack the unprotected third with the lings proves to be a powerful move. Jaedong is able to kill off the remaining marines in the drops with reinforcing lings, losing almost no drones, and buying precious time for mutalisks to get out.
Because Jaedong spent no gas on banelings to clean up the drop, he has enough gas to immediately make ten mutalisks upon spire completion. With another massive swell of lings, Jaedong is able to push off the small force directed at his fourth base and dismantle the parade push before it begins. It's not until 12:45 that Jaedong makes his first banelings, and he only uses them to be offensive. After breaking Innovation's initial pressure, Jaedong immediately takes map control again by cutting into Innovation's reinforcement line and picking off several marines for free.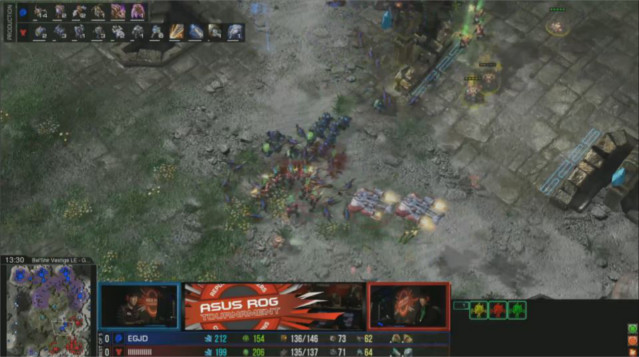 Free marines? Medivacs? Mines? Oh yes, please!
The cutting into Innovation's reinforcement line creates two "islands" of units and allows Jaedong to break through the weaker, isolated detachment at the third base. As Innovation furiously tries to micro his marines while bringing in reinforcements, Jaedong continuously focuses down medivacs and neutralizes the healing power of the bio units, draining Innovation's economy and preventing him from ever reaching a critical mass of units. Although Innovation manages to clean up the Zerg in his third, another Zerg wave hits, and then another, and then another, until Innovation can no longer hold the third base and is forced to tap out.
Predictions
Jaedong's abysmal ZvT record this year does not suggest he will be a contender to beat Bomber, who is among the best TvZ players in the world on a good day. Despite his incredible mechanics and brilliant decision making, Jaedong just hasn't been able to get his counterattack playstyle to work in the past few months. Recently we've seen more cheesy play and all-ins from Jaedong in ZvT (see: Jaedong vs Ryung at DH: Stockholm), indicating that perhaps he has a few good tricks up his sleeve. Overall, though, things are looking pretty bleak for Jaedong.
However, we've seen Jaedong rise against worse. When he first started playing SC2, he was the laughing stock of ZvP, looking completely helpless and clueless what to do. After some dedicated practice, though, he sported the best ZvP in the world, completely throwing off all those old conceptions and roaring to the crowd, "The Tyrant is back!" With that memory fresh in mind, there's no doubt that Jaedong's years and years of training and experience can transform his gameplay into game-winning shape. Even now, the legend lives, and while the legend lives, there is always more to tell.
Raise your dongers! Raise 'em high!