Banner by pachi, Screenshots from GSL Open Season 2
Recommended Series Short List (Spoiler Free)
+ Show Spoiler [Show Recommended Series] +
All ratings out of 5 stars.
Day 1

PhoenixWeRRa vs

BabyByeBye (
SangHo
) -

TSL_Rain vs

oGsEnsnare -

St_Ace vs

KyrixZenith -

HopeTorture vs

Pippijung -
Day 2

CheckPrime vs

SanZenith - No Stars

Leenock vs

Suhoshin -

oGsNada vs

ParkJongHyuk -

EGIdrA vs

oGsGon -
Day 3

oGsZenio vs

IMmvp -

NesTea vs

oGsMC -

oGsTheWind vs

MakaPrime -

Loner vs

Terious[fOu] -
Day 4

Fruitdealer vs

BoxeR (EllenPage/Clare) -

oGsInCa vs

TankBoyPrime -

NexGenius vs

Gilja -

SlayerSBoxeR vs

CoreJJang -
GSL Game / Series Rating Scale
+ Show Spoiler [Show Rating Scale] +
- One player played very well, but his opponent played amazing. Watch this right now!
- One player played very well, usually with a great micro move or strategy.
- One player played solid, his opponent played average. If you have time, watch.
- One player played average, the other played poorly. Don't bother watching unless you're a fan.
- One player played very badly. Not worth watching at all.
No stars - One player failed, usually in a very hilarious way. Actually very watchable just for laughs.
Remember, we're recommending games to watch assuming a neutral viewer. If you want to have TLO's babies, you probably don't need our recommendation to watch his games. If you don't want to wade through all the recap text, here's a short list of our ratings for each series.
---

"Foxer the Fruit Stealer"
GSL Season 2 Ro32 Recap
By TrueRedemption, Lovedrop, Treehugger, and BroOd

The GSL2 continues to forge ahead at a furious pace. The big story this round is EllenPage aka "Fake Boxer" upsetting reigning GSL Champion Fruit Dealer despite the continued success of almost every other Zerg player. For FD fans, the quick role reversal is a reminder that when everyone is gunning for the champ, anything can happen in a best-of-3. Apart from FruitDealer's stunning upset, Brood War legends Boxer and Nada advanced to the Round of 16, as did IdrA and many other Zergs. Here you will find recommended games, ratings, and player grades, as well as a recap of every single game from the GSL2 Round of 32.

Links and Resources:

---

Ro32 Day 1 - "Featuring Jason Lee's Battle of the Ages"
Recaps by TrueRedemption
+ Show Spoiler [Day 1 Recaps] +

"Bye Bye Phoenix."

PhoenixWeRRa < 0-2 >

BabyByeBye (
SangHo)
-
Game 1 @ Scrap Station
+ Show Spoiler [Show Recap] +
SangHo opens pylon Nexus forge gateway, creating a small choke to his main and natural. PhoenixWerra responds by putting a hatch down at the bottom of his ramp and taking his own natural before pool. As both players saturate their bases, PhoenixWeRRa gets a roach warren appearing to go for a roach speedling attack, and SangHo puts down two stargates on the high ground near the natural while adding a few more gateways. PhoenixWeRRa nexts puts down a 4th hatch at the typical third expansion as both armies start growing quickly from the two base income, phoenixes pumping from the stargates. SangHo begins harassing with 5 phoenix, sniping a couple queens and hunting overlords.
Zerg attempts to counterattack, taking down the destructable rocks near the Protoss natural, but it is met with a cannon and small stalker army as well as the phoenix coming back to pick up the roaches. After quickly cleaning up the attack SangHo warps in a couple robotics facilities and Zerg spore colonies finish to limit phoenix harass. PhoenixWeRRa questionably continues pumping zergling roach as immortals are added to the gateway army. After a couple production cycles the protoss army begins breaking down the rocks across the middle, Zerg buys time by counter attacking running around the long way, but SangHo simply pulls his army back and thins the zerg army, then marches back through the middle pathway and forces a fight against a far outmatched zerg army, forcing gg.
- The BW esque opening set up SangHo's phoenix play very well, and caught PhoenixWeRRa without a well formed plan, stranding him with a large number of low tier units unable to do anything about the phoenix. If nexus first proves to be defendable, this matchup is on the verge of a big shift.
Game 2 @ Shakuras Plateau
+ Show Spoiler [Show Recap] +
SangHo goes nexus first into forge again, but this time PhoenixWerra tests the protoss defense. Initial zergling pressure gets through the choke but only manages to delay mining from the natural briefly. The follow up one base baneling bust broke through and got a fair number of probe kills, but no reinforcements were on the way, PhoenixWeRRa instead expanded and teched to lair.
BabyByeBye quickly stabilized and warped in double stargates as a spire started. Muta harass was chased away by phoenix which did some harass of its own, catching PhoenixWeRRa as he pushed out to attack, sniping a queen and causing enough damage that PhoenixWeRRa decided to pull back. Corrupters enabled the zerg air to chase off the phoenix but the protoss ground army moved out and killed the recently finished zerg third. SangHo then overextends himself however, attempting to a-move into the natural as masses of zerglings join the muta force, and
PhoenixWeRRa is able to kill most of the protoss force. Both players expand, but the zerg army overextends in an attempt to force the nexus to cancel, PhoenixWeRRa only manages to give his army away. SangHo pushed out, overrunning what was left of PhoenixWeRRa's forces and move on to the round of 16.
– A number of poor decisions in the game on both sides made for a very exciting albeit less than top level game.
Player Grades
+ Show Spoiler [Show Player Grades] +

BabyByeBye -
B+
SangHo had a plan, he executed it well, and he got two strong wins for it. Big mistakes with probe micro and moving in on the natural in game 2 could have cost him the game, but he played far better than PhoenixWeRRa today.

PhoenixWeRRa -
C-
PhoenixWerra seemed unfamiliar with phoenix play, sticking with zergling roach and not applying pressure quickly enough in game one. In game two the spire prevented phoenix from completely controlling the game, but the limited damage done by the successful 1 base baneling bust against a nexus first was not enough for PhoenixWeRRa to catch up, and even after Sang-ho gave away his advantage PhoenixWeRRa gave it right back.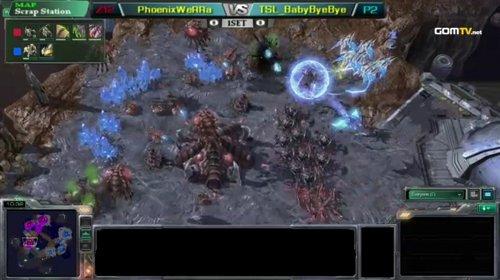 If only the roach buff also let them shoot up...
"Banshees rain on Rain"

TSL_Rain < 0-2 >

oGsEnsnare
-
Game 1 @ Delta Quadrant
+ Show Spoiler [Show Recap] +
Both players opened marine fast hellion, Rain opting to expand while Ensnare instead got an earlier tech lab at the factory and reactor at the barracks. In the critical early battle, Ensnare makes use of the line of sight blocking vents in the middle, killing off Rain's force and doing considerable damage in Rain's base before being taken out. Ensnare's superior micro enabled him to push back into Rains base with an extra tank, sniping the tank of Rain and forcing a quick gg.
– Ensnare capitalized on an aggressive build order advantage and superior micro, taking the first game quite convincingly.
Game 2 @ Zel'Naga Caverns
+ Show Spoiler [Show Recap] +
Rain opened double hellion while Ensnare useed a tank to hold his choke and proxied a starport in the bottom right corner of the map. Rain's own starport isn't too far behind, getting a medivac while pumping hellions. Ensnare's first banshee kiled a few SCVs before being chased off by marines and a Viking. Rain countered by attempting a two prong hellion harass, elevator lifting 4 hellions and sending 4 in the choke, but Ensnare has excellent defense with marines and tank, impressively spreading scvs to minimize the number of workers lost. Cloaked banshees continue to harass, Rain using 3 vikings and scans to take care of each banshee that comes in, costing him quite a few mules.
At one point Rain pushed in to Ensnare's natural with a superior tank count, but the incessant banshee harass forced him to pull back, Rain seemingly refusing to build a single turret despite multiple banshees having double digit kills before being taken out. Rain counters again by sieging tanks on the low ground of Ensnare's base. In response Ensnare moved a force of marines down to harass Rain's expansion as a distraction, moving in on the tanks when Rain dealt with the marines. Still more banshee harass further cripples Rain's macro, and Ensnare sets up a contain eventually ending the game.
– Although stationary defense at times can be a setback, refusing to use any turrets to deal with Ensnare's constant banshee harass was just a terrible decision Rain never chose to correct. There were some good tactics on both sides, but on the whole a pretty terrible game.
Player Grades
+ Show Spoiler [Show Player Grades] +

oGsEnsnare -
A-
Ensnare played near flawlessly in game one, and demonstrated great control and creativity defending the hellion harass and low ground tanks. Whether the push on his natural was a strong timing by Rain or the result of bad macro is unclear, but good multitasking with banshee harass broke down his opponent earning his spot.

TSL_Rain –
D+
Rain did not play terribly in game one, he was simply out microed. However game two showed some seriously strong play out of Rain, the two pronged hellion harass, low ground tanks, and strong mid game push each had the potential to put Rain ahead. Unfortunately, his inexplicable refusal to build turrets and end Ensnare's banshee harass is absolutely mind boggling, and it without doubt cost him game 2.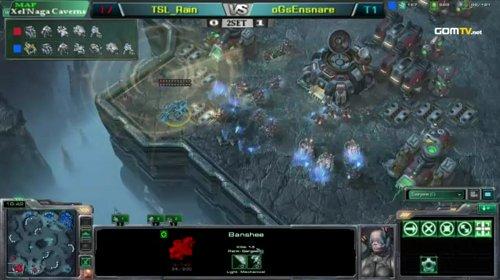 This 14 kill Banshee being scanned was only one of many...
"The Mother of All Battles"

St_Ace < 1-2 >

KyrixZenith
-
Game 1 @ Steppes of War
+ Show Spoiler [Show Recap] +
Kyrix opens hatch first without any delay, causing Ace to cancel a forge after gateway in favor of a second gate and begin chronoboosting zealots. The first zealot ventured out to far and was surrounded by transferring drones. Zerglings were out in time for the second and third zealot, delaying the inevitable, Ace chose to attack with 6 zealots, killing the queen at the expansion as a spine crawler finishes, Kyrix losing many zerglings in bad position to block the zealots from getting up the ramp.
Still Zerg manages to repel the attack when more zerglings finish, protoss comfortably falling back and expanding. Kyrix smartly started drones immediately returning to drones as a roach warren builds. Kyrix builds a lot of roaches and looks to break the protoss expansion, but Ace had a surprisingly large gateway force and cannons, and great force fields allowed Ace to turn the tables, trapping and killing the majority of the zerg army with minimal losses. Kyrix desparately attempts expanding to the gold nearest Ace while massing another zergling roach army, but the addition of immortals, hallucinated colossi and even more gateway units was far too much for Kyrix to handle as Ace pushed out to win a convincing game 1.
– Hatch first ZvP is dangerous on most maps, on Steppes it is either incredibly bold or incredibly stupid. Kyrix did manage to hold it, but the drones lost and larvae spent on zerglings early crippled the zerg economy. The canceled forge second showed Ace was intending on expanding quickly himself, and he transitioned from the impromptu two gate into his two base gateway robo play very well. The great force fields simply put Kyrix out of his misery, turning a big lead into an insurmountable one.
Game 2 @ Zel'Naga Caverns
+ Show Spoiler [Show Recap] +
Kyrix again opens hatch first and zergling speed, Ace opting for a standard opening and pressuring with the first zealot and two stalkers. Kyrix chases out the army with zerglings, and continues producing them, looking like a speed zergling all in as Ace puts a forge at the bottom of his ramp looking to expand quickly. The protoss army prevents any type of run by as a couple more gateways go down realizing a nexus won't be available too soon. After a couple more production cycles Ace moves out and puts down a nexus, but it is forced to cancel by the zerglings, ultimately costing Kyrix all the zerglings however. Kyrix had been droning up and teching to lair however, and roaches come out just as the remaining protoss army moved out to put on pressure. Kyrix looked to be in danger as a forward pylon was placed, but zergling / roach reinforcements pushed back the gateway army and took out the forward pylon.
Ace does not continue putting on pressure, and Kyrix takes the opportunity to take the gold expansion, adding hydras and a spire. Both players are content to build up for a while, Ace accumulating a very large gateway force and teching to colossi, but Kyrix's early expansion and fast third prove to bea massive economic advantage, a large roach hydra corrupter army keeping map control as the first colossi pops. Making use of the map control Kyrix takes 2 more expansions, accumulating a max army. Kyrix applies pressure, protoss taking the normal third. Zerg is content to trade units near the protoss natural as hive tech finishes.
The Protoss ball starts reaching critical mass however, and realizing zerg has taken the rest of the map and Ace needs to apply pressure, he moves out towards the gold expansion of Kyrix. The protoss ball melts the initial zerg force, the corrupters taking out many of the colossi then retreating as toss takes out the gold hatchery, some morphing into broodlords. A few broodlords and corrupters against a huge ball of blink stalkers seems like kyrix is on the ropes when suddenly 6+ ultras pop and overrun the remaining protoss army. Both players re-macro an army, Kyrix with unbelievable tech, even sacrificing drones to increase food count. High Templar, Stalker, Colossi, against Ultra Broodlord Infestor, the Jason Lee proclaimed battle for the ages occurs, neural parasite on the colossi and an incredible ultra count overruns the protoss army in convincing fashion, forcing a 3rd set.
– Kyrix's aggressive opening deceptively kept Ace defensive for longer than it should have, allowing zerg to go from behind to ahead economically. A back and forth end to the early game left the zerg economy largely unchecked, and Kyrix took complete control of the game. The super late game zerg army makes for a very entertaining game, something out of a FFA or BGH, and is worth checking out.
Game 3 @ Delta Quadrant
+ Show Spoiler [Show Recap] +
Kyrix goes hatch first again, the protoss scout going the wrong way but opens forge second anyway. Chrono'd zealots head toward the expansion as the scouting probe puts down a pylon and attempts a zealot cannon push on the fast hatch. The first two zealots attack alone and are taken down by drone surrounds, 8 zerglings hatch and take care of the next zealot as drones and 4 of the zerglings prevent any cannons from finishing. The counterattack nearly runs by the protoss choke, and the zerglings are barely taken out by probes and a cannon.
Kyrix opts to drone up rather than push to end it, expanding to the gold and teching with his massive advantage. Ace attempts to build up an army and takes the in base expansion, going 2 robo colossi as mutas poke around for some harassment keeping Ace in his base even longer as Kyrix takes more expansions and produces corrupters to take care of the colossi. The big battle occurs just down Ace's ramp, a mass of corrupters preventing the colossi from doing too much as the roach hydra army wore down the ground army, but Kyrix is not able to push up Ace's ramp and end it until another maxed army almost immediately replaced the first, forcing gg.
– Good micro dispatched an unrefined zealot cannon push. The rest of the game is Kyrix building up to insure the outcome of a game he had already won.
Player Grades
+ Show Spoiler [Show Player Grades] +

KyrixZenith -
B
Kyrix demonstrated how a zerg can turn any mistake into an economical advantage, he took expansions whenever he had map control, and he was patient enough to just sit back and drone until he is certain his army would crush Ace. Although there are still weaknesses in his play, he demonstrated that he is very capable of both keeping and growing a lead.

ST_Ace -
C
A few critical mistakes by Ace gave Kyrix the lead in games 2 and 3, compounded by Ace's passive play style when behind. The mistakes seemed to be experience based however, likely amplified by the pressure of the situation, so with more practice and familiarity with the matchups, Ace could quickly develop into a solid all around player..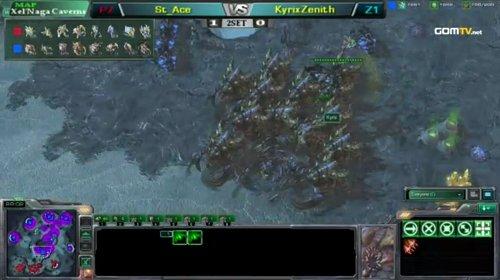 Ultras and Broodlords and Infestors Oh My!
"PippiJung's Hopes Tortured."

HopeTorture
< 2-0 >

Pippijung -
Game 1 @ Jungle Basin
+ Show Spoiler [Show Recap] +
Standard opening for PippiJung against HopeTorture's 1 barracks fast expandusing a reaper to scout around and marauders to defend. Protoss goes for a 4 gate stalker pressure with a forward pylon, forcing scvs to come out to help defend a very threatening push before the bunkers finished. Protoss opts to expand. Marine Marauder begins to accumulate as HT adds barracks and techs up to reactor starport, pushing out when two meedivacs finish, quickly taking down the destructible rocks at PippiJung's natural. A brief skirmish occurs, forcefields splitting the terran force but medivacs pick up the trapped units allowing a safe retreat.
HT expands to the middle for his third, adding tanks and Vikings to the mmm ball. HTs forces are split some ready to move in on the protoss natural should the army move out, but the protoss pushes that way with first colossi, catching some of those forces, leading to a big engagement near the terran third. Sieged tanks keep the large protoss force at bay. A large engagement at the terran third wipes out the majority of both armies as HopeTorture expands to the 2 o'clock expansion. PPJ scouts it with an observer and sends a few zealots to harass, pulling the terran army out of position as the armies build back up, PPJ adding HT with storm into his army. The protoss ball attacks the third as some of HopeTorture's army were pulled over to deal with the harass, the Protoss took out the planetary fortress, but reinforcements and the returning units overwhelm the protoss army, pushing on through the third of PPJ and forcing him to type out.
– This game showcased some high level army movement and positioning by both players in an exciting back and forth struggle. HopeTorture's faster natural and third made up for the early damage and put him economically ahead, ultimately overwhelming PippiJung through macro.
Game 2 @ Lost Temple
+ Show Spoiler [Show Recap] +
PippiJung scouts after 9 pylon, sending the probe immediately cross map finding HopeTorture. Protoss opens with a one gas 4 gate, HopeTorture opening again with a scouting reaper one barracks into in base command center. PippiJung applied pressure with 5 stalkers, sniping the marauders as scvs are pulled to barely repel the attack, protoss retreating down the ramp to delay the orbital command from flying to the expansion while simultaneously starting a nexus at the natural.
Just as HopeTorture moves out the warpgate army moves in, trading armies as the terran reinfocements kill the last of the protoss force, both expansions set up. Both players are content to macro for a while, HT loads up medivacs for multipronged attacks, forcing the nexus just starting at the gold to cancel, harassing the back of the main, and also abusing the ledge above the natural as both players begin building expansions at the golds. HopeTorture adds ghosts to the massive bio ball and pushes prior to PippiJung's High Templar, chargelots and blink stalkers without any AoE do little to no damage to the bio army, easily tearing down the third and pushing into the natural for GG.
– Four gate pressure again sets back HopeTorture, but impressive multitasking of multiple simultaneous drops kept HopeTorture from falling behind economically, and PippiJung 's choice of blink and charge prior to Templar or Colossi offered no answer for the massive bio ball.
Player Grades
+ Show Spoiler [Show Player Grades] +

HopeTorture -
A-
Despite showing a weakness to 4 gate pressure and taking damage both games, HopeTorture took control of both games shortly there after. Whether it is by taking a quick third or drop harassment, once he has a lead it seems impossible to take it from him. Today HopeTorture didn't make many mistakes, knew the timings, and has some solid strategies. Simply put, he is good.

PippiJung -
B
PippiJung may forever wonder what might have been if he commited all in to his 4 gate pressure, but opting for a longer straight up game with HopeTorture speaks volumes about his confidence and skill. His positional play and near break of the front in game 1 showed PippiJung was comfortable playing a little behind, willing to make up the difference through strong play instead of a risk. Game two may have been a slight error having charge and blink before storm, or HopeTorture managed to find an incredibly strong timing against PippiJung's build, but either way it was not poorly played, and I look forward to seeing more of his play.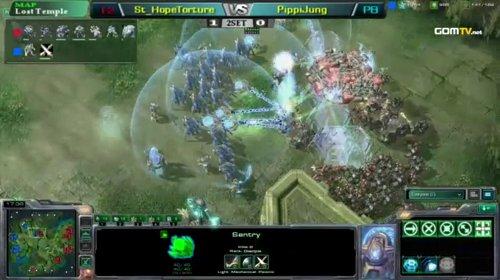 No Storm or Colossi = No chance



Ro32 Day 2 - "Three Lee's and a Grack."
Recaps by tree.hugger
+ Show Spoiler [Day 2 Recaps] +

"..."
CheckPrime
< 2-0>
SanZenith
-
No Stars
Game 1 @ Delta Quadrant
+ Show Spoiler [Show Recap] +
San goes for a forge FE and…. wait… a… minute … is that cannon blocking the nexus?
Yes, yes that cannon is blocking the nexus.

…

…

Check goes roaches off of one base, runs by San's arc of five cannons at the natural, and finds a nice corner from which he can remove the forge that's blocking the ramp. Check's roaches then sashay up into San's undefended main, and kill the nexus there. The final blow comes when Check slips another roach behind San's natural mineral line. Mercifully for himself and the audience, San calls gg.

No Stars.
Six minutes of my life I'll never get back.
Game 2 @ Scrap Station
+ Show Spoiler [Show Recap] +
All great men must tread a narrow line between genius and insanity. San takes a joyride on this treacherous path, by once again opting to forge FE.

He falls off.

No Stars
Twelve.
Player Grades
+ Show Spoiler [Show Player Grades] +
CheckPrime -
A
Check knows how to respond properly to a forge FE. We now know this much. I would've given Check a A+ for this series, but he actually lost an overlord to one of San's cannons in the second game, which is pretty embarrassing, given the circumstances.
SanZenith -
F
Hell, San was such a promising looking player. I mean, here's what I wrote about San's play in the Round of 64:
Relying on one safe and smart build with a premium on scouting was one of the better overall game-plans we saw from anyone in the opening round.
Not this time. San's play was pigheaded and poorly-practiced. He had no answers for a very logical counter from Check. In using a build that placed a premium on building placement, San got nearly everything wrong. In fact, it's hard to find a single thing San did
right
in any aspect of the game. Total, utter humiliation.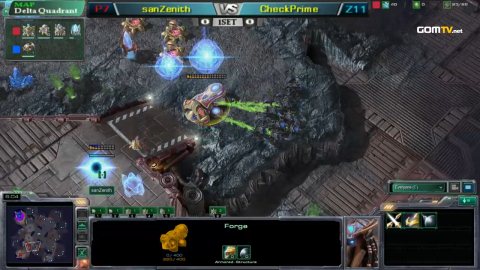 Doh!
"Boom."
Leenock
< 2-0 >
Suhoshin
-
Game 1 @ Scrap Station
+ Show Spoiler [Show Recap] +
Leenock, spawning in the lower position goes gas first, and then gets a pool, while Suhoshin trades a later pool for an earlier expansion. Suhoshin gets the earlier baneling nest, and pushes to Leenock's front door, but is unable to get any significant shots off, and is pressed back by superior ling numbers. Leenock then takes his opportunity to attack, and is able to do some damage in Suhoshin's mineral line with his banelings. Leenock is slightly ahead, and in the ensuing back-and-forth microfest he is slowly but surely able to gain an unit advantage. Forced to keep making banelings because of Leenock's pressure, Suhoshin lets banelings into his base a few more times, before finally decisively falling behind in production. He gg's as a set of banelings waddle uncontested into his mineral line.
We've all been starved of Sc2 ZvZ of late, which made this game extremely interesting to watch. In terms of quality, it was alright, but surely a must watch nonetheless. The color difference between the zerglings is impossible to tell, however, which makes it nearly impossible to figure out which player is winning the battles.
Game 2 @ Megalopolis
+ Show Spoiler [Show Recap] +
Identical builds from the first set, with Suhoshin grabbing the faster expansion. Leenock drone scouts, while Suhoshin does not, and he finds his opponent in time to deny his expansion for a while. Suhoshin storms out with large ling army, and pushes past Leenock's defense straight to his drones. Leenock has two banelings morphing on his ramp. The first is ineffective, while the second pops out just as Suhoshin is moving past. This fortuitous timing catches Suhoshin's entire army on its flank, and suddenly a huge advantage rests with Leenock. He makes good use of it, and is able to blow up most of Suhoshin's drones on his counter-attack. Suhoshin tries to make a game of it, but is quickly overwhelmed.
Unlucky for Suhoshin, who probably should've used a baneling to take out Leenock's morphing lings, and paid a steep price for this error. The game was mostly decided at this point.
Player Grades
+ Show Spoiler [Show Player Grades] +
Leenock
-
B+
Got lucky at the right time in the second game, but was the better player in the first. He seemed overall to have marginally better micro than his opponent, and was never really tested for very long in this series.
Suhoshin
-
B
It seemed like Suhoshin had the better build than his opponent, but he lost the initiative in the first game, and couldn't deliver what might've been the killing blow in the second game. There's not a whole lot you can fault Suhoshin for in this series, ZvZ is a volatile match-up, and things could've swung the other way in a heartbeat. But he made a few micro mistakes, and those are a few more mistakes than he could afford to make.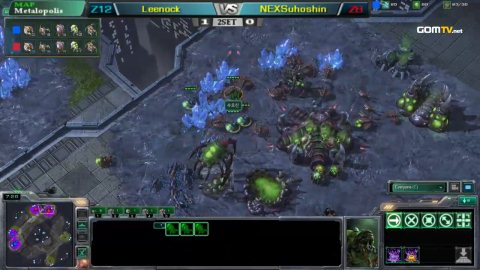 Ee han baneling timing.
"Tornado Warning"
oGsNada
< 2-0 >
ParkJongHyuk
-
Game 1 @ Xel'Naga Caverns
+ Show Spoiler [Show Recap] +
NaDa gets a fast reaper, and then races to banshees behind a bunker at his ramp. PJH has no intentions of rushing, however, and starts his expansion after a few marines. NaDa's reaper is mildly useful, assassinating a mule and the scv building the cc before being taken out. NaDa's cloak-enabled banshees finds even less success, falling to marines without killing anything. PJH is now up an expansion, but still on only one gas, and thus massively behind on tech. Presciently, NaDa is able to set up an expansion behind a set of tanks and then push out. His timing is impeccable, coming just before PJH's tank timing can come into play, and the balance of what appeared to be a one-sided game suddenly shifts in NaDa's favor. PJH loses all of his scvs, and has just lifted his burning cc when a viking appears to finish it off. PJH has no answers, and ggs.
A short game that looked like a dramatic comeback the first time, until you realize just how much gas PJH cut to take his early expansion. In retrospect, nothing special.
Game 2 @ Metalopolis
+ Show Spoiler [Show Recap] +
The players spawn at cross positions, with NaDa sending out the earlier scout and getting to spend some quality time checking out PJH's base, while PJH peeks in long enough only to see location, and not NaDa's double gas. NaDa plays the same 1-1-1 build that he used in the previous set, doing a small amount of damage with his reaper, and scouting PJH's cliiide-esque hellion opening. He is unable to block it off however, and three hellions runby into NaDa's base doing a fair bit of damage. PJH takes his expansion, and fends NaDa's banshee play off with vikings. NaDa expands and pushes out again at a similar timing, but PJH is better prepared this time and holds off the attack. Both players begin to maneuver for space outside PJH's base, with NaDa conceding ground but ultimately holding his ground and expanding behind his tank line. NaDa begins to set up an old-school tank-turret contain, and begins to take all the expansions on his side of the map. PJH chips into NaDa's lines on the edges, but is unable to have any real success, and falls behind drastically in economy. NaDa forces the issue by dropping the main which PJH sacks and instead takes his army through the center in a desperate attempt to even out the game. NaDa simply has too many bases and too much production capability, however, and despite doing a huge amount of damage, PJH is overwhelmed by the force of Nada's tank/thor counter push.
An exciting TvT that wasn't exactly close but featured plenty of stuff blowing up.
Player Grades
+ Show Spoiler [Show Player Grades] +
oGsNada
-
A-
There was nothing fluky about NaDa's wins. Despite being economically behind in the early stages of both games, NaDa comprehensively out-maneuvered his opponent to take home relatively simple victories. In a match-up that bears more similarities to its BW counter-part than any other, NaDa let his incredible BW knowledge and instincts take him into the Round of 16.
ParkJongHyuk
-
B-
PJH wasn't bad in either game, but he was very clearly the inferior player in the series. In each game, he chose to trade earlier tanks for an earlier expansion, and he could never make it pay off. That's not particularly easy to see coming in practice, and perhaps he can be forgiven for his errors in build choice. But ultimately, the GSL is not so forgiving, and PJH deservedly exited the tournament.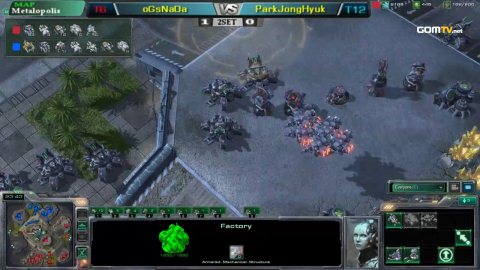 Iron Curtain.
"Grack'd"
EGIdrA
< 2-0 >
oGsGon
-
Game 1 @ Jungle Basin
+ Show Spoiler [Show Recap] +
Gon scouts early in order to deny Idra's expansion with an eBay, and then is able to deflect Idra's attempts to scout with some clever marine control. Gon then tries to pressure with a couple marines, but ignores a creep tumor and tries to kill an overlord, which allows Idra to push this small attack out with no damage. Idra nearly breaks through Gon's wall on the counter-attack, but a tank builds just in time and the zerglings are forced to retreat. Gon expands and throws down a bunker at Idra's future third, while Idra techs to mutalisks. Gon doesn't scan the spire, and he's not as prepared as he would've liked. Idra proceeds to demonstrate that Jungle Basin is a truly excellent map for mutalisk harass, repeatedly hitting the main and expansion and picking off depots and refineries at the periphery with little losses, and netting two tanks in one crucial attack.
Gon eventually moves out with massed marines and a thor, and is able to secure his third base, but Idra is already up to four bases, with prolific creep spread. Idra celebrates the massive amount of space Gon now has to cover by showing up at Gon's natural yet again and nearly clearing it out. Gon eventually chases out the mutalisks and immediately breaks down the destructible rocks to attack Idra's fourth expansion at the eight o'clock. He gets the hatchery, but masses of zerglings pour in and corner Gon's unsupported marine ball, leaving no survivors. Gon gamely builds another army and moves out, but Idra savages it in the center with little trouble, and moves in for the kill. Gon loses his third, and ggs.
- A one-sided game thanks to Idra's excellent map abuse and macro, featuring quite a bit of carnage, which is always fun.
Game 2 on Xel'Naga Caverns
+ Show Spoiler [Show Recap] +
Gon scouts early to proxy-ebay the expansion again. Idra makes a good show of trying to take it down, but (surprise!) he's actually going for one-base roaches! Gon makes a point of scouting, however, and sees the roach pressure ahead of time, and is able to prepare with a bunker. Idra finds a cute hole in the terran defense, and nearly breaks his way through the wall, but Gon is able to shut him down at the last minute with hellions.
Gon naturally moves to harass with the aforementioned hellions, teching to blue flame, but Idra stuffs the pressure, and both players take an expansion. Gon moves out with a set of tanks and marines, but is unable to position himself well, and Idra overwhelms him with massed roaches. Time is running out for Gon as Idra's creep blankets nearly half the map. Terran tries to be cute with a drop, but Idra's overlord coverage is excellent and Gon is forced to go overlord hunting, the surprise spoiled. Meanwhile, Idra is already at ultralisks, and out-muscles Gon's feeble army as the terran tries to take his third. GG.
The best game from Idra in the tournament. Somehow a cheesy one-base opener (didn't BaByWeRRa try the same opening?) gave way to ferocious macro play and possibly the most rapid creep spread we've seen in the GSL. Gon was totally overmatched.
Player Grades
+ Show Spoiler [Show Player Grades] +
EGIdrA
-
A
A completely dominating performance from Idra. Unlike his first round match, Idra actually got a chance to demonstrate his skills here, and they didn't disappoint. Not only were Idra's fundamentals as sound as we expect, but his play in the second game was unexpectedly unorthodox. And it didn't work, but Idra put the game away anyway. It might be safe to say after this series that Idra has the best ZvT in the game at this moment. At the very least, he's in the conversation.
oGsGon
-
C+
The most you can say for Gon is that he knew what he was doing. That's more than you could've said for Idra's first-round opponent, but still not enough to prevent the oGs coach from getting completely trucked. In the first loss, some questionable army management, and a total inability to deal with mutalisk harass were at fault. In the second, Gon might've had a better opportunity had he not chosen to go with hellion play. Yet he had numerous opportunities to make something happen and was unable to deliver each time. Gon gets credit for gamely sticking in each game, but it was ultimately all futile.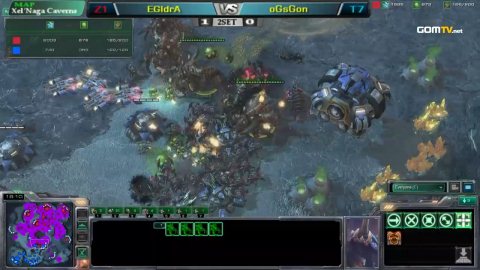 Creep spread so good you put it on crackers.



Ro32 Day 3 - "Lots and Lots of Banelings"
Recaps by Lovedrop
+ Show Spoiler [Day 3 Recaps] +

"Most Valuable Zerg"
oGsZenio
< 2-1 >
IMmvp (MVP) -
Game 1 @ Jungle Basin
+ Show Spoiler [Show Recap] +
oGsZenio sends down his drone for a 15 hatch first opening a bit earlier than usual, while the safe wall-in prompts IMmvp to drop down a quick command center after his first reaper. The reaper hops into Zenio's main but doesn't see much, while a well-placed Overlord notifies Zenio that an expansion is up and running for mvp. Roaches and lings break down the back door rocks at mvp's natural, and they are quickly turned around by a handful of bionic units. Mvp's army marches out to the 9 o'clock expansion in order to deny Zenio's third. The lack of centrifugal hooks and the beautiful positioning by mvp allows his marines to survive the baneling explosions. Zenio proceeds to hide banelings all over the map while knowing that he cannot be even based with the Terran, double expands in order to gain a lead. While Zenio's muta/bling army attempts to break mvp's natural, his marine-heavy army marches up the ramp and wrecks havoc in Zenio's main. Zenio has no choice but to pull back and defend. Mvp's reinforcements head to the 9 o'clock expansion instead, and takes it down with ease. While taking his third, mvp assaults the 2 o'clock expansion. A lack of economy and unit producing structures forces Zenio to secede the first game.
- Amazing marine spread and decision making by MVP. Zenio's late baneling speed cost him the game.
Game 2 @ Metalopolis
+ Show Spoiler [Show Recap] +
Spawning cross positions, Zenio once again opts for hatch first, while stealing mvp's second gas. MVP is able to peek at an early roach warren before his SCV is shooed out of Zenio's main. MVP begins a banshee and at the same time, decides to expand himself. Zenio finds that his opponent has expanded, and takes a quick third at the 11 o'clock position. Mvp pushes to the third while dropping marauders in Zenio's main, but the overwhelming number of the swarm defeats the encroaching Terran. Mvp expands to the gold behind his push, but now Zenio has began warping in a greater spire. Zenio denies mvp his fourth and makes a small push into the natural, but decides to pull back. While at the gold, brood lords go to town on mvp's mineral line in addition to zergling drops in the main. Mvp counter drops at the 12 o'clock natural, but the roaches make quick work of three dropships worth of units. Mvp's gold falls, and Zenio makes a quick tech switch to zergling/ultralisks. MVP makes the most of his vikings by constantly sniping overlords. Zenio's ultralisks engage the marauders at various points in the map, but while he has a substantial lead in supply, cannot break the Terran's entrenched position. Zenio musters up a maxed army of ultras and MVP simply cannoy delay the inevitable, ggs.
- While being entirely one sided half way through the game, MVP persevered and held on to drag the game on much longer than it should have been. Perhaps it is also Zenio's fault due to his constant small pokes rather than a strong massive push.
Game 3 @ Lost Temple
+ Show Spoiler [Show Recap] +
After making his first hellion, MVP expands and does not seem at all interested in that ledge at Zenio's natural. Taking advantage of the short air distance, MVP prepares a drop but a scan indicates that Zenio is more than prepared to fend them off. Zenio sneaks in an expansion at the 6 o'clock expansion and loads up a doom drop en route to MVP's main. The drop does some damage, and Zenio's third is denied by a touring medivac full of marines. Zenio is relentless with the drops, forcing all mining to cease at the main and the natural, while continuing to pressure both fronts of the Terran base. MVP not letting Zenio getting the best of him, decides to counter drop before he is forced to retreat. Zenio starts his third again, this time at the 6 o'clock natural instead. Zenio's continuous effort to drop becomes less and less effective, as he loses a bunch of overlords, some filled with units. MVP's dropship and banshees engage at the Zerg's main and snipe the Spire. Zenio, however, already has mutalisks morphing in and cleans up both banshees and the drop. While the drops are now being cleaned up rather efficiently, Zenio is committed to his play and loads up 6 overlords filled with units. Bad targetting by Zenio reduced the drop's effectiveness, while only now has MVP realized that the Zerg's 6 o'clock expansion has been running for some time now. Zenio defends easily with his mutalisks, and MVP has no choice but to push out. While MVp suffer minimal damage from the banelings, there were too many mutalisks for him to handle, and Zenio convincingly came back to win and advance to the round of 16.
- Zenio perhaps chose the most unorthodox advance into the Terran main. The drops caught MVP off-guard and it went downhill from there. At some glances it would seem that MVP would have been able to claw back into the game, but Zenio quickly closes down any opportunity that he had.
Player Grades
+ Show Spoiler [Show Player Grades] +
oGsZenio -
A-
His improvement from season 1 is ever so apparent, as he came back from being a game down and assured his placement in the next round. While his play was quite splendid, a few mistakes down the line cost him a solid A.
IMmvp -
B+
Delighted us with beautiful micro and solid play. Maybe could've scouted the Brood Lords and held on in game 2, and reacted better to game 3's constant drops.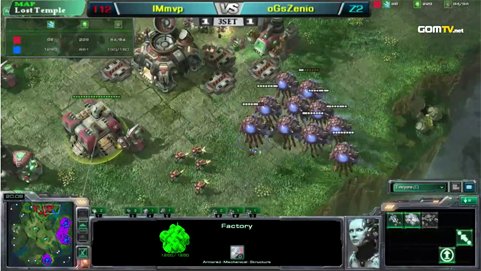 "I.LOVE.DROPS"
"MC got hammer'd"
NesTea
< 2-0 >
oGsMC -
Game 1 @ Scrap Station
+ Show Spoiler [Show Recap] +
oGsMC drops four gateways before starting his twilight council, hinting at a warp gate push with a more tech-heavy composition rather than a massive army. A dark shrine warps right in the middle of MC's base. NesTea's natural has been running for some time now, and MC looks poise to launch an attack as soon as his dark templars have finished warping in. A blind overseer by NesTea renders the DTs useless, and MC is forced to retreat and expand. NesTea, knowing that he has the upper hand, macros up a full control group of roaches and takes down the rocks. There are just too many roaches for MC to handle and NesTea takes game 1.
- Four warp gates push with DTs fell quite short of MC's expectations. NesTea quickly picked up on the fact that MC did not have the common army count of a four gate push and makes a detector, saving him the game.
Game 2 @ Lost Temple
+ Show Spoiler [Show Recap] +
oGsMC constructs a warp prism out of his robotics facility, and loads it up with stalkers. The warp prism unloads at the Zerg's ledge and begins harassing. MC impatiently rushes in with his remaining gateway units at the front, while losing some that are warping in right in front of NesTea's spine crawlers. The attack gets crushed by NesTea and once again MC pulls back to expand. NesTea stops making roaches and being muta production, while secretly takes the 9 o'clock main. The mobility of the mutas in addition to speedling run bys cripples MC's economy. As mutas outnumber the amount of stalkers, MC taps out as his stalkers disintegrate.
- The idea of stalker / warp prism harass is quite effective, but it seems as though MC's execution was quite poor. NesTea's defense held strong and never gave away his macro lead.
Player Grades
+ Show Spoiler [Show Player Grades] +
NesTea -
B
Nothing spectacular on his part, just solid macro and showcased his defensive ability.
oGsMC -
C
Devised both strategies with great potential for terrible damage, but neither of them were carried out the way that he had planned.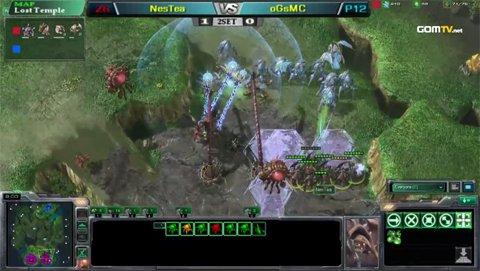 Holding down the fort.
"The Maka Rax"
oGsTheWind
< 2-0 >
MakaPrime -
Game 1 @ Shakuras Plateau
+ Show Spoiler [Show Recap] +
Maka fast expands right after oGsTheWind, while simply choosing to go bio instead of teching up. Maka moves out prematurely aiming for a quick stim push, but an extra round of zerglings surround and clean up every single marine. TheWind pushes with a mini baneling bust, inflicting damage to Maka's army count and SCV line. TheWind presses his advantage by taking a third at the 11 o'clock main. A questionable fourth at the 5 o'clock main goes up for TheWind, but it is not certain that he will be able to defend it. Maka pushes out with a marine/tank army, while slowly establishing a turret line as he moves out. The turrets catch a glimpse of the burrowed banelings all over the map, and Maka catches on and scans as he pushes towards TheWind's main. An army trade at the middle of the map leaves Maka no choice but to pull back of what's left and regroup. Maka attempts to drop at the 11 o'clock expansion while making a CC of his own, but the base count now sits at 5 to 2 with another one on the way for Maka. TheWind intercepts the drop and begins brood lords production. Maka redirects his drop to the main but once again denied. The brood lords begin working on Maka's third, while Maka's drops yield no profit. Maka trades all his marines for the brood lords, but now the imminent threat of ultralisks are on the way. The ultralisks manages to take out Maka's main army, while TheWind also losing his whole army in the engagement. TheWind once again goes back to brood lord to take out Maka's third, while the incoming stream of zergling stops mining at Maka's fourth. Maka eventually scouts his opponent's expansion at 5 o'clock. To his dismay, Maka has no choice but to resign.
- Although TheWind's play did not seem dazzling at first, his instinctive timing and decision making thwarted any incoming threat that Maka could've posed. The risky expansion at the 5 o'clock paid great dividends.
Game 2 @ Xel'Naga Caverns
+ Show Spoiler [Show Recap] +
Maka builds a proxy barracks at his own gold, but is quickly scouted by a passerby overlord. TheWind shortly drops a roach warren after his expansion and is now safe from any possible early aggresion. Maka uses his proxy barracks as a scout, while he hesitantly expands. Maka only begins to fly his CC over to the natural after having a decent amount of marines and marauders. His suspicion was comfirmed once he moved out of his main and is immediately ambushed by a massive amount of speedlings and a few roaches. Maka is forced to run back into his main and delays his expansion even later. Maka's banshee scouts out a quick third by TheWind, and once again attempts to take his natural. Only after the third time with medivac support is Maka able to land his CC in peace. A counter push in the direction of the Zerg's 5 o'clock expansion comes 71 HP short of the hatchery falling. TheWind is now looking to take his fourth at the natural, while his mutalisk harass forces the marines to stim multiple times. Maka's drop in the main takes out quite a few drones, but it seems as though TheWind's four hatcheries can reproduce that in no time. TheWind suicides his mutalisks into the marine ball at the right watch tower, a disastrous move. Although the tank splash did kill off a handful of units, the sheer amount of banelings in TheWind's army just rolled over Maka's marines. Maka finally is able to snipe TheWind's third, and now both players have their gold expo up and running. Brood lords begin raining on Maka's gold but this time around, Maka was prepared and his vikings were already in production. TheWind consistently backstabs with lings and harass with mutas began to wore Maka down, as now his gold is slowly mined out. TheWind maxes out with a few muta/brood lords while his ground units had nothing but banelings. Maka's army disappear in a matter of seconds and Maka falls to oGsTheWind in the round of 32.
- TheWind shows his ability to adapt and is a constant thorn in Maka's play. Maka's puzzling proxy barracks once again serves no purpose, and was detrimental to his late expansion.
Player Grades
+ Show Spoiler [Show Player Grades] +
oGsTheWind -
B+
Was never threatened by Maka. Without being pressured, TheWind was able to carry out his gameplan and execute with ease. Punished Maka several times in both games and only further pressed his lead.
MakaPrime -
C
Once again the Maka rax was simply useless. Getting caught out of position in game 1 delayed his two base timing push, and never came close to TheWind's main. He had very insufficient scouting in game 2 and paid for it as his expansion came over 5 minutes later than TheWind's.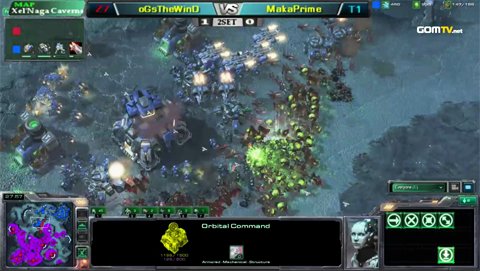 "The bane[lings] of Maka's existence."
"Made in China"
Loner
< 2-1 >
Terious[fOu] -
Game 1 @ Scrap Station
+ Show Spoiler [Show Recap] +
Loner techs up to starport while begins construction of his CC inside his base. Loner takes his first hellion to scout Terious[fOu], who now has made a few defensive roaches and begins drone production. Loner's banshee optimistically charges into Terious's main looking to kill some drones, but leaves empty-handed as two queens were there to defend. Meanwhile, Loner has now landed his CC at the natural and more barracks are being constructed at his main. Loner takes down the destructible rocks and pushes with a heavy tank/marine army, at the same time, a zergling backstab by Terious takes down every single SCV at Loner's expansion. Loner's push does a considerable amount of damage, but he loses his whole army in the process. Surprisingly, the Zerg does not have any sort of economic lead, but Terious now has the gold expansion. A second push by Loner gets turned around instantly as a huge chunk of his marines fell to baneling traps. Loner's macro held strong and after taking out the third, Loner pushes into the main once again, this time cautiously scanning and leapfrogging his tanks. Terious GGs.
- While losing his army twice, Loner did not falter and relied on his solid macro to muster up another army and follow through.
Game 2 @ Xel'Naga Caverns
+ Show Spoiler [Show Recap] +
Loner once again opens 1/1/1 into expansion, while his early hellion/banshee combo clears out any wandering zerglings around the map. In addition, a viking is sent off for overlord hunting. Terious's hidden third is scouted out by the viking and Loner gives it no chance to be functional. The banelings burrow all over the map and Terious runs in for a counter attack. Loner pulls back to defend, losing a few marines to banelings. The threat of banelings forces Loner to make a raven, while Terious double expands to catch up. The raven gets sniped, and Loner uses multiple scans to safely make the trip to Terious's main. Terious choosing to attack instead of defend and catches the supply depot lowered and easily penetrates Loner's main production facilities. Loner splits up his army to attack and defend at the same time. Loner's attacking force gets decimated by banelings, and the batch he pulled to defend is now running in the other direction. Loner's indecisiveness proves to be his downfall as his remaining force gets slowly picked off by banelings and as a new wave of Zerg units flood his base, Loner types out.
- Loner crumbling under pressure, hastily decided on tactics that made little sense.
Game 3 @ Lost Temple
+ Show Spoiler [Show Recap] +
Loner expands before teching up, scouting with an early reaper. Terious sneaks in 2 zerglings and see the four barracks. Anticipating an early push, Terious quickly morphs in a baneling nest while halting drone production. The zerglings stream across the map and Loner wisely pulls back into a defensive position. Waiting for stim and combat shield to finish, Loner pushes out but loses more units than he would have liked to banelings. Once again, Loner's macro shines as he was able to gather a much larger army the second time around with raven and medivac support and marches into Terious's natural. Cleverly using his marauders as shields, the marines deal insane dps and Loner takes down the Lair, and once again trading his whole army while doing so. Loner reenacts the same scenario minutes later, as a rather eerily-similar composition of units triumphantly walks over Terious and into the round of 16.
- No room for mistakes this time around for Loner. Exposed the small windows of opportunity and once again triumphant in the macro wars.
Player Grades
+ Show Spoiler [Show Player Grades] +
Loner -
B
Rebounding from a baffling game 2 with strong macro, a true key to Loner's success in this tournament.
Terious[fOu] -
C
It seems although Terious was nowhere at the level of Loner's gameplay, but caught a lucky break in game 2 where Loner just collapsed to the pressure of the situation.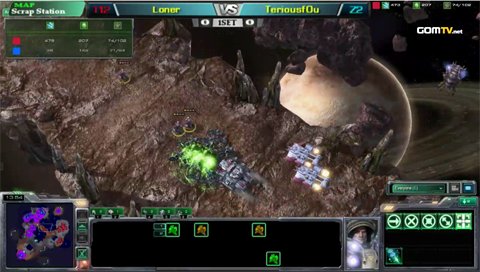 It's a trap.



Ro32 Day 4 - "Boxing Day"
Recaps by BroOd
+ Show Spoiler [Day 4 Recaps] +

"The Talented Mr. EllenPage"

Fruitdealer < 0-2 >

BoxeR (EllenPage/Clare)
-
Game 1 @ Metalopolis
+ Show Spoiler [Show Recap] +
Little boxer opens with a rax in his main followed shortly by a proxy rax and sends his early marines with a pair of scvs to fruitdealer and manages to cripple him, killing two critical overlords, a queen and forcing drones to spend an inordinate amount of time off of mining. FD survives the initial attack but can't recover from the economic damage and GGs shortly after.
- Some amateurish mistakes, conspiring with Boxer's furious marine micro, led to Fruitdealer's loss.
Game 2 @ Jungle Basin
+ Show Spoiler [Show Recap] +
Both players open with fast expansions behind their mains while boxer shows his read on Fruitdealer's playstyle by walking into his main with his first 4 marines and sniping an overlord. Boxer produces only marines and drops two full dropships onto FD's expansion, sniping the baneling nest as well as plenty of drones, lings and queens. FD holds off the terran pressure for a few minutes, but Boxer's economy allows him to simply pour bio/medivac on FD until he taps out.
- Boxer read FD like a book, and his aggressive tactics payed off.
Player Grades
+ Show Spoiler [Show Recap] +

BoxeR (Ellenpage / Clare / Foxer) -
A
Foxer's preparation and cool demeanor were crucial components of his upset of the best player in the world.

Fruitdealer -
C
Whether these are glaring flaws in his gameplay or simply an underestimation of his opponent remains to be seen, but Fruitdealer looked very human today.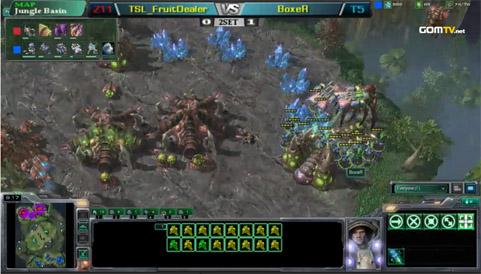 The double octodrop.
"Incan Conquest."
oGsInCa
< 2-0 >
TankBoyPrime -
Game 1 @ Delta Quadrant
+ Show Spoiler [Show Recap] +
Tankboy throws down a Maka rax after his first rax and gets a bunker up in Inca's main, but out of range of being able to do any worthwhile damage. Inca techs quickly to dark shine but cancels it after tankboy spots it with a scan, instead choosing to warp in an expansion and get zealot speed. Tankboy has a CC sitting in his main too afraid to lift to either expansion for fear of DT or all-in. Tankboy finally works up the courage to move out of his main only to be promptly and convincingly dominated by forcefields as Inca rolls over Tankboy.
- Inca took full advantage of the fear he inspired in Tankboy with his dark shrine in an excellent example of reacting and adapting.
Game 2 @ Scrap Station
+ Show Spoiler [Show Recap] +
Inca opens with 2 gates into a stargate while Tankboy put down 2 barracks before getting dual starport. Inca pops out a voidray to poke at the terran, who foolishly tries to poke back with two banshees only to meet an observer backed up by stalkers and voidrays. Tankboy expands late behind what seemed like a rush build. Inca keeps producing voidrays along with his army and flattens Tankboy's army with ease.
- Tankboy's build made no sense, and so Inca deservedly crushed him.
Player Grades
+ Show Spoiler [Show Recap] +

Inca -
A
Inca showed few, if any, flaws in these games, playing solid as a rock.

Tankboy -
D
Nervous play, confusing decisions marked Tankboy's day.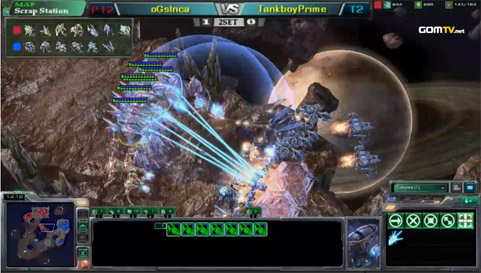 Those vikings have the right idea
"High Immortal Quotient."

NexGenius
< 2-0 >

Gilja -
Game 1 @ Blistering Sands
+ Show Spoiler [Show Recap] +
Gilja opens with 3 rax and takes out his rear destructible rocks, while Genius gets 2 gate robo. Gilja jumps up to 4 rax, rallying units at the toss but Genius holds off the attacks with handy forcefield micro. Genius makes a couple of colossus and storms into Gilja's base with strong forcefielding, destroying the terran army and winning the game.
- Genius dominated Gilja's all-in play with finesse and power.
Game 2 @ Xel'Naga Caverns
+ Show Spoiler [Show Recap] +
Gilja starts off with a single barracks expand, pumping out some stimmed marauders. Genius goes 2 gate robo, holding off the initial marauder pressure despite missing a forcefield. Gilja moves out and gets his small army forcefield-trapped and annihilated by the immortal-bolstered army.
- More domination from Genius.
Player Grades
+ Show Spoiler [Show Recap] +

NEXGenius -
A
Genius barely felt the speedbump that is Gilja

Gilja -
D
Poor Gilja got run over by the mac truck that is NEXGenius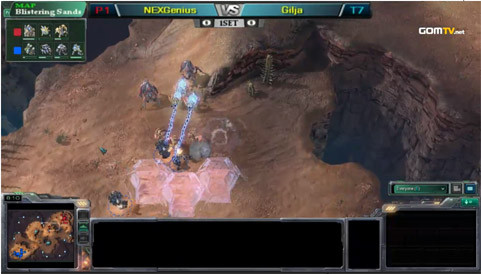 Leave? You can't leave...
"The Emperor's New Game."
SlayerSBoxeR
< 2-0 >
CoreJJang -
Game 1 @ Steppes of War
+ Show Spoiler [Show Recap] +
Boxer opens with some early tech-lab cancelling antics on his barracks as Core starts a 3 warpgate robo style. Boxer proxies a starport and starts to harass with cloaked banshees. Core has obs out already, but the banshees still manage to eliminate a significant number of probes. Boxer regroups for a marine/tank/banshee attack and, despite splitting his army in 1/2 at a critical battle, he still manages to hammer the protoss army.
- Smooth play from Boxer, as expected.
Game 2 @ Scrap Station
+ Show Spoiler [Show Recap] +
Both players open standard, with boxer getting a hidden starport for banshees and Core warping in a stargate for phoenix and voidrays, but the Emperor's banshee completely surprises Core, who hasn't even started a robo. The banshee heads right for the helpless probes and, now cloaked, is unhampered in his quest to destroy the workers. Core knows he's lost and concedes with a GG.
- Not a good game, but it sure is great to see Boxer win, especially with such ease.
Player Grades
+ Show Spoiler [Show Recap] +

Boxer -
A-
Boxer looked in good form, but it will take longer games and a better opponent to really test his limits

CoreJJang:
D+
A tough day for Core, who found himself on the business end of some BOXERSHEES.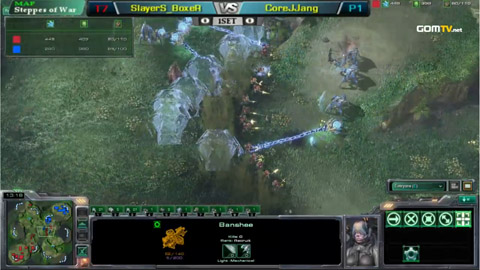 The forcefields served to keep the wind off the marines' backs.
---

Next: Round of 16 Recap

The GSL is ramping up toward an epic clash between legends, rivals, and Zergs we've never heard of before. Also at stake is the coveted "S-Class" ranking classification that allows players to automatically qualify into GSL 2011 events. Nada. Boxer. Idra. Genius. Who will make it through? Find out next week.

Thanks for reading!