Sea is back, baby. After a close run series with a rather underwhelming ending, the former MBC progamer has claimed his second SRT victory and with it moved within 20 points of Killer in the SOSPA Elo ranking. While the true importance of this result is hard to gauge, it represents probably the most significant dent in Killer's hegemony since his debut in 2012.
This post begins with KristofferAG's painstakingly rendered
recap of the tense grand final series
contested by Killer and Sea. Following up is a
collection of tidbits and story-lines
from this tournament that might have changed the way we think about the SOSPA scene, or have some significance for future tournaments.
With a sponsor already announced for the next installment of the SOSPA Ranking Tournament, we shouldn't expect much of a break before Sonic is hard back at it. Until then, stay up to date by reading the
Brood War Tournaments forum
or catch up on any games you might have missed in the
Small VOD Thread
.
Grand Final Recap
Sea vs.
Killer
Sea
<
Fighting Spirit
>
Killer
Sea
<
Match Point
>
Killer
Sea
<
Neo Medusa
>
Killer
Sea
<
Fighting Spirit
>
Killer
Sea
<
New Wind and Cloud
>
Killer
Though everyone expected Killer to make it to the finals of this Ranking Tournament, I don't think the same can be said for Sea. The Terran has failed to show any impressive results since his return to BW, except a first place finish in the 11th SRT. Hell, with his miserable performance in the SSL I personally had him pegged to drop out in the Ro8. Boy am I lucky to have been wrong, and boy did these two show us some impressive games!
As usual Fighting Spirit is our starter map in this Bo5. Killer opens pool first to put pressure on the Terran, while Sea goes for a 1 rax expand. Having six lings in your base is never a fun experience, but Sea micros nicely and ends up trading a single Marine for 5 zerglings. Meanwhile, Killer is expanding to his natural and moving towards mutalisk play, as Sea secures his natural. His following MM push is however delayed by a few zerglings still out on the map, allowing Killer to get up three sunkens before Sea arrives, forcing him to stay back.
Soon enough Killer's mutalisks pop and start harassing Sea's natural. In spite of the six turrets already up, he's able to take out the majority of the mining SCVs without taking too much damage, before taking out the MM force Sea sent out earlier in the game. At this point, Sea has his first siege tanks out along with a Science Vessel, and is ready to start his push on Killer's 6 o'clock third, taking it out completely uncontested. Killer re-establishes his third in the 9 o'clock base and techs up to ultralisks, while Sea takes a third of his own. With both players' armies looking terrifying, it's Killer who decides to lead the charge into Sea's fortified natural. With a wide siege tank line and some good irradiates, the army of Killer quickly goes down, with Sea still having half his siege line intact along with some vultures and medics. As soon as the last ultralisk goes down, Killer calls the GG.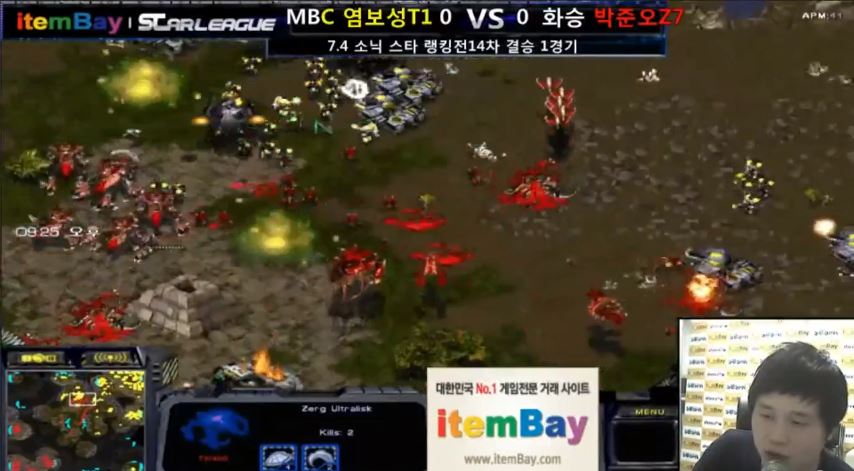 Killer's last stand.
Moving into Match Point, Killer once again opens up with a pool first into hatchery, delaying his gas heavily. Sea is going for a 1rax expand, finishing his wall with a CC, denying Killer's zerglings any early game action. The Zerg player is meanwhile teching up to spire off two bases. As soon as his two medics are finished, Sea moves out over the map, almost intercepting the first mutalisk to pop out in the middle of the map. So, barely avoiding the marine taskforce in the middle of the map, Killer moves on to Sea's natural. There are a few turrets in place, but not enough to stop Killer's micro. Once again the majority of the SCVs go down, and Killer doesn't stop till Sea charges down his natural with the small army sent out earlier. The two sunkens fall quickly, but zerglings and mutalisks manage to clean it up before the hatchery falls.
By now, Killer's mutalisk army has grown terrifying. As he saves the weak ones for later use and replaces them with full health mutalisks, he's able to continue picking off turrets, SCVs, marines and medics. All the mutas eventually get weakened, but the damage output is still there, and Sea soon finds himself with only three SCVs on his natural, and zero marines or turrets. Game two goes to the Zerg.
In the next set on Neo Medusa, Killer switched it up, going for a hatchery first before pool and gas. Sea stuck to the same build, 1rax expand, starting his wall with his first supply depot. Knowing he couldn't pressure the front, Killer manages to glitch two zerglings in through the back of Sea's base, managing to take out three SCVs before getting cleaned up.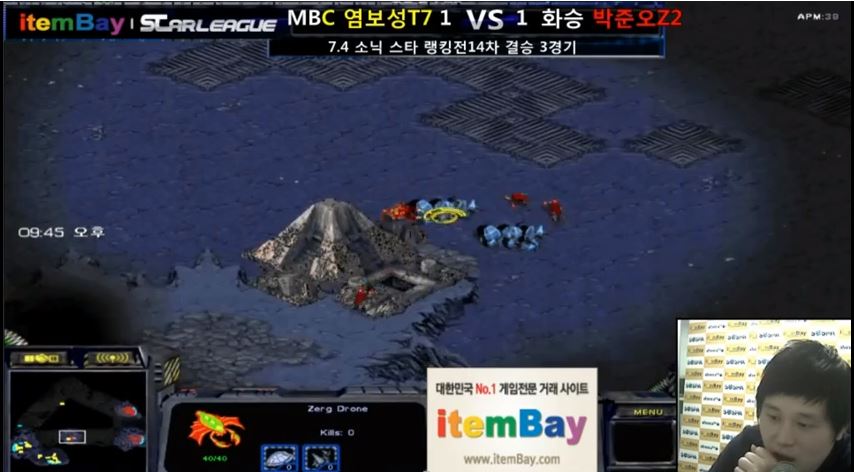 Going in dry.
Killer grabs a third as his mutalisks pops, but Sea's seen it coming. Turrets are ready in the main mineral line, and with nice repairs Killer loses a mutalisk before taking out a single turret. The harass continues, but has little success, while Sea pushes the third of Killer, taking it out along with the drones mining gas. Instead of defending, Killer decides to camp the barracks of Sea, keeping his marine count low. For some time it looks like Sea will be able to hold back the mutalisk pressure, but when a second full control group arrives, it's clearly over; GG gets called quickly.
Suddenly Killer finds himself in the lead, preparing for a 3-1 victory over Sea. We move into my favorite game of this match, set four on Fighting Spirit. Oh boy, it was a treat. Sea places a somewhat forward Barracks outside of his natural, while Killer goes for his standard 2-hatch muta opening. Sea moves out with three mutalisks, but pulls back when he realizes there are three sunkens in place. Three zerglings from Killer make it into the main base, but are unable to pick off anything. Sea on the other hand intercepts the mutalisks mid-map, and picks off two before they even reach Sea's base, where there's a turret and marines waiting.
With Killer's harass ability crippled for some time, Sea is allowed to build up a decent marine army, which continues to keep Killer's mutalisks from doing anything to halt Sea's mining. Killer's forced to settle back and take the bottom left main, which is instantly scanned. Sea sends marines to take it out, but Killer smartly morphs a lurker on the ramp. By the time Sea takes it out there are already lurkers waiting for him, and he's forced to pull out. Killer's mutalisks make it into the Terran base to take out a few SCVs and scout Sea's currently building third, but at the same time drops go down both on the third of Killer and in the main. Though the third doesn't go down, Sea picks off two lurkers and three mutalisks before it's cleaned up, and the drop in the main kills a handful workers. Somehow a single marine stays alive in the main of Killer, which nets 11 kills before going down.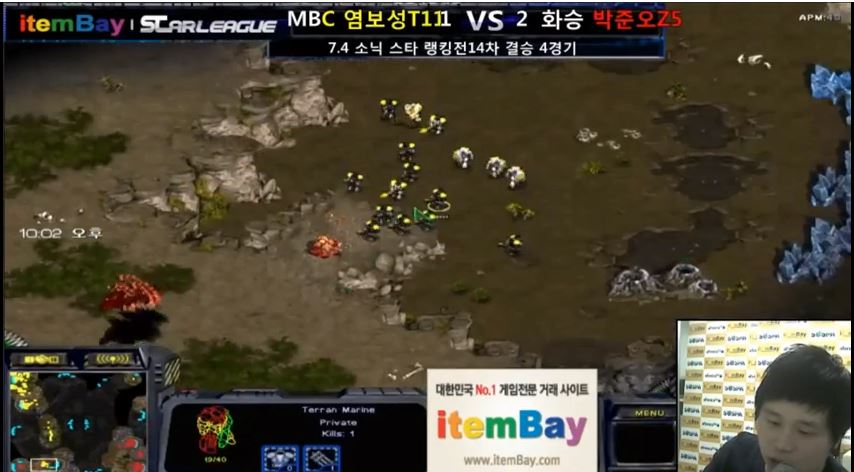 Manner lurker.
While Killer's mutalisks are denying the third of Sea, forcing a lift-off, Sea is focusing his entire army on killing the 7 o'clock base of Killer. However, the nydus canal finishes just in time, and defilers are ready with swarm to force Sea back. Killer secures the natural for his fourth while Sea takes the 1 o'clock main, but a surprise attack from guardians lock down Sea's own natural for quite some time, taking out a lot of marines and SCVs before going down. With the map basically split in the middle, with only the middle, 9 and 3 o'clock bases still clear, Sea continues to try and drop the 7 o'clock, but is consistently blocked by Killer. He eventually does get a block behind the mineral line, but is unable to take out the nydus before zergling reinforcements stream in to clean it up.
Both armies are starting to look fairly terrifying, with ultralisks, defilers and lurkers all being ready for Killer, and siege tanks, vultures, goliaths and science vessels being out for Sea. There are some minor engagements as they fight over who gets the 3 o'clock, but it eventually goes to Killer. Whether or not that's good for the Zerg is hard to tell, because Sea quickly starts sieging it up, taking it down along with all the static defenses and workers that used to be there. The 9 o'clock is left completely alone though, and Killer picks that one to replace the one he lost.
Killer's Queen(s).
Then, suddenly and out of nowhere, 15 queens arrive, raining broodling death on Sea's tanks, while Killer at the same time takes out the 3 o'clock base that Sea recently secured, and defending his own newly taken 9 o'clock base. Suddenly it all looks very very grim for Sea, as he's stuck to only the two mining bases in the top right, and the queens aren't done, returning time and time again just to take out half of Sea's tank army. It looks like the point of no return for Sea.
But Sea's no quitter. He once again takes out the newly taken 3 o'clock from Killer, and while Killer is busy trying to save it, he moves into the 9 o'clock and cleans out that one as well. And that's not it, his science vessels finds all of Killer's Queens, and takes out most of them with irradiates. This is his cue to push, as he sieges up closer to Killer's bottom left bases, while retaking the 3 o'clock for the third time this game. His forward forces are cleaned up, but there are no defilers around to help so Killer himself ends up with a rather tiny army. Killer desperately tries to get up the 9 o'clock again, only to instantly have it denied, and as Sea brute forces his way into Killer's bottom left, and final, mining bases, GG is called. This Best of 5 is going to game five!
And oh boy was game 5 a massive bummer. We're on New Wind and Cloud, a rather large map with 4 spawn locations. It should be amazing, right? We just had a great game on Fighting Spirit that really showcased the skill off both of these players, but Killer decides to not go above 5 drones this game.
Killer went for a 5-pool. Don't get me wrong, I don't mind risky all-ins. But this one just seems far too risky. He does however manage to send the zerglings to the right spawn position off the bat, and thanks to that he does make it into Sea's man in spite of some impressive SCV blocking. By now there's a bunker in the main, which Sea then surrounds with his barracks and a supply depot. Killer eventually tries to go for the bust when his reinforcement lings come in, but Sea's reaction is quick, and so is Killer's death. And with that, Sea takes his second Ranking Tournament Championship!
Five Things We Learned
Sea Really
After a few months in the wilderness, subsisting on scraps from event matches and random balloon bet matches, Sea has resumed his rightful place at the top of the Afreeca food chain. Sea's run included victories over the two stand-out players of SOSPA competition in recent months and mean that he is a strong favourite going into the next SRT, regardless of the draw.
V for victory.
While his 3-2 victory over Killer in the final meant this tournament rounded off nicely for the former MBC Terran, the thing that is really significant for Sea going forward is his performance in the 3-1 semi-final victory over Movie. Having struggled, not just during his Afreeca career but also in his days as a progamer, with strong Protoss opposition, such a comfortable victory over SOSPA's best Protoss and PvT powerhouse should have all but dispelled any self-doubt that was preventing Sea from producing the kind of results that reflect his quality as a player.
The Hero We Need
Although he's not even really come close to winning a tournament, the last few months represent an excellent run of form for hero, who has seemingly improved with each new tournament as 2013 has advanced. Narrowly losing out to Killer in the Ro4, while playing in his weakest match-up and ending the SSL champion's 8 month long winning streak, hero appeared to have turned a corner. With this, along with a ZvP still good enough to beat the best Protoss in the scene and a ZvT that took out one of the strongest and most recently retired Terrans, hero looks well positioned to continue challenging for these top four finishes, even perhaps another finals appearance if things fall his way.
Not Dead Yet
Pusan has been on a pretty consistent downward trajectory since his fourth place finish in SSL7, but after an impressive 2-0 series win versus Movie in the Ro16, it appears there's still life left in the old MBC captain. When Pusan took a break from SOSPA competition earlier this year, it seemed like the SSL8 might have been the last we would see of him before he had do his mandatory military service.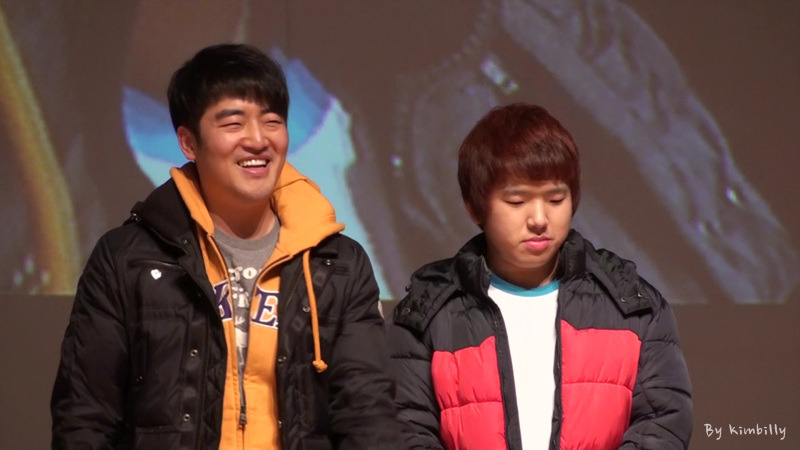 It feels like years since Pusan stood on the SSL7 finals stage.
Although he did eventually return for the SSL8, and then SRT13, 0-2 exits in the Ro16 of both tournaments made it unclear whether or not it was really worth him coming back for good. It seems unlikely that Pusan will ever be able to make it deep into any SOSPA tournament in the future, especially considering the ever-increasing level of play, but his performance in this tournament shows signs that he may at least again become a real competitor.
My Wife For Hire
No SOSPA news run would be complete with at least one mention of how much we like ZeLoT. Although he was handed a Ro16 group that suited his skills quite well, ZeLoT continued to show the kind of consistently solid performances that no one would have expected following his break out earlier this year. With a number of other new amateur players being brought into Sonic's leagues, ZeLoT remains a shining example, regardless of his play style.
Third Time, No Charm
With Killer having returned to SRT competition, it looked like a big ask for Movie to follow up his wins in SRT12 and 13, but in the end the former CJ Protoss needn't have worried as he fell well short of Sea in the Ro4. While he's still comfortably one of the top three players in the scene right now, with his past failings versus Killer and Sea's apparent resurgence, Movie may be in for a lot of these nearly-man tournament finishes in the future.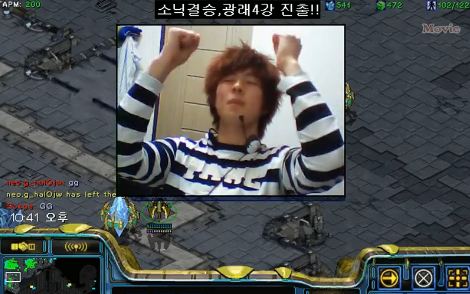 Movie's victory face is so good I'm kind of sad he lost.
One thing that was well apparent even during what was a relatively disappointing performance against Sea was Movie's unabating aggression which seems to have become a little less effective against some players than it was earlier in 2013. Given that this style is a relatively new thing for Movie, who was much more careful and considered during his career as a progamer, having the ability to mix it up and occasionally play slightly more orthodox games might prove valuable going forward.