As you may know i like to write about sports, and sporting events (Football Thread/EURO Thread/Blogs about; Snooker/Football) and now it is the turn of the Darts final, as it was truly amazing and breath-taking!

+ Show Spoiler [Quick Summary of How This Tournament W…] +
It's a single elimination bracket where everyone is seeded 1st seed is at the top, 2nd seed at the bottom of the draw.

72 total players enter

Big prize money - Winner gets £200,000

The games are set based; sets are won by a bo5 leg system (first to 3 legs)

The person who throws first has an advantage to if he wins all his legs he will be first to 3 and take the Set (3-2 if goes with the throw)

If players are level in sets (5-5 and first to 6 sets) then the last set must be won by 2 clear legs; meaning the player has to break the throw of his opponent to win.


I'll start by posting a YouTube clip of the entrance of The Power - , try and watch his entrance (it's only like 30seconds, and only watch it if you don't know what it is like)

This year's PDC World Darts Championship, was the best there had ever been, the amount of players that were "on form" was staggering, and the level of darts showed that. It packs out the Alexandra Palace in London on a daily basis from 14th December all the way through to New Year's Day (the final).

This year's final would be one for the ages! It was a battle between the 15 time world champions Phill "The Power" Taylor and "Mighty" Micheal VanGerwen (also known as MVG!) a young 23 year old, fast paced treble 20 hitting machine. He came into this final off the back of a 9darter then a 9dart miss vs James "The Machine" Wade. 9 Dart Finish, for those who do not know what one is (this is his too)



+ Show Spoiler [Phil Taylor] +


Name: Phil Taylor
Age: 52
Nationality: English
Birth Place: Stoke On Trent
World Championships: 15



Taylor came into the final of some pretty average performances, not averaging especially high, nor playing the best he has ever played before. Also, Taylor in the semi-final, played his long-time nemesis (but friend) Raymond "Barney" Van Barnefeld in a mouth-watering game. Barney came into this game in the better form of the two, averaging way higher than Taylor, but Taylor has always had the edge over Barney in their rivalry. Taylor would storm into a strong 5 - 1 lead! (first to 6). He would then miss a dart at double top (double 20) to win the last set and go through 6-1! That would prove costly as Barney would fight back to 5-4! He would then miss a single dart at a double to take it a deciding leg shoot out, only for him to miss. And as Taylor has done over his career, when you miss, he hits, and hit he did, to take the leg and the game to win 6-4. But this is not where it would stop as it got a bit heated on stage. Taylor would walk over to the referee and the scorers to shake their hands after he celebrated, to then eventually walk over to Barney for a hand shake, but he looked very disturbed and unhappy (probably at himself for letting this game go from 5-1 to 5-4) and a little confrontation happened. Barney tried to pull Taylor in for a hug (lots of bromance goes on in the darts) and Taylor felt threatened by this and told him to fuck off basically, and it all went a bit south. Very ugly scenes for quite arguably one of the greatest games of the tournament thus far.



+ Show Spoiler [Micheal Van Gerwen] +

Name: Micheal Van Gerwen

Age: 23

Nationality: Netherlands

Birthplace: Boxtel

World Championships: 0


Mighty Mike came in to the final on the back of a tremendous game against Adrian "Jackpot" Lewis, the two time defending world champion (won the last 2 world titles) and James "The Machine" Wade, a 4 time world championship semi-finalist. In the quarter final tie vs Adrian "Jackpot" Lewis, he would edge out a thrilling game of 180s galore and fast paced darts, 6sets to 5. To then set up a tie vs James "The Machine" Wade in a semi-final. The machine is nicknamed for his ability to; "You Miss, He Hits". He is my favourite players, i always put bets on him as he is great odds and always cashes in for me via his smooth machine like performances! This game would be a battle for Mighty Mike, as he was scoring so well on the treble 20s but was missing his doubles, and like i said earlier, if you miss vs The Machine, he hits. But, this is Mighty Mike we are talking about; he is not the best player on the tour for the last 6 months for no reason, and not averaging the highest in the tournament thus far for no reason. He produced a piece of magic, a 9darter. (A 9darter is where you hit 3x treble 20s 3x treble 20s, Treble 20 Treble 19 and Double 12, to win the leg in the minimum darts possible) Not only did Mighty Mike do this, but he would the following leg, nearly hit another 9 darter! To only miss on the last double 12! This still would not be an easy match for Mighty Mike, but he would reign supreme at the end and won 6sets to 4, to set up a mouth-watering clash vs The Power, the peoples final!

9 Darter Video Link

So New Year's day came, the final was about to start, the bookmakers had Mighty Mike as the favourite which has never happened before, as whenever The Power is involved he is always odds on favourite to win.

The players walked out to huge receptions, Mighty Mike would walk on first, the crowd chanting "DuDuDu Micheal VanGerwen DuDuDu Micheal VanGerwyn" and he would lap it all up as his first ever world championship final at the young age of 23.
The Power was up next, the fans singing his song before his music even came on "Theres only oneeeeeee, Phill Taylor, Theres only oneeeeee Phill Taylor, walking along, singing his song, walking in a Taylor wonderland".
The players are on stage now and go over and shake hands and wish each other luck and we were set, the ingredients were there, the stage was ready! This has everything any fan of darts or even good sporting entertainment needed, the man who has been on top his entire career, and the new kid, the kid without fear and with all of the tools needed to become a great of the sport as well!
GAMEEE ONNN, shouts the referee (who in turn was retiring at the end of this final after 32 world championships referee'n, shout out to Bruce!). Taylor gave the throw (first person to start the set) to Mighty Mike so he would kick things off!
What would happen next would be a ferocious battle of two gods of oche! The final is a race to 7!
(Oche: The distance from the Dartboard to where the players can stand to throw)

Set One!
What a great start, Mighty Mike would hold his throw comfortably as he looked set from the first dart. Taylor would then follow suit with some magic to hold his, hitting the first 180 of the match and then checking out the highest score of the match in leg 2, a 170! (Treble 20, Treble 20, Bulls Eye). 1-1 in legs after the first two throws each, this would follow suit as they both hold their own throws to make it 2-2 in legs, VanGerwyn to throw for the set! VanGerwen is under pressure to hold for the set here, Taylor is on 85 (a 2 dart finish) and VanGerwyn needs to check out a 140 (3 darter) to take the set. Treble 20, Treble 20, DOUBLE 10!! Magic, Mighty Mike holds his throw with a wonderful 140 check out under pressure.
Micheal "Mighty Mike" VanGerwen 1-0 Phill "The Power" Taylor

Set Two!
Taylor behind even though he had played so well in the first set, VanGerwyn ahead and looking confident!
It starts off the same way as the first set; both players holding throw until leg 4, which turned out to be the decider. It was Taylor to throw to make it 2-2, Mighty Mike starts with an impressive 180! His 2nd of the match and the 2nd this set. He is being chased down by The Power though, 124 check out missed by VanGerwen, Taylor has a 130 to take out, or Mighty Mike will be sat on a 1 dart out. Taylor needs BullsEye for the leg!!!.....Ouch, missed it by a mm. Mighty Mike steps up, STRAIGHT IN!!!
Micheal "Mighty Mike" VanGerwen 2-0 Phill "The Power" Taylor

Set Three!
Taylor 2 down now, and it is already turning into a must win set for The Power. If he falls 3 behind you would fancy Mighty Mike to roll through him.
Like the 1st set, this goes down to a 5th leg shoot out. VanGerwen has the darts, and starts us off...low scoring leg this, with VanGerwyn feeling a bit of the pressure by the looks of it! Hits a low 67 and 56 which opens up a wide gap for Taylor to smash through, and boy does he! a 140 sets up a 6 dart advantage at 41! He only needs 3!! Taylor on the score sheet!
Micheal "Mighty Mike" VanGerwen 2-1 Phill "The Power" Taylor

Set 4!
Taylor back in this now, on the board and has the throw in the 4th set. Can Mighty Mike extend his lead?
Again were looking at a 5th leg shoot out! 2-2 in legs, Taylor to through first! Both players averaging 103-106 respectively now, such a great match. They start with 140s a piece, followed by another 140 from Mighty Mike. Taylor needs to keep the pressure on...AND HE DOES! A stunning 138 leaves double tops for the set! Mighty Mike has 136 left, for the set and a 3-1 lead....He's down to double tops!...FOR THE SET!!!OOOOOOO, a whisker away! Will he regret that miss?....OF COURSE!! Taylor pounces on him!
Micheal "Mighty Mike" VanGerwyn 2-2 Phill "The Power" Taylor

Set 5!
Taylor level! Great darts! Back and forth, nail biting the lot is going on here, and it's only 2-2!
And Again, another set going down to a 5th leg shoot out, both players holding their throws. But importantly for VanGerwen he has the darts in this shoot out, and is looking to stem the flow of The Power from taking a 3rd set on the bounce. Van Gerwen opens the door with a 57 to open the leg. Taylor hands the advantage back with a 45. The crowd go as quiet as they have been all night – they know this is a big one. In a flash Van Gerwen is down to 70 and will have six darts at it. He needs just three, double four giving him the set!!
Micheal "Mighty Mike" VanGerwen 3-2 Phill "The Power" Taylor

Set 6!
Mighty Mike re takes the lead! Important leg for the youngster there. Taking a bit more control of his emotions and keeping on top of The Power...You never want to fall behind to The Power, or he eats you alive!
This set is a bit different to the others. Taylor gets beat on his own throw, and before he knows it VanGerwyn is 2-0 up in legs, and staring down the barrel of a 2nd consecutive set, to make it 4-2.
Leg 3, VanGerwyn hits a 180...followed by Taylor hitting a 180 as well! VanGerwen first look at a finish, he just needs a 2 darter 84....ouch, whiskers away again for Mighty Mike! Taylor needs this 74!...Double Tops ....Nailed it! 2-1! Taylor on the board in this set.
However that would turn out to be all in vein, as Mighty Mike pops in a 180 at the start of leg 4, then has 6 darts at a finish with Taylor stuck on 254. Mighty Mike does falter a bit, but on his 4th dart he pops in double 16!!!
Micheal "Mighty Mike" VanGerwen 4-2 Phill "The Power" Taylor

Set 7!
Well, what a game we have here. The youngster is doing what The Power usually does to his opponents! 4-2 up, and back to a two set lead, and has The Power on the ropes! 3 more Sets for his first world crown, and Taylor needs to step up his game, can the Master find another gear...
VanGerwyn has the throw this set, and well that is important! Taylor can't go 5-2 down to this guy! Again it goes with throw, 2-2 in legs, the deciding leg is upon us and its Mighty Mike to start us off! back-to-back 60s open the door to Taylor, who misses out with a grim 42. Taylor throws a superb 174 to give him a 51 checkout. Even so, down from 103 Van Gerwen has a shot at double 16 for the set and a 5-2 lead. He misses! Taylor..for...the...set!!! HITS!!!!!!
Micheal "Mighty Mike" VanGerwen 4-3 Phill "The Power" Taylor

Set 8!
Taylor back in this then? Bounces back from a possible 5-2 down to 4-3 and still in this!
This set starts off bad for The Power, he loses his throw straight away after a very poor 1st leg from himself. VanGerwyn to throw for a 2-0 lead in this leg...Taylor breaks back! 1-1, Taylor to throw. Oh boy, he is on fire now; smashes throw this leg in quick time, 2-1. Leg 4, a must win for VanGerwyn. Van Gerwen throws back-to-back 140s to leave 64 and Taylor follows up with a 180 to leave 24. Van Gerwen misses out on his 64! A chance here, but Taylor drops down to double three, everyone's least favourite double! 1 dart at it....for the set....NAILS IT!
Micheal "Mighty Mike" VanGerwen 4-4 Phill "The Power" Taylor

Set 9!
Oh boy, what a match this really is! 2-0 up, 2-2, 4-2 up and now 4-4! The Power is really showing why he is a 15 times world champion, keeping up the pace with a young 23 year old!
Goes with the throw again, 2-2 in legs, VanGerwen has the throw in leg 5 for the set! They're blow-for-blow on their first trio of visits to the oche but then Van Gerwen, who has the throw, gets a first look at a finish – 107. Taylor loiters ominously on 40. And the Dutchman can't make it, leaving Taylor the chance to edge ahead in sets for the first time....in the match...TAKEN IT!!!
Micheal "Mighty Mike" VanGerwen 4-5 Phill "The Power" Taylor

Set 10!
Oh my gosh! Taylor 3 straight sets in a row, VanGerwen is going to need to show something special now. Taylor is ruthless when he is in the lead...
Taylors throw first in this set. Leg 1 is easy pickings for The Power here. Leg 2, VanGerwen, on the ropes, looking to stop the rot. The Power increases his grip with a 180, his fifth of the match, that puts Van Gerwen under so much pressure. The youngster is being torn apart now. An 11-dart leg for Taylor, 2-0! And a break! Taylor throwing for the set here! Taylor has a look at 164 but can't make it. Van Gerwen at 170 … likewise. Taylor misses 64. Van Gerwen has 106 … and nails it with the double 18! What a response that is from the 23-year-old!! VanGerwen now has the throw; he needs to hold this to put the pressure back onto The Power! a 177 from Taylor, A big 140 takes the Power down to 126. Van Gerwen needs to pull something out of the bag … and it's a 180! Oof! Can Taylor make it irrelevant? No. Van Gerwen has 69 … and makes a real hash of it after drifting into the single three bed. Taylor has one dart at double 16 for a two-set lead ….... NAILED IT!! The Power is rampant!!
Micheal "Mighty Mike" VanGerwen 4-6 Phill "The Power" Taylor

Set 11!
Taylor on the hill now! 1 away from the greatest victory of his vast, vast collections of finals. VanGerwen looks a bit distraught now, rabbit in the headlights seems to come to mind.
Leg 1 and 2 go with the throw. 1-1. Leg 3 is where we shall pick up the action. Taylor gets a look at 167, but can't make it. Van Gerwen comes back to attack 103, with Taylor waiting on 36. The Dutchman is miles wide of his double 16, though. He's not expecting to come back again … but he does after Taylor misses three darts at double 18! Oh dear oh dear, but Van Gerwen goes inside on double 12 and double six then goes low on double three. He doesn't get another chance. Taylor is one leg from a 16th title.
Leg 4! A chance for 16th title coming up for The Power. Taylor zooms down to 91 with some stunning round-the-board stuff, hitting treble 20,19 and 18, Is this the moment? Double 16 for a 12-dart leg......NAILED IT INTO THE BED!!!! Taylor WINS!!!!!!

Micheal "Mighty Mike" VanGerwen 4-7 Phill "The Power" Taylor

That was rather extraordinary from Taylor. At 4-2 down he looked a beaten man. But he simply refused to crumble, kept his consistency and by the time he hit top gear in the final couple of sets Van Gerwen was a shambling shell of the player he had been earlier in the match.

Mighty Mike, whose head must be spinning, gets a £100,000 cheque to cushion the blow of the defeat. He offers a wry smile to the crowd, who give him a very warm hand.

Taylor smiled broadly as he receives the Sid Waddell Trophy from Sid's son. I imagine he knows the weight and heft of that trophy pretty well by now.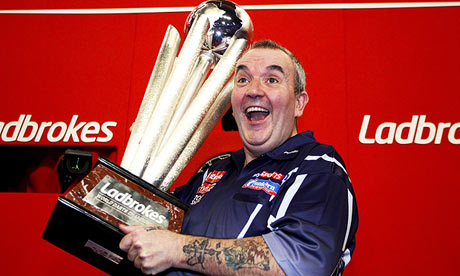 Taylor proved that being the master is better than being the apprentice! VanGerwen though being the great talent he is, will surely be back and will surely be as good and decorated as The Power is. Great final, Great game!


Thanks for reading

Hope you enjoyed it, and i'll try and write some more sports blogs, and reviews etc!