Photo Credit: ESL
INnoVation: The Mechanical Maniac
Don't forget to read about INnoVation's road to blizzcon here.
Ever since the brood war pros switched over to SC2, INnoVation has always been regarded as one of the top players to do so. MajOr saw his mechanical genius at an early stage; his mediocre brood war career translated into the most perfect form of mechanics we have ever seen in Starcraft 2. This in turn quickly transitioned into his dominance of the korean scene in early 2013, having an unstoppable TvZ and earning multiple medals, and all-kills for his team. Although falling off a bit after his immense success in 2013, he regained the renowned title of GSL champion, dispatching of soO in a not-so-close series.
Following the release of HotS, INnoVation was the first player to truly dominate a matchup, dismantling Zerg after Zerg with the newly found 4M play. Zergs tried everything, from changing their baneling nest timings to going for a bust, but INnoVation's monstrous mechanics carried him to victories. Now, what exactly is mechanics? Simply put,
mechanics is pressing the right buttons exactly when they need to be pressed
. His expression of macro and micro are on point, rarely does he falter in missing the next round of marines, while maintaining pressure and splitting his marines. Combine that with well placed mines and drops, INnoVation can take out Zerg bases with ease.
INnoVation vs soO G6 on Deadwing
What better game to showcase INnoVation's skill in TvZ as he prepares to go up against HyuN?
Prior to this set, the series had been played out as a series of cheeses. With repeated roach allins and proxy 2 rax allins it seemed like neither player was particularly keen on playing an entire series worth of standard games. That flew right in the face of what INnoVation's fans have come to expect from him. Perfect macro, relentless mid to late-game aggression and an aura of invincibility are all things regularly attributed to him. So where were his trademark virtues in this series?
Once the two combatants reached set 6, with INnoVation on match point, both players mutually agreed that that moment was the time to play
their
games and opened with expansions first.
Foregoing the ever popular reaper for scouting, INnoVation decided to do a very old build harkening back to the early days of Atlantis Spaceship. He got a fast second gas after his factory started in order to begin cloaked banshee production, while soO got his lair and some roaches out.
INnoVation's banshee eventually proved ineffectual but he had already scouted what he needed to scout in order to prepare the way for the rest of the game. Having seen a roach warren upgrading, and a sizeable yet non-threatening roach army at soO's front, INnoVation calmly took his third base whilst doing a fair job of denying soO's creep.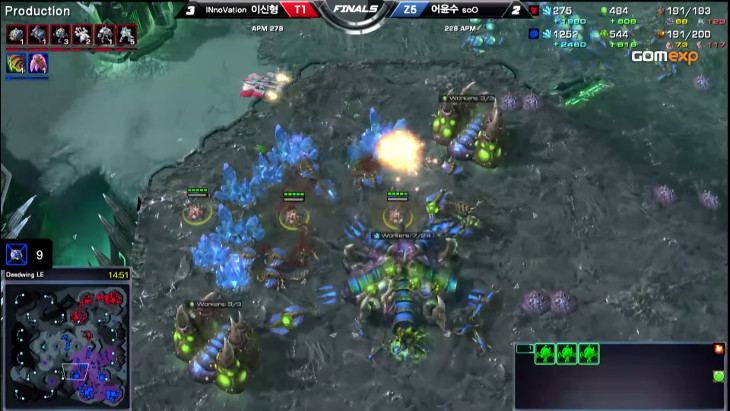 deadly mine drops all over soO's bases
With 2-2 on the way for INnoVation and a mixed bag of mostly +1 upgrades for soO, INnoVation spent quite a few minutes just to deny map vision from his opponent. The crux of his strategy in this game was clearly to break the zerg with indomitable midgame macro and aggression and he was not cutting any corners in the buildup towards the big timing.
Then the unthinkable happened. INnoVation didn't attack. At 15:00 with all of his upgrades done and nearly at 200/200 supply. He simply didn't push onto the creep. While this might seem counterintuitive to some, the decision was borne of brilliance and could be the single moment at which the game swung into his favour.
INnoVation knew that soO was going to be completely prepared for the big push, and in fact soO had his entire army positioned in such a way to utterly crush any terran army that would dare even attempt to seize the xel'naga watch tower. So, with a dropship sent out at 13:30 around the left side of the map full of widow mines, and another at 14:30 sent downwards, the 15:00 minute timing ended up being two simple widow mine drops and nothing more.
On seeing this, soO crashed into INnoVation's frontline and annihilated the terran army. He kept throwing reinforcements into the fray but INnoVation only had to hold on. He had already gotten to the point at which his infrastructure and upgrades were at a comfortable point and he just needed to wait for soO to either relent or run out of steam.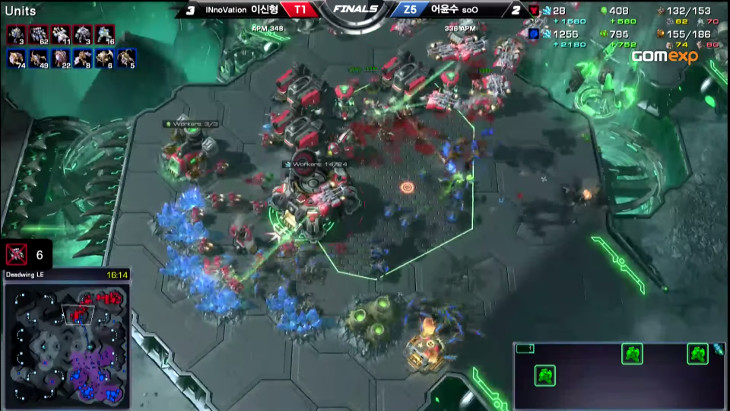 If face cams were on, I bet INnoVation wouldn't look even a little bit worried.
Wave after wave of soO's army would crash into his third, but he tenaciously held on every time by the skin of his teeth until he got his 3-3 upgrades and the game seemed to slowly break soO down.
The widow mine drops made a reappearance at 20:00 minutes in, and it was as if INnoVation smelled blood in the water as suddenly soO could no longer fund his full on frontal attack and was behind in upgrades. Quickly, the drops began in earnest and the front of soO was being pushed farther and farther back.
At that point in the game, it began to look exactly like a standard 2-2 timing of TvZs past, except a full 5 minutes later in the game. In quick succession soO's bases fell and he lost a critical fight seemingly instantly. INnoVation had played him like a book, and righteously collected his GSL Trophy.
Predictions
With a resurgence in skill from INnoVation, I don't really see any way that Hyun can take this win. Bogus is too good at identifying builds and reacts appropriately to defend them, gaining a lead in the game and transitioning into his flawless play. If there would be something to take him out, it would have to be a completely unscouted roach/baneling bust, which fortunately for Bogus, Hyun is notorious for. He will be scouting for these aggressive plays, fend them off, and carry the game out into the latter stages where his mechanics will take over and break down Hyun. The only other option for Hyun is to play hyper greedy, skimping out on every possible army unit in favor of gaining an economic advantage. This will come at the cost of being out multitasked by drops and a parade at his front door, so Hyun will have to hit his timings down to the second to have any chance.
Not only does Bogus have the advantage for the mid to late game, he also has proven himself capable of executing 2 rax builds, even against defensive speed openings. In all areas of the game, on paper INnoVation is the heavy favorite and this series should be the most one-sided of them all, being a 3-0 in INnoVations favor. Hyun is just too predictable in getting roaches almost every game, and this will play into INnoVations plans superbly, as he will slide into the Ro8 with ease.