Overall:

A lot of engine improvements has been made. The distinction between Fog of War and vision range color is incredible as well as the range indication of terran scans. New animations are pretty amazing to watch: queens look fatter, new creep spread animation, glowing mineral lines are all incredible to see. The worker count over command center seem to be a bit too excessive but this is still up to debate (remember the discussion about in game clock back in WoL?).

Concept:

This is probably the most disappointing part about HoTS for me so far. EVERYTHING new they are introducing are just simply a cheap copied of something that has already existed in BW or SC2 even. Hellion = firebat, spidermines, Locus = lurkers etc... If you look carefully, the Mothership core is currently functioning exactly the same with a comsat station and then got 'installed' onto the nexus just like orbital command or PF. If you see both Broodlord and Tempest in a game, they are just both copies from Guardian and got slightly modified.

The question has been raised since WoL came out: Why did you gave each race a dragoon? The more they are copying units from the original BW, the less distinctive each race get. In the end all we can see is a cluster of a bunch of dragoons, modified differently instead of observing A swarm of Zerg units trying to break a death wall of turtle Terran or the high cost efficiency of Protoss units. Taking Carrier out just make thing worse for me as a Protoss player.

TLDR: Lack of original and distinction between races.

Thoughts on each new units:

--Terran:

+ Battle Hellion+WarHound: Not sure what is really the deal with both of these units. 1 encouraging people to use mech play, the other simply used to counter mech itself. One could simply debate that both these 2 units are simply put in the game to counter Protoss late game death ball that Thor failed to do but the problem is what will they remove? Terran has a huge amount of units/ building that are still incredibly underused in the last 2 years. Sensor tower, banshee, will they be modified or remove even? If not, what could blizzard do to balance this race that seem to have answer to almost every situation they are placed in?


Will he be surprised or will he surprised me?



+Spider mines: I love the decision of bringing back an area control unit such as spidermines. Terran in BW was all about space control with decent map awareness. However, the current thoughts they are putting in this units seems quite wrong. You should not treat it as a high cost(in term of time and resources) efficient baneling that could snipe off stuff. You should treat it as something that could give you a certain area denial/space control and could be mass produced but dealt only a small amounts of damage. Look at the maps they are testing HoTS on, they are relatively small size with small space to manuver which magnified the efficiency of the current spider mines a lot. But if you put the same units onto large maps such as taldarim, these will not even do a thing as 1 marines will deal better damage... not even counting the fact that they are expecting all the spidermines splash damage are dodgeable by high level players. Still not certain about the anti air as well as ally damage interaction and detection utility on this unit but certainly it will require a lot more testing.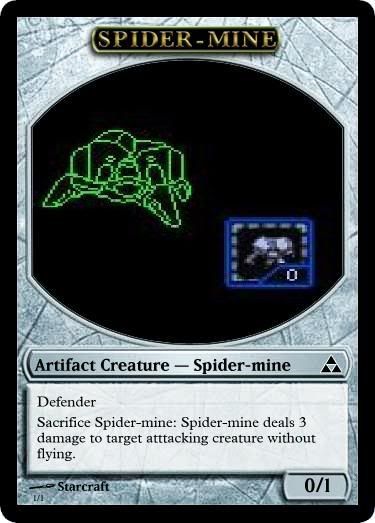 Add 50 gas and these babes will jump up to dem carriers.



--Protoss:

+Oracle: What currently bug me the most is that this units requires a stargate to be made. Which mean in term of usefulness in the current WoL, its almost equal to 0. The only time you see stargate build now aday is some early pressure opening in PvZ but as most of the timing has been figured out, they are fading quite a bit. Do i wana invest 150gas from really early on just for some minor, easily negate-able econ harassment? nty, going nexus first is just equally risky. The only current usage of oracle to me is to provide cloaking field in term of defensive as well as offensive usage. If i have to compare, this is close to opening DT drop after sair in PvZ back in BW: very strong but most likely will get nerfed to be a tier 2 unit. The vision spells doesnt really come to me as a huge impact: something like lair timing/viking timing/scan energy could be useful but with the current speed of the unit, scouting information isnt that hard to obtain and tech info could be deduct with metagame.




First thought once i knew cloaking field is now tier 2 units.




+Mothership Core: Cool stuff: hybrid of orbital and PF of Terran. EVERYTHING about this is imbalance. If the cannon spells is WAY too underpowered, mass recall and recharge is extremely OP. Imagine a blink stalker rush build without being afraid of commitments. Recharging energy on newly warp in HT for instant storm? HELLO! We nerfed KAmulet for this shit.... duh... The funny stuff is: this unit designed has already been nerfed. The gas cost is to delay the tier of the tech to make sure players cant get access to it too early. The 150/200 energy cost on mass recall does make sense but being recall at 7 mins into the game? "Hell i will give you a nexus for that", Artosis-SoTG.

+Tempest: Incredibly slow attack speed and cant even 2 shot a locus... This is the biggest joke in HoTS so far. A lot of people thought the 22 range gona make such a big deal? yeah good luck getting enough of them to actually make it effective. Hydra speed, blink stalkers, stim marrines What? Where could these flying useless bag of money even hide? If you watched Axlav interview with hotbid: Tempest cannon? Isnt that just broodlord with spine crawler? So i am playing zerg now? WHAT? And they thought this will be a good replacement for the carrier. Clearly they still dont understand the problem with WoL: Carrier is fine by itself but there are just more cost efficient shits(colossi + blink stalkers) that you can get mid game instead of committing to these high tech high risk units. Instead of removing colossi and add reaver, they remove carrier and give you guardian LOL... I purely think that this units is just a PR move, a place holder for something blizzard have yet came up with. Jezz they are bad.


vs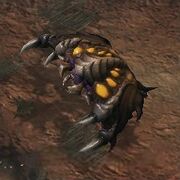 vs


--Zerg:

+Viper: I still have a problem to understand this units. The pull aka Abduct just doesnt really feel as zergy, same thing happened to the mindcontrol of infestor back in WoL. The shorten range spell has been changed to be applied on BIO units only. I am no expert on ZvZ but this simply means ZvT is FUCKED UP. Tank got abduct? Bio range 1? BCs vs speed hydra? Death ball got charged but Ultralisk? YEAH BUDDY! The consume spell however is really freaking cool if they could scale that correctly. Extractors will die a lot for quite a while lol... As a Protoss players i have a hard time imagine how should i play this match up as the theory behind Protoss army is to rely on high cost efficient units and now these are being pulled out and single targeted before the battle start. If it were me, i would simply reduce the cast range and make abduct a channeling spells in away so once you cast abduct, you have to manually pull the units out yourself. Making pulls being blocked by allies unit (can only pull if clear space) would be my second choice so that Zerg will have to well position their viper pre-batlle to use them effectively.


Viper in another universe. Ft. Hook and Rot as well as Consume.



+Speed hydra: Give each race a blinking dragoon. Cannot believe they have to wait until HoTS to implement this. The lack of late game tier 3 anti air has been zerg's problem for quite a while now as players simply dont have enough APM to chain their queens transfuse vs Carriers BCs. Joking aside this is a good implement to HoTS. Balance wise it should not really matter bc they still die to tank and colossi just as fast LOL...

+Charge Ultra: Same with Tempest except this is extremely bullshit aka OP. Like zerg isnt doing well enough to get this buff. Imagine a fugnal spells that stun all your units in a HUGE aoe and kill everything. I could already see river of tears that the terran from the future is crying to ultralisk. Wouldnt be too surprised if the cool down of this spells gona get a huge nerf as well as range cast. Otherwise, enjoy these blink stalkers that has million HP, 9000 armors and deal huge AOE damages.

+Swarm host: Lurker hit ait: thats how i summary the unit. Extremely high damage slow attacks that could act as a damage tank (as if roaches isnt enough). Everything about this unit is fine except the fact that it hit air units. Not cool... There are a few tweak to be changed here and there but the unit is really cool to toy with. HP need to be lowered, move speed+burrow speed should also be modified for balance issue. I love how you could disable auto cast so you could just wait under a deathball that is lack of detection and pop up a thousand locus just like burrow banelings: its hold lurker all over xD. I forgot to mention: infestation pit requirement is quite interesting choice instead of hydra den, I would love to hear the reason behind this from David Kim bc i myself dont have the answer to this question.


Anyone else still expecting infested bunker?




--------------------------------------------------------------------------------------------------

Final thoughts:
Blizzard being blizzard. I didnt have a lot of high expectation for HoTS to begin with and turns out, they cant even impress me. The game concept is FAR from complete if not going into a wrong design direction (D3 all over again LOL). Its like they are being rush or something, rushing the arcade beta and now HoTS beta. If they are planning to sell the game as full price just like this, i really dont see how they gona compete with all the F2P esport games out there today. Idk, if i buy HoTS, the only reason will be bc Jaedong and Bisu will be playing it. Expecting some tournament HoTS bans out there until a certain well balanced stat of the game is reached.

p/s: bonus:

+ Show Spoiler +