Week 1 Recap
Favorites prevail over the weekend
Week 2 Preview
Big Matches:
Serral vs Clem, Astrea vs Reynor
Brackets and standings on

Liquipedia
Vods on Twitch
Day 1
-
Day 2
-
Day 3
Week 1 Recap
by Wax
Compared to the upset-laden first week of
TSL8
that saw Clem and Zest go out early, TSL9 kicked off in predictable fashion with the favorites mostly coming out on top. While there were still exciting games to be had (
more on that below
), clashes between high-profile players have been reserved for week two.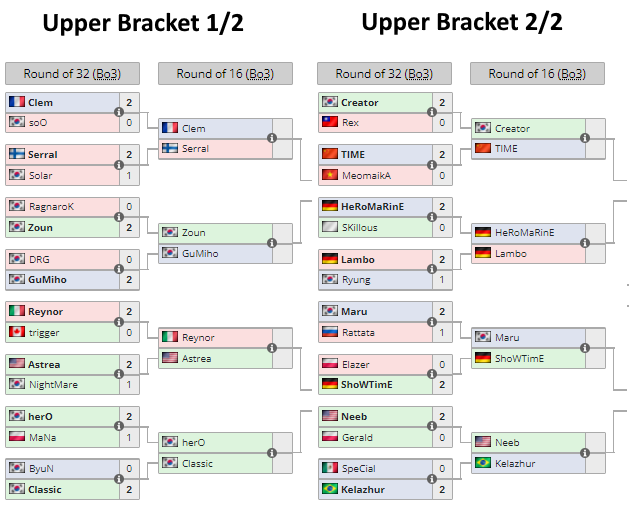 Week one did feature one big surprise, however, as Brazil's

Kelazhur
took down Mexico's

SpeCial
in a Latin American showdown. Having won seven out of seven DHM: Latin America tournaments (the only player to have won every single regional in the DHM system), SpeCial had proven himself to be beyond dominant in his region. Not only that, but Kelazhur's match record against SpeCial over the last four years was a paltry 4W-25L, with just one of those wins coming in what could be considered a 'major' tournament. While it's hard to say just yet that the balance of power is shifting in Latin America, it was certainly a significant upset.
To a lesser extent,

Classic's
2-0 victory over

ByuN
was one of the surprises of the first round. Classic had made rapid progress upon returning from military service in August of 2021, but it felt as if he had plateaued in 2022. Overcoming a strong player like ByuN was an encouraging result for the one-time Code S champion as he looks to find further success in his post-military career. Interestingly enough, Classic named herO as specific inspiration in his post-match interview, suggesting that he had given him new hope for what a 'returnee' might achieve.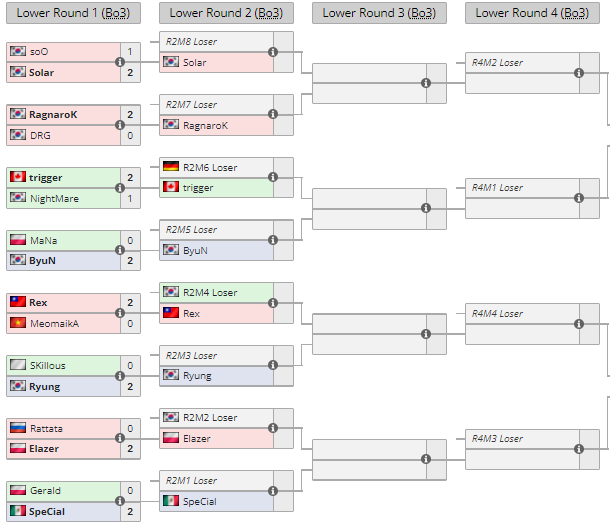 Alas, we had to bid eight players adieu in week one. While all of them will be missed, I'm particularly sad to see DongRaeGu and SKillous go out.

DongRaeGu
reached the top six of GSL in consecutive seasons in 2022, and he was certainly a threat to achieve a similar result in TSL9. However, he drew a tough bracket where he faced

GuMiho
and

RagnaroK
consecutively, and it's not too surprising that he would lose to such formidable foes. GuMiho, in particular, is a player I'd keep an eye on going forward. He's had some stops and starts in his post-military career, but some of his recent results—including a huge 2-0 win against Serral in HomeStory Cup XXI—suggest he might be ready to make a big impact in a major event.
As for

SKillous
, it was unfortunate to see him drop out of an event in the early phases again. Back in late 2021/early 2022, he was in the same category with Creator and herO as Protosses who were getting great results in online cups but still needed to prove themselves in major tournaments. Alas, while Creator and herO went on to have fantastic GSL runs, SKillous is still looking for his breakout event. Unfortunately,he won't have the opportunity in TSL9, and will have to look forward to DreamHack Atlanta.
Recommended Games
Ryung vs Lambo, Game 2 (at 02:24:50):
I won't sugarcoat it too much—the opening weekend of TSL9 wasn't the most exciting three days of StarCraft II I've seen. However,

Ryung
and

Lambo
still managed to deliver a nerve-wracking experience on Inside and Out, with the gaming coming down to control over a final 'neutral' expansion in the waning minutes. Though fans are sure to cry out about the state of TvZ balance, this match largely came down to each players ability to control (and protect) their crucial late-game spellcasters.
While Ryung lamented the quality of his play afterward, he should take a little bit of solace in having given the viewers a fine spectacle to watch.
Astrea vs NightMare, Game 2: (at 03:33:20):
Was this game an epic comeback? Or was this game an epic throw? The answer is that it was a little bit of both, as no one can ever come back from behind without their opponent making some mistakes.

NightMare
had taken game one by holding off a cannon-rush from

Astrea
, and was on the cusp of stealing a 2-0 upset after he built a significant mid-game lead for himself in game two. However, Astrea put in a fantastic performance to show how mental composure can overcome huge material disadvantages on the battlefield. The maneuverability of Blink Stalkers was the key for Astrea, as he used them to harass, buy time, and ultimately pull off an improbable comeback.
God of Predictions: ZombieGrub
This week's
GOD(DESS) OF PREDICTIONS
is

ZombieGrub
, who went 7/8 on her prognostications for 87.5% accuracy. ZG's only error was picking ByuN to beat Classic, but it did not cost her in the end as both of her co-casters picked the same result. Second place goes to TSL newcomer

Beomulf
, who went 13/16 across two days of games for 81.25% accuracy.
Unfortunately, there is still no prize for being declared the GOD(DESS) OF PREDICTIONS in a given week—at least until one of our wonderful sponsors wants to step in. But really, if one is proven to have a vastly superior intellect, could there possibly be a material reward that matches such bliss?
Week 2 PreviewThe competition is set to really heat up in week two, with a couple of blockbuster matches already confirmed. Here's the upcoming slate of matches:



All games streamed on Twitch.TV/TLnet

Friday, Aug 05 11:00am GMT (GMT+00:00): Upper bracket round 2 (best-of-3)

Clem vs Serral

Zoun vs GuMiho

Reynor vs Astrea

herO vs Classic

Creator vs TIME

HeroMarine vs Lambo

Maru vs ShoWTimE

Neeb vs Kelazhur

Saturday, Aug 06 11:00am GMT (GMT+00:00): Lower bracket round 2 (best-of-3

Solar vs TBD

RagnaroK vs TBD

trigger vs TBD

ByuN vs TBD

Rex vs TBD

Ryung vs TBD

Elazer vs TBD

SpeCial vs TBD

Sunday, Aug 07 11:00am GMT (GMT+00:00): Upper bracket round 3 and lower bracket round 3 (best-of-3)



Spotlight Matches: Serral vs Clem, Astrea vs ReynorThe clear highlight of the week is Serral vs Clem, which is a rematch of the HomeStory Cup XXI finals held last month. Serral ended up winning by a dominant 5-1 scoreline, suggesting the days when Clem was a 'counter' to Serral are long gone. The one-sided nature of the HSC series projects Serral as the favorite, and Aligulac.com gives him a considerable edge with a 72%+ chance of winning. However, Clem's ability to catch fire for a single series can't be underestimated, making this a can't-miss match.

The other big HSC rematch is Astrea vs Reynor, with Astrea having won in a 3-2 upset in Krefeld. Astrea called that the biggest win of his career—which probably isn't hyperbole, even though he was caught up in the emotion of the moment. Though he had won the DHM: North American title in the past, he had never really made a serious impact in a major international event. Astrea's victory over Reynor, and subsequent third place finish, has elevated him to another level.

As for Reynor, he's in a bit of a rut after finishing top eight at DHM: Valencia and top twelve at HSC, so one hopes he's motivated to make TSL9 a bounceback tournament. Amusingly enough, Reynor has just joined Astrea at the 'NoRegret house' in Korea, and they'll presumably be playing this match as housemates. If they've already gotten into the habit of playing customs against each other, that could be an interesting strategic wrinkle for this match.

The third match I'm quite intrigued by is Maru vs ShoWTimE. I'm still not sure how to interpret Maru's 1-4 drubbing at the hands of herO in GSL finals: is herO just THAT good, or did Maru just have an off-night where his gameplan didn't work out (those 2-base all-ins didn't look strong at all…)? ShoWTimE could serve as a good barometer of Maru's level at this time. Also, ShoWTimE himself is on a bit of an uptick lately, though largely powered by his efficient assimilation of herO's PvZ style. However, PvT is still a bit of a question mark for him, so this match against Maru could give us a lot of information about die Mauer as well.

Super Sunday? herO vs Reynor, Maru vs NeebFriday is the last day of the TSL9 where we'll have a 100% determined card of fights, with the remaining days determined as we go. If we project the bracket out, there's potential for some stellar matches on Sunday, some of which are grand finals caliber.

The match I'm most eager to see is herO vs Reynor. herO is the Code S champion and arguably the best player in the world. Reynor, despite a few hiccups in recent events, is still a top three Zerg in the world. This potential match would be worthy of the grand finals, and in my opinion, the most high-level match of the tournament to that point (with apologies to Serral and Clem).

The two actually met recently in the final week of the World Team League regular season, where herO trounced Reynor by a 2-0 scoreline. In fact, the beating was so bad that Reynor wasn't fielded in the ace match, with TIME being sent out instead (we can't say Reynor ducked the ace match because we don't know whose decision this was). The PvZ meta is changing rapidly around the immensely influential 'herO-style,' and I'm curious to see what kind of solutions Reynor has found for it. He doesn't seem like the type to be disheartened because he took a one-sided loss, and I hope a potential rematch is much more tightly contested.

Another interesting tentative duel is Maru vs Neeb. The two players are on opposite trajectories, with Maru's stock slightly down after his 1-4 drubbing against herO in the finals and Neeb soaring upwards as he makes his last major progaming push before becoming a full-time university student in the fall. One thing I hope to see play out is extreme late-game PvT. While Maru is considered to be the best late-game player in all three Terran match-ups, Neeb's knowledge of late-game theorycraft is also among the best in the pro-scene. If there's anyone who can crack Maru's turtle shell, it just might be the American Protoss.





---