Banner by pachi. Screenshots from the GSL Round of 32.



"Top of the Food Chain"
GSL Season 3 Round of 32 Recap
By Xxio, Treehugger, and TrueRedemption

This season's Ro32 boasts a package of games that will leave eSports fans begging for more. IMNesTea vs. FnaticSEn, TLAF-Liquid`Ret vs. TheBestfOu, oGsLittleBoy vs. MakaPrime.We, oGsHyperdub vs. oGsMC, ST_July vs. aLivefOu, TLAF-Liquid`Jinro vs. FOXMoon, EGIdrA vs. IMmvp, and SlayerSBoxeR vs. PoltPrime.WE all took place within these short six days. These are games you do not want to miss. In addition to the ridiculous number of high profile matchups, this Ro32 brought us more than one unexpectedly good series from newcomers looking to climb the food chain. Read on and enjoy!

Links and Resources:
http://wiki.teamliquid.net/starcraft2/2010_Sony_Ericsson_Starcraft_II_Open_Season_3
GSL Game/Series Rating Scale
- The kind of game that'll still be referenced in a year. Incredible play from both players in all aspects of the game. Must watch now.

- Excellent play demonstrated by at least one of the players, and very likely both. A must watch.

- A good game, but nothing truly special. Often not competitive, or with some mistakes. Worth watching if you have the time.

- A below-average game. Not worth watching unless you're a fan of the winning player.

- Not an entertaining or instructive game. Even if you're a fan of the winner, your time is probably better spent.
No stars - The losing player played so poorly, we presume he's been banned from all future GSL events.

Recommended Series Short List
+ Show Spoiler [Recommended Series] +

All ratings out of 5 stars.

Day 1

IMNestea vs

fnaticSEn -

oGsLittleBoy vs

MakaPrime.WE -

ST_GgoBooGie vs

GoldenfOu -

TSL_Rain vs

NsP.Genius -
Day 2

NewDawn vs

BitByBitPrime -

TSL_Fruitdealer vs

sCfOu -

Liquid'Ret vs TheBestfOu -

HongUnPrime.WE vs

JSLZenith -
Set C

MarineKingPrime.WE vs

ST_Monster -

TSL_GuineaPig vs

LeenockfOu -

oGsHyperdub vs

oGsMC -

ST_July vs

aLivefOu -
Set D

SlayerSBoxeR vs

PoltPrime.WE -

LiquidJinro vs

FOXMoon -

EGIdrA vs

IMmvp -

choyafOu vs

CheckPrime.WE -
---


Set A: "Clean Sweep"
Recaps by Xxio
+ Show Spoiler [Show Recaps] +

"Counter-Counter Attack"

IMNesTea
<2-0>

FnaticSEn -
Game 1 @ Lost Temple
+ Show Spoiler [Show Recap] +
At close positions, both Zerg players blind 14 hatched at exactly the same time. Here the builds diverged – NesTea following up with a gas before pool; Sen vice versa. NesTea decided to make a couple more drones than Sen, so when Sen's first set of zerglings reached NesTea's natural he was able to camp out right in on the edge of the creep and wait for his baneling nest to complete. NesTea, on the other hand, had metabolic boost upgrading. With 3 banelings Sen pushed up the ramp in to NesTea's main. One baneling caught a couple zerglings but with zergling speed complete and excellent control NesTea was able to survive. After a back and forth zergling war NesTea lost his expansion. However, with his own baneling nest complete NesTea was able to counter attack and take out a huge group of zerglings, tipping the unit count in his favour until Sen was overrun.
- NesTea's composure, timings, and responses to Sen were all a treat to see. A very intense game.
Game 2 @ Scrap Station
+ Show Spoiler [Show Recap] +
Once again both players expanded perfectly in sync. For 5 minutes their builds remained identical, both opting for zergling speed but no baneling nest. At 24 food NesTea broke off and made a roach warren. Sen decided to drone and make a few more zerglings before throwing down his own about 12 food later. Attacking the rocks at NesTea's natural to make him move his roaches, Sen then darted around and into NesTea's main with his speedlings, sniping the queen and 4 drones at the natural. While cleaning up the zerglings NesTea broke down the rocks between the bases and spent all his larvae on a mass of zerglings and roaches to counterattack. With +1 range finished Sen was able to survive the attack, but not without going 8 drones under NesTea's worker count and losing both queens. Sen immediately counterattacked, bringing the worker difference down to 3, but without any queens he was unable to break NesTea's army. Knowing he did not have the production capabilities to survive, Sen gg'd.
- Sen came very close to taking the game, and with better unit positioning it's possible that he could have. Another close, back and forth game.
Player Grades
+ Show Spoiler [Show Player Grades] +

IMNesTea -
A
NesTea showed excellent unit control and composure under duress, and he took advantage of every timing window.

FnaticSEn -
B
With better micro and unit positioning Sen could easily have taken the series.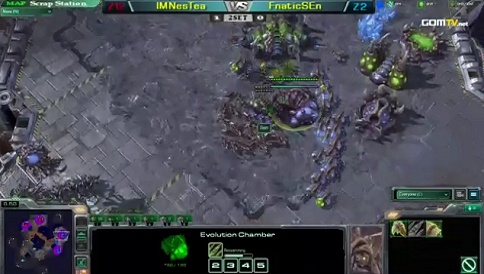 Zerglings chasing down drones while roaches block the ramp from the inside
"LittleBoy, Big Game"

oGsLittleBoy <0-2>

MakaPrime.We
-
Game 1 @ Delta Quadrant
+ Show Spoiler [Show Recap] +
Both players opened 1-1-1, LittleBoy then teching to cloaked banshees as Maka made his first tank and a set of vikings. Using all his energy on two scans Maka took out LittleBoy's first banshee before it could do any damage, giving LittleBoy's second banshee a wide window of no detection to deal damage. With 11 kills LittleBoy happily pulled his banshee back to his base before it could be destroyed. Up 10 workers, LittleBoy expanded while pumping marines and 2 factories worth of siege tanks. Maka follow suit, the two unit compositions almost identical. However, Maka was making vikings while LittleBoy had 2 banshees, giving Maka complete air control and spotting for his tanks. Sieging on the low ground outside LittleBoy's natural, Maka looked to have a very solid contain. But before he could lock down his position LittleBoy pulled all the scvs from his natural for buffer and rolled Maka's army. LittleBoy pushed on into Maka's main, and he would have ended the game if a cloaked banshee from Maka wasn't there to pick off the tanks. Simultaneously, another cloaked banshee was up at 8 kills and had completely shut down mining at LittleBoy's natural. LittleBoy continued to push however, forcing Maka to lift off his second command centre, but once again cloaked banshees stopped him from taking the game.
Both players retook expansions and LittleBoy, ahead 27 supply, dropped on the ledge behind Maka's, forcing Maka to lift back to the expansion at his front. At 86 supply to LittleBoy's 137, Maka dropped into the mineral line of LittleBoy's gold base, killing every scv with stimmed marines. Still far in the lead, LittleBoy tried to walk his entire, clumped army into Maka's natural, losing everything for nearly nothing, closing the supply gap by 20. Now with his own gold, Maka was able to fully catch up. Many minutes and drops later, another sloppy attack from LittleBoy with a hodgepodge of unsieged tanks and marauders through a choke put him down 20 supply. From there Maka had no trouble closing the game out.
- A versatile and exciting game from start to finish with great transitions and many tense moments.
Game 2 @ Xel'Naga Caverns
+ Show Spoiler [Show Recap] +
LittleBoy and Maka quickly took both gases, LittleBoy using his cloaked banshee build from the previous game, Maka his tank viking opening. Unlike the last game however, LittleBoy kept his banshee alive past the 1st scan, getting 6 kills before it was taken down. When the second banshee flew in Maka could do nothing but watch 11 scvs die while waiting for his energy to build up. Doubling Maka's worker count, rather than taking his natural LittleBoy threw down 3 barracks and started massing marines for a stim timing attack. Maka sieged up outside LittleBoy's natural. When LittleBoy tried to bust out, like his attacks in game 1, he lost far more units in the exchange than necessary. However he did break the contain and with his remaining units, countered by setting up a contain at Maka's natural. With 1 banshee picking at the scvs in his main, LittleBoy decided to all-in up Maka's ramp. Maka pulled all his scvs, held it off, and passed into the Ro16.
- An interesting build from LittleBoy, that probably would have worked with better control, makes this game worth checking out.
Player Grades
+ Show Spoiler [Show Player Grades] +

oGsLittleBoy -
B+
His macro, management style, harassment and transitions are all top notch. He had a definite lead in both games, but unfortunately threw both away with horrible army control.

MakaPrime.We -
B
Maka played extremely well but was always a step behind LittleBoy. His incessant harassment in game 1 was a large factor in getting him back into the game. However, he won the series simply by surviving through LittleBoy's gigantic blunders.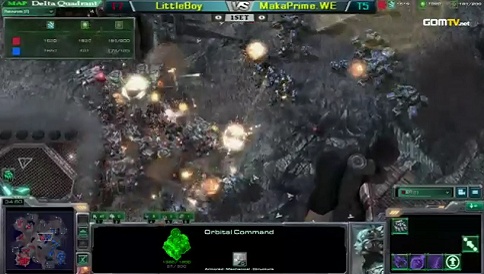 LittleBoy suicides his army through a choke, costing him the game
"Proxy Hatchery..."

ST_GgoBooGie
<2-0>

GoldenfOu -
Game 1 @ Steppes of War
+ Show Spoiler [Show Recap] +
Golden opened with a proxy hatchery, followed by an evolution chamber – a mistake as it was replaced 3/4ths completed for a spawning pool. From here Golden spent all larvae on zerglings and right-clicked them on the lone zealot guarding Boogie's main. The first 10 zerglings died to Boogie's sentry and zealot. Golden's queen soon followed, but it too was cut down in short order. Golden quickly gg'd, unable to claw his way into Boogie's base.
- Only watch this game if you want a new cheese build or a cheap laugh.
Game 2 @ Scrap Station
+ Show Spoiler [Show Recap] +
Boogie started out 1 gate into cybernetics core, making a wall with the buildings at the bottom of his ramp. On the Zerg side, spawning pool and gas came before hatch, and just as Golden's roach warren finished and his lair had begun a void ray flew into his base. Only killing 1 queen before backing off, Boogie transitioned from his 1 void ray into a blink stalker build. Using his void ray for vision, Boogie blinked up to the high ground next to Golden's natural and attacked the hatchery while reinforcing with a pylon on the low ground. Golden put up a surprisingly good fight after being duped so hard but it still wasn't enough. After losing his hatchery Golden conceded the game.
- Nice transition and timing from Boogie.
Player Grades
+ Show Spoiler [Show Player Grades] +

ST_GgoBooGie -
B+
In game 2 Boogie's build order and transitions were crisp and decisive, a pleasure to watch. It's hard to grade him because game 1 was free.

GoldenfOu -
D+
Golden's evolution chamber mistake and suiciding of lings in game 1 was sad to see. In game 2 he overreacted to the lone voidray and got caught. His proxy hatchery gets him the +.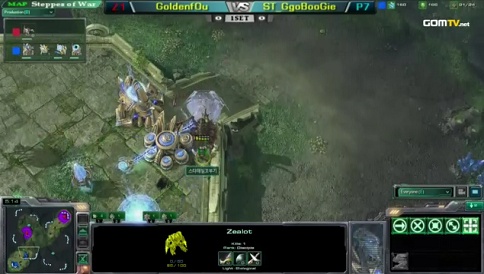 Poor queen trapped by the sentry
"Rain's Polished Build Orders"

TSL_Rain
<2-0>

NSPGenius -
Game 1 @ Jungle Basin
+ Show Spoiler [Show Recap] +
Genius built his first gateway, then cybernetics core followed by a second assimilator. In Rain's base everything looked normal. However, unbeknownst to Genius two barracks were being made behind the minerals at his natural. Before Rain was ready to move out Genius scouted the proxy barracks and killed the scv and first marine. At this point Rain pulled nearly all of his scvs and with a couple marines, bum rushed the Protoss base. With so many scvs Rain was able to finish a bunker in the middle of Genius' base and fill it with marines. With the remaining scvs repairing the bunker and 3 barracks reinforcing his marine count, Rain easily finished the game.
- Exciting game and a very interesting all-in build from the Terran.
Game 2 @ Metalopolis
+ Show Spoiler [Show Recap] +
Genius opens 1 gateway, cybernetics core, robotics facility. Rain also chooses the 1-1-1 build, teching straight to banshees. An observer spotted the banshee right as it popped out of the starport, giving Rain more than enough time to position his stalkers. Genius denied any banshee harass and took his natural while making his first colossus. Back in Rain's base a huge army of banshees, marines, and tanks was building up for a point defence drone timing push. As soon as siege finished Rain moved out bolstered by a handful of scvs. Genius' one colossus and a small group of stalkers was not nearly enough to hold. After losing his army, Genius gg'd out.
- Another excellent build from Rain that completely dominated.
Player Grades
+ Show Spoiler [Show Player Grades] +

TSL_Rain -
B+
Rain's builds in both games were very polished and well executed. His reaction to being scouted in game 1 was decisive and in game 2 he simply rolled Genius. He was never really challenged or put in a difficult situation so I can't give him an A.

NSPGenius -
B
Besides meticulously scouting there was little Genius could have done to win game 1 given his build order. In game 2 Genius once again showed that no matter how perfect your build is, if you don't scout your opponent there is always the chance of getting stomped.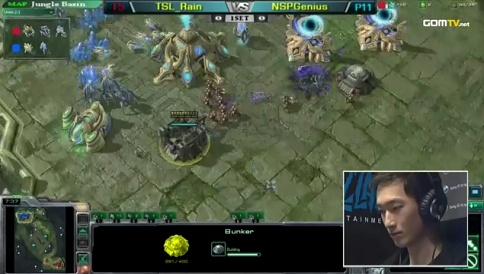 Once the first bunker went up it was over



Set B: "All In Play Still Strong"
Recaps by TrueRedemption
+ Show Spoiler [Show Recaps] +

"NewDawn beats self, CheeseByCheesePrime into Ro16"

NewDawn < 0 - 2 >

BitByBitPrime.WE
-
Game 1 @ Steepes of War:
+ Show Spoiler [Show Recap] +
A hatch at 10 food surprises everyone, BiyByBit goes 2 rax putting 2 bunkers at the bottom of the zerg ramp. The bunkers finish and a couple marines make it in, but an equally fast pool allowed zerglings to pump from both hatcheries and repell the initial attack. BitByBit's cheese was just warming up however, accumulating about 16 marines before moving out with his SCV' and catching NewDawn as he started a wave of drones, leading to an easy overwhelm for ALLbyInPrime.
– An interesting initial build order by NewDawn to get the hatch first up despite two rax marine pressure, but economic cost simply put him too far behind to hold the inevitable all in.
Game 2 @ Shakuras Plateau:
+ Show Spoiler [Show Recap] +
BitByBit shocks everyone by going 2 early gas instead of the 2 rax play. A tiger can't change its stripes however, BitByBit opening with a poorly disguised 2 port banshee. NewDawn had adequate Queens and a fast lair to defend, and some poor control by BitByBit kept the banshees from doing any significant damage. NewDawn made the next move, having spent all of his gas on super-fast mutas, but this move did not pay off either, BitByBit having transitioned to vikings. Still on one base BitByBit harassed a few overlords and added two barracks, setting up a bio ball banshee viking medivac all-in. NewDawn seemed unsure of what to do next, building up a roach muta force as BitByBit knocked down the back rocks between their bases. In typical fashion a majority of SCVs meet up with the army for the all-in, demolishing NewDawn's army and most of his drones before a few roaches pop and clean up the last of it. Both players below 30 food, BitByBit's mules and higher worker count quickly turns into an unstoppable army knocking on NewDawn's door, demonstrating how far your typical ladder cheese can go in the GSL.
– BitByBit doesn't marine all in but shows poor 2 port banshee control, however NewDawn's super fast Mutas are equally ineffective, and a lack of banelings allow BitByBit's 1 base all in to succeed.
Player Grades:
+ Show Spoiler [Show Player Grades] +

BitByBitPrime.WE –
D+
BitByBit can micro marines in the early game, but the poor banshee micro and refusal to expand reveals a one trick pony. A delayed all-in game 1 is a good decision considering the economic hit NewDawn took for his fast hatch and pool build; similarly the vviking transition out of 2 port banshee after seeing a fast spire seemed quite smart, but it is hard to tell if these "decisions" show great game sense by BitByBit or simply a cheesy all in player. For Prime's sake I hope BitByBit has dimensions to his play we haven't seen yet.

NewDawn –
D
Both games show NewDawn has some
interesting
ideas, or at least a partially functioning brain, but that might be it. The early hatch first build allowed him to defend the initial marine pressure on the tiny steppes rush distance, but at what cost? It seems like he was trying to win a bet that you couldn't hatch first on the map instead of actually winning the game, the severely low number of drones early put him at such an economic disadvantage he would've needed a few minutes straight of droning to catch up. Similarly fast mutas seem like they would be a solid response to banshee harass, however the mutas were too late to deal with the banshees, he had too few to do any real harass of his own, and without banelings he did not have an adequate response to BitByBit's bio. So yes NewDawn you dealt with the initial threat, but in doing so you put yourself in such a bad spot that even a 1 basing all in player was able to exploit your position to win the game. At least you didn't die immediately I guess?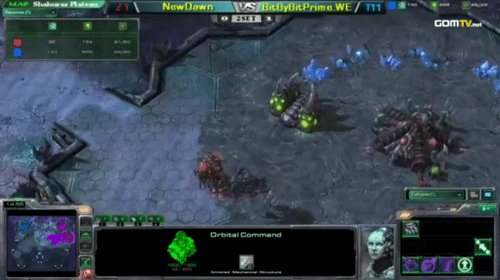 21-28 supply at 15 minutes, but in no way was this an epic game
"No Free Fruit Fo' You"

TSL_FruitDealer
< 2 - 1 >

sCfOu -
Game 1 @ Xel'Naga Cavern:
+ Show Spoiler [Show Recap] +
Fruitdealer defends his hatch first from 2 rax + bunkers at bottom of ramp with drones and 10 lings. SC retreats but continues making marines and starts building an expansion of his own. Off of 4 rax production SC moves out with a really nice timing push, hitting FruitDealer just as the baneling nest finishes, allowing SC to take out nearly all of natural's drones before being pushed back. Knowing he is ahead SC bunkers up, allowing him to deflect FruitDealers baneling counter attack. Knowing he was behind FruitDealer took a chance, droning up hard and getting a third hatch up hidden at one of the side spots. SC choosing to macro up, FruitDealer seizes the chance to take the lead, attempting to also take the gold expansion. This forces SC to move out with his bio ball, deciding to take out the hidden 3rd, but FruitDealer is able save most of the drones and catch the bio force on a move command; a small pack of banelings wipes the force out uncontested and catapults FruitDealer into the lead. This seemingly woke SC up, suddenly pushing and dropping in multiple spots at once, successfully sniping the baneling nest before baneling speed finished as well as destroying the gold hatchery. Pushing FruitDealer's mutltasking to the max, drops continue all over the map, killing the gold hatchery as its rebuilding and generally causing chaos. As tanks with siege started joining the bio ball, SC had firmly reclaimed the lead he had given up just a couple minutes earlier. Mutalisks bought FruitDealer time, but as SC got his own gold up and operational, the harass proved mostly a formality, and once SC felt comfortable moving out FruitDealer was forced to type out.
– What started out as a typical marine push against hatch first quickly became something more, FruitDealer posing quite a comeback with a hidden expansion and some luck. The most impressive part of the game however was SC's impressive challenge of FruitDealer's multitasking, an truly impressive extended period of drops and pushes in which SC locked up the game.
Game 2 @ Steppes of War:
+ Show Spoiler [Show Recap] +
FruitDealer attempted some 2 drone harass, SC responding by pulling 4 workers, but overall the harass does minimal damage and did not steal either gas. FruitDealer hid an expo at his third while getting a fast roach warren, SC opting to not challenge the fast roaches with his 2 rax marines. Instead SC bunkers up and expanded himself, FruitDealer responding with a baneling nest and a third hatch at the gold expansion on his opponent's side of the map. Siege finishes for SC, triggering a slow but frightening bunker / marine / siege tank push. FruitDealer's mutalisks finish as the push reached his third however, and SC, having spent too much on tanks and bunkers, did not have adequate anti air and quickly surrendered.
– FruitDealer's early harass could be questioned, but in addition to a hidden expansion and fast roaches FruitDealer appeared to come out ahead in the openings considering the map. The fast expansion for SC and tank push put a ton of pressure on FruitDealer, but not quickly enough to keep FruitDealer from getting the mutalisks necessary to completely pick apart the push. An interesting game despite the lack of answer for mutas.
Game 3 @ Delta Quadrant:
+ Show Spoiler [Show Recap] +
Hatch first against 2 rax once again, FruitDealer has enough zerglings to hold the cross position pressure, SC opting to expand and take both gasses behind his early pressure. As SC cleans up the debris for his expo and throws down some more rax, FruitDealer began an aggressive third at the gold and a baneling nest. SC moved out with a large bio ball to challenge the expo before baneling speed. SC is able to keep most of his marines safe from the banelings, but the dodge micro cost much of his army thanks to large number of speedlings. With the map control FruitDealer took another gold expansion and burrowed some well-placed banelings just outside of SC's ramp. SC trued to move out not long after, losing the majority of his bio to the banelings. Realizing his deficit had just become a hopeless situation SC continued with the attack in all-in fashion, FruitDealer easily cleaned it up and moved his cart to the Ro16.
– FruitDealer manages to absolutely dominate using only speedlings banelings and hatcheries, his hatch first securing an economic lead he fueled with the relatively quick gold third expansion. Good creep spread and a large army dealt handily with SC's second push, and the baneling land mines was a flashy move in a game that was all but over already. Regardless FruitDealer showed some of the magic we've come to expect in a surprisingly one sided conclusion to a close series.
Player Grades:
+ Show Spoiler [Show Player Grades] +

FruitDealer –
B+
Hiding expansions is hardly a reliable strategy, but it nearly turned around a massive deficit in game one and probably won FruitDealer game 2. Perhaps the 2 drone harass was intended to block a wall off, allowing a run-by if SC moved out to take out the hidden expansion, or some other well developed opening by FruitDealer, but in the end it worked whether through skill or luck. Solidly dealing with the bunker push and his impressive play game 3 should have calmed fanboy fears, time will tell if game one was a random off game or a sign of weakness.

sCfOu –
B-
In a very strong game one SC showed signs of real greatness, but a strange opening in game 2 seemed to trip up SC and he wasn't able to recover. His bunker push seemed very strong, but the lack of anti-air seemed like a simple mistake stemming from a lack of scouting. Unfortunately the funk leaked into a poor game 3, FruitDealer's aggressive expanding kept SC from getting the tanks necessary, the strictly bio force never really able to challenge the speedling baneling army after falling behind with the initial pressure.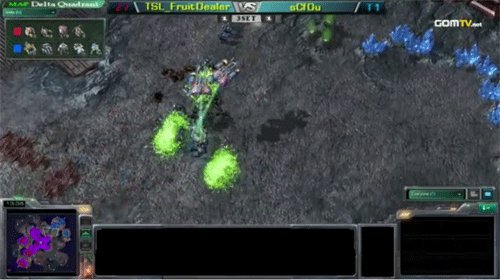 Little green landmines crushing sCfOu's dreams
"The Best All-Ins Are Barely Too Much for Ret"

LiquidRet < 1 - 2 >

TheBestfOu
-
Check out our in depth coverage of Ret's GSL Ro32
here!
"Stargate Carrie(r)s HongUn past JSL"

HongUnPrime.WE
< 2 - 0 >

JSLZenith -
Game 1 @ Lost Temple:
+ Show Spoiler [Show Recap] +
HongUn 1 gate fast expands, JSL reaper scouts opting for a 2 rax command center opening. Content to macro both players tech up, JSL the first to break the silence with a 2 medivac drop sniping a couple pylons, starting Viking production to deal with the Colossus tech. HongUn moves out with a 3 colossi heavy stalker push shortly thereafter, but another drop by JSL delays the attack just slightly as the colossi chase it off. HongUn doesn't meet much resistance pushing into the terran natural, JSL instead dropping the protoss main again. HongUn continues pushing, and despite the impressive Viking count limiting the damage the colossi could do, the supporting gateway force was too much for the viking heavy split up army of JSL.
– HongUn's excellent timing and composition adjusted beautifully for JSL's quick vikings, and with a large chunk of bio removed dropping the protoss main, HongUn's attack crushed his opponent with ease. A textbook but beautifully executed game, JSL punished for attempting to cut corners with fast vikings.
Game 2 @ Delta Quadrant:
+ Show Spoiler [Show Recap] +
JSL uses the same delayed reaper scout expand build, this time scouting HongUn's two gate stargate with a phoenix on the way. JSL's command center set up quickly at the front expansion of the terran main, HongUn not trusting the phoenix for defense is forced to break down the debris for a safe but delayed expansion of his own. The phoenix harass is underwhelming, doing little more than scout JSL's main as a turret and marines keeping HongUn at bay. Both players are content to macro for a while, a ghost academy and more barracks reveal JSL's intention for the midgame, HongUn building another stargate and fleet beacon. JSL moved out as two ghosts join the bio ball, opting to set up a contain rather than riske the narrow ramp. Meanwhile HongUn has amassed quite the gateway army as carriers, yes carriers begin pumping out of the stargates. JSL scans and adds vikings to his army, moving cloaked ghost up the ramp and faking a nuke to push back the gateway force and allow the terran army to move up the ramp. In surprising fashion, the gateway carrier force stomps JSL's bio ball despite a couple good EMPs, and the counter attack was too much for JSL to handle, HongUn simultaneously winning new fans and a spot in the Ro16.
- I'm not exactly certain how it happened, whether JSL had spent too much on tech (Ghosts, cloak, nuke, and Vikings) or JSL's macro slipped or if Carriers simply are as strong as they looked in this game, but as far as entertaining games go this one is certainly worth a watch. With the first carrier in the GSL and the win to go with it, HongUn strengthened his bid to be the champion Protoss have been lacking.
Player Grades:
+ Show Spoiler [Show Player Grades] +

HongUnPrime-
A-
A really well executed 2 base colossus push game one adjusted beautifully for the fast vikings and secured a solid game 1 win, although if JSL had pulled back the drop forces this all in may have been much closer and possibly less than optimal play. Game 2 he admitted having difficulty with the map, but a creative and surprising build seemed to stun JSL and was enough for the win.

JSL –
B-
Fast vikings and drops to slow down the colossus push seemed like very strong play, but over-reacting with so many Vikings cost him dearly on bio and HongUn was primed to punish him for anything but a perfect composition. In the second game I don't entirely understand the logic of responding to stargate with a ghost academy if not for a timing push prior to colossi. By teching up to vvikings and giving the protoss time weakened the ghost tech, but it was definitely a strange scenario. Regardless the less than great decision making cost JSL his GSL bid in somewhat humiliating fashion despite overall strong play.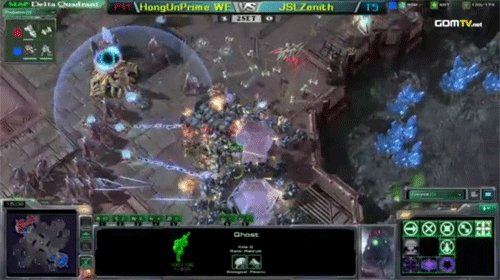 Two Base Carrier returns to stun Terrans in the new era



Set C: "Somewhat entertaining."
Recaps by tree.hugger
+ Show Spoiler [Show Recaps] +

"He did the mash... He did the Monster Mash"

MarineKingPrime.WE
< 2-1 >

ST_Monster -
Game 1 @ Jungle Basin
+ Show Spoiler [Show Recap] +
MK puts on his glasses, and is ready to go. Monster goes pool first, while MarineKing one-rax expands, before walling off his ramp with two new barracks. MK pumps out several marauders from his first barracks and then moves out to do pressure. In navigating the map middle, MK lets his army get split up, and takes some damage from zerglings, losing a marine and half of the health on a marauder. MK pushes forward resolutely, snipes an overlord, and establishes a position on Monster's ramp with his marauders properly placed in front, marines behind. However, Monster has already morphed a few banelings outside of his base, and sandwiches the terran on the ramp, wrecking the push. Monster over-lings, but MK is securely walled in, and the zerg is forced to camp outside the terran ramp. MK gets a starport with a reactor, and scouts with his factory before it dies to mutalisks. Monster meanwhile takes his third along the side, and amasses a considerable muta/ling army. MK pushes out after four medivacs, and Monster gives battle outside the zerg third. Unlike in the first battle, Monster now engages at an extremely poor angle, and is forced to give up his third. MK begins to roll up the zerg forces in the map center, and while Monster wins a couple pyrrhic victories, he cannot wipe out the terran ball. MK pushes up the ramp with critical mass medivacs, and this time Monster has no backdoor banelings to clean up the terran. GG.
- Both players had their moments, but MK's great control towards the end of the game was the decisive factor.
Game 2 @ Steppes of War
+ Show Spoiler [Show Recap] +
MarineKing builds a barracks in his main, then proxies a barracks just barely out of overlord sight range near the entrance to his natural. Monster fast expands in the meantime, and scouts the second barracks very late. MK moves out with scvs and marines and is met by a contingent of drones, which have no success at killing anything, but manage to do enough superficial damage to delay until Monster can get a spine crawler up. Pressure denied, MK takes his expansion safely, and moves his barracks up to the natural high ground, where it and a bunker form a choke of sorts. With a couple of marauders on the field, MK moves out again but is overwhelmed on the zerg ramp by a ridiculous number of zerglings. This time, Monster is able to press his advantage immediately, and runs over the terran defenses, killing a large number of units and scvs. MK actually stabilizes for a moment, until a second wave of zerglings pour in and finish off the battered terran defense.
- For the second time in the series, the winner came back from an early disadvantage to take a comfortable win. This game lacked the finesse of the previous game, but had some entertainment in watching the rising tide of zerglings wash over MK's base.
Game 3 @ Lost Temple
+ Show Spoiler [Show Recap] +
At close ground positions, MK goes for a two rax, while Monster fast expands. MK brings the expected marine pressure, and Monster deflects it with drones, then zerglings and a spine crawler. However, the zerg also leaves an overlord out in the map center and loses it to MK's first few marines. MK expands, and builds his marine numbers, with two more barracks as part of a wall-off at his natural. When he moves out after adding marauders, Monster again sets up a sandwich, but MK has a larger army than in the previous game, and survives the trap with a small surviving ball, while Monster loses his whole zergling force. Monster takes his third and adds banelings, while MK drops reactors and reloads. With his second push, MK is able to deal with Monster's split forces somewhat seperately, and his ball survives largely intact, prompting an immediate gg from Monster.
- Basically the same at the first two games, but not nearly as close.
Player Grades
+ Show Spoiler [Show Player Grades] +

MarineKingPrime -
B+
There's not a lot here to critique, but MK played well, and could've played better. In each game, he played roughly the same build relying smartly on his strong bio control to take the series. The little adaptations that he made for each map and situation were good to see. Yet the series as a whole was a sloppy one. He should've done better in each game to avoid the losses that Monster inflicted upon him. His push was stomped in a way that he should've forseen in the first game. In the second game he was tremendously sloppy in scouting and paid the price. In the third game, he solved the problem by getting more units, but that didn't make it any prettier to see. MK was the better player, not by a huge amount, but not by a hairsbreadth either. The series basically reflected that.

ST_Monster -
B-
Monster was religious about setting up sanwiches for the terran pushes, but beyond that there was startlingly little creativity from the zerg in countering his opponent's relentless bio aggression. By the third game, he should've known the timings and situations well enough, but he really couldn't provide an answer regardless. His muta control in the first game was not incredibly special either, and he had more luck with speedlings than banelings in the series. In the third game, when I saw Monster morphing banelings, I thought; "Well there's no way he wins now." That's not a good reflection on Monster's play.
Second try's the charm.
"Liftoff denied."

LeenockfOu
< 2-0 >

TSL_GuineaPig -
Game 1 @ Blistering Sands
+ Show Spoiler [Show Recap] +
Leenock is forced into pool-first play as GuineaPig's scouting probe drops a pylon at the zerg natural. GP sets up a chokepoint at his natural and begins to pump out stalkers. Leenock flirts with breaking down the protoss rocks and pokes in with his overlords, looking for tech, but he sees nothing because GP has dropped three additional gateways behind his minerals. Leenock spots the fourgate zealot-heavy rush only when it moves out, but he delays it slightly by running zerglings around into GuineaPig's main. While GP is forced to pull probes to deal with the threat, Leenock masses zerglings and gets a spine crawler down. GP's inital push into the zerg natural is poorly controlled, with his stalkers too far ahead of the army. Leenock takes the push on piecemeal with speedlings, taking out the forward elements, before running around the army to threaten GP's sentry reinforcement. GP is forced to waste forcefields to protect the rear, and Leenock nearly breaks through the rocks into his main. GP has little other options but to press forward, and he does damage in the zerg natural before succumbing to massed lings. He gg's.
- Some tight moments, but mostly some quick thinking and great control from Leenock, who showed a great deal of poise in defending an unscouted four-gate.
Game 2 @ Lost Temple
+ Show Spoiler [Show Recap] +
Leenock six pools from cross positions, while GP opens with a pylon on his cliff, intending to play the same probe-heavy FE style he employed so successfully on this map in his previous series. These intentions are thwarted immediately as GP scouts Leenock, and is forced to throw down a forge and pylon wall. Leenock breaks through GP's pylons just before a cannon finishes, and causes problems in the protoss main as GP pushes out a zealot. Leenock meanwhile, is transitioning into an econ game, and puts on no more pressure, leaving his initial zerglings to fend for themselves. GP loses a surprisingly small amount to the six pool and eventually cleans it up, but is still behind. While Leenock techs to a spire and kills the rocks at his gold expansion, GP takes his own natural and adds two gateways and gradually adds two stargates. The first void ray attempts to shut down the zerg third, but falls to Leenock's mutalisks. The game balances out, with GP moving toward securing his third, while massing void rays, and Leenock macroing off of three bases, and looking for an opportunity to shut down GP's phoenix harass. He gets the opportunity out in the open, and lands a perfect fungal growth, wiping out GP's collected anti-air in one quick strike. Now on the offensive, Leenock draws out the protoss army and inflicts heavy losses upon it near the protoss-side watchtower. GP holds on for the moment, culling a good deal of Leenock's mutalisk flock, and attempts to take his gold behind this victory, but Leenock in in the position to reinforce a great deal faster, and wins the second battle outside the protoss third with ease. GP scratches his nose and GGs.
- A well-played game by both players, featuring some clever meta-gaming and patient control. Ultimately decided by a single fungal growth.
Player Grades
+ Show Spoiler [Show Player Grades] +

Leenock -
A
I'm a huge fan of how Leenock played this series. His on-the-spot thinking in delaying and ultimately destroying GP's four gate rush was pitch-perfect. His decision to six-pool in the second game, probably helped avert the disaster that befell IMJunwi the previous round, by throwing GP off his rhythm and greatly hindering his preferred PvZ playstyle. In closing out the second game, Leenock was patient, meticulous, and correct in his play. There's nothing that I'd change about how Leenock handled this.

TSL_GuineaPig -
B
There ought to be no more ready supporter of the
upcoming zerg patch changes
than GuineaPig. Having done well to defend a six pool in the second game, GP was in a very winnable fight until his phoenix fleet got fungal growth'd in a moment of inattention. Of course, it shouldn't have happened in the first place, but it also can't obscure a solid second-best performance from GP. Unlike some players who look like they have no idea what they're doing, GP had a plan, it just didn't work. His four gate rush in the first game was dangerous, but his decision making cost him precious seconds and put him in an early hole. Still, good multitask against Leenock's two zergling forces prevented a quick disaster. And as I mentioned above, the second game was close and well played. I continue to be especially impressed by GP's relentless scouting. GP will be doubtless disappointed with his early exit, but after covering his two series, this writer has little doubts that he continues to be a substantial threat.
You may never see this again.
"MCvT"

oGsMC
< 2-0 >

oGsHyperdub -
Game 1 @ Steppes of War
+ Show Spoiler [Show Recap] +
Hyperdub walls in behind a depot and a barracks with a reactor, while MC opens with an initial one-gate. After each player eliminates the other's scout, Hyperdub goes for a 1-1-1 build, while MC calls in a stargate and then another gateway. The protoss keeps a lose pressure on the terran front, and warps in a proxy pylon, which Hyperdub spots while scouting with his factory. Hyperdub expects a bust at his front with gateway units, and brings a group of scvs in position to repair, but the arrival of a fast void ray surprises him, and MC begins deconstructing the terran wall. Hyperdub first built a banshee out of his starport, which is useless before the protoss attack, and so he sends it to harass while sitting behind a bunker and trying not to lose the game. MC takes out the barracks in the wall, and moves his void ray around the bunker to harass the terran main, but Hyperdub produces a viking just in time, and springs the marines from the bunker to help kill off the protoss pest. But MC is already three moves ahead, and takes advantage of the momentarily impotent bunker to run his stalker force into the main. Hyperdub has no answer to this, but gg's as his cloaked banshee is taken out the second MC gets an observer on the field.
- A short game that was quite fun to watch as just about everything turned out as MC had scripted it.
Game 2 @ Blistering Sands
+ Show Spoiler [Show Recap] +
Hyperdub opens with a single barracks, before taking out MC's probe, and then adding three more. But MC is engaged in shenanigans of his own, proxying a pylon and then a gateway right outside the terran's backdoor destructible entrance. Hyperdub is completely in the dark, stockpiling marines while sitting behind a bunker at his ramp. When suddenly a mob of stalkers parade into his base and start killing stuff, Hyperdub's marine/scv forces have no chance. The terran gives MC a stage to show off his micro, before throwing in the towel.
- Similar in result and time to the first game. MC's plan here was no less devastating, but wasn't nearly as interesting as his strategy the first game. This time, you just knew there was no way Hyperdub was going to take this.
Player Grades
+ Show Spoiler [Show Player Grades] +

oGsMC -
A
What I love about Min Chul's PvT is how cerebral it is. In both games, MC couldn't have played any better if he was maphacking. Both players knew each other well, but MC outsmarted Hyperdub so dramatically that the series took less than 15 minutes to play, and didn't see MC lose a single stalker. We saw this in the last round, where MC seemingly had a plan for every eventuality, and executed his play brilliantly. Same here. How do you beat this guy?

oGsHyperdub -
D
Hyperdub hardly got the chance to get his hands warm before he was bounced out of the tournament. Partly, that's a reflection of how perfectly his opponent played, but Hyperdub needs to take a hit here as well. In teamkills, each player has a unique opportunity to calibrate a singular game plan for their opponent. Either Hyperdub didn't do it, or he did it horrifically wrong. In either case, there was absolutely nothing of value in how Hyperdub played this series.
Sup?
"dEadfOu"

ST_July
< 2-0 >

aLivefOu -
(or
if you skip to the good part)
Game 1 @ Delta Quadrant
+ Show Spoiler [Show Recap] +
aLive walls in at the bottom of his ramp while July goes early pool, and does not scout. aLive adds a factory in his main while July takes his expansion. aLive moves to take his protected natural, while July prepares a muta/ling style. An uncommitted hellion harass is lazily controlled by aLive, and he gets nothing useful done. With production kicking in from a starport and two new barracks, aLive moves out and takes down July's morphing gold expansion, but loses his whole army in the process of retreating. July begins to harass in earnest with his mutalisks, and takes the other nearby gold expansion. aLive eventualy moves out along the side of the map to pressure July's expansion again. He takes it out, but July has already committed to mutalisk harass at the terran natural, where he does significant damage to aLive's scv and marine counts. Meanwhile, aLive again takes out the gold expansion, and again tries to move up into a position near July's natural. July engages at a seemingly terrible angle without his mutalisks, but aLive has his tanks unsieged, and July has so much stuff that it works anyway, and the terran loses everything. aLive turtles for a little bit, but July is again working off of two gold bases, and builds a ridiculous amount of mutalisks which aLive has absolutely way to deal with.
- A fun game if you like seeing stuff blow up, but a painful one if you're a fan of top level control and play. aLive's control was awful (un-sieging all your tanks right outside the zerg natural?!?), and July's wasn't a whole lot better (leaving the natural command center in the red to fight a battle that's already been won?) but he had two gold bases for most of the game, and used them well.
Game 2 @ Xel'Naga Caverns
+ Show Spoiler [Show Recap] +
July breaks the mold and fast expands, while aLive walls in and throws down a factory. July sends two zerglings on a fun little scouting expedition and they barely miss slipping into aLive's base. aLive makes an attack with four marines, and a quick hellion to follow up, but his control is just awful, and July makes a bunch of lings to defend. aLive takes his expansion and begins to add barracks to support his 1-1-1, and July adds two hatches, one for a third base at 3, and the second at his natural. aLive begins to mass tanks and marines off of one base, while July abortively harasses with mutalisks, all the while spreading creep like an absolute beast. This continues for a long period, with July giving his mutalisks exercise around the map, while chilling with a maxed army, and getting the gold base up. aLive finally moves out as the creep spread essentially reaches his natural, with massed marines, somehow only four tanks and medivacs each, and a lone thor. July laughs, and counter-attacks, first with mutalisks at aLive's main, then zerglings at his natural, then mutalisks again. aLive moves out, and takes out July's gold expansion, while July patiently waits for aLive to move onto his side of the map. It doesn't happen, so July counter-attacks and kills some of aLive's reinforcements. The terran pulls back to take his gold expansion (where he discovers it's blanketed in creep), and July has some more fun killing stuff in the terran main, while aLive chills in the map center, and starts planning for his retirement. Eventually, aLive manages to kill off July's gold and third, while July happily kills what remains of the terran base, and builds
19 SPINE CRAWLERS
to supplement his broodlord/infestor defense. aLive has barely begun to test this iron curtain when an absurd amount of banelings come in and kill absolutely everything.
- Watching the whole game is a waste of time.
- If you fast forward 15 minutes, this game become extremely entertaining.
Player Grades
+ Show Spoiler [Show Player Grades] +

ST_July - A-
I wasn't convinced by July here. His play in the first game was good, but his opponent made so many mistakes, it seemed a simple matter to capitalize on enough of them to take the game. But July's grade gets bumped up because the man was
in the zone
in Game Two. With absolutely no pressure to worry about, July played like he was practicing against the easy CPU. Bucketfuls of units, insane creep spread, confident expanding and teching... it was like clockwork.

aLivefOu -
D
I don't even know. The confident, assured terran who dismantled oGsZenio in the previous round was replaced with a shy, sloppy terran who had no business qualifying. I'm not sure what aLive thought he was doing here; playing so sluggishly that he couldn't even take a third base on Xel'Naga because there was creep at every open location. His control in the first game was absolutely appalling. His game plan in the second set was idiotic. I usually reserve F's for scrubs like BitByBit, but it sure was tempting to reverse that policy. July just sat on this kid.
When your opponent has more spine crawlers than you have scvs, that's a good sign things didn't go as planned.



Set D: "A Changing of the Guard."
Recaps by TrueRedemption
+ Show Spoiler [Show Recaps] +

"Polt Topples an Empire"

SlayerSBoxeR < 1 - 2 >

PoltPrime.WE
-
Game 1 @ Delta Quadrant:
+ Show Spoiler [Show Recap] +
Boxer opens with two barracks hidden near his expansion, Polt safely getting a bunker at the top of the ramp to fend off any of the pressure Boxer could've applied. Rather than expand behind the pressure however Boxer quickly took both gases and attempted to keep equal on tech. Polt meanwhile set up a 1 base Thor rush, hiding the armory to look like a standard siege tank play, even tricking Boxer who expanded and began viking production expecting standard play. The thor rush pushed out with marines, a hellion and some repairing SCVs, catching Boxer unprepared, the repairing SCVs keeping the thor up despite Boxer pulling his own SCVs to fight, quickly ending game 1.
– Polt's thor rush was a particularly strong build against the new opening Boxer used in his Ro64 matches, and well suited for Delta Quadrant's geography. The armory hiding spot and Thor positioning when fighting up Boxer's ramp both demonstrated just how much effort Polt had put into this strategy, and it played out beautifully much to Boxer's dismay.
Game 2 @ Blistering Sands:
+ Show Spoiler [Show Recap] +
Boxer expands after a single marine chases off the SCV, Polt opting to get his gas and tech. Boxer took a page out of Foxer's playbook, producing straight marine out of 8 barracks. Boxer's push catches Polt before siege mode could finish, forcing Polt to pull SCVs to defend the push. Keeping with the marines Boxer amasses for another attack. Polt pushes out with 3 tanks and a couple marines before siege mode finished, but was caught by Boxer's marine force in the middle of the map and was chased back , allowing Boxer to again thin out Polt's army as he transitions into a more marauder heavy army. Keeping the pressure on Boxer took out the back rocks, but was met by a few sieged tanks and bio, but with 8 rax rallied to the front Boxer's reinforcements joined his army as he began targeting Polt's expo, and the sheer size of Boxer's force was too much for Polt to handle.
– A complete contrast to Boxer's 2 barracks pressure into tech opening, Boxer offers a strong fast expansion mass barracks strategy with constant aggression. Polt's more standard play looked like it should have be able to hold, but Boxer was able to use good timing and a superior economy to fight Polt's tech. By doing enough damage with the marines to keep things close , Boxer pushed Polt towards a tank heavy army, making Boxer's massive switch to marauders a killing blow.
Game 3 @ Jungle Basin:
+ Show Spoiler [Show Recap] +
Boxer again opens with a fast expansion and mass barracks, Polt opting for a cloak banshee build instead. Boxer's first push meets Polt's marine tank force in the middle of the map, Polt's tank able to soak up a lot of Boxer's marine damage and actually wiping out the initial push. Just as Boxer was looking to push out again however Polt's banshee made its way into Boxer's expansion, killing over 20 of Boxer's SCVs and marines. Polt follows up the harass with an expansion and a marine tank banshee push that Boxer had to pull nearly all of his SCVs to repel. By killing off most of the SCVs Polt secured a massive economic advantage, and with some continued cloaked banshee harass Polt continued widening the gap. When Polt's siege push finally came Boxer was simply too far behind, and the Emperor took an early exit from GSL season 3.
– In an excellent response to Boxer's game 2 build, Polt's incredibly well executed cloaked banshee rush had Boxer beat at every turn, clinching a well-earned spot in the Ro16.
Player Grades:
+ Show Spoiler [Show Player Grades] +

PoltPrime.WE -
A
Polt had an incredible series despite losing game 2 to a very well executed strategy by Boxer. The obvious planning and preparation that went into game 1, as well as the great adjustment and execution in game 3 was an overall dominating performance worthy of knocking anyone out of the GSL. An amazing all around performance by a player who truly defeated the Emperor in a series Boxer was playing pretty well in.

SlayerSBoxer -
B+
The 2 rax opening into expansion and double gas worked great in his Ro64 match, but the build was not unbeatable, and Boxer's slight lack of completely solid scouting intel set him up for a surprising loss game 1. I can't blame Boxer for not scouting the armory, but expanding and producing vikings without actually seeing what his opponent had committed to cost him the game. Game 2 Boxer played beautifully, a complete change of style and a aggressive strategy developed well into the mid game, and when you factor in the map and Boxers strong execution it would've taken a tremendous performance for anyone to beat Boxer that game. Game 3 Boxer tried his game two build again, but personally I wonder if his game 1 build would have served him better. Even still if Choya had not adjusted to game 2 as well as he did Boxer certainly could have been moving on to the Ro16, but ultimately a critical flaw in each of Boxer's builds became his undoing.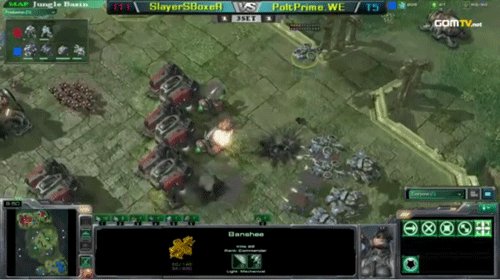 With 22 kills this is banshee that overthrew an Emperor
"Jinro Channels his Inner Flash"LiquidJinro
< 2 - 0 > FOXMoon -
Check out our in depth coverage of Jinro's Ro32
Here!
"Titans offer S Code level Preview"
EGIdra < 1 - 2 >
IMmvp
-
Check out our in depth coverage of Idra's Ro32
Here!
"Check Checks Out"

choyafOu
< 2 - 1 >

CheckPrime.WE -
Game 1 @ Steppes of War:
+ Show Spoiler [Show Recap] +
Hatch first for Check prompted Choya to throw down a forge and chrono out zealots, looking to cannon push the natural for an easy win, even pulling probes to help with the attack. Check cancelled the hatch however, Choya opting to cancel the cannons and return to more standard play, aiming instead for the 1 gas zealot stalker 4 gate variation. Check trying to hold his natural with a few spine crawlers, speedlings and roaches. Choya hesitates before engaging, and when he did move in Check microed beautifully, his roaches attacking the zealots and using the speedlings surrounding the stalkers, forcing an immediate gg from Choya.
- Check opens hatch first, Choya overcommits to stoping the hatchery by pulling probes, Check simply cancels, and the follow up 4 gate push is easily defeated by spine crawlers and Check's micro.
Game 2 @ Delta Quadrant:
+ Show Spoiler [Show Recap] +
Check opens pool before hatch, Choya again going for the 1 gas stalker zealot 4 gate. Check scouts the build with good overlord placement, but out of fear begins producing speedlings before sufficiently establishing his economy. Despite a large number of speedlings and roaches and a strong flank of the initial attack, Choya was able to wear down the zerg army. With only 16 drones Check was unable to keep up production with Choya's reinforcements, and eventually Check was forced to surrender.
- A Zealot Stalker 4 gate variation which Check does not establish enough of an economy to hold off.
Game 3 @ Xel'Naga Caverns:
+ Show Spoiler [Show Recap] +
Check opens pool first but Choya pylon blocks the inevitable hatchery anyway, following up with a forge after core seemingly for a fast expansion. Whether indecision of a feint, Choya next builds a starport, but it is quickly scouted by Check by running a zergling to the top of the ramp. Check gets a couple extra queens to fend off any starport play, Choya deciding to expand rather than make any sort of push with his phoenix and void ray. Choya uses the phoenix to scout Check and try to harass overlords without much success. A hydralisk den and double expand by Check forces Choya to move out, easily killing off the hatch at the natural third. Check has a few hydras but in an attempt to pre-emptavely counter Choya's robo, Check floated a ton of resources, looking to surprise tech switch to mutas without ever killing off Choya's initial couple phoenix. Choya was able to scout it however, correctly restarting phoenix production and even getting +1 to air weapons. Choya takes the standard third and pushes Check's third, the muta ling army opting to counter attack the protoss natural. Check isn't able to do too much damage however, and Choya's phoenix catch the mutalisks, Check not retreating in time, and the phoenix able to tear apart the mutalisks Check trying to run the mutalisks away rather than even turning and fighting, losing nearly all of the mutalisks in the process. Check now desparately behind, he produced a large hydra army, but Choya had finished colossus tech and Choya was able to trap Check's army attacking his third, Check grudgingly typed out gg.
– Check's attempt to surprise counter Choya's stargate to robo army composition failed miserably when Choya realized what was going on and continued with phoenix production, easily dealing with Check's mutalisk flock.
Player Grades:
+ Show Spoiler [Show Player Grades] +

choyafOu –
B-
Choya overcommitted to stopping the hatch first on Steppes, and when Check canceled Choya had to scramble in attempt to stabilize, giving up an easy game 1 for his mistake. Game 2 he went all in with a strong push that Check was able to scout, but despite superior micro Check more failed to hold the push than Choya earned the win. Game 3 Choya made more mistakes, putting the stargate in vision of the top of the ramp and failing to fool Check with his early expansion cannon. Check however had other plans for the Ro16, despite defending any stargate harassment and getting a fast third, Choya merely had to scout Check's spire before continuing to produce phoenix and grossly punish Check for his failed deception. Its not that Choya played poorly in this series, but after a weird game 1 it was more that Check gave away games 2 and 3 than Choya took them.

CheckPrime.WE –
D+
The cancel on his hatch first put Choya way out of position in game one. Whether Check decided to cancel after seeing the pulled probes realizing he would be in an alright position is unsure, but either way it worked well and Check took game one seemingly with ease. Game 2 Check over-reacted to a rush he scouted was coming, simply not droning up enough before making units, a silly mistake but under the pressure of playing in the GSL this game could've been swept under the rug if Check dominated game 3 and moved on. However instead Check tried to get too fancy for his own good and threw away the game. Hydras into spire against 2 gate stargate is not a bad idea, you don't need too many hydras to fight the reduced number of gateway units, and by getting a spire you can have corruptors ready for the Colossi tech that stargate is notorious for setting up. One thing you cannot do however is build 5 hydras and then wait for your spire to finish so you can go mass muta without any corruptors. He hadn't killed the phoenix so it wasn't even like Check could hide his spire tech, and even a couple corruptors mixed in would've allowed the muta flock to fight the phoenix, but Check never even bothered. Choya even over compensated, making more phoenix than necessary, but Check's lack of coordinated defense of his expansions finally came back to bite him, and after positioning the hydras in just as bad positioning as his mutas were, Check knew he wouldn't have a third army capable of dealing with Choya's unhindered army composition. Maybe game 3 was just a few really bad decisions, but ultimately Check should be disappointed with how GSL 3 went, yet has no one to blame but himself.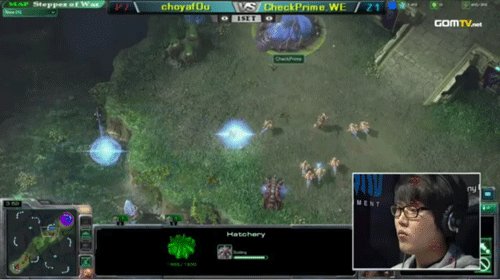 Choya got a little TOO excited to take out Check's Hatch first
---

Next: Ro16 Recap

As the pyramid peaks, how players, old and new, handle the pressure and perform against the biggest names in eSports will set a precedent for seasons to come. A number of new faces impressed us in the Ro32, but how long they can last is another story altogether.