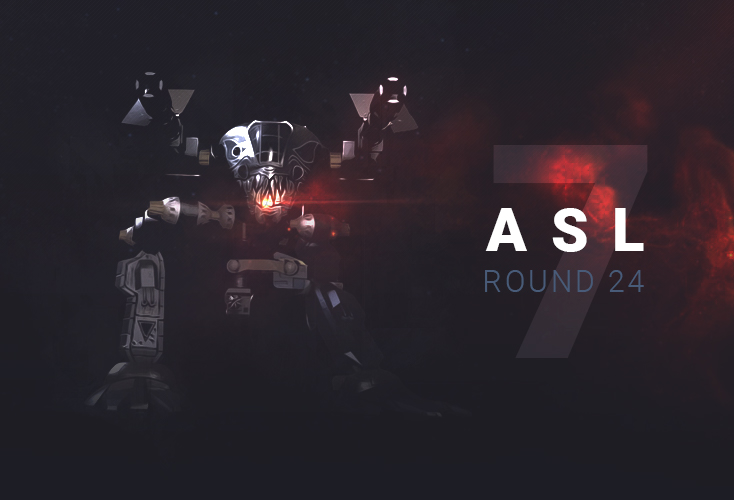 Welcome Back! It feels like forever but we're finally here at the Afreeca Starleague Season 7. Have you recovered from the ASL 6 finals yet? EffOrt really brought it to Flash and now we're left wanting for more StarCraft.

This is going to be another interesting season with the addition of 2 new maps (Block Chain and Whiteout), and with NaDa returning to the offline stage after a very long time, you can bet its going to be one hell of an opening week for the ASL!

However, let's not forget the full lineup of the week. The aforementioned "Genius Terran" NaDa takes on Larva while Rush and Horang2 in Group A, and ASL5 Runner up Snow, Action, PianO, and newcomer Terran Tinkle face off in Group B.

Group A is set to start in . It's time for all the players to lay it down on the line for a chance to advance to the Ro16 and join the group selection ceremony. Let's get HYYYYPED!!!!!!!!!!!!

Table of contents

The Return Of The Bonjwa
For many years, Lee 'NaDa' Yoon Yeol held the mantle of the absolute best StarCraft player in the world. Building on BoxeR's legacy, the Genius Terran established himself as the Emperor's bonjwa successor—a title granted a select few who left a more than a noticeable impact on the scene by utterly dominating the landscape of professional StarCraft in Korea. As one of the four players ever to win (at least) three OSL titles and be awarded the Golden Mouse, NaDa remained a force to be reckoned with until the release of StarCraft II, where his relatively short stint yielded only a single semi-final GSL finish.The Bonjwa retired in 2012 to fulfill his mandatory service in the Korean military.
And now he's back.
Although NaDa has been somewhat active on the scene since his return in 2015, only recently did we see his attention shift towards the more competitive aspects of StarCraft. Streaming for a living, Lee Yoon Yeol failed to qualify for any previous iterations of the AfreecaTV StarLeague. It's hard to say whether his passion was reignited after having played the role of Afreeca's coach in the second season of the MPL or if returning to his former glory was NaDa's ultimate goal all along. What is becoming apparent, though, is that he has seemingly caught up to the rest of the scene in terms of skill.
However, as AC/DC's Bon Scott once said: "
It's a long way to the top if you want to rock n' roll be a StarCraft champion
, and NaDa might be hard pressed to even make it out of his Ro24 group. With the likes of Lim 'Larva' Hong Gyu, Yoo 'Rush' Young Jin, and Lee 'Horang2' Kyung Min all standing in his way paired with an arsenal of new maps, I wouldn't be surprised if NaDa's ASL run came to an abrupt end this coming Sunday. Getting back into competitive StarCraft is one thing. Getting used to swathes of high ground over one's natural, odd pathways, and half the map assets denying vision to the player—seriously, who came up with the idea of Whiteout?—is another.
Nonetheless, the return of NaDa is bound to garner heaps of attention from casual viewers and hardcore esports buffs alike, being a much needed storyline for the media to follow.
Predictions:
Larva > NaDa // Block Chain
Horang2 > Rush // Block Chain
Larva > Horang2 // Whiteout
NaDa > Rush // Whiteout
NaDa < Horang2 // Match Point
Larva
and
Horang2
to advance to the Ro16!

Snow Problem
Snow
vs.

Tinkle on Block Chain
I don't really know anything about amateur Terran, Tinkle, besides what's written in his Liquipedia article that was made just three days ago. He's apparently known for his early harass style, which sounds great on Whiteout and Block Chain. In the sponsored rankings he sits at 44, which is nothing to write home about. He holds his own versus other fellow amateurs, but against world revered PvT'er Snow, his chances are incredibly slim. Block Chain, a map that has an unfavorable late game, will be a near impossible task unless Tinkle can pull off the magic of Fantasy-esque drop harass. With no experience on the live stage, his chances only go down further.
Action
vs.
PianO
Action has a penchant for specialized builds, and a unique map like Block Chain will be no exception. I can easily see his style tripping up a player like PianO, who only appears best in his element of constant drop harass and signature SK Terran play. However, by the merit of the map and the fact that TvZ is PianO's best matchup, I predict that he will come out ahead.
Winners' Match:
Snow
vs.
PianO
: Whiteout
Snow hasn't been known as infallible or consistent, but against a player of PianO's caliber, Snow is more than a match. I predict some early reaver play to dismantle Piano and either win outright or gain a sizable advantage.
Losers' Match:
Action
vs.

Tinkle: Whiteout
Again, no amateur in recent memory has upset an ex-pro on the offline stage. That'll be the case again, as Action is simply the superior player here.
Final Match:
Action
vs.
PianO
:
Match Point
Match Point plays ZvT out differently by usually demanding Zergs either go 2 hatch muta or the occasional 3 base 3 hatch muta. A match like this could go either way due to how unknown Action's proficiency with 2 hatch muta is. There's also a chance that if Action does another one of his unique strategies, he might just fail badly. Then again, PianO's current form may be inconsistent. Still, I give this game a slight advantage to PianO to win.
Snow > Tinkle // Block Chain
PianO > Action // Block Chain
Snow > PianO// Whiteout
Action > Tinkle // Whiteout
PianO > Action // Match Point
PianO
and
Snow
advance to the ro16!
---