UpMagiC was the first player during group stages to guarantee himself a spot in the quarterfinals. Hwasin was the last player to do so. Hwasin has made it to the quarterfinals by making out of a very difficult Tiebreaker series between Iris and July. If history is able to tell us anything about Hwasin's chances here, it would tell us that the players who make it out of these tiebreakers have generally gone on to do very well in the remainder of the event.

Both these players have previous experience on Persona, during their first games of the group stage. UpMagiC came out with a win, while Hwasin a loss. UpMagiC starts off at five as purple and Hwasin at two with white as his color. Both players begin with supply depots, UpMagiC following his with a barracks at the top of the ramp leading to his natural. Hwasin goes for his gas early and builds his own barracks within the safety of his main. As UpMagiC's barracks finishes, he gets his gas and sends out an SCV to scout for the enemy.

Hwasin starts construction on a factory as he sends out his own scout. It gets attacked as it is out in the battlefield and must cower in a nearby dark swarm to survive. UpMagiC's offending marine continues forth his own scouting, heading right for Hwasin's base. The marine arrives and is forced back by a pair of Hwasin's. UpMagiC brings in the backup though and his several marines, accompanied by an SCV, are able to make an offensive attempt. The attempt forces Hwasin to re-land his barracks as he will likely need the extra unit for defense very shortly.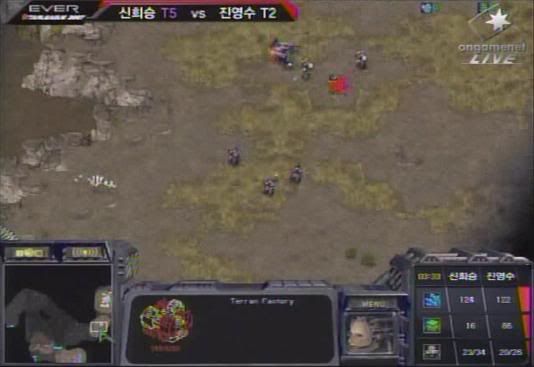 UpMagiC gets some early pressure onto Hwasin



Hwasin repels the attack and then allows his structure to do recon. A pair of UpMagiC's marines wait in the dark swarm at Hwasin's ramp, preparing to ambush any counterattack. It holds Hwasin tight for a moment and UpMagiC sees the hesitation as an opportunity to expand. When Hwasin finally reaches eight vultures, he sends them all out.

Hwasin's raid is stalled beneath the other dark swarm at UpMagiC's ramp by another undercover marine. The distraction slows down Hwasin's assault just long enough for UpMagiC to amass a superior vulture count. A couple spider mines and a short retreat lad to the doom of the hidden marine. Once again UpMagiC seizes an opportunity when he sees it: as Hwasin's vultures have now moved out of the dark swarm, UpMagiC's move in.

Back at his base Hwasin uses the same lay mine into retreat tactic to remove the marines in the dark swarm there. Just after he makes himself feel safe, he expands. UpMagiC sends his vultures out to attack the enemy vultures. After a short scuffle, Hwasin retreats his own into a nearby swarm. UpMagiC moves his vultures as if to continue on toward Hwasin's base, but turns them around within moments. He catches Hwasin's vultures with their pants down. They had just left the safety of the dark swarm to head toward UpMagiC's base, thinking that they were much closer to his than the enemy forces to their own. Hwasin loses several more vultures as he once again dives back into the swarm. Then each army is sent to the opponent's base, for real this time.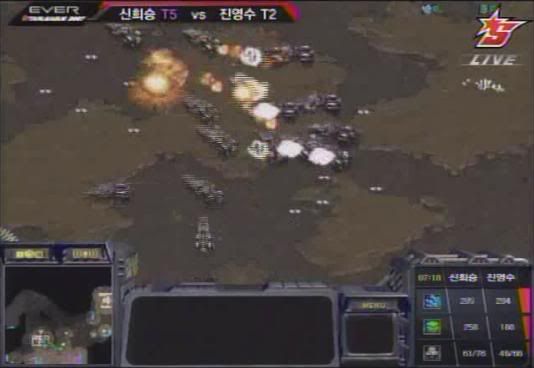 I guess we know who would wear the pants in this relationship



Hwasin has a tank up for defense, but it falls victim to mines. UpMagiC's vultures begin causing all sorts of havoc within Hwasin's base. Hwasin begins pulling SCV's to deal with the threat, as well as pulling back what remains of his own attack to come back and defend. The attack is repelled, but Hwasin's losses were heavy. Every single SCV at his main has fallen in the battle.

UpMagiC expands again. With his next vulture push he also attempts expanding to Hwasin's nat! But the push is not successful and that expansion plan must be aborted. Hwasin, realizing that he has fewer SCV's than he has testicles, types out. Once again UpMagiC utilizes the map's unique features to his advantage in a victory while his opponent is not as successful in doing so and loses.



Light was one of only two players to emerge from the group stage with a flawless game record. Jaedong managed to lose to that one other flawless player, Stork, in group C. Neither of these two players has yet been tested on Katrina during this Starleague, and only Jaedong outside of Starleague: in a solitary ZvZ match during a time when the map was still brand spanking new. Both of these players have yet to accomplish anything relevant when considering their respective potentials, perhaps one of them will finally have his chance to break out.

Light and Jaedong begin at the twelve and three positions, respectively. Light constructs a supply depot into a barracks as he begins to wall himself in. Jaedong's overlord was sent in the correct direction and sees the barracks and then begins slowly sneaking around toward the other side of Light's base. After discovering Light's position, Jaedong goes into a twelve hatch at his back expansion, followed by a spawning pool. Gas begins for Light as he sends out a scout SCV.

Light appears to have been tricked by Jaedong's crafty overlord and sends his scout the long way around to the nine position; where he finds that it is vacant. Meanwhile, Jaedong gets the gas at his back natural as he prepares to tech to lair. Light seems to be moving right on along the tech tree getting a quick factory into a starport. He finishes the starport about the time he begin to secure his own backyard expansion, which is spotted by the same sneaky overlord.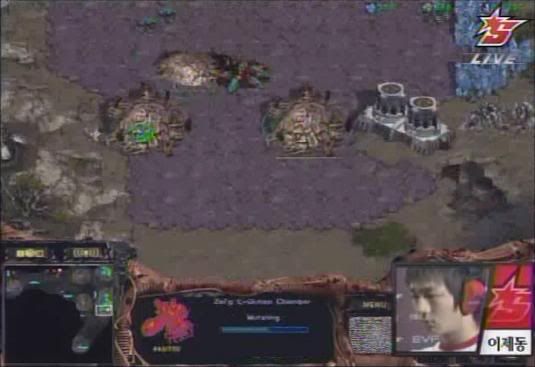 Jaedong puts a halt to any of Light's vulture raid shenanigans



The first vulture is out, and apparently thirsty for blood, as it drives directly on over to Jaedong. Jaedong has a sunken already in place and the vulture holds back. Shortly after, Jaedong walls in his base. A pair of evolution chambers flank the first sunken and a fresh creep colony, soon to sink as well. Light seems as if he could care less about the wall-in as he sends in his first wraith and begins exterminating overlords. Light then retreats the aircraft before it becomes vastly outnumbered by soon to hatch Zerg air units. Turret preparations are similarly made back at his bases.

A valkyrie emerges from the starport just shortly after Jaedong's air force arrives. The mutalisks rush in on it as they take the missle fire to allow a couple scourge get in and finish the valkyrie off. The mutalisks attack the unprotected starport. It begins to burn as valkyrie number two pops out, tempting Jaedong to pull his mutalisks back. A single mutalisk comes in to draw fire from the turrets as scourge chase down the valkyrie and blow it out of the sky. The rest of Jaedong's mutalisks finish their job on the starport.


Apparently valkyries are not the secret key to success against Jaedong



Jaedong's sunken colonies remove the spare evolution chamber from his wall, allowing the eager zerglings to escape. With only two barracks and a factory at this point, Light is relying heavily on the defense of his turrets. He does not have many forces as zerglings begin to swarm his base. The wall holds for a bit, but inevitably it falls and the SCV militia is called upon to defend. They prove to be ineffective combatants as Light's base burns to the ground in defeat.


Light
<
Jaedong
Game 3:
sAviOr
vs.
BisuBlue Storm



You know the history and fans have been waiting eight months for the rematch. Against any Protoss not known as Bisu, Savior has looked as strong as ever. He has even been changing his game up in the match-up and one has to wonder if and how much he could have prepared for this face off against Bisu. Bisu has continued to look strong against every Zerg opponent. If two players were determined to be masters on either side of this match-up, Bisu and Savior would be those two players.

Savior spawns up at one o'clock and Bisu in the corner at seven. Bisu opens with a pylon at his natural and he sends the probe out on scouting duties. After his first overlord Savior gets his spawning pool and an extractor. After seeing this build order, Bisu warps in a forge and takes his natural expansion. Savior chases away the intruding probe and expands to his natural as well. Bisu prepares for zerglings with a couple cannons before making his gateway, all of which he places at his natural.

Savior sends a drone out to make a proxy hatchery on the minerals at nine, just up the ramp from Bisu's expansion. Zerglings race down to protect the hatchery from scouts (not the flying unit) and contain Bisu within his own base. Savior morphs a hydralisk den back at his main and Bisu warps in a cybernetics core and stargate. Hydralisks begin to pump out for Savior, while Bisu remains in the dark until his first corsair arrives.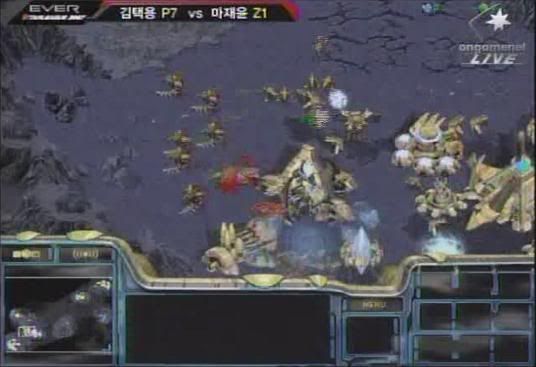 I would have loved to see the look on Bisu's face when this happened



The corsair scouts Savior's main and natural, but finds no overlords. Savior pushes in with a group of range upgraded hydralisks and a group of speedlings. Bisu takes heavy damage at his natural, losing cannons and many probes. He manages to pick off a couple overlords while the hydralisks are occupied. Dark templar come in to stave off the assault. Bisu's templar reduce the hydralisk army to a bloody pulp, forcing the few survivors to retreat.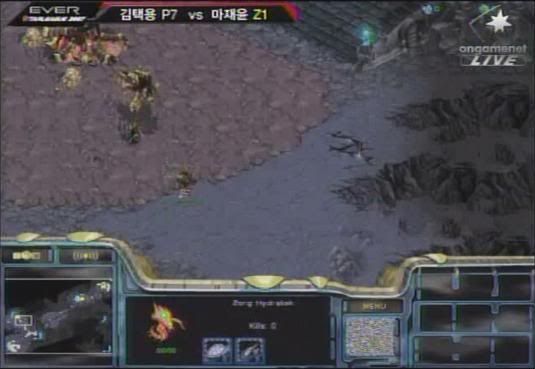 Sloverlord to the rescue: A brilliant move by the Maestro



A sloverlord out of Savior's proxy hatchery comes to the rescue of the fleeing hydralisks. The hydralisks return to battle and the razing of enemy structures. With a spotter on their side, they eliminate any incoming ninjas. Bisu sends some of his unseen forces to Savior's base, but there are hydralisks waiting there as well, all with overlord support. The hydralisks keep flowing into Bisu's base, destroying everything in their path. Before long, Bisu is without an expansion.

It's sloverlord to the rescue again as the hydralisks continue to advance into the Protoss main base. The relentless assault is unyielding and Bisu is forced into concession. Savior is successful in slaying his rival with an amazing timing push, and he did it all on hatchery tech.


sAviOr
>
Bisu
Game 4:
Stork
vs.
FlashFantasy II



Stork left his group without a blemish on his record. Flash got out of his group defeating each other player in Group D, but was only able to do so through tiebreakers. These two met last season in the losers finals to determine who would get a guaranteed seed and who would have to fight for one next season. Stork came out on top during that encounter in three straight games. Flash has made it back though and revenge from last season should be on his mind.

Stork receives the Nostalgia corner up at one o'clock to work with while Flash is handed the Ride of Valkyries corner at five o'clock. Flash constructs a supply depot, followed by a barracks and a refinery. Stork elects to fast expand with a 14 Nexus followed by a gateway warping in near the top of his ramp. Both players send out worker scout and find each other on the first try. Flash starts on a factory. Stork proceeds to warp in a cybernetics core and a second gateway.

Flash pulls a bunch of his SCV's along with a few marines and begins the trek up toward Stork's main. Stork spots the SCV line and begins preparation for the incoming raid. Flash attempt to create confusion with his SCV's but poor micro causes him to lose all three of his marines before a bunker is in place. The next marine to make the march north dives into the bunker, but only after taking a couple hits from dragoons. The marine barely gets to safety with his life.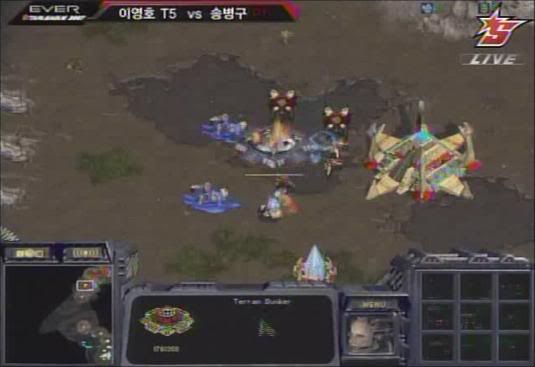 Flash tries to force feed Stork some cheese, but Stork will have none of it



Marines begin trickling up one by one and diving into the bunker. They are joined by a vulture. Stork brings in a trio of dragoons to eliminate the vulture and then begins to off the remaining SCV's that are on site. With the bunker unable to be repaired, Stork pulls his probes as well and begins to take it down. A second vulture comes to aid the bunker and it continues to stand, although slightly burning. Stork puts more pressure on the bunker and finally takes the structure down. The marines within continue to cause mayhem at Stork's expansion and few more SCV's arrive to help out.

As the next bunker starts to go up, Stork brings in the dragoons again and manages to eliminate all the opposition at his natural. Flash is completely repelled. Flash begins work on his next command center and Stork builds a robotics facility into support bay. A pair of tanks keep Stork's dragoons at bay while Flash is then able to secure his natural by floating over his new command center.

Both players begin to slowly amass an army. Flash moves out with a few pieces of metal while Stork simultaneously focuses on a reaver drop, nabbing a couple tanks. Flash's metal returns home. Stork's thirst for technology tells him to advance to carriers, so he does. A vulture raid hits the natural at a potential weak time for Stork, but two dragoons and the reaver deny Flash's advance.

Flash begins the push out of his base, slowly making the enemy dragoons step back. As he does, Flash has his barracks land at the bottom of Stork's main and it makes a marine, spotting Stork's carrier tech. Flash keeps inching forward with his push. Stork moves in his dragoons against the push, along with his shuttle-reaver. The two armies trade units, neither is left with enough units to do anything but pull out.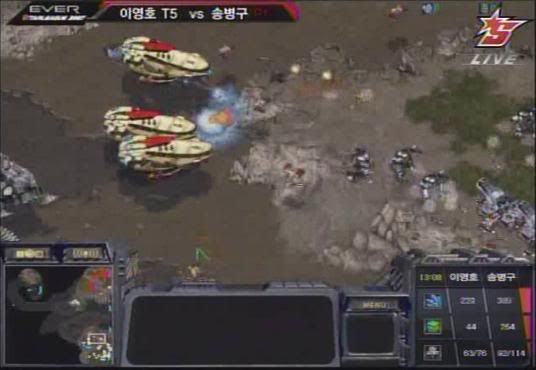 What's the difference between this and Rock's two-base carriers? Oh yeah, Stork's good



In come the carriers; and Flash has little in the way of defense. As the carriers threaten the main, Stork comes in with a reaver drop at Flash's expansion. Dragoons begin moving out of Stork's base to come assist the carriers, but Flash has a troop of vultures there ready to intercept them. However, there are more dragoons that the vultures can handles as well as carriers which keep getting added to the mix. After being behind nearly the whole game, Flash sees himself at a point he cannot claw his way back from and he GG's.