The two undefeated players from Group A face off to begin the night. On a map that has yet to see a Terran defeat a Protoss player, Upmagic will be batting uphill against Bisu. The winner of the match would likely secure a spot in the next round of the tournament, the loser will need to win his next game.

Bisu begins at twelve and Upmagic at nine. Bisu sends an early scout to three and upon discovering that it is unoccupied he a second scout is ordered toward Upmagic's actual location. The probe lurks outside the terran base, not close enough to be seen, but close enough to hear that Upmagic is there. He begins a pylon just as Upmagic's SCV scout departs.

But it is not a scout. Upmagic has the SCV construct a proxy barracks right in between the two bases, though Bisu's location is unknown to the terran player. Meanwhile the pylon next to Upmagic finishes and Bisu begins warping in a gateway. Upmagic sends out a second SCV and spots Bisu's sinister encroachment. He dispatches his A-Team of SCV's to defend the land. Just as the gateway is about to warp in as a burning structure, Bisu cancels to save the money. He would not have had the time to make even a crippled zealot.

Upmagic finishes his proxy barracks and begins on a second one right next to it. A gateway and forge warp in at the current safety of Bisu's own base. Before he is able to produce anything from it, Upmagic has his own encroachment plans and starts a bunker right next to the gateway, forcing the cancellation of Bisu's expansion. Upmagic kills four probes before his three marines and SCV are taken out, but only after he completes the bunker. One brave marine dives for the bunker, but Bisu's first zealot slices him in half just one step away from safety. A few more marines come in and try to save the lonely bunker, but they are not successful. They retreat, leaving the bunker for scrap.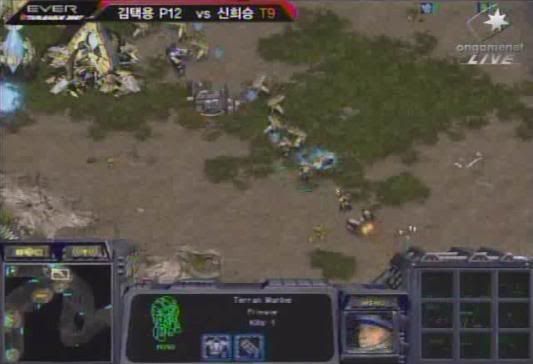 The bunker is never once occupied, but the event provides a significant distraction



Upmagic floats both the barracks home and begins an expansion at his natural. He double bunkers his ramp. Bisu is going through the motions for the build that's named after him. With a pair of dark templar out, Bisu finally feels safe enough to expand.

Turrets keep the ramp safe from any expected Bisu-style trickery. It keeps Bisu off the offensive, but the dark templar are able to slow down a couple dozen marines and medics from demolishing the protoss base. A couple of scans and a couple of dark templar later the terran attack force is dwindled and must wait for backup. Upmagic begins fortifications where his proxy once stood, inching closer and closer to Bisu's base.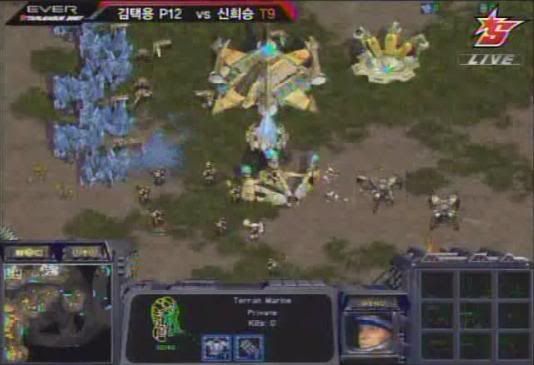 Bisu protects his front, but Upmagic shoves the units up his rear



Bisu advances to shuttles and reavers, but is not able to launch an attack as he is forced to defend from a marine and barracks drop at his natural. Upmagic continues to ship the marines that he is training from four barracks. Bisu may have cannons up front, but he takes some punishment from behind as a few marines are dropped into his main mineral line. A reaver is the key to stopping all of these marine drops. Though with tanks on the way, Upmagic is hoping to send Bisu back to Auir.

Bisu sends forth some dragoons and a reaver/shuttle. Upmagic looks in their direction with his sieged tanks and the protoss attack force crumples. Bisu, realizing that he is now too far behind, types out. Upmagic secures a spot for the next round while Bisu will have to play Shudder for the second spot from Group A.


Bisu
<
UpMagiC
Game 2:
Iris
vs.
HwasinBlue Storm



The group of death brings us a TvT match between the two highest ranked terrans in KeSPA. These two terrans seem to be the two most likely candidates of their race to take home a starleague title, and either one would be considered deserving of such an accomplishment.

Iris as the green player begins in the lower left portion of the map while Hwasin as teal will have the upper right hand portion of the map to work with. It seems to be a rule that whenever terrans play each other, they have to start as similar colors to cause eyestrain and agony to the spectators. Both players begin with the same build, a supply depot into a barracks and then getting gas. Factories begin on each side as both players send out a scouting unit.

The mirror match continues as both players expand to their naturals and then construct second factories. Hwasin makes vultures, so does Iris, but Iris manages to get them into Hwasin's mineral line and do some very minor damage before losing his attack squadron.


Hwasin's vultures surprise the enemy from above and keep them off high ground



They both continue to form vulture gangs. Hwasin moves his vulture forces toward Iris. There is a massive vulture skirmish right outside Iris' natural, but Hwasin has the high ground and is able to push a bit into Iris' natural before reinforcements arrive for Iris.

Hwasin gets some tanks and threatens Iris' SCV's at the natural while Iris has an assload of vultures that attack the other forces at Hwasin's base before returning to eliminate the tank threat, though only after sustaining significant damages.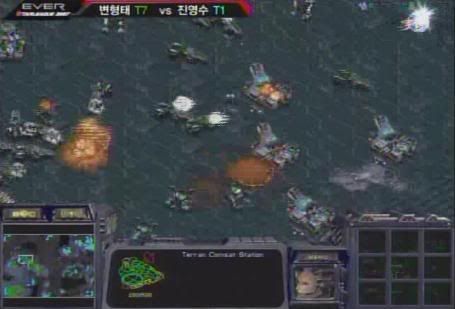 If only it was clear as to what was attacking what...



Hwasin rebuilds his forces and manages to slowly push forward with his superior number and quality of units, clearing minefields in the middle of the map and heading off Iris' assault force. Hwasin demonstrates clear superiority in each battle and before long Iris is down to only his main base and an inactive expansion. Things look less than great for the TvT master. Hwasin continues to push the advantage until Iris concedes, keeping himself from elimination for at least another week.


Iris
<
Hwasin
Game 3:
NaDa
vs.
JaedongFantasy II



The question going into this match is "Does Nada stand a chance?" And the answer is "Probably not." Jaedong forgot how to lose ZvT weeks ago and the only thing Nada seems to have forgotten recently is his former self.

Jaedong begins at Ride of Valkyries and Nada at Gaema Gowon. Nada makes a barracks at his ramp while Jaedong expands to his natural expansion before getting his spawning pool. Nada goes straight up the tech tree and starts on a factory to get a couple quick vultures. He advances directly to a starport while Jaedong settles for hatchery number three and a lair.

One of Nada's vultures gets by the lone sunken colony and creates some distraction as it is hunted down by zerglings and a few drones. But as one threat is over, Nada is ready to send his next trick. A wraith causes a poor and helpless overlord to pop before moving on to pick off drones. Zerglings run around helplessly as they won't get wings until Starcraft 2 comes out. Jaedong attempts a counterattack, using his wingless-lings, while Nada is blocking his ramp with nearly an equal number of marines. The zerglings wisely retreat.


Nada's build gets him ahead in the beginning of the game



While the wraith continues to do its thing, only now threatened by hydralisks, Nada has made his first dropship. It advances undetected toward Jaedong, infantry ready to jump from the sky. Nada unloads four marines, two firebats and two medics just outside Jaedong's main and marches them into the undefended base.

Jaedong wants some action too though and gets his lings all up into Nada's base as Nada leaves his ramp clear! His ground forces there have inexplicably moved out. It looks like a race to destroy bases. At least until Jaedong makes a bunch more zerglings and extinguishes the opposition at his own base. The zerglings hanging out with the terrans manage to stick around for a while longer, though there aren't many terran units left as Jaedong puts SCV's onto the endangered species list.

Things settle down for a second or two (literally only a second or two) before Nada's next drop and Jaedong's next zergling invasion. It's about the same as the previous exchange, though Nada does manage to get rid of the enemy hydralisk den. Unfortunately for him, Jaedong manages to get rid of Nada, since his zerglings run freely throughout Gaema Gowon. Jaedong will ensure his advancement with his victory.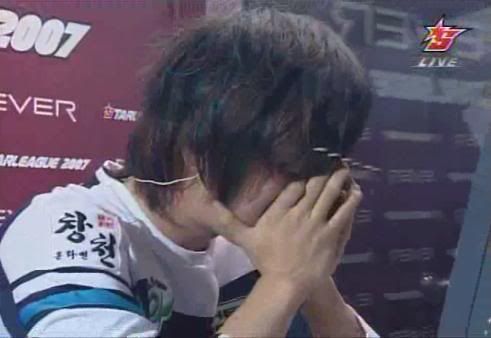 Perhaps next time Nada





If Savior was one armed and thumbless, he still might have the advantage against Rock on a map that provides him with permanent dark swarms. Although on the other hand, oh wait, Savior is one armed in this scenario, there is no "on the other hand." Savior has the advantage here. Period.

Savior spawns up at eleven and Rock over at two, which is where Savior will be sending his first overlord. Savior goes for a 9pool build, followed immediately by gas, while Rock gets a forge prior to his gateway. Savior expands to his natural and gets a third hatchery while Rock begins warping in a cannon and core at his main, followed by a stargate.

Rock sends out his first corsair, but Savior makes a hydralisk to end overlord season. Meanwhile he sends a small zergling armada toward Rock's base, which is being held down by six zealots. It is enough to keep Savior cautious of pushing in.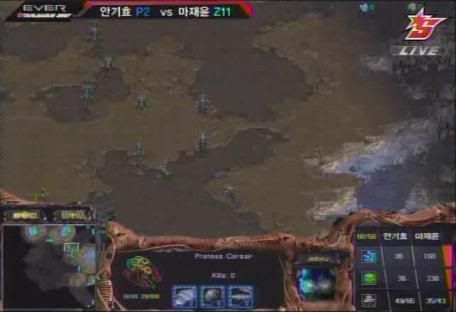 Guess who's running faster?



Rock makes more zealots and moves out, prompting a footrace between the two armies back to Savior's base. One group of units has a certain upgrade, the other does not. The zerglings win the race and Savior is in position when the zealots arrive. Rock retreats with heavy losses.

Savior turns a half dozen of his hydralisks into lurkers, and nearly catches Rock with his pants down. The lurkers clear his own base of a second invasion attempt, but an observer arrives just in time as they make their way into Rock's fortress. Rock doesn't even have a single dragoon as Savior comes in with his first group of mutalisks. His zealot only army is outclassed by the Maestro's efficiently conducted swarm.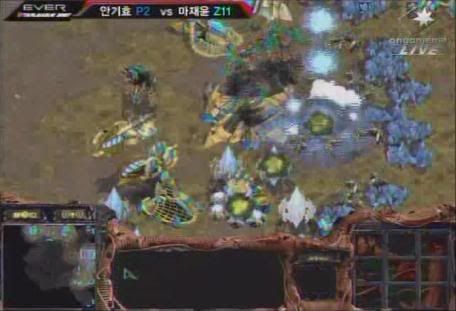 With such domination of the battlefield, Rock stands no chance of survival.



A single archon is of little assistance against the truly destructive force that Savior brings. As Savior takes in his victory, it shows that he doesn't need much of a persona to do well on it.