In the history of StarCraft: Brood War, there has been no greater or more iconic Zerg than Jaedong. Through the sheer weight of his accomplishments alone, he has earned mythic status. Five time OSL/MSL champion (tie 2nd all-time). Nine time OSL/MSL finalist (2nd all time). WCG champion. Proleague champion. Proleague MVP. Most games won all time. Zerg of the Year. Player of the Year. The list of trophies and accolades goes on and on.
While Jaedong holds a lofty place in the record books, much of his significance to his fans comes from gameplay. Going by his in-game body of work, "Tyrant" is a perfect nickname. If other players are remembered for their miracle comebacks or nail-biting thrillers, Jaedong is remembered for his furious beatdowns. With his flawless mutalisk micro, Jaedong made even the most powerful opponents look weak and helpless as he picked them apart. In his hands, violence became art— an art that converted many into admirers of StarCraft.
In other regards, Tyrant is a terrible moniker. During Jaedong's wars against Flash— the defining rivalry of Brood War— he was far from being a jealous despot. Instead, he was the hero, the best mankind had to offer against a relentless, perfect machine. Even as Flash seized the upper hand, StarCraft fans still rallied to Jaedong's side. They hung on to the strands of hope he offered, and cried for him when those were lost.
When Jaedong signed with Evil Geniuses and ventured forth into StarCraft II, many Western fans knew him solely by his illustrious reputation. Yet, within a year of signing, thousands of fans were roaring Jaedong's name and cheering him on at BlizzCon 2013. They respected his perseverance in the face of constant heartbreak, which he stoically endured in his search of a title in StarCraft II. They appreciated how the veteran never took their support for granted, and always took in their cheers with a sense of wonder and gratitude. The legend had intrigued them, but they had fallen in love with the man.
Now that his career has come to a close, we must honor and celebrate Jaedong's place as the greatest Zerg in StarCraft history. And while Jaedong's name will be intrinsically tied to his legacy as a competitor, we must not lose sight of the greater accomplishment in his career. Through his play and personality, Jaedong made people feel StarCraft was more than just a game.
Rise and Early Reign
Lee Jaedong made his professional StarCraft debut in the spring of 2006, playing for Lecaf Oz in their Proleague season opener against Enature TOP. The sixteen year-old prospect had shown promise in a number of unbroadcasted matches, and the perennially suffering Lecaf hoped he might be the player to rescue them from the lower half of the rankings. Jaedong disappointed by losing his first game, but the team gave him their vote of confidence by allowing him one more chance in the deciding ace match. Jaedong lost again, handing his team a defeat against the previous season's last-place team.
It was an inauspicious debut, but, Lecaf's belief in Jaedong was soon vindicated. Jaedong rebounded with a string of victories, and ended the first half of the 2006 Proleague season with a solid 6-5 record. The youngster displayed some unusually keen micro, which suggested he might become a special player with some work. But no one could predict the full extent of his potential.
Jaedong exploded in the second half of the season, putting up an incredible 11-1 record as he led Lecaf to their best-ever third place finish. It was here that Jaedong revealed the first of the match-ups he would attain mastery in, recording nine of his eleven wins in the Zerg vs. Zerg mirror. It was no surprise that he was named the MVP of Proleague's second half, and later Rookie of the Year at the Korean e-Sports Awards.
"Jaedong unlocked a new dimension in Mutalisk micro, but for his personal use only."
Expectations had been set high after such success in Jaedong's debut year, but he blew past that bar in 2007. On the Proleague front, the perfect storm came together for Lecaf Oz. They had found an ace-class player in Jaedong, while veteran soldier and team captain Anytime had just enough juice in him for one last run. The supporting players on Lecaf rallied around their two aces and upped their level of play as well, propelling the team to its only ever first place finish in the regular season. This band of destiny refused to be stopped, and Lecaf ended their season by lifting the championship trophy at the 2007 grand finals.
2007 was also the year when Jaedong expanded his dominance from ZvZ to ZvT. He did this by beginning to wield what would become his most potent weapon and signature move: mutalisk-micro. The discovery of a mutalisk stacking bug/trick in 2004 had been a game-changer for Zergs, opening up many possibilities in their play. In 2007, Jaedong unlocked a new dimension in Mutalisk micro, but his personal use only. If other Zergs had used Mutalisks to harangue their opponents and buy valuable time, Jaedong began to use Mutalisks to win his matches outright.
In terms of individual leagues, Jaedong still had much work to do. The one glaring failure of his career was that he had done nothing of note in either the OSL (OnGameNet Starleague) or MSL (MBCGame StarCraft League)— StarCraft's two major individual tournaments. Jaedong was unable to change his situation for most of 2007, and fell in danger of getting stuck with the dreaded "for Proleague use only" label. But as the end of 2007 approached, Jaedong earned one final chance by qualifying for his first ever OSL in the EVER 2007 Starleague. He did not let the opportunity slip, and tore his way through the tournament all the way to the grand finals.
There, he was set to face a fearsome opponent in Stork, one of the best Protoss players in the world. Jaedong had figured out ZvZ and ZvT, but his Zerg vs. Protoss remained as a weakness. Fans snickered about his losses to lesser Protoss players, and it was those losses that were sometimes responsible for his lack of individual league success. Jaedong was determined to win at all costs. He committed himself to the most grueling training regimen of his career, putting in countless hours of practice so that he might defeat Stork and dispel any notions that he was an incomplete player. The hard work paid off. Jaedong walked the Royal Road (a victory in one's debut tournament), and kissed the OSL trophy with a 3-1 victory over Stork. And in case anyone was still unconvinced, Jaedong went on to win his second major title three months laters at the GomTV MSL, defeating another strong Protoss player in Kal.
Jaedong had won individual championships in both major tournaments, played an instrumental role in taking a previously hopeless team to a Proleague title, and showed dominant play in all three match-ups. A year after being named Rookie of the year, Jaedong was awarded Player of the year. It seemed mostly a formality, a ceremony to announce what everyone already knew: Jaedong had become the best player in the world.
For Jaedong, there was little resting on his laurels or basking in glory. The next couple of years would be spent consolidating his reign. The age of the "Tyrant" had begun.
In July of 2008, Jaedong reached the finals of yet another MSL, but was defeated by ForGG. In April of 2009, Jaedong won his third major title with 3-2 reverse-sweep over rising Terran star Fantasy in the Batoo OSL. In August, he won yet another Starleague title in the finals of the Bacchus Starleague. It was a victory that cemented legendary status for Jaedong. He had become one of only three players to win the "Golden Mouse," an award given to three time Starleague champions. He also became the first player since 2001 to win back-to-back Starleague titles, following in the steps of esports icon Boxer. Jaedong capped things off by winning a StarCraft gold medal at WCG 2009, joining an elite group of players who had won glory for themselves, their team, and country.
Leessangrok
Heading into the 2010 season, Jaedong ruled StarCraft with an iron fist. He was the most accomplished Zerg player of all time, and it seemed inevitable that he would win even more championships as monuments to his own greatness. Yet, the laws of StarCraft dictated that all rulers must be challenged, and that all reigns must end.
Back in 2007, as Jaedong rose to power, he may have noticed a blip appear on his radar. KT Rolster had produced a promising Terran player named Lee Young Ho. The kid— who went by the ID "Flash"— was rather Jaedong-esque in his rapid rise to the upper echelons of StarCraft. In early 2008, Tyrant got the measure of the prodigy in back-to-back encounters in the MSL and OSL. Jaedong won their clash in the MSL and went on to win championship. A week later, Flash avenged himself in their OSL rematch, and later won the entire tournament. This was someone to be wary of.
The duo continued to improve, growing into the best players of their respective races. Their clashes became more frequent and more intense, and turned into the most anticipated matches in StarCraft. Fans even took to calling the match-up by its own special name: the Leessangrok, or story of two Lees.
In January of 2010, at the NATE MSL grand finals, Flash and Jaedong met for the first time with a major championship on the line. Both players were at the peak of their careers thus far, playing their best StarCraft yet. The finals seemed guaranteed to become a classic.
For two and half games, the series was headed in such a lofty direction. Unfortunately, with the series tied 1-1 and a battle raging furiously in game three, the screens went black. A space heater and some questionable wiring had caused the power to go out, taking the result of the match out of the hands of two great progamers and into the hands of referees. In one of the most controversial decisions in StarCraft history, Jaedong was awarded the victory to put him up 2-1. He proceeded to close out the series in the fourth and final game. The circumstances were less than ideal, but the result still stood: the first Leessangrok final had ended in a victory for the Tyrant.
"Inadvertently, they had turned StarCraft, quite literally, into a one versus one game."
Losing in such a manner may have discouraged or demotivated lesser players. In Flash's case, it only served to make him much, much stronger. In May, in the finals of the Hana Daetoo MSL, Jaedong and Flash met again with another championship on the line. Flash exacted his vengeance, crushing Jaedong in a 3-0 sweep. The score was now tied at one finals a piece.
Of course, a tie wouldn't do. The fans demanded a rubber match, because it would simply be wrong for a rivalry of this caliber to end without a winner. Fortunately for the fans, Jaedong and Flash also wanted that rematch, and they wanted it more than anyone else in the world.
For the two rivals, the Leessangrok turned into the ultimate competitive fuel. Both players were already famed for their work ethic, but in their pursuit of each other, they found a way to push themselves even further. In an unprecedented feat, Jaedong and Flash booked grand finals clashes in both of the following two majors, making it an absurd three consecutive tournaments with Leessangrok finals. Inadvertently, they had turned StarCraft, quite literally, into a one versus one game.
The two finals— The Bigfile MSL and Korean Air OSL Season 2— came to fall within two weeks of each other. First up was the MSL finals in August. This time, Jaedong was the one looking to rebound from a disheartening loss. The Tyrant came close, battling Flash in a tight series that went all five games. While Jaedong used his famed mutalisk control to wound and bloody Flash the best he could, he could not halt the march of the Terran army in the end. Jaedong conceded the GG, and was left to await the OSL finals.
After three nerve-wracking best of fives, the fourth duel took an unconventional turn. Flash and Jaedong were deep inside each other's heads, playing layers upon layers of mind games. In Jaedong's case, this meant going for some uncharacteristic risks, going as far as to perform two all-in Zergling rushes in a row. Tragically, for Jaedong, even this alternate approach was unable to change the outcome. Jaedong lost 1-3, giving Flash his third series victory in a row. It was the last time the two would play in a grand finals.
Ultimately, for Flash, these victories became a pivotal part of his legendary 2009-2010 run which saw him become known simply as "god," and generally accepted as the greatest StarCraft player of all time. The story from Jaedong's point of view is more open to interpretation. In one way, it was the fall of the tyrant, the inevitable decline met by all dynasties. Yet, from another perspective, it was Jaedong's blaze of glory, going out as the only man with the strength to defy a StarCraft's higher power.
But as for Jaedong and Flash themselves, they simply see each other as rivals and friends. Even after the debacle of the power outage finals, they harbored no enmity toward each other. Their rivalry only deepened their mutual respect, which eventually turned into friendship. To this day, neither will hesitate in pointing out the other as the reason they have become the legends they are today.
If the wars of 2010 of had left Jaedong and Flash temporarily depleted, no one could blame them. For a year, they had shown the fans the pinnacle of competitive Brood War. A potential fifth Leessangrok finals loomed in 2011 as the two players were placed in opposite semi-finals, but it did not come to be. Otherwise, the duo played out the remaining days of Brood War in relative peace and quiet (by their old standards, anyway. Flash still managed to squeeze in one more championship).
Sunset in the West
In the spring of 2012, KeSPA and Blizzard settled a long-standing legal dispute, opening the doors for a transition to StarCraft 2. For some pros— veterans in particular— this was a welcome opportunity for retirement. Competing in a new game when others already had a two year head start was a lot to ask, especially for those who had already given their youths to gaming. Yet, for others, StarCraft 2 presented a fresh opportunity. And for others still, it was the only arena remaining that could satisfy their competitive fire.
For those who transitioned, things were inevitably awkward. In the case of the stars and legends, it was often embarrassing. Every match was scrutinized, and every mistake was mocked. Of course, Flash— who was somehow simultaneously hardened veteran and wunderkind— jumped ahead to an impressive start, finishing in the top eight of the first StarCraft 2 Starleague. The success of his rival made Jaedong look all the more woeful, as he struggled to find his footing in StarCraft 2. He was 22— already an old man in Brood War reckoning— and was headed into his seventh year as a pro. It seemed, maybe, that remaining had been a mistake.
"Jaedong had to conquer his most daunting adversary yet— his own legacy."
In December of 2012, Evil Geniuses made the biggest signing in team history. "The Tyrant Cometh." read the Evil Geniuses homepage. EG.Jaedong was a reality.
It was a signing without precedent, and one that was unthinkable just a year ago. Even with the rapid growth of esports outside Korea, increased international cooperation, and the signings of other Korean players to foreign teams, KeSPA had stilled seemed like an untouchable monolith. But a superstar had indeed left the oldest and richest cabal in esports, and the move sent shockwaves throughout the industry.
The hype in the community was beyond anything that had even been seen before. However, there was skepticism hiding just beneath the surface. Evil Geniuses had become a team known for going after the biggest stars, just as much as for signing the best players. At the time, Jaedong could only be identified as the former. Behind all the excitement, there lurked the spectre of even greater disappointment. Jaedong had to conquer his most daunting adversary yet— his own legacy.
As he had done so many times before, Jaedong stepped up to the challenge.
Early 2013 was painful for Jaedong, and he looked the weakest he had been since his debut in 2006. In Proleague, he played for the joint Evil Geniuses-Team Liquid team, which was glued to the bottom of the standings. His own performances could be described as "decent" at best. In individual leagues, he suffered a humiliating elimination from WCS America— widely seen as the weakest region.
In the summer, Jaedong finally started to put the pieces together. At DreamHack Summer, he tore through the bracket and reached the finals, only to narrowly lose by a 2-3 scoreline to StarDust. He reached the finals again at DreamHack Valencia, but the champagne remained out of his grasp as he was thwarted by HyuN.
The runner-up finishes were a positive sign at first, but things started to sour as the string of second place results continued. In the finals of WCS America Season 2, Jaedong fell 0-4 to America's adopted hero in Polt. Soon after at the WCS Season 2 combined finals, Jaedong fell by the same scoreline to Bomber. It was both success within failure, and failure within success.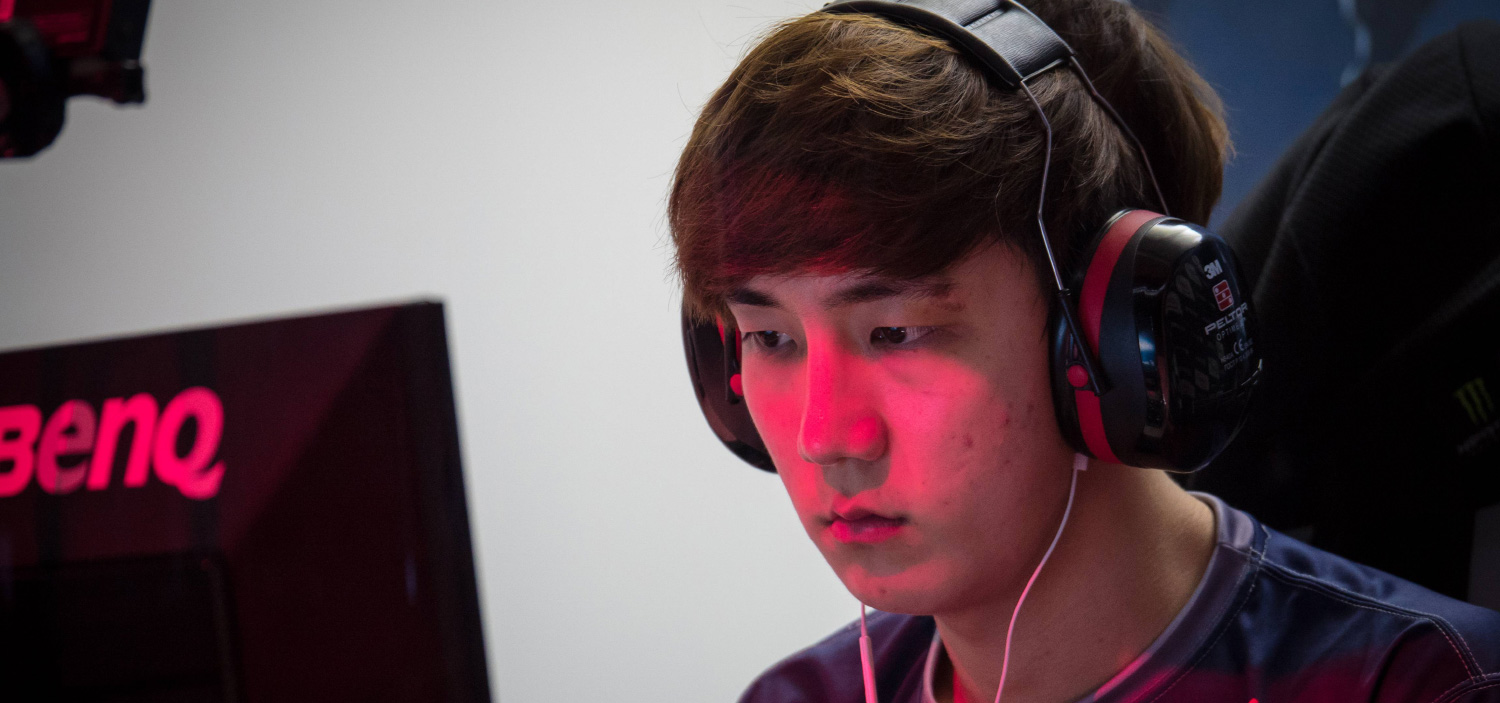 With the 2013 WCS circuit wrapping up, Jaedong rounded things out with a top four placement in WCS America Season 3. Even without a championship, his multiple high finishes were good for the #3 seed at the grand finale, the WCS Global Finals at BlizzCon.
Even with such a high seed, there were doubts about Jaedong's ability to perform. The international circuit was looked upon as soft in comparison to the Korean scene, which was considered to be packed with elite players who would dominate foreign opposition. Some felt that Jaedong's high finishes were an illusion, that he hadn't been truly tested against the best in the world.
Jaedong's first BlizzCon opponent was Mvp, a four time GSL champion and living legend of StarCraft 2. He had certainly declined since his prime, but had won so many big matches in "upset" victories that he commanded everyone's fear and respect. Jaedong took the Ro16 series in a clean 3-0 sweep, advancing to the quarterfinals.
Next up was Dear, one of the absolute favorites to win the entire tournament. In terms of momentum, no one came even close. Dear had won the GSL and the combined WCS Season 3 finals— the two toughest tournaments besides the Global Final itself— right before BlizzCon. Not only that, but he had defeated Zergs in both finals. This was the deadliest opponent Jaedong had faced in years.
In four games, Jaedong showed he was Dear's equal, splitting the games 2-2. In game five, with a clever trap of burrowed Zerglings and Roaches, Jaedong showed that he was better. In his best StarCraft 2 performance yet, Jaedong took a 3-2 victory.
The gate to the finals was guarded by Maru, Starleague champion and StarCraft 2's resident prodigy. Jaedong shoved him aside as well, taking the series 3-1.
Destiny seemed to be in the air. It had been four years and seven finals since Jaedong last won a championship, all the way back at the Nate MSL. For all that time, he had persevered and fought on without reward. After changing teams, changing games, and crossing an ocean, it was all about to be worth it. All that stood between him and the championship was one of the least notable competitors at the tournament, sOs.
Yes, destiny was in the air. It just wasn't on Jaedong's side. sOs unleashed his full arsenal of eccentric and unorthodox tactics, taking Jaedong completely off-guard. sOs won 4-1 and lifted the trophy, a moment that would kick off one of StarCraft 2's most storied careers. After winning so much vindication up to that point, Jaedong was forced to concede his eighth consecutive finals loss.
A few weeks later at ASUS ROG NorthCon, Jaedong finally won that elusive StarCraft 2 championship. The circumstances were almost comical. At BlizzCon, on the grandest stage in the world, in front of the biggest StarCraft audience ever, the world had seen him fall short. And there he was, at a small German tournament which barely cleared the criteria for "premier" classification, hoisting his first trophy in StarCraft 2. In Jaedong's case, he didn't need to appreciate the irony of the situation to crack a smile. For that, he just needed to remember one of StarCraft's most fundamental rules: a win is a win.
Jaedong continued to play StarCraft 2 for three more years, but would never replicate the success of 2013. He had his busiest year yet in 2014, travelling around the globe to sixteen overseas tournament. This earned him a return BlizzCon, but he was eliminated in the first round.
In 2015, Jaedong's career began to wind down, with reduced tournament participation and declining results. In 2016, Jaedong returned to the Korean circuit with the purpose of finishing his career where he started.
In GSL Code A, the first rung on the competitive ladder, he ran into Leenock. Like Jaedong, Leenock was a seasoned veteran with championships in his past, looking to remain competitive in an ever-changing scene. Only, Leenock was five years and one entire game younger. At the end of five games, Jaedong typed his final GG.
Interview
The Tyrant's Last Speech
We haven't seen you much lately. How have you been, and what's been on your mind?
I've lived such a busy life up to now, so I took some time to rest. I thought a lot about my future and my life as progamer. I thought about it a lot last year as well. I decided to return to Korea and give GSL a shot early this year, because I wanted to play well for the Korean fans one last time. After that, I think I lost my motivation and my passion. StarCraft 2 was getting smaller, and I was exhausted from working so hard as a player for so long. Playing games as a progamer is very different from playing as a regular gamer. Up to now, I had approached things with a professional mindset, that I should only play the games I'm supposed to play, so I didn't play other games at all. I really enjoy playing games, so I've tried a lot of games while I took time off. As I was resting this year, I learned to play League of Legends for the first time, and tried Overwatch as well. I like games a lot, so I plan to keep playing them. I just won't play them too competitively.
You had a very long career, and you must have fallen on many rough patches. What gave you the strength to power through in the past?
I had a lot of difficult times during my life as gamer. The practice hours were so long, and I had to practice so diligently and so hard. The expectations of the fans— the possibility they would be disappointed if I lost my games— gave me a lot of stress. On the other hand, it was because of the fans that I was able get through my life as a gamer. In Korea and abroad, fans cheered me on a lot, extremely passionately. That gave me a lot of strength.
You've been active as a progamer since the mid 2000's. Looking at the Korean esports scene now, what do you think has changed?
Compared to the past, the sports-like elements are continuing to grow. Back in the day, it was an industry that hadn't been around long, and it was lacking in a lot of areas. We're building esports one step at a time, through trial and error. Personally, I occasionally get wistful about the past. The relationships between players back then… Aren't there so many players now, who come and go so quickly?
Do you feel that the personalities of new players differ from the old generation?
I don't know well, but I think there's a strong sense of individualism. There was a lot of sacrificing for the team, things like that back in the day. These days, if a player is good, I get the feeling that the player gets put ahead of the team.
Do you have any advice for the next generation? You have a lot of experience to draw from.
I'm not sure. From what I remember, when I was a progamer I thought of gaming as my #1 priority and only played. Just like the word "gamer" says, all day the only thing in my head was gaming, and I tried to make that kind of environment. I think you have to do that in order to be a little better than others, because you're always competing.
StarCraft Proleague has been shut down. What did you think when you heard the news?
It's regrettable. It's been a long time since I played in Proleague, playing for EG-TL in 2013 was the last time. Still, Proleague was the tournament where I debuted as a progamer. I remember being sent out in Proleague twice as a rookie, going all the way to the ace match and losing twice, losing the series for my team… It was that kind of stage, and when I heard it was disappearing, I was sad and had trouble accepting it. But when a little time passed, I came to understand it. It's nothing you can do anything about. A lot of time has passed, and the times have changed along with it. I think it was always going to disappear at some point, and that time happened to be now.
We can't talk about your career without bringing up Flash. Looking back, it seems like you could have won 6, 7, or even 8 titles if Flash hadn't been around. What do you think?
I've never thought once that I could have won six, seven championships if Flash hadn't been there. I only thought that 'this is as far as my ability goes,' regarding my five championships and many runner-ups. That's the way I accept it, then and now. Also, I think it's because of Flash that I was able to get even better results. The existence of a rival is extremely important. Because Flash was my rival, I was able to come this far, for so long, and even continue as a gamer in StarCraft 2.
Flash pointed out his quarterfinal match with you at the 2007 EVER Starleague as the one he remembers the most. What about you?
I also remember that match, which I lost. So it's not that good a memory for me. For me, the match I remember the most is the Starleague final against Stork, who I defeated to win my first championship as a Royal Roader. It was the winter of 2007, and I still remember it well. The reason I remember it well is the practice for that final was so hard. I made it so hard on myself that I can remember it clearly, even now. I took it upon myself to make the practice so difficult.
Is that when you were struggling against Protoss?
That impression existed, among fans and players. There was a saying, 'Jaedong is a TO-mak (disastrous against proTOss).' During the preparation period before the finals against Stork, and I worked really hard. For one best of five, the only thing I did all day was practice, except for sleeping and eating.
Is that the most fulfilment you felt?
Yes. I practiced so hard I felt like my fingers were becoming paralyzed. That's how hard I played the game. But by working so hard, I was able to win the championship.
Do you have any personal regrets? You stayed on with Lecaf/Hwaseung until the end; do you think about missed opportunities to play on a bigger team or make more money?
I have absolutely no regrets. About the things I've done up to now, I have absolute none, not a single regret. Right now, all I have is feeling of incredible gratitude. I was just someone who worked hard at gaming, and all I did was play games a bit better than others. I made a lot of money, and was loved by many fans, so I don't have any regrets or lingering thoughts about any decisions I made in the past, or any positions I was put in. I'm just extremely thankful.
What were the circumstances behind joining Evil Geniuses?
Actually, at first I didn't have much desire to join a foreign team. However, Evil Geniuses liked me a lot, especially the owner Alex Garfield. I was on KeSPA's Team 8 at the time, and the future was becoming unclear. I felt like it could be a big challenge I gave myself, so I thought I'd take it on as a bit of an adventure.
When you look back at it now, what kind of experience was it being on Evil Geniuses?
Going to Evil Geniuses from Team 8 was an enormous part of my life as a gamer. The experiences and memories I have from my time on EG are so precious, to the degree that you can divide my career into before and after EG. I was able to meet so many fans overseas, and it became a decisive point in changing my way of thinking. Meeting so many fans, my personality changed a lot as well. Before, I thought the most important thing I could do for my fans was to repay their cheers by producing good results, and show them good games. However, meeting foreign fans and going to foreign tournaments, I realized that a little gesture, a few words, a comment— fans received small things like that in such a huge way. I thought that I should do more for fans, more fan service? Also I guess you could say that my personality became more pleasant? I became brighter, compared to my old self. Before, I was on the team in Korean esports that had the strictest practice, the hardest team to be on. Maybe it's because I played games like a machine. Foreigners, there's more free-spirited and open. They practice when it's time to practice, and have fun when it's time to have fun.
What's the most memorable moment from your overseas career?
I can't help but remember BlizzCon 2013 the most, where I took second place. I played in front of so many fans, and received cheers from so many fans as well. They yelled and chanted my name… I still think of it now and then, and watch the videos. I watch that game a lot, the one against Dear (laughs). The final game where I used burrow roaches, with Tasteless and Day9 casting.
You must have been disappointed at finishing second at the time, but in retrospect are you satisfied with the result? Do you look back on that tournament fondly now?
At the time, Korea and the GSL were very strong, and there was a lot of talk that players from the NA region that I was a part of weren't very skilled. Dear had reached BlizzCon by winning WCS Korea Season 3, and I was happy because I won against him. I beat Maru in the semifinals as well. So I was very satisfied, I felt like I had proved myself to the fans.
Why did you like StarCraft?
It's very simple. Starting with the same four workers and fighting each other 1v1, I enjoyed it so much. I really like those kind of things, things where a winner and loser is decided. StarCraft is a 1v1 game, after all. I think I really liked winning, given equal starting conditions. I didn't like losing so I tried to win as much as possible, and it sucked me in.
Is there anything you'd like to tell the fans, one last time?
Since the days of Brood War when I played in WCG, I received love from so many fans overseas, on the other side of the world. In StarCraft 2, foreign fans showed me love that was excessive compared to my results. For that, I always feel grateful, every single day. Even now, I receive messages on Twitter and social media, and I'm so very thankful for it. I don't think anyone can change the passing of the seasons (laughs). A lot of time has flowed by, and I need to think about my life going forward. Whatever I end up doing, I'll do it while remaining thankful that I remained in the minds of some fans. I'd be thankful if when people think of StarCraft, they remembered that there was once a player called Jaedong.