Master's Coliseum: Playoffs Preview
by Wax
Following eight days of group stage play, the $40,000 Master's Coliseum tournament will conclude this week with its double-elimination playoffs.
+ Show Spoiler [Click for Group Stage Results] +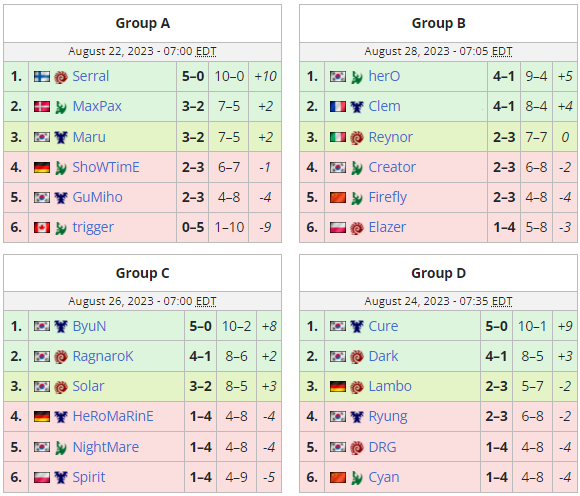 Key Info
Schedule:
September 5 11:00 GMT (+00:00)
: Winners' Bracket Round 1 (4x BO5)

September 6 11:00 GMT (+00:00)
: Losers' Bracket Round 1 (4x BO5)

September 7 11:00 GMT (+00:00)
: Winners' Bracket Semis + Losers' Bracket Round 2 (4x BO5)

September 8
: NO MATCHES

September 9 11:00 GMT (+00:00)
: Winners' Bracket Final + Losers' Round 3~4 (4x BO5)

September 10 11:00 GMT (+00:00)
: Losers' Final + Grand Final (1x BO5 + 1x BO7)
Prize money:
¥300,000 CNY (approximately $41,000 USD), ¥120,000 for first place
Stream:
Open to community streamers— Check TL.net at match times!
Playoffs Preview
Quadrant 1 - Serral, Clem, Lambo:
Serral was dominant in the group stages, advancing in first place from Group A with a perfect 10-0 map score. However, it won't be easy to carry that momentum into the playoffs as he starts in a very tricky bracket position. Clem has been Serral's biggest non-Zerg nemesis over the years, handing him numerous defeats in major BO5+ series. Even if the head-to-head trend in the last year has gone in Serral's favor, Clem remains top two or three in the world when it comes to having a chance at taking down the Finnish Phenom.
Should Clem prevail, that opens up the small but not insignificant chance that Serral actually gets eliminated in the RO12 by Lambo. Now, the head-to-head record is
brutally lopsided in Serral's favor
at 2-23 all time, but we should all know by now that ZvZ is a match-up where no result can be taken for granted. Ultimately, Serral is still the favorite to go on and win it all, but this could end up being the rockiest portion of his tournament run.
Quadrant 2 - ByuN, Dark, Reynor:
This is the most brutal initial bracket quadrant, with one of these top ranked players guaranteed to be eliminated in the Round of 12.
Despite ByuN's impressive 10-2 record in the group stage, I'm not all that confident in him headed into the playoffs. The big caveat around ByuN has always been "if he can play at 100% of his online ability," but these days, even his 100% ability is looking diminished. He's fallen behind the absolute top tier of online players like Dark-Cure-MaxPax-herO, and I can't see him making a deep run if his 'home field advantage' has been reduced.
You can never say Dark is an 'underdog' in a big tournament, but I do feel like he's getting slept on following his surprising group stage elimination at Gamers8. Somehow, it feels like people forgot that he finished runner-up in the last Code S tournament, and that he's been killing it in online-setting events similar to Master's Coliseum (just recently winning
KSL Summer Slam
with a 4-3 over Maru in the finals). Dark's only major weakness right now is a curious inability to defeat Cure in major tournaments, which could make bracket luck a huge factor in how far he goes.
Unfortunately for Reynor, I think he'll be hard pressed to overcome his losers' bracket disadvantage and make an impact. Despite his fantastic showings at both Gamers8 and HomeStory Cup 23, he's been bizarrely inconsistent in online events such as this (be it for BASILISK in the WTL or individually in the
AfreecaTV Champions Cup
). While I do think he'll be able to take down ByuN (should they face) in this quadrant of the bracket, the entire losers bracket is too long and perilous for Reynor to survive unless he's in World Championship mode.
Quadrant 3 - herO, MaxPax, Solar:
At first glance, it feels like the balance council made this section of the bracket, pitting the two surviving Protoss players against each other in their initial match. Not only that, but there's a high probability that the winner will face Cure—arguably the best TvP player in the world—in the very next round. However, in these dark days for Protoss, this might be for the best, as this seeding guarantees that at least one Protoss will survive to play on the second-to-last day of the tournament (the 'foreigner' seeding many old school fans will be familiar with).
Still, perhaps it's not all doom and gloom for Protoss fans. Both Protoss contenders lived up to their reputations as strong online players in the group stage, with MaxPax upsetting Maru to take second place in Group A, while herO defeated both Reynor and Clem to take first place in Group B. While that's hardly enough to declare that Master's Coliseum will be where Protoss turns back the tide, maybe it's enough cause for some tempered optimism?
One thing that's indirectly hurting the Protoss cause is the placement of Solar in this quadrant of the bracket. The ONSYDE Gaming Zerg has earned himself a reputation as a Serral-killer as of late, first eliminating him in the Gamers8 playoffs and then handing him a huge defeat in the WTL finals. Alas, one of the two Protosses will have to try and dismantle their greatest anti-Serral weapon with their own hands—what a shame!
Quadrant 4 - Cure, RagnaroK, Maru:
Maru's post-G7L mini-slump continued in the Master's Coliseum group stages as he only advanced in third place from his group behind Serral and MaxPax (with a shaky 7-5 map record). Fortunately for Maru, his initial loser's bracket path is likely to contain players he typically uses as punching bags such as RagnaroK, Cure, and Solar. Still, an early exit could be a possibility if MaxPax is the Protoss who falls to the losers' side, as Maru is surprisingly vulnerable to the Dane with a
0-4 against him in 2023
. Should such a loss occur, it might be time to press the panic button on Maru as someone who has serious issues performing in any tournament that's NOT the GSL.
With Maru continuing to struggle in mixed-region events, Cure is encroaching on his place as Korea's top representative (he may even have taken that title after finishing second place at Gamers8). For better or for worse, this bracket lines up nicely for Cure to take another top four finish, but makes it very difficult for him to actually win the championship. His TvZ's against Serral and Reynor have been rather bleak, and at least one clash against Serral seems guaranteed down the line. Things will get even worse if Maru ends up being the player who survives the Losers' bracket, as Cure has an unfortunate tendency of falling apart against the ONSYDE ace. A great tournament run from Dark—the one top player who Cure has an oddly good record against—might be what Cure has to bank on.
---
Credits and acknowledgements
Writer: Wax
Images: SCBOY/World Team League
Statistics and records:
Aligulac.com
and
Liquipedia