Tournament Spotlight:
AfreecaTV Champions Cup #2
by Wax
The AfreecaTV Champions Cup (ACC) is back for its second tournament, with sixteen top players competing for $15,000 in prize money and 1280 EPT points. When I say top players, I really mean it—15 out of the 16 top ranked players on
Aligulac.com
are competing in this event (GuMiho being the only notable absentee).
While the StarCraft II scene has largely returned to live competition since the pandemic, ACC2 will enjoy some of the perks of being held online. Top players like Oliveira and MaxPax can compete without any complications, and others like ByuN and Solar might have another level of play unlocked. Also, I'm sure that deep down inside, we all kind of miss the rapid pacing and shorter breaks during online events like the ACC and King of Battles (I hope I didn't jinx it by saying that).
Obviously, nothing can beat the heightened stakes and weighty atmosphere of live events, but in terms of pure quality of gameplay, online tournaments lack for nothing.
Key Info
Schedule:
Friday, Jul 21 10:00am GMT (GMT+00:00)
: RO16 Groups A & B

Saturday, Jul 22 10:00am GMT (GMT+00:00)
: RO16 Groups D & C (played in D-C order)

Sunday, Jul 23 9:00am GMT (GMT+00:00)
: Playoffs
Prize money:
$15,000 total, $4,050 for first place
EPT points:
1280 points total, 250 points for first place
Stream:
Matcherino
(AfreecaTV)
Players and groups: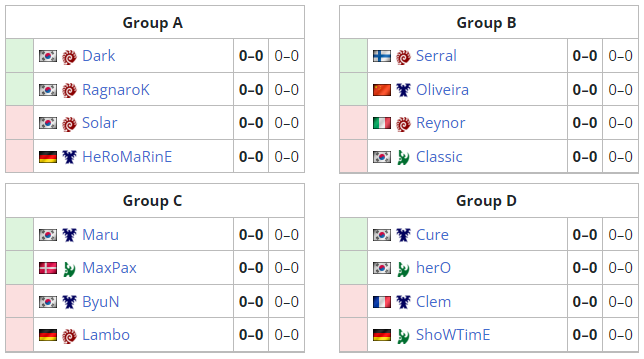 Following the format of AfreecaTV Champions Cup #1, the second edition of the tournament also used a Code S-style draft to determine its groups.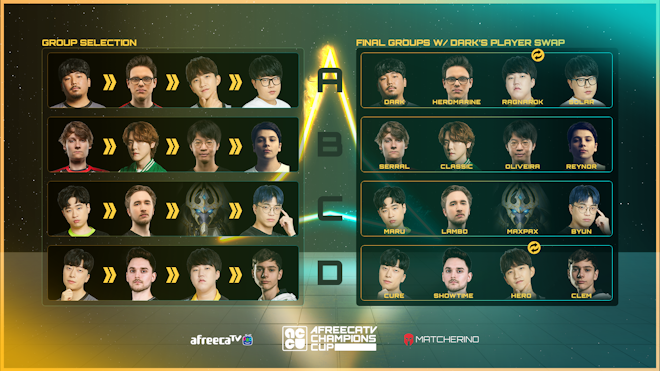 Points of Interest: Online-Only Opportunities
As mentioned in the introduction, the AfreecaTV Champions Cup is set apart from other contemporary tournaments due to its online nature—both for better and for worse. Rather than go over perennial title contenders like Serral, Maru, and Reynor for the hundredth time, I want to go over the players I'm interested in specifically
because
this tournament is being played online.
Oliveira, at last:
One of the underrated highlights of
Oliveira's
world championship run was the near-absence of negativity from the StarCraft II community. There was very little excuse-making or bitterness—everyone came together to congratulate Oliveira and share in his moment of joy.
But, a few months after Katowice, it felt like it was time to ask the big question we had put off:
How good is Oliveira, really?
Alas, we were denied that answer at ESL Masters Summer due to
ESL's grievous mishandling
of Oliveira's visa.
The upcoming $400,000 Gamers8 event will give us the answer we've been waiting for, but I think ACC2 could provide us with a damn good preview. About two weeks out, players should be deep into their preparations for the event, and I'm excited to see how Oliveira measures up against the best players in the world.
His peers gave him enough respect to pick him midway through the group draft, but still rated online powerhouses like herO, Clem, and ByuN above him. While that's probably where I would rank Oliveira as well, I have to wonder if I'm underrating his big-game clutchness.
Obviously, nothing Oliveira does from now to the end of his career will detract from his IEM Katowice 2023 win—certainly not a first round exit from this tournament. But, he could make that moment even sweeter by building upon it.
MaxPax, the Protoss hope:
herO's
recent slump showed us how big of a role he had played in propping up the entire Protoss faction. Three months of poor performances from herO have left Protoss in the gutter, with no credible chance of winning a major championship.
Well… …that's only if you count offline events. It feels like people have gotten so swept up in balance debates that they've forgotten that
MaxPax
achieved a career-best runner-up finish in the most recent
EPT Europe regional
. It was an important landmark in MaxPax's career, where he's gradually grown from curiosity to almost-title contender.
Even though MaxPax ended up losing to
Serral
in the finals, there's absolutely no reason to believe he's hit his ceiling. In a way, he reminds me of
Clem
from back in 2020. For a while, Clem was just a talented youngster to keep an eye on, who could occasionally give Reynor and Serral close series. And then, all of the sudden, he started beating them regularly.
No, I'm not saying that MaxPax will ultimately go down the same path as Clem. But if you love competitive StarCraft, you have to be intrigued by the
possibility
.
All-in on online-ByuN:
Every viewer of competitive StarCraft watches for different reasons, but I'm guessing most of you care about stakes. An ESL Weekly matters more than a ladder game, Code S matters more than an ESL weekly, a world championship-tier event matters more than Code S and so forth. It's why thousands of people might show up to watch a rare Serral stream, and tens of thousands of people tune in for a Serral world championship match.
Conversely, there's probably a lot of you who don't care about the context as long as there's good StarCraft II being played. For those of you in that category, who's a more loveable player than online-
ByuN
? Forget about all his foibles in big tournaments—this website has spilled gallons of digital ink on that topic—he's still a hell of a player when he's playing in online events like this one.
If you recall,
ASUS ROG Online
—the tournament ByuN won shortly after his return from the military—was one of the best events of 2020 if you considered solely entertainment value (if you don't recall, it's the year Zerg won everything and Trap was very sad). Though ByuN might not quite hit that same high, I know that he can come
close
in the ACC.
TL;DR: I'm looking forward to a weekend of watching ByuN play StarCraft without having to worry about his wrists exploding.
---