World Team League - 2023 Summer Season
by: Nakajin
After a week's break for HomeStory Cup 23, the World Team League returns to wrap up the regular season with the final two weeks of games.
Unfortunately, Week 9 didn't set up the chaotic playoff race of doom that we had been hoping for, with Shopify Rebellion and the Starving Camels emerging as heavy favorites to claim the last two playoff spots.
However, things ARE getting a bit spicy toward the top of the table, where Liquid and ABYDOS are looking to break into the top two. In fact, even #1 could be on the table for Liquid, although that would require a bit of luck as well. The highlight matches of the week involve the four teams at the top, with Liquid facing BASILISK while ABYDOS challenge ONSYDE Gaming.
Week 9 Recap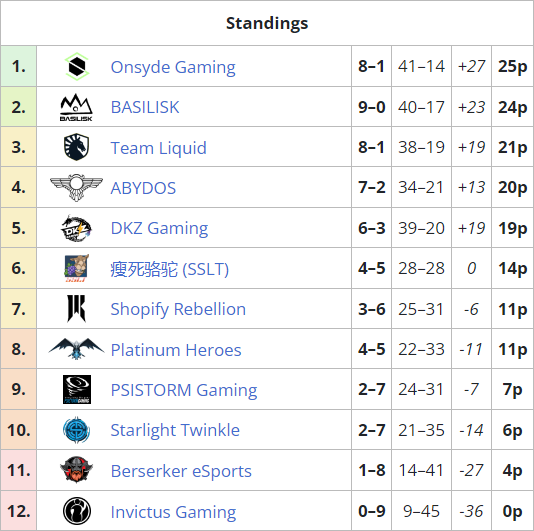 Top 7 teams qualify for the playoffs.
Bottom 2 teams must requalify.
Points are awarded as follows:

3 points for a victory in a series that does not require an ace match

2 points for a victory in a series that requires an ace-match

1 point for a loss in a series that requires an ace-match

0 points for a loss in a series that does not require an ace match
Starlight Twinkle 1 - 5 ABYDOS
Watch VOD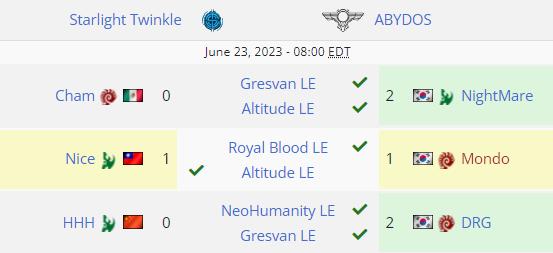 SLT still (barely) had a mathematical chance of sneaking into the postseason prior to this match, but needed to win a perfect victory against ABYDOS.
This pipe dream went up in smoke immediately with NightMare beating Cham. On paper, Cham's game one Roach-Ravager-Queen walk against a Glaive Adept opening sounded good, but diligent scouting, well-placed Batteries, and a sneaky Dark Shrine meant Nightmare easily dispatched of the Zerg attack. From then it was a routine operation to close the game. Game two on Altitude was much closer, as Nightmare's three base Blink all-in seemed to have been stopped by Cham for a second. However, the Mexican Zerg was too eager to engage against the second wave of attackers, and ended up fighting in a narrow position that favored the Protoss side. NightMare used Blink to carve up the Roaches and marched forward to collect his 2-0 victory.
Things went from bad to worse for SLT when Mondo surprised Nice with the always dangerous 66-Drone Ling-Ravager-Queen all-in to put his team up 3-0. Nice kept his team alive by winning game two with a pure mass Void Ray into Disruptor build, but it was only a temporary reprieve.
HHH had the impossible task of achieving a 2-0 against DRG to force an ace match and he very much didn't do it. DRG took the sweep in two fairly one-sided confrontations.
SLT are now officially out of the playoffs but should avoid relegation. It's a reasonable success for a team that abruptly lost their strongest player early in the season, but they need to ask themselves if they want to run it back with a similar crew or try once more to upgrade into a playoff contender.
Platinum Heroes 4 - 3 Berserker eSports
Watch VOD (Chinese)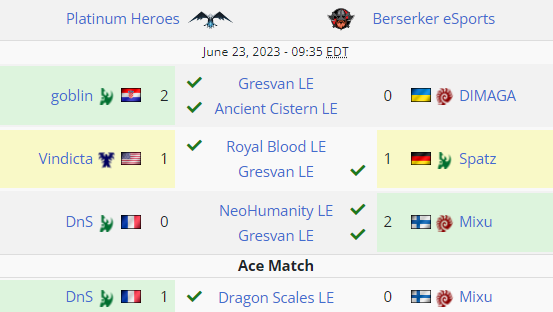 Goblin took the stage first in a must-win week for Platinum Heroes against the 13-year veteran DIMAGA. The Ukrainian Zerg seemed to have worked his usual magic with a mid-game all-in against a herO-style Oracle + Gateway unit composition, but well-placed (and somewhat lucky) Stasis Wards froze large parts of the Zerg army and allowed Goblin to fend off the attack. After that, he won easily with his follow-up Carriers. Game two was another missed opportunity for DIMAGA as his Roach-Bane all-in knocked out Goblin's exposed High Templars early in the assault. However, DIMAGA was indecisive despite having a good chance to close the game, and ended up doing a little bit of damage in multiple locations rather than dealing one major blow. Without any real shot at transitioning into a longer game, DIMAGA was wiped out by Goblin's counterattack.
Returning to the main line-up, the Heroes' American hero Vindicta gave us his best high-tempo macro game to beat Spatz in game 1, staying active with a back-stabbing four Medivac drop while remaining solid on defense. Spatz got his revenge in game two, showing a Blink-all but sneaking a DT shrine and a third base behind it. When Vindicta's Raven was distracted by a group of Stalkers at his natural, Spatz dropped a DT into the main to deal some damage. Not much went right for Vindicta after that as his two base all-in was easily slapped down for the 1-1 tie.
In the first match of DnS vs Mixu on Neohumanity, the Heroes Protoss went for a double Stargate Phoenix opening with Glaive Adepts as support on the ground, while Mixu powered up with an inflated economy courtesy of the rich Vespene gas base. The Phoenixes and Adepts of DnS did a bit of damage here and there, but he wasn't as active as one would imagine with such a mobile composition. Mixu had a textbook response, sending small groups of units to delay the third base of the Protoss while boxing out the Phoenixes at home. With the Hive finishing up at the same time as the Protoss third, Mixu was in the driver's seat. Good spell casting with his Vipers and Infestors allowed him to take a convincing fight against DnS who was in the midst of a tricky Colossus-Disruptor transition. That fight put Mixu ahead, but he didn't have an easy time closing out. He stayed on a Roach-Ravager-Ling-Bane-Viper army for a while, but he ended up headbutting his army into the Protoss defenses with questionable results. DnS may have found a way back into the game had he been more patient, but perhaps misjudging his position, he tried an immediate counterattack that walked straight into a forest of spores. Mixu was able to launch a counter-counter-attack to finally take the game.
The early game went Mixu's way once more in game two, as he defended a DT opening with the efficiency of his Finnish compatriot Serral. He continued to defend well against everything DnS threw at him while performing backstabs and run-bys. DnS had to split his army on offense and defense, and was eventually forced into a failed desperation attack. Mixu took the 2-0, sending the series to an ace match.
After fumbling three match points, PH had a very important choice to make in who they would send out with their season on the line. Despite having just lost 0-2, DnS got the nod to try and salvage two points for his team. Aptly enough, he got a chance to try and redeem himself against Mixu, who was the pick for Berserker eSports.
DnS chose a much more standard and passive Oracle opener with some Adepts and a quick third into a Forge, Blink, and double-Robo Colossus. Mixu played equally standard with a macro Roach-Bane composition. If DnS thought his life would be easier in a standard macro game, he was heavily mistaken. Unable to establish a stable fourth, and stretched out by runbys and Roach strikes, DnS struggled for much of the match. However, he found his opportunity when Mixu left his only three Vipers exposed mid-map with just a part of his army. Letting his economy be ransacked by the Lings of Mixu, DnS pounced on the Vipers and sent everything across the map. With that last credible army he could ever produce, DnS managed to burn his way through all the Zerg forces and clutch out a great victory.
Overall, it was a tough day for Platinum Heroes who were the victims of Mixu's great performance. Dropping a point to Berserker makes it much harder for the Heroes to make the playoffs, needing to get three point victories against SLT and Shopify in the remaining weeks.
Team Liquid 4 - 3 Dragon KaiZi Gaming
Watch VOD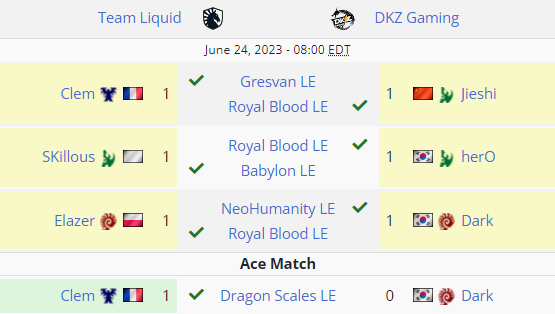 While Jieshi has had limited opportunities to play for the combined DKZ squad, ardent WTL fans will remember that he was rather capable for DPG last season. He certainly brought his A-game against Clem. The two played an 18-minute match on Gresvan, with Jieshi being a nuisance with Zealot runs by while Clem showed some of his best Disruptor-sniping micro. Clem prevailed in the end, but his day was just getting started. In game two, Jieshi assumed the role of the aggressor, opening up with DT tech that did some damage before transitioning into a Colossus-Archon push that managed to force Clem to evacuate his third base temporarily. While Clem eventually pushed Jieshi back, the Protoss had already established a strong economy. Clem knew he was on the clock and went for an attack, but it was too late as he was overwhelmed by mass Chargelot-Stalker. Having forced a huge tie, Jieshi passed it off to Dark and herO.
SKillous vs herO gave us some classic PvP madness. In game one, herO chose a one-base 3 Gate-Robo build against an Oracle build from SKillous to get a straight-up build order win. herO kept the ball rolling in game two, opting for a one-base 3 Gate strategy with one of the Gates proxied. This time the rush couldn't break SKillous's defenses, and after that there wasn't much herO could do to beat his opponent's superior infrastructure.
NeoHumanity was the opening battlefield for Elazer and Dark. The TL Zerg tried to take the rich Vespene gas base early, but Dark promptly punished it with a Ling-Bane flood into a Roach follow-up for a quick win. Game two was a rather strange, Spire-centric ZvZ. Elazer, who had the faster spire, went for Mutas initially, while Dark chose Corruptors. The Corruptors proved to be a potent weapon for Dark, as he killed some key expansions while transitioning to Mutas back at home to hold off Elazer's Roach counter. Dark seemed to be in a good position, but Corruptors once again proved to be a key unit, only this time for Elazer. The Polish Zerg retook the skies and went Hatchery hunting, forcing an awkward Ravager-Queen rotation out of Dark to try and cover his bases. Elazer was able to use his ground forces to strike amid the chaos, and altogether he dealt irreparable economic damage. He made sure to not let the lead slip, and earned the 1-1 tie to force an ace match.
The ace match in question reunited Clem and Dark, a rematch of their 2021 WTL match that saw Clem triumph. The early game was all Clem, who found a lot of damage with his opening Banshee. After that, he even canceled the Zerg fourth with an hellbat-marine push. True to his reputation, Dark fought like a demon from behind, using his Roach-Ravager to pull off a number of impressive defenses, but he was never able to truly break the momentum of Clem. Dark GG'd out at around the 15-minute mark, giving Team Liquid a real pathway into the top two.
ONSYDE Gaming 4 - 2 PSISTORM Gaming
Watch VOD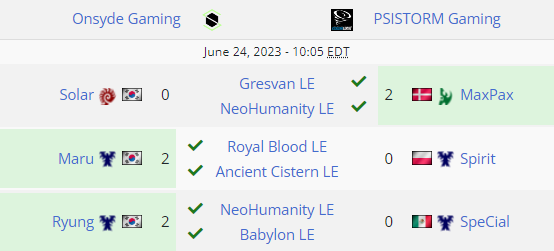 Ahead of the match, PSISTORM knew they had to at least force an ace match to have any realistic chance of sneaking into the playoffs. Meanwhile Onsyde were looking to hold on to their first place position with BASILISK close behind.
Solar had the hard task of going head-to-head with the mighty PvZ of Maxpax. It was a clinical showing from the Dane in game one, as he compounded the damage of two Adepts and two Oracles to establish his eco, then reunited his Oracles with his Blink Stalkers to take a good trade against a Roach-Ling army. Solar took one solid fight in the mid-game after MaxPax had transitioned into Disruptors and Colossus, but constant Zealot harassment (sometimes attacking three bases at a time) meant that he just didn't have the economy to capitalize. MaxPax got to over 90 workers and eventually beat Solar down with a big bag of money. Maxpax was even more devastating with his Adepts and Oracle in game two on NeoHumanity, leaving Solar to try a weak Queen-Ravager-Ling all-in that was easily defended. After a 12-0 start to the season, ZvP seems to be a real weakness for Solar as he's gone 1-5 in the last three weeks.
After MaxPax's great start, Spirit stepped up to try and finish the job. However, as shaky as Maru has looked in TvT lately, he proved to be steady on the day. In game one, he dealt massive damage with an early Tank pressure build, absorbing double Raven harass to focus on his own aggression. He ended up ahead after killing the two harassing Ravens and transformed his overall advantage into a relatively straightforward attack to close the match. Game two saw a similar kind of exchange in the early stages, but this time it led to a relatively even macro game where air dominance would prove to be the key as it so often is. Spirit went the way of range upgraded Liberators, while Maru preferred his trusty Ravens. The spellcasters were the right choice, as he dominated the Viking fight with the help of an anti-armor missile and Interference Matrix. Once he controlled the air there was nothing to stop Maru from Matrixing all the tanks of Spirit and checkmating the Polish Terran.
As expected before the match, Ryung vs SpeCial ended up being a pivotal battle. Despite a proxy-Marauder opening from SpeCial on NeoHumanity, the game flowed into a standard Marine-Tank battle. Just as the game seemed like it might go long, SpeCial crossed the Rubicon by loading up for a 4 Medivac doom-drop into Ryung main while simultaneously pushing through the center with the rest of his army. It proved an ill-advised decision, as Ryung defended well on both sides and got enough map control to slap down additional Starports and started his Raven transition. SpeCial did get in a few blows that loosened Ryung's grasp on the game, but once the enemy air fleet was completed, there was nothing he could do but watch his disabled Tanks get destroyed.
With his back against the wall in game two, SpeCial tried the double Starport two-base push that had brought him a lot of success in the past. Ryung showed that he had either done his homework or knew every turn and twist of TvT, and countered all of SpeCial's early moves before blindly matching him with his own second Starport. Containing SpeCial on two bases, Ryung couldn't resist the temptation of sneaking his two Ravens into the natural and main for a bunch of SCV kills, but the move allowed Special to bust through the contain and go for one final push with a big army lead. It seemed like PSISTORM might achieve their goal of an ace match as SpeCial ran over most of Ryung's army, but a clutch repair on the last remaining Tank, plus a huge SCV pull allowed Ryung to hold and get the 4-2 victory for his team.
PSISTORM are
theoretically
not eliminated just yet, but their path to the playoff involves them winning both their matches in straight sets, and neither PH nor SR getting more than 2 points for the rest of the season. Basically, given the schedule, PSISTORM's playoff elimination has been essentially confirmed.
Invictus Gaming 1 - 5 瘦死骆驼 (Starving Camels)
Watch VOD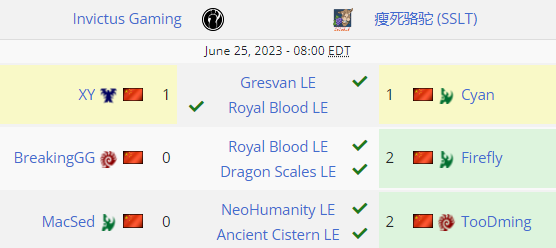 The Starving Camels finally managed to conquer Invictus on the back of a strong team outing. Cyan drew first blood against XY despite a strong start for the iG Terran. Disruptors proved to be the comeback mechanic, as a single one of them caught XY on his massive move-out, eliminating enough Terran units to give Cyan a chance at defending. It was a hard-fought game from then on, with XY displaying some solid mid-late game TvP. But due to Cyan's nice Zealot harass and his Probing up to a somewhat exaggerated 102 workers, the economical gap proved too great for XY to overcome. Game two saw a slick Tank-Viking-Liberator push seize the natural of the Protoss as XY established a strong siege position below Cyan's main ramp. Despite massive counter damage to XY's economy at the hands of two Oracles, Cyan could not break the contain of XY who was free to isolate and kill the third, forcing Cyan to GG out.
There was a time when BreakingGG and Firefly would have been considered to be on similar footing, but after the last two WTL seasons, Firefly came in as the overwhelming favorite and showed exactly why by winning handily in a 2-0. BGG did have some pretty good defensive holds, but the pace of Firefly simply seemed too fast for him, and he fell in both games to multiple waves of attacks.
It was on MacSed to try and give IG their first point of the season against TooDming. Game one gave us a Stargate vs macro-opening before Toodming geared up for a massive 1-1 Roach-Ravager timing. MacSed's defensive tools (battery, cannons and disruptors) were all a bit too late and TooDming ravaged the enemy third, creating an insurmountable lead for himself. Game two saw a failed mass Glaive Adept attack that led into a Hydra-Bane counter which created a game-winning edge for TooDming (despite a good hold from MacSed).
The Starving Camels were the biggest winners of the week. They managed to nab all three points to move up to 14 points, whereas Platinum Heroes left a point on the table versus Berserker while Shopify gained zero points versus ONSYDE. With two very hard weeks in front of them, the Camels' future probably hangs more in the hands of the Platinum Heroes than their own, but they've at least put themselves in a pretty great position.
Shopify Rebellion 2 - 4 BASILISK
Watch VOD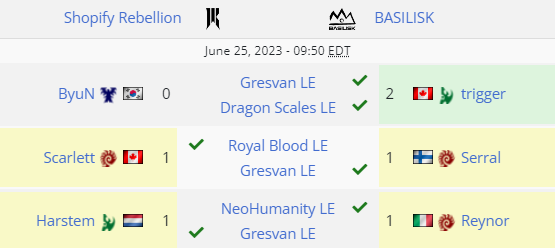 To accommodate Serral's
annual pilgrimage and blood sacrifice to the church of Elfi
vacation, he and Scarlett recorded their match well before play day, informing their respective teammates of the results but not the public.
In the first game Scarlett gave me a brand new ZvZ opening (honestly something that rarely happens these days), opting for a double Hatch at her natural before Pool (one Hatchery to actually mine and a macro-Hatchery that also helps wall). She then Droned quite a bit to 36 before pulling the trigger on a Ling flood with her superior production. However, Serral's typically prudent play was more than enough to stop the Zerglings and then deny the opponent's third. Scarlett's two base follow-up was a Roach-Ling attack that was also deflected. Serral was in total control, but seemed to misread the state of the game. He went for a round of Drones and teched to Lair, while Scarlett was still all-in with a second wave of attackers on the way. This blind-sided the Finnish Phenom, giving him his first loss of his WTL campaign.
Scarlett tried a Nydus-Queen-Roach attack in the second game in hopes of completing the 2-0 upset. But sadly, Serral won too many little battles prior to the Nydus, making it too weak to really threaten him.
With those results in mind, Trigger and ByuN took to the stage for the 'first' match of the series. Game 1 on Gresvan was a standard Blink vs 3 Rax opening, with very good defensive control by Trigger against bio pressure. What followed was a long and action-packed TvP between a bio-Ghost army against a Protoss on Robo and Gateway units. The fateful moment came when ByuN, probably emboldened by a good fight he took moments before, decided to collapse on Trigger's army. He really should have waited a bit, as he was in the middle of a transition to Liberators, and the Liberators he already had out were busy harassing. As a result, trigger was able to stand his ground despite being surrounded, and crushed the Ghost-bio force in a game-swinging fight. He only had to outmaneuver unsupported Liberators after that to close out the game.
ByuN opened up game 2 with a Widow Mine drop and Trigger committed the cardinal Protoss sin of thinking he could kill a Mine with a Probe surround. However, the gods of Starcraft were merciful, and directed the shot on the only Probe where it wouldn't cause an insta-gg. After that moment, Trigger countered with Blink Stalker pressure helped by a warp prison, but it ended up being an easy defense from ByuN while his Raven harassed on the other side of the map. The follow-up three-Tank push of ByuN looked very promising, but a Zealot warp-ins into the Terran main and some good defensive Force Fields forced ByuN to retreat. The second, more imposing, push of ByuN seemed equally dangerous, taking position between the natural and the third, but a very patient Trigger managed to chip away at the Terran forces before overwhelming them with a bunch of chargelots. After that, Trigger's gameplan was mostly about surviving the whirlwind aggression of ByuN stuck on three Orbitals. ByuN's aggression was fierce, but good unit positioning and use of recall let Trigger defend and win with his economy and upgrade advantage.
Harstem and the 50/50-man Reynor were tasked with closing Week 9 of the WTL. Harstem clearly had a plan prepared, opening up with an ultra-quick 3 Nexus play with a single Oracle while Reynor opened up with a standard 3 base Roach setup. The Blink Stalker pressure of Harstem managed to cancel the Zerg fourth base, creating a lead for himself. The position was looking quite bad for the Coinflip World Champion, stuck on a rather flimsy pure Roach army against a four-base Protoss. However, he found the one weakness in Harstem's defense—a lack of cannons at the natural—that allowed him to penetrate into the heart of his enemy's base with Burrowed Roaches. Harstem scrambled to clean up the roaches, but that only opened up his fourth base. Reynor capitalized on the chaos, devastating Harstem's economy and eventually winning with Lurkers.
Game two started disastrously for Harstem, as he forgot to build his second pylon, got supply blocked at 23 for a full 20 seconds against a 12 pool, and lost his Cybernetics Core. It was the kind of mistake that would warrant a certain YouTuber laying into a mid-Diamond Protoss who dared to send him a « Is it imba or do I suck" replay. Luckily for Harstem, Mr. Hyde showed his face just in time. Despite Harstem's Adepts being heavily delayed, Reynor seemed unprepared for them, failing to follow the Shades and losing a handful of Drones while also letting two Adepts escape. The same two Adepts darted back in at an opportune time, forcing a full mineral line pull as well as combining with Oracles to snipe 8 more Drones in a move reminiscent of Trap or Neeb's best moments. With that compounding damage, Harstem established a solid economy, and his Stalker pressure allowed him to see that a Hydra-Bane bust was incoming. The attack in question ended up hitting too late and was hammered by a bunch of Storms. Harstem easily controlled the rest of the game, being diligent with his tech transitions and active with his Zealot harassment until he forced the Janus worshiper to a flimsy last-ditch attack.
(But more seriously, a well-played series by the Captain who will nonetheless regret not dotting his "I's" and crossing his "T's"' in the first game when he was in such a good position).
I once again had to diverge from the usual assignment and chose two co-MVP for this week.
For Ryung, this distinction is given partly due to his 2-0 over SpeCial and partly to the stellar season he's been having. With a 12-4 record (better than Solar actually) sprinkled with the scalps of some of the league's best players, he has somehow proven an upgrade over the retired Neeb. His latest 2-0 against Special did not only end the season of PSISTORM, but kept ONSYDE in front of Basilisk. It was the third week in a row where Ryung saved Maru and Solar (he won 2-0 over Toodming during a tied series against SSLT, and went 1-1 against Dark in a tied series vs DKZ) which has allowed them to stay ahead of Basilisk at #1.
As for Trigger, who had not been quite as impressive in the first 8 weeks, it is of course his victory over Shopify Rebellion ace ByuN that warrants him the MVP nod. The irony of the 20-year-old Canadian beating ByuN, while his two world-champion teammates fumbled against theoretically weaker opponents, was not lost on any of the fans watching. Trigger certainly picked the best moment to shine. Not only did he beat one of the world's best terran with wonderful poise and maturity, but his victory also assured that Basilisk stays right on the heels of ONSYDE with everything to play for in the final two weeks.
If we are lucky, our two weekly MVP's could be headed for a confrontation in a couple of weeks with the regular season championship in play.
[b]Weekly MVP's:
Week 9: BASILISK.Trigger & ONSYDE.Ryung

Week 8: DKZ.herO

Week 7: SR.Lambo

Week 6: DKZ.herO

Week 5: Liquid`Clem

Week 4. PH.DnS

Week 3: Everyone on SSLT/瘦死骆驼/Starving Camels

Week 2: ABYDOS.Cure

Week 1: BASILISK.Serral
Preview: Regular Season Week 10
Friday, Jul 07 12:00pm GMT (GMT+00:00) Matches
Team Liquid vs Basilisk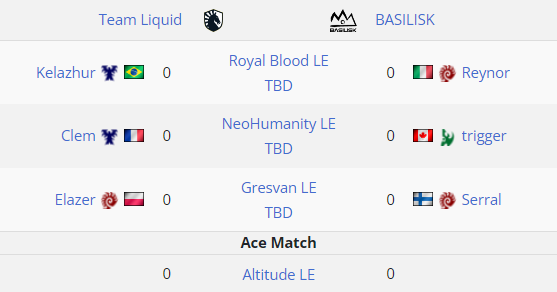 Victorious in Krefeld, Reynor comes back to the WTL with yet another match he should be expected to sweep. Yet the legend of the 50/50 man has grown strong—can the new champion change the narrative? Fate gave him a bit of a break, too, as TL decided (or needed) to leave SKillous on the sideline, giving Kelazhur his first chance to play this season. The Brazilian expatriate had delivered some surprises in previous WTL seasons, but he's not on the level of the SKillous at the moment. Reynor has split WTL matches against worse opponents, but if he can put this nagging tendency behind him, he should be fine here.
Opposite Reynor, Trigger had a somewhat middling trip to Germany and will be looking to get back on his feet and replicate his big WTL victory against ByuN with an upset against Clem. While at first glance ByuN and Clem might seem similarly difficult PvT opponents, Clem seems to create much more problems for the Canadian Protoss. With a 9-0 record against trigger, Clem should get the 2-0, a victory he very much needs to pull off to keep his team in the race.
Finally, closing us out, we have a classic of the European scene with Elazer squaring off against Serral. This was a much closer match-up in years past, but it's sadly become quite one-sided in favor of Serral with Elazer not winning a MAP since September 2020. The Finn has shown some (relative) weakness in the match-up, but with their head-to-head history, I have a hard time predicting anything but a 2-0.
If Reynor and Serral can deliver their usual games, TL has little hope of snagging some points off of Basilisk. But if either of the world champion Zergs stumble, Clem might be the ace of choice in the entire WTL to give BASILISK a run for their money.
Prediction:
Team Liquid 2 -
4 BASILISK
瘦死骆驼 (Starving Camels) vs PSISTORM Gaming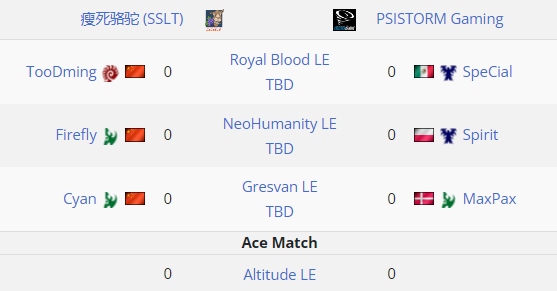 The Starving Camels have a decent chance of going to the playoffs even if they get wiped in the final two weeks, but Firefly and the gang will surely want to take destiny into their own hands and remove any doubts.
As has been the case so many times this year, the matchups seem simply atrocious for the Camels on paper. TooDming has not won a ZvT since 2022, MaxPax is pretty clearly the best PvP-er in the world at the moment, while Firefly brings a 20% win-rate in WTL PvT's to his match against Spirit.
Where the Camels might have the edge is on the effort they will put into the match. PSISTORM are (essentially) playing for nothing while even just a single point would relieve a lot of pressure for the Camels. If the Boisterous Bactrians come prepared with some especially well-crafted builds, maybe they can pull off yet another upset and punch their playoff ticket.
Prediction:
瘦死骆驼 (Starving Camels) 2 -
4 PSISTORM Gaming
Saturday, Jul 08 12:00pm GMT (GMT+00:00) Matches
Invictus Gaming vs Shopify Rebellion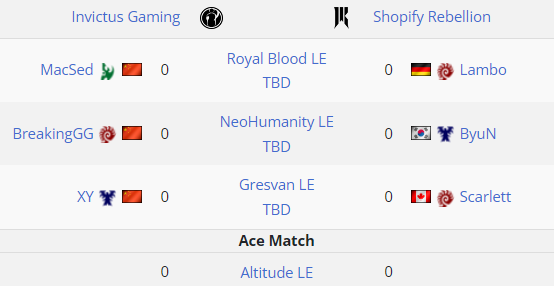 The Rebellion are essentially playing with house money this week. Even if they were to get swept by IG, they would still control their playoff destiny next week in a match against Platinum Heroes. Still, for the sake of risk mitigation, it would be nice to get three points here and feel completely safe in the final week (perhaps we'll see TLO join the RotterdaM and Crank in trying his hand at playing this season?).
Anyway let's be real, whatever the impact of this match is, SR are absolutely going to roll over iG. I'm not sure who on IG has the best shot at an upset, but maybe XY can summon his unbreakable spirit and put in a wholly unnecessary season-best performance against Scarlett?
Prediction:
Invictus Gaming 0 -
6 Shopify Rebellion
Platinum Heroes vs Starlight Twinkle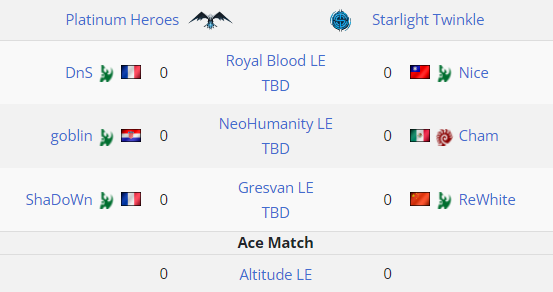 The Heroes should probably be happy with their draw, all things considered, getting DnS against the dangerous Nice, ShaDoWn against the weaker ReWhite, while Goblin gets the unfortunate task of taking on Cham—something none of the three protoss seems particularly well equipped to do so at the moment.
A decent draw still presents a complicated match to navigate though. I would favor Nice and Cham combining to take at least two maps off their opponents, which makes the ShaDoWn vs ReWhite match all the more important. With ReWhite being 0-6, it seems like Shadow should come in as a big favorite, but the Chinese Protoss has had a particularly brutal first three matches (ByuN, MaxPax, Dark). When he played in the qualifiers against more reasonable opponents, he actually performed quite well by taking PvP maps off of NightMare, Art, Rodzyn and FightingFrog. Add a little PvP magic, and ReWhite may be the one to push this to an ace. If an ace match was to materialize, it would probably involve either DnS or Goblin against Cham, depending on the form of the players on the day.
With tight matches all around, this one promises to be a barn burner.
Prediction: Platinum Heroes 4
- 3 Starlight Twinkle
Sunday, Jul 09 12:00pm GMT (GMT+00:00) Matches
ONSYDE Gaming vs ABYDOS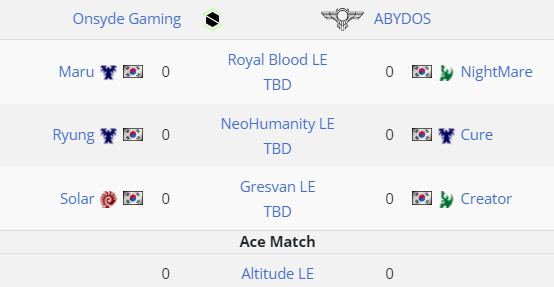 ONSYDE Gaming have bounced back admirably from their week 8 loss to DKZ with a win against PSISTORM and will be looking to hold on to the pole position in another hard match against current number 4 team ABYDOS.
I have to say I am somewhat sad that Maru and Creator, 10 years teammates on Prime, JinAir, then Team NV, won't get a chance to clash as rivals. Instead, the G6L winner got a match against NightMare, which leads you to think the first two points are securely in the hand of ONSYDE.
It gets much harder from then on. Ryung is having a great WTL run, but even amid a career-rejuvenating season, Cure stands out as a mighty opponent in the mirror matchup. ABYDOS have played fantastically to be at 4th place after losing Cure to injury for several weeks, and now the ace player is back to try and push them even higher up the rankings. I think the old SlayerS TvT sniper has an ace up his sleeve, but I would not be too surprised if Cure became the first player to beat him in a clean 2-0 this season.
It would then be on Solar and Creator to try to break the difference. Solar has shown some serious weakness in top-level ZvP in the last few weeks, although his "ZvCreator", a matchup he has excelled in all his career, is still looking kind of ok. On the opposite side, with a 10-2 record, Creator has the best map-differential of any Protoss in the league and will be looking to confirm that he can be the primary 'carry' on a top WTL team. Even knowing Solar has the head-to-head advantage, I'm cautiously calling this as a 2-0 for Creator.
A 2-0 win for Maru, a 1-1 for Ryung vs Cure, and a 2-0 for Creator would of course bring us to an ace match.
Cure would be the objectively correct choice to send out, but I for one hope Creator gets his duel against Maru and a chance to prove that the student has become the team league master. (and most likely go out on his shield as is Creator tradition)
Prediction: ONSYDE Gaming4
- 3 ABYDOS
Berserker Esports vs Dragon KaiZi Gaming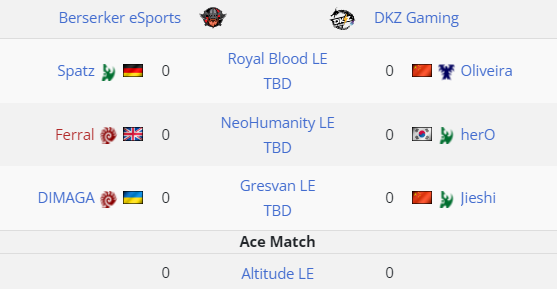 After a rocky couple of weeks, DKZ get a reprieve against one of the relegation zone teams in Berserker.
The highlight of the day will undoubtedly be Berserker eSport founder and owner Ferral making his progaming debut, having the honor of facing three-time IEM circuit champion and two-time Starleague champion herO. Not exactly the easiest task in the world, but neither is putting together a squad able to qualify for the WTL! After Rotterdam and Crank chose guarantee-win week for their appearances, Berserker's boss can't be accused of running away from a challenge. In any case, Ferral lining up in a professional match means that he can now brag about being one of the most successful Starcraft 2 players England has ever produced.
Additionally, DIMAGA vs Jieshi might prove an entertaining match. DIMAGA's ZvP's have been immensely frustrating due to the leads he hasn't been able to convert into wins, but if he can find a rhythm, he's quite the match for Jieshi. No way Spatz beats Oliveira though (unless he's just a normal man…?).
Prediction:
Berserker eSport 1 -
5 Dragon KaiZi Gaming
---
Credits and acknowledgements

Writer: Nakajin
Editor: Wax
Stats: Aligulac.com & Liquipedia
Images: SCBoy