Classic Games #1
Rain's Last Ride – Rain vs Maru
By: Mizenhauer
In retrospect, it's kind of weird that we started a series of articles looking back on the WORST games in StarCraft II history before we had a series to appreciate the best. So, in an effort to fix that, today we're going to celebrate one of Heart of the Swarm's hidden gems, a fantastic PvT that encapsulates one of the greatest Code S championship runs.
In the early days of 2016, the TL.net writing staff got together and released their list of the
best games of 2015
. Numbered 1-40, with another 10 honorable mentions, their chronicling of Heart of the Swarm's final twelve months was as comprehensive as you could get. And, yet, despite their massive effort, they allowed one game to slip through the cracks—a game I personally think was one of the very best from that time period, and represents one of the most significant title runs in GSL history.
In 2015's
Code S Season 2
,
Maru
and
Rain
faced off in the Round of 8. While this match and era may have faded into the recesses of many fans' memories, trust me when I say this was a clash of titans.
I don't think I'm going out on a limb when I say that 2015 Maru was THE (not just "one of") most exhilarating and entertaining player in the world. Other players might have averaged better results or won more tournaments during those 12 months, but Maru was playing faster and more decisively than any player to play StarCraft II (okay, here I'll add "up to that point in time").
Maru represented the Terran ideal in Heart of the Swarm—maybe in all of StarCraft II. He was the perfectly timed drop & Hellion run-by combo that every Terran wishes they could pull off. He was the anti-Baneling splits we can only perform in our dreams. He was the perfect marriage of precision and freedom of expression. It was almost as if he was making living, evolving art.
It was violent and effective art as well, and it felt like he started every game with his boot on the opponent's neck. They might have been able to deal with the ceaseless harassment, excellent army control, perfect splits, and never-ending aggression for a moment, but in the end something always gave way.
Maru was the undisputed best Terran on the planet at the time of this game, and was fresh off defeating Dream in the finals of Season 1 of SSL. A few months before that, he had narrowly lost to #1 Zerg Life in an
epic seven game finals
at IEM Taipei. There was no questioning his credentials.
However, you could argue that Rain actually had an even greater reputation than Maru at the time. It's easy to forget in a game that's been played for over thirteen years, but Rain was one of the few pros who changed how StarCraft II was played forever. Protoss had been the race of all-ins and timings for much of early SC2, but Rain became the first to dominate and attain best-in-the-world status with a defensive, macro-oriented style.
Yet, the main reason 2015 Rain was memorable was for reasons outside of the game. To get ahead of myself and 'spoil' the rest of the tournament, Rain would defeat Maru in this match and go on to win Code S. Looking back now in 2023, it's still one of the most remarkable runs in Code S history.
Rain was long past his initial peak era of 2012-2013, when he became the first KeSPA
elephant
to truly master and start the Association's conquest of the SC2 scene. After a dominant stretch where he won the
OSL
and
WCS Asia
, he had a far less impressive 2014 where he only managed a few top-four finishes at best. Remember, the mid 2010's were a
very
different time from now, when careers were still short and primes even briefer. Once the decline started, it usually never ended. That made Rain's victory in Code S Season 2 something truly special at the time.
However, what was even more incredible was Rain's team-specific circumstances. In late 2014/early 2015, Rain left SK Telecom T1 and joined foreign team mYinsanity. That was around the time when StarCraft II was entering the height of the KeSPA era, where Association players dominated the most significant tournaments. Joining a foreign team often signaled you were leaving the brutal GSL to play in one of the softer WCS regions (as was the case with Rain's mYi teammate jjakji).
Instead, Rain took on the challenge of remaining in the GSL, which was probably at its peak in terms of how far ahead it was of any other competition in terms of skill level. By winning—without the benefit of KeSPA discipline and the vaunted team houses—Rain completely shattered our preconceptions about who could be a Code S champion.
Still, at the time of this match versus Maru, we didn't know Rain was going to go on this historic run. We knew he was playing better than in 2014, but it wasn't clear if it would be enough to contend for a Code S title. We knew he had changed up his game from his macro-god peak, adding timings and cheeses to his strong defensive base. More than anything, we knew that he was in for a tough match against Maru.
Rain had always been exceptionally likable and affable, which made him one of the easiest players to support. Now that he was making his first deep run in Code S for quite awhile, the old fans came out of the woodwork and hoped he might be able to take down the best Terran in the world.
The Match: Maru vs Rain - Vaani Research Station
The series started off on
Vaani Research Station
, a map with rather extreme construction that still delivered its fair share of thrilling matches. The existence of a backdoor natural didn't condemn all games to become a passive macro slog, with the unusual architecture giving players plenty of elements to exploit. Zergs frequently expanded to the gold bases, while the vast open spaces and narrow highground corridor on the left hand side of the map were perfect locations for proxied structures. At the same time, its main base offered multiple locations from which units could leap into the opponent's main, a feature which made scouting a breeze for Terran players.
Combine all that with the lack of chokes around the lowground third/natural and you got a map which heavily incentivized risky builds, multipronged aggression and parade pushes. Given Maru's propensity for aggression, his love of drop play and his tireless macro, which was nearing that of INnoVation's by 2015, Vaani Research Station was the perfect site for the Jin Air Terran to test the resolve of one of the most solid defensive players in StarCraft II history.
The game got off to an unassuming start, with both players opting for standard macro openings one would expect from 2015 Heart of the Swarm. Rain, who was surely going to be on the defensive given his exposed third (one of Vaani's most distinctive features), went for standard Phoenix/Colossus build. Meanwhile, Maru produced Widow Mines from a Reactored Factory, looking to test Rain with constant drops.
Maru's Mine drops found limited success, but he hadn't gone for a heavily committed build that would put him irrevocably behind. He took a third, kept level with Rain in economy, and prepared to launch an unrelenting series of Marine-Marauder-Medivac attacks.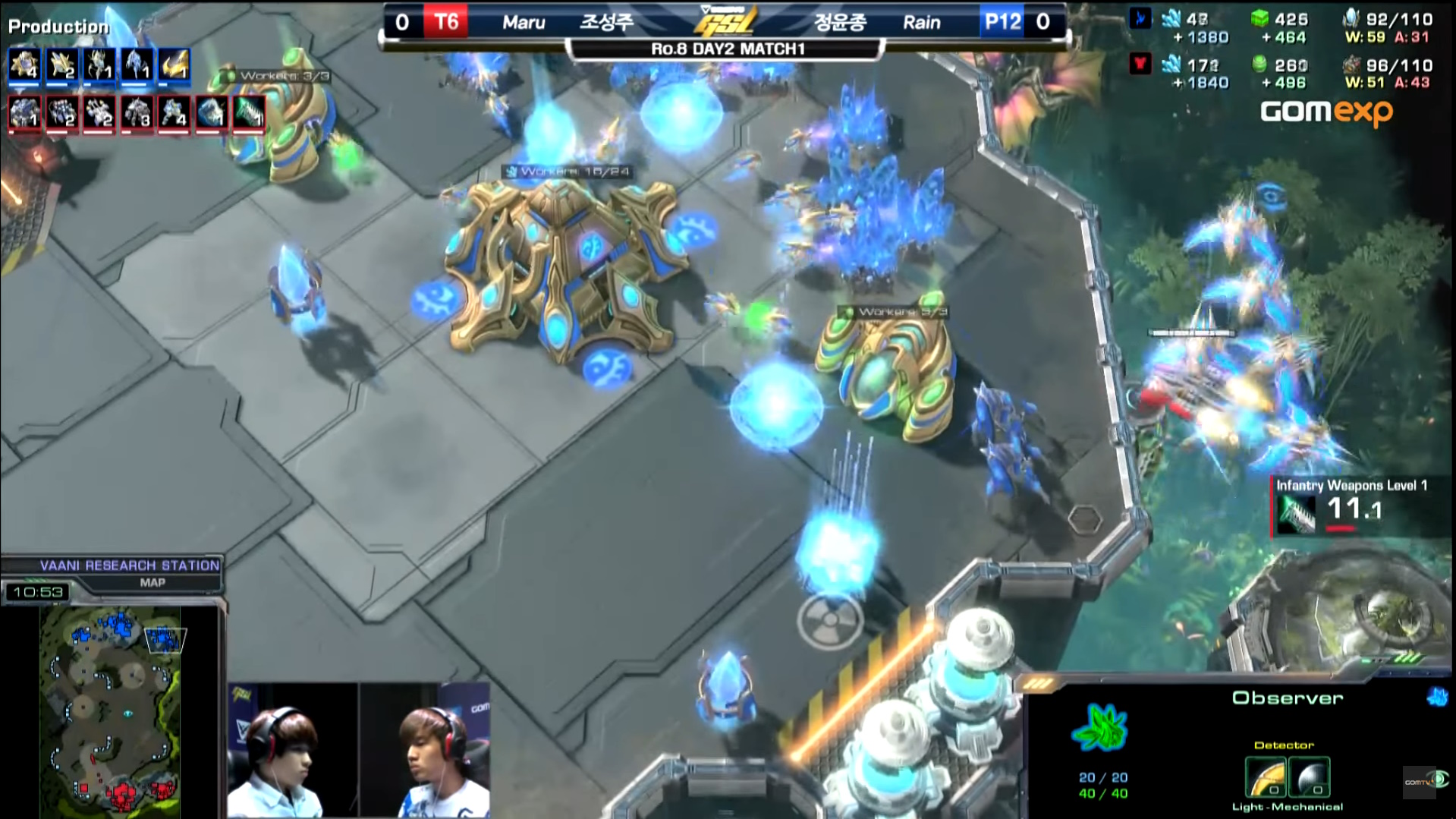 Not to be confused with a Doom Drop, this drop was simply doomed.
Anyone who has seen
Maru's infamous showdown with MyuNgSiK
—which actually occurred about before this match—will remember that this was what Maru did best at the time. He would trade his expendable and easily recoupable bio army with more expensive units like Phoenix and Colossus. As long as Maru could dispatch Rain's key tech units, and deal a bit of economic damage around the edges, he would eventually grind Rain into the dirt. And, while Maru was undoubtedly the favorite heading into the game, fans hoped (at least the non-Maru fans) Rain wouldn't roll over like the middling Protoss Maru had humiliated so thoroughly in Proleague.
For a time, Maru seemed well on his way to defeating Rain in a similar way. He played the two-prong game expertly, threatening Rain's 'third' with a number of attacks before sending four Medivacs speeding into the backdoor natural the moment he sensed the defenses were over-concentrated on one side. By the time Rain's forces arrived to defend, the natural Nexus was already destroyed.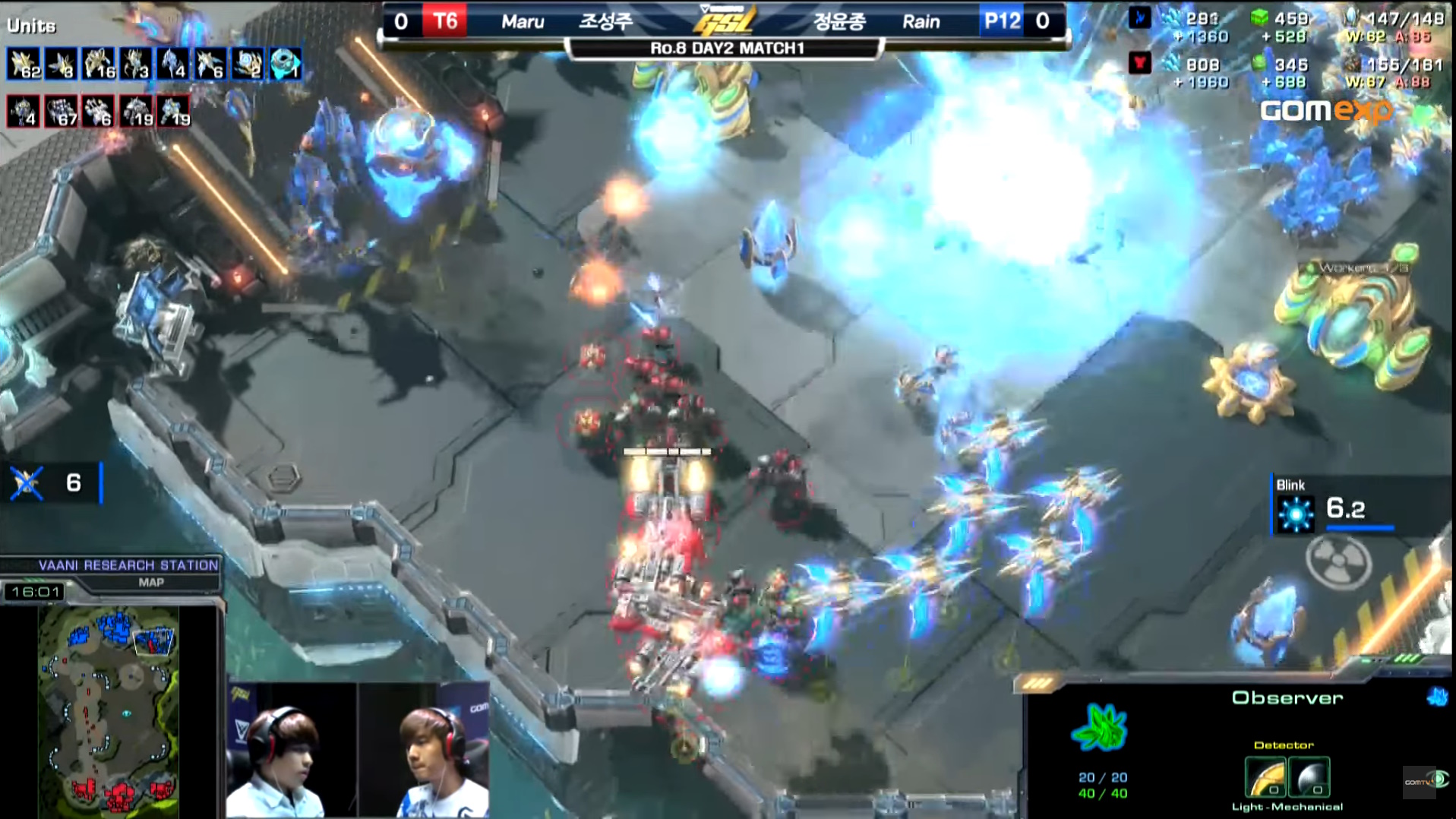 Daring moves like this were the exact sort of thing that allowed Maru to survive while other Korean Terrans floundered during the PvProleague era
However, this setback actually gave Rain his own turn to shine. As expected, Maru kept his foot on the accelerator, looking to compound the damage and finish Rain with constant attacks. However, Rain was able to weather the unrelenting storm without losing anything of value, even nullifying the entire theory behind Maru's strategy by taking better defensive trades. It evoked the ironclad defense that he had used to dominate the scene a few years earlier, an ability we had briefly feared might have left him for good. Gradually, Rain assembled all the ingredients he needed for his preferred late-game war—a fourth base, upgrades, and High Templar tech.
Still, the game was far from being in hand for Rain. Maru's frenetic style had been unable to outright kill Rain, but he had still set himself up on four bases and progressed up to 3/3 upgrades in the meanwhile. Also, he had more than enough time to prepare the Ghosts and Vikings needed to counter Templars and Colossus.
After a brief lull to assemble their late-game armies, the two players resumed their fast-paced play. Both players were heavily active with army movements on the map, with Maru trying to maneuver around the edges and finding damage where he could. Meanwhile, Rain sought to control the middle of the map in order to contest his opponent's key fifth base, which the map layout demanded be placed at a precarious, forward-central location (often a flashpoint in Vaani games).
The early/mid-game had already featured a very impressive duel of offense and defense between top-tier players, but the late-game took things into overdrive. The two players engaged in a series of cataclysmic battles that seemed like they would end the game, but each time they ended up back at even—within FIVE supply of each other.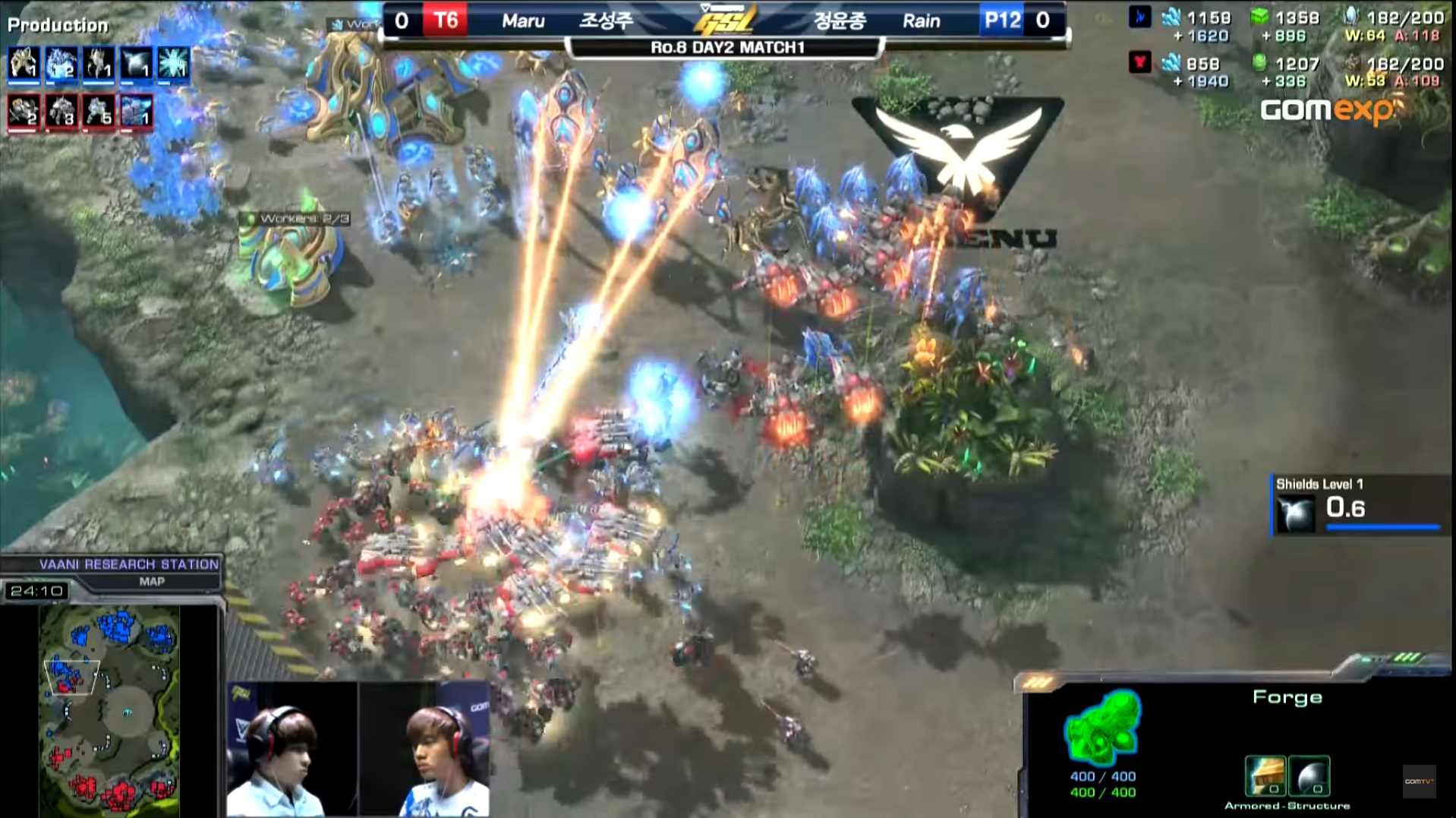 Maxed out armies finally clash, with both sides taking heavy losses.
However, there was one factor that was slowly but surely nudging the game in Rain's favor. While Maru had mostly given up on his drop tactics to focus on head-on fights, Rain was finding ways to fit in harassment here and there. Maru's backdoor natural became a magnet for Zealot warp-ins, while solo Dark Templar's prodded around other expansions to distract Maru's attention. All this served to keep Maru from fully securing a fifth base, which he desperately needed to keep up with Rain. Even though Rain was on four bases (which you could sustain for quite some time in the HotS economy), he would be able to maintain that state for a bit longer than Maru who was running short on money due to poorer trades and Mule strip-mining.
In a move that semi-bookended the match, Rain hit Maru with his own specialty. His 23498th Zealot warp-in Maru's natural caused Maru to pull back more defenders than were necessary, allowing Rain to assault Maru's recently re-landed fifth base. Maru army wasn't in position to properly defend this assault, and he lost the precious Orbital and nearly 30 SCV's he couldn't evacuate.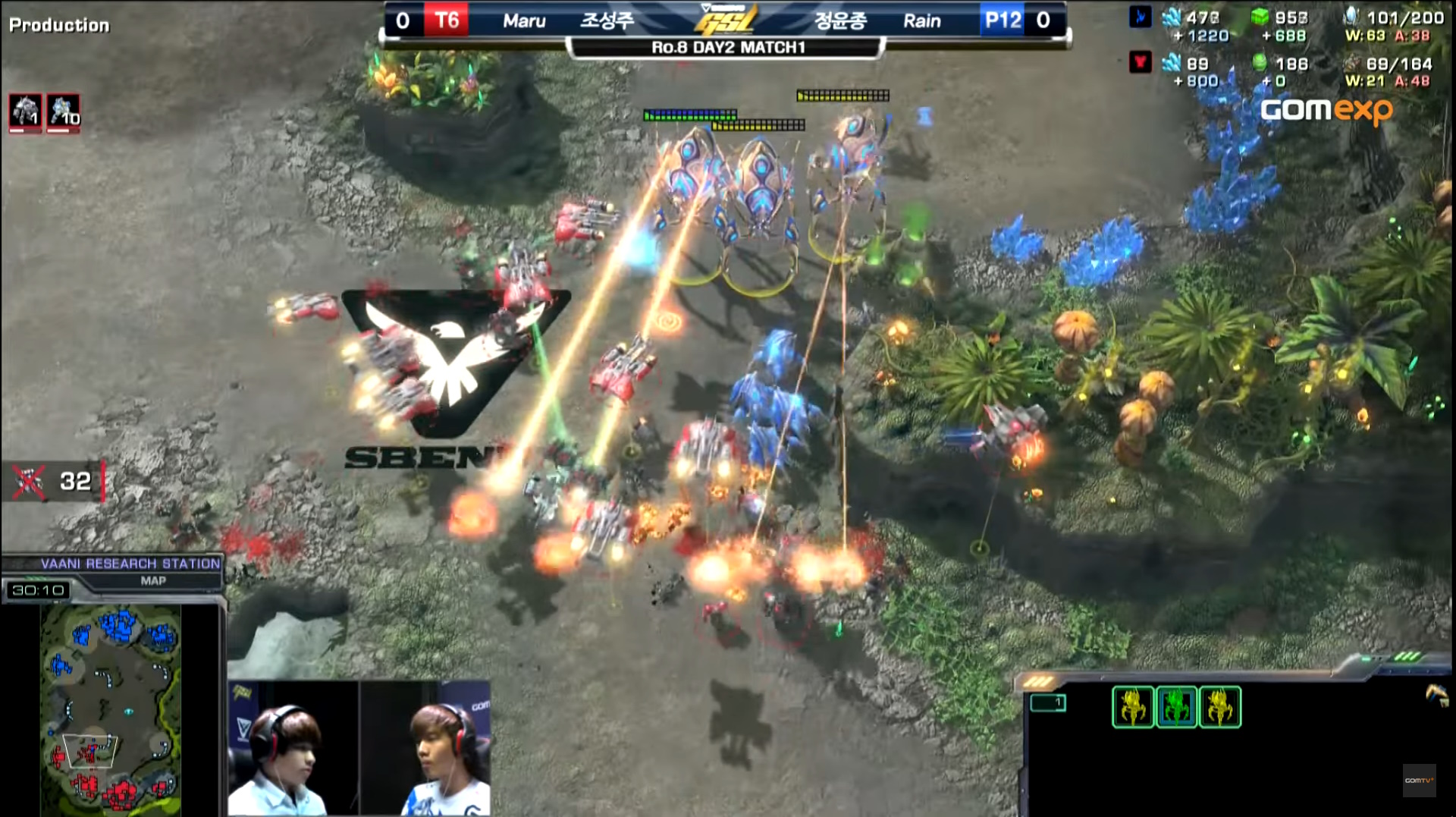 The remnants of both players once mighty forces engage in a delightful little skirmish with the game on the line
To Maru's credit, he actually managed to fight the Protoss army to a standstill yet again, but he no longer had the economy needed to match Rain in reinforcements. For all of Maru's efforts, for every well timed drop, for every unit sniped at minimal cost, Rain was now firmly in the lead.
In perhaps his only impatient move of the game, Rain decided to try and end the game after a few rounds of reinforcements. With a much smaller army, Maru went for the only move he could and tried to basetrade. Yet, Rain still had the situation well in hand, with a vastly more powerful army and plenty of Probes evacuated. Not only that, he somehow still had four Phoenixes leftover from the early game, meaning Maru couldn't even play for a draw by floating his buildings into Vaani's dead-air space.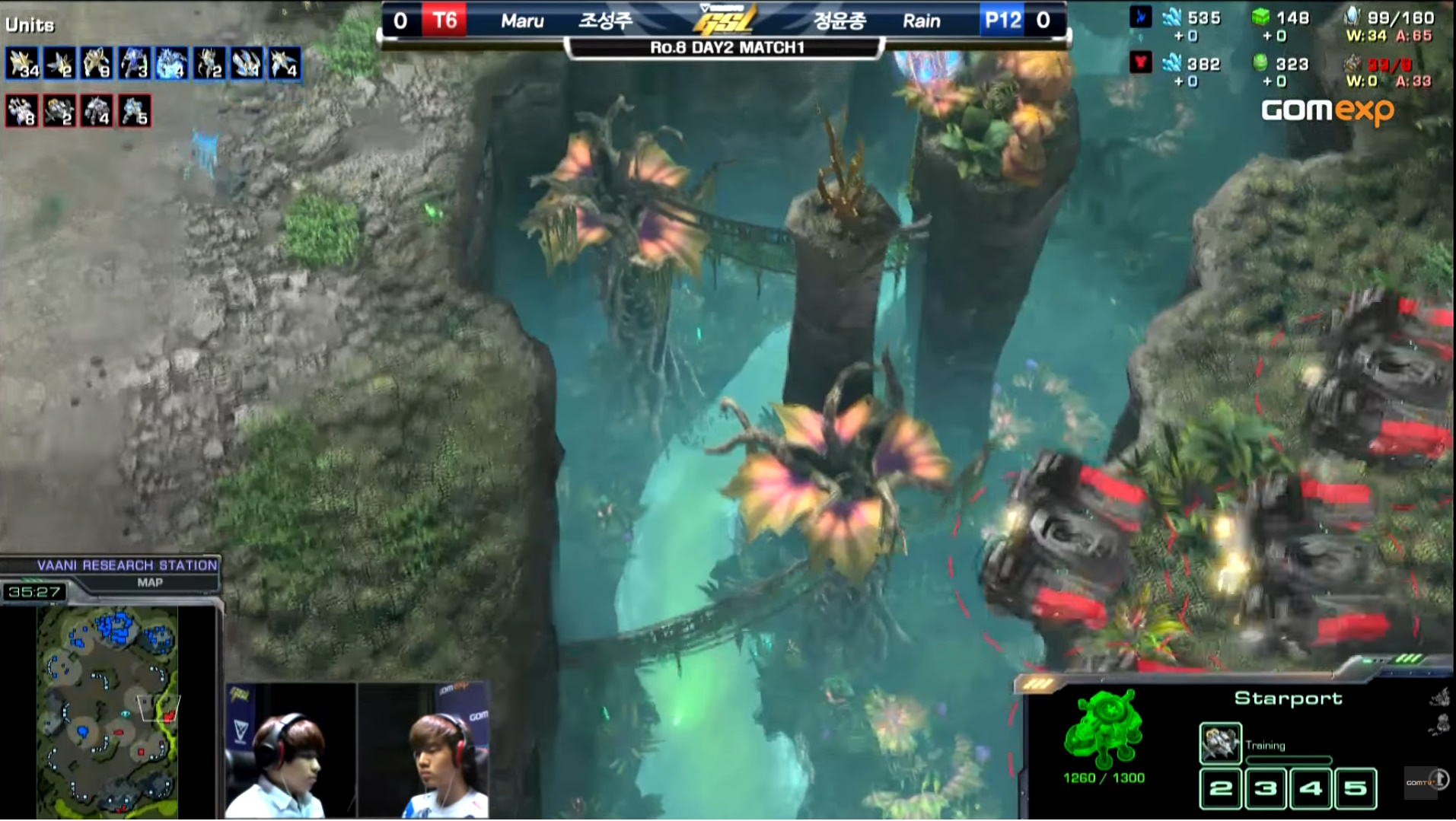 Supply blocked and unable to produce units, Maru's final structures float on the outskirts of the map, easy pickings for Rain's quartet of Phoenixes
The game was finally nearing its conclusion. Rain came at Maru's last few units from all sides, cleaning them up with nary a loss. The GG came moments later as Maru saw Rain start warping in a new Nexus. After 36 minutes of chaotic skirmishes, harassment on both sides and a desperation base trade with no chance of succeeding, Rain had finally done it. Maru had thrown everything he had against Rain, but Rain's resilience had won out in the end. Game one of the Best of 5 had gone in Rain's favor.
*****
As mentioned above, Rain eventually went on to win the championship. He dispatched Maru 3-1 in the quarterfinals, defeated Curious 4-2 in the semis, and finally took down ByuL by a 4-1 score in the finals.
It was a momentous occasion for Rain, but it was also a finale. After closing out the year with a top eight finish at BlizzCon, Rain retired from StarCraft II. While it was sad to say goodbye to a player who was (once again) at the peak of his powers, it might have been overdue in Rain's eyes. He had already eyed retirement at the end of his SKT stint in 2014, but
the intrigue (and money) of playing for a foreign team
had lured him back for one last, glorious ride.
Even though he left Heart of the Swarm, Rain continued to be great at StarCraft. After a short stint as a StarCraft II caster for SpoTV, he returned to the post-KeSPA Brood War scene where he again proved his excellence by winning ASL Season 5 (2018) and KSL Season 3 (2019).
---
Credits and acknowledgements
Written by:
Mizenhauer
Editor:
Wax
Images: AfreecaTV (GomTV)