Dark wins the AfreecaTV Champions Cup
by Wax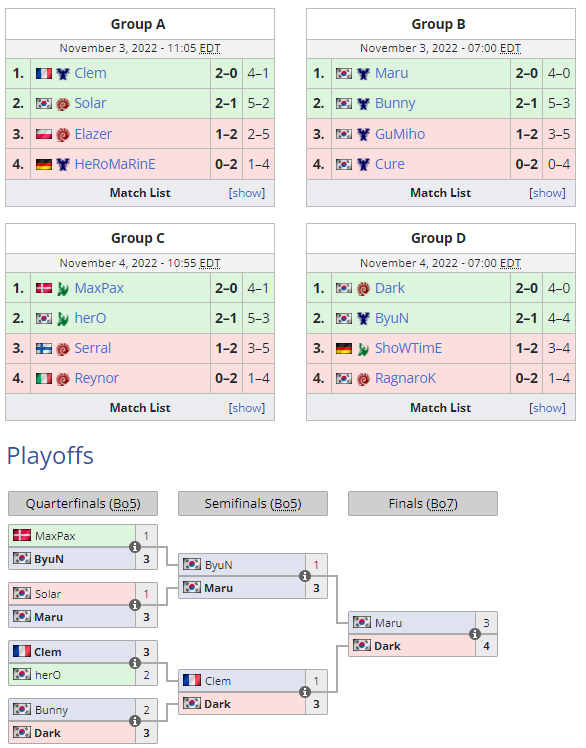 Slump? What slump?
Amidst an absolutely stacked field that included fifteen of the top sixteen players on Aligulac.com, veteran Zerg
Dark
came out on top with the $4,050 first place prize.
Masterful ZvT was the key to Dark's run as he defeated
ByuN
(2-0),
Bunny
(3-2),
Clem
(3-1), and finally
Maru
(4-3) to claim the championship.
As expected with Dark, he made heavy use of early aggression in various forms, be it Nydus all-ins, Ling-Bane busts, or fast Roach-Ravager strikes. However, Dark proved he was just as adept at macro play in TvZ as well, notably overwhelming Maru with swarms of Ling-Bane in two games during the finals. In the championship-clinching seventh set on Inside and Out, it was a typically stylish move from Dark that swung the game: Two Infestors, showing up at a completely unexpected timing, sentenced the Terran army to death with perfectly placed Fungal Growths.
In winning the ACC, Dark ended a recent stretch of poor results which saw him get eliminated in the RO20 of Code S and surrender upsets left and right in the ESL Open Cups. Unfortunately, we may not see Dark ride this wave of momentum into
DreamHack: Atlanta
. In the post-finals interview, Dark revealed that while he very much wanted to play in Atlanta, his schedule made it very unlikely that he would be able to participate.
Dark's 'comeback' victory was only a minor surprise—after all, he's been one of the most consistently strong players throughout Legacy of the Void, always finding a way to come back into championship form. The biggest surprise of the ACC actually happened in the RO16, where
Reynor
and
Serral
were eliminated at the hands of
MaxPax
and
herO
. Glaive-Adept openers proved to be incredibly effective for the Protoss duo, with both using them to find advantages or end games outright. Interestingly enough, the Oracle-Blink 'herO-style' that defined the summer was basically not played at all, with the Protoss players opting for more unorthodox openers like mass Phoenixes and Disruptor drops.
Was Group C's result a momentary blip, or a preview of where PvZ is headed at DreamHack: Atlanta? While Reynor may not be in contention there, Serral's matches will definitely bear close observation.
---