World Team League - 2021 Winter Season
by: Wax
After four weeks of madness, the WTL finally delivered a week of 'relatively' normal games without too many surprising results. (1)The Shopify Rebellion stayed continued its at the top of the table, fighting off a solid challenge from (6)Alpha X to improve to a 5-0 record. Despite their unfathomable upsets at the hands of (5)Team GP, the championship contender trio of (2)KaiZi, (3)NV, and (4)DPG are still in fine position, and could very well reality-check the Rebellion in their upcoming head-to-head matches.
Further down the rankings, (9)Afreeca Freecs finally stopped the bleeding as the expense of (7)Team Liquid. That's left both teams in the middle of thorny mid-table morass, where it seems like there will be brutal competition for the sixth and seventh playoff spots.
Catch WTL 2021 Winter every Friday, Saturday and Sunday at 14:00 CEST on Wardi's channel!
Week 5 Results
Unfortunately, we are unable to provide detailed recaps for week five. Normal WTL coverage will resume in week six/seven.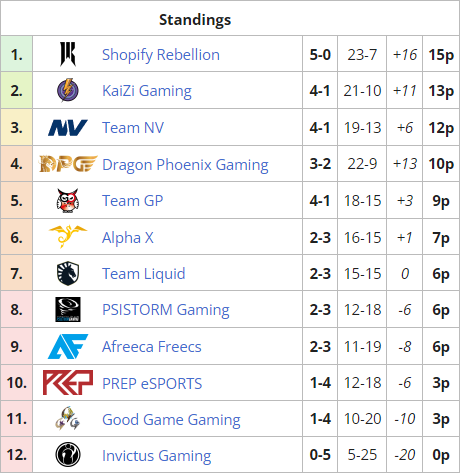 Top 7 teams qualify for the playoffs.
Points are awarded as follows:

3 points for a victory in a series that does not require an ace match

2 points for a victory in a series that requires an ace-match

1 point for a loss in a series that requires an ace-match

0 points for a loss in a series that does not require an ace match
KaiZi Gaming 4 - 2 PSISTORM Gaming
Watch VOD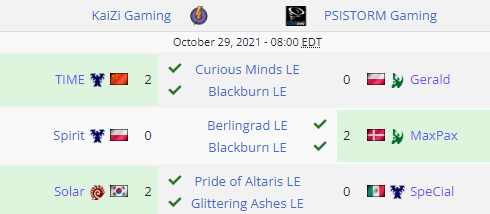 *****
Team NV 4 - 2 Invictus Gaming
Watch VOD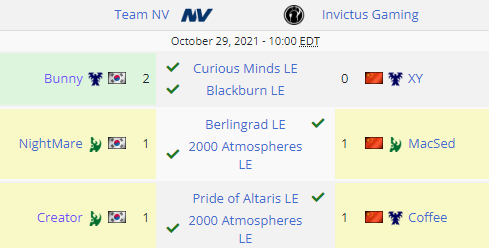 *****
PREP eSPORTS 2 - 4 Team GP
Watch VOD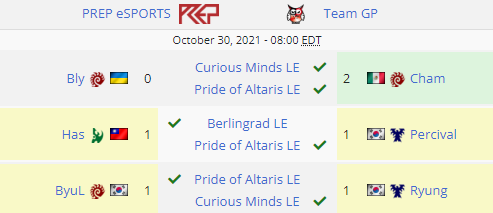 *****
Dragon Phoenix Gaming 5 - 1 Good Game Gaming
Watch VOD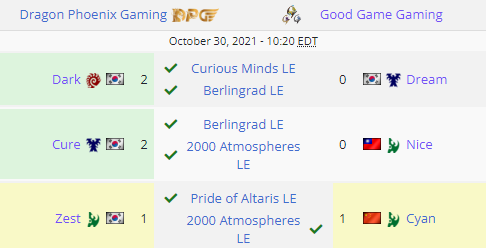 *****
Shopify Rebellion 4 - 2 Alpha X
Watch VOD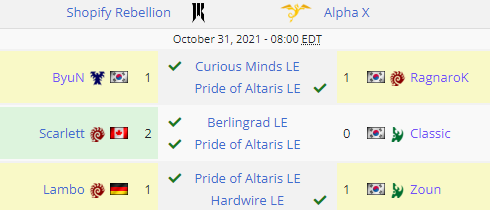 *****
Afreeca Freecs 4 - 2 Team Liquid
Watch VOD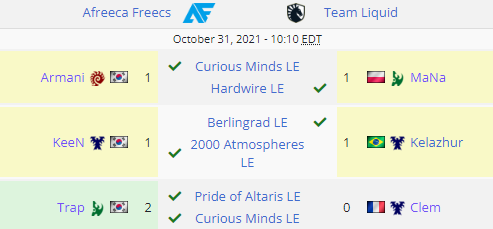 Weekly MVP Award: AF.Trap
Week five's MVP ended up being a somewhat obvious choice, as there were no major upsets on the week and only a limited number of matches between ace-caliber players.
Seeing as
SR.Lambo
and
αX.Zoun
tied their set 1-1, the MVP award could then only go to Afreeca's
Trap
for his series-clinching 2-0 over
Liquid`Clem
. After eating 0-2 losses to MaxPax and Lambo in the previous weeks, Trap can take some solace in the fact that at least his PvT still appears to be top-notch.
Weekly MVP's
Week 1: GP.Cham

Week 2: NV.Bunny

Week 3: PSISTORM.MaxPax

Week 4: GP.Prince

Week 5: AF.Trap
Week 5 Preview
Friday, Nov 05 12:00pm GMT (GMT+00:00) Matches
Week five's marquee match-up will go on stage first, with KaiZi and Shopify set to battle for direct control of the #1 spot. With no obvious 2-0 match-ups on the board, this is the single most difficult clash to predict in week five. ByuN is an overall better player than Spirit, but his TvT has been very inconsistent in 2021. TIME took out Scarlett twice in their previous DHM Season Finals meeting, but it seemed largely due to correctable mistakes from Scarlett. Similarly, Solar defeated Lambo twice in the recent StayAt HomeStory Cup #4 (3-2 both times), but that seems like a momentary swing in a relationship that doesn't necessarily favor either player.
This one is tough to call, but I'll favor Shopify slightly due to their advantage in being able to prepare specifically for Solar on Curious Minds if it should go to an ace match, with either Lambo or ByuN able to finish the job.
Prediction:
KaiZi Gaming 3 -
4 Shopify Rebellion
While the match-ups seem to favor PSISTORM Gaming slightly on paper, Team GP players have proved capable of punching FAR above their weight in five weeks of WTL so far. Out of respect to team GP's miraculous run so far, I have to predict that they'll drag this bout to an ace match, and then work their magic once more.
Prediction: Team GP 4
- 3 PSiSTORM Gaming
Saturday, Nov 06 12:00pm GMT (GMT+00:00) Matches
Alas, I see iG's short run of avoiding sweeps coming to an end. TvP is a brutal match-up for either of the iG Terrans to draw, while MacSed faces a rough challenge in the in-form RagnaroK (I'm going to conveniently forget his loss to MeomaikA in the TSL qualifiers yesterday).
Prediction:
Invictus Gaming 0 -
6 Alpha X
PREP eSPORTS vs Team Liquid
YB
< Hardwire LE >
MaNa
Has
< 2000 Atmospheres >
Kelazhur
ByuL
< Glittering Ashes >
Clem
Ace Match
:
< Curious Minds >
Has has been everything we hoped for since he finally joined the SCBoy Team Leagues, living up to his reputation of being a dangerous, cheesy sniper. However, with YB performing poorly since his return to SC2, and with ByuL drawing an absolutely killer match against Clem, I have to think Has will only be collecting consolation points this week.
Prediction:
PREP eSPORTS 1 -
5 Team Liquid
Sunday, Nov 07 12:00pm GMT (GMT+00:00) Matches
Dragon Phoenix Gaming vs Afreeca Freecs
Rogue
< Hardwire LE >
KeeN
Cure
< 2000 Atmospheres >
Armani
Zest
< Glittering Ashes >
Trap
Ace Match
:
< Curious Minds >
If DPG play the way they're 'supposed' to, then this should be an easy 5-1 or 4-2 victory over the ailing Freecs. However, with Cure seeming to have a minor championship hangover, and with Rogue being infuriatingly Rogue-y as always, the Freecs might actually make DPG sweat if Trap can deliver a 2-0 against Zest. Despite these concerns, I still think it's more likely that the championship trio of DPG will grind out the victory here.
Prediction: Dragon Phoenix Gaming 4
- 2 Afreeca Freecs
After giving NightMare a chance against iG in week four, Team NV are back with what's ostensibly their 'full-strength' side against GGG. Team NV were always going to be favored given the difference in roster strength, but they have the added advantage of coin-flipping correctly with DongRaeGu. Instead of having to play his weakest match-up of ZvP, the veteran Zerg gets to play his best match-up of ZvT instead, which puts him in an excellent position to clean up—if that's even required.
Prediction: Team NV 5
- 1 Good Game Gaming
Prediction:
---
Credits and acknowledgements

Writer: Wax
Stats: Aligulac.com & Liquipedia
Images: SCBoy